5 Bestselling Acupuncture Pens – 2021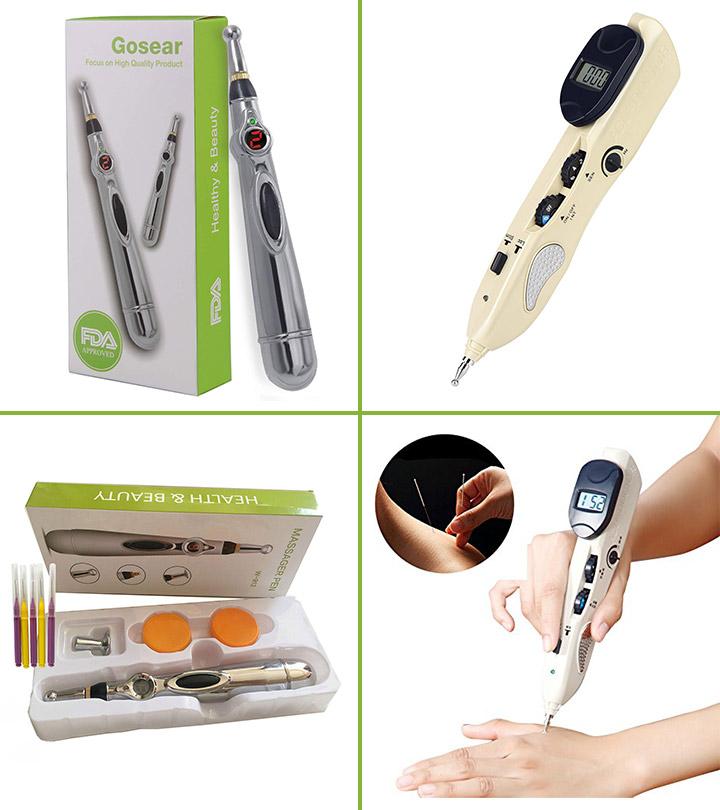 Acupuncture is a healing practice that has its roots in ancient traditional Chinese medicine. In this procedure, thin, solid, metallic needles are inserted through a person's body, targeting specific pain-causing areas. The needles are manipulated through hands or electrical stimulation. Though it is touted as one of the most effective ways of alternative therapy, it might not sound appealing to many people as it entails poking needles and  can be a painful experience.
Acupuncture pens that employ electrical stimulation or laser technology are gaining popularity as they offer painless therapy. Scientists are still researching the efficacy of this alternative therapy. This article explores the new buzz on the market – acupuncture pens.
How do they work? What benefits do they offer? In addition to covering this information, we have also listed the top-selling acupuncture pens. The buying guide at the end of the article will help you with the important factors that you should bear in mind while buying an acupuncture pen. Scroll down to get started. 
What Is Acupuncture Treatment? 
In the acupuncture treatment, the acupuncturist will insert needles into the body of an individual with the aim of balancing their energy. This method of treatment is based on traditional Chinese medicine, which believes that the health of an individual depends on the harmonious balance of the complementary extremes of yin and yang of the life force, the imbalance of which leads to illness.
Acupuncture claims to cure some illness and add to the well-being of a person. In this treatment, thin needles are inserted through a person's skin at specific points on the body. The depth of insertion varies. So far, the research undertaken to study the efficacy of acupuncture suggests that it might be helpful in pain relief. However, there's limited evidence for its effectiveness in areas other than pain relief (1).
 How Does The Acupuncture Pen Work? 
The acupuncture pen is a small device that transmits electrical impulses and is similar to using acupuncture needles. Acupuncture pens, unlike traditional acupuncture therapy, do not use needles. Instead, the pen therapy stimulates the acupressure points without penetrating your skin.
The acupuncture pen is a perfect device for those who want to try acupuncture therapy but are terrified of needles. This small, portable device provides painless and effective therapy without poking needles into your skin. It provides you a non-invasive, drug-free method to tackle your pain. Acupuncture pens are not just known to treat pain but also cure nausea and vomiting. Apart from this, they can help manage anxiety and insomnia and minimize heartburns and indigestion.
Let us now take a look at the best acupuncture pens on the market.
Top Acupuncture Pens – 2021 
The Gosear Acupuncture Pen is a portable, safe, and effective device. It comes with three operation modes: Dome type for health care and facial beautification, Node type applicable for partial body pains, and Spheroidal for quick relief from pain.
This pen can be used to treat a variety of pain but is most suitable for people with cervical vertebrae, shoulders, feet, and waist pain. It can work On many parts of your body. People with arthritis, frozen shoulder, and neuromuscular pain will find this device very helpful.
This device is safe and effective and easy to use with no side effects. It features nine adjustable intensity controls that help you personalize the therapy as per your comfort level. 
Features
Safe: This device is safe to use. Once you have carefully read the manual and know how to operate it, you can start using it.
Non-invasive: This device provides topical non-invasive acupuncture therapy and is an ideal product for people who want to try acupuncture but are scared of needles.
3 Operation Modes: This product features three operation modes: Dome type, Node type, and Spheroidal.
Adjustable Intensity: The device allows you to adjust the pressure. You can set it on low, medium, or high. 
Pros
Non-invasive
Adjustable controls
Easy to use
Safe
Cons
Fire hazard
Might give shock
Similar Products
The Zolaro Acupuncture Pen comes with five massage head functions. You can use this pen for pain relief on your shoulder, knee, nerve, ankle, muscle, and many more parts of the body. This product runs on 1 AA type battery. 
Features
Has 5 massage head functions: Dome type, Node type, Spheroidal, Scrapping, and Tapping.
Offers 9 intensity levels, which help you personalize your therapy session.
Provides healthcare functions, meridian function, and beauty care effect. 
Pros        
Portable and lightweight
9 intensity levels
5 massage head functions
Easy to use 
Cons
Similar Products
TheiVOLCONN Acupuncture Pen is a wireless rechargeable electric pen with adjustable intensity and 10 output intensity levels.  It can be used in hospitals, experience shops, beauty salons, and at home.  This acupuncture pen has 10 levels of sensitivity adjustment that provide clean and painless acupuncture stimulation, improves your blood circulation, and offers muscle pain therapy.
This acupuncture pen can be used on your  wrist, foot, elbow, ankle, neck, waist, back, ears, face, shoulder, back, leg, knee, nerves, muscle pain, tennis elbow, and acute and chronic physical pain. It serves as an aid to therapy for frozen shoulder, arthritis, and neuromuscular pain. For effective treatment, use this pen once or twice daily. Massage on one acupoint or on one area of skin for 3-5 minutes. 
Features
Equipped with 3 acupuncture probes: beauty probe for the face only, medium probe for the body, and small probe for the ears.
Offers an 18-month quality issue warranty with 30 days any reason money-back guarantee.
Equipped with a sensitivity indicator
Pros
Pulse massage
Lithium charge
Painless and safe
Three acupuncture probes 
Cons
Similar Products
TheLeawell Acupuncture Pen gives you the experience of a professional acupuncture therapy without a doctor. This device helps to relieve pain and is safe to use at home. It features three acupuncture probes: big for the body, beauty probe for the face, and small for the ear and head. This pen can be used on the wrist, elbow, ankle, knee, neck, waist, face, and other parts that have acupoints. This acupuncture pen is FDA-approved. 
Features
Equipped with intelligent acupoint detection.
Sound signal and display screen when detecting the acupuncture point.
10 levels of sensitivity acupoint locator that can be adjusted according to different skin types and conditions.
10 levels of intensity to adjust according to your comfort level. 
Pros
Easy to carry
Three interchangeable massage heads
Painless and safe 
Cons
Similar Products
The N Noble Acupuncture Pen comes with amazing laser therapy. Frequent use of this electronic back massager can help reduce pain, boost your mood, make you relax, improve your skin condition, and prevent premature aging.
This device is equipped with three acupuncture probes: dome type for healthcare and facial beautification, node type for partial body pain, and spheroidal for quick pain relief. It is equipped with nine adjustable levels of intensity that help you personalize your therapy experience. 
Features
Comes with 3 unique acupuncture probes.
9 adjustable levels of intensity.
Auto turn-off feature to prevent overheating and save energy. 
Pros
Safe and effective
Simple operation
No side effects
Cons
Similar Products
Acupuncture pens offer the goodness of traditional Chinese medicine by combining it with modern biotechnology. Though they are being marketed as alternative therapy devices, you should consult your doctor before planning to buy one. It is recommended to get acupuncture therapy done, whether the traditional way or through the device with a trained professional.
We have filtered the above products after due consideration of all the acupuncture pens available on the market. We hope you will be able to find your acupuncture pen from our above list of the top 5 products.
Technology has made acupuncture therapy more accessible. There are different types of acupuncture pens, and each employs different technology to provide therapy. Let's look at the key features of each type in the next section.
Different Types Of Acupuncture Pens
The three types of acupuncture pens available on the market currently are:
Electric Acupuncture Pen
Laser Acupuncture Pen
Meridian Energy Pen

The electric acupuncture pen is a handheld device that sends electrical impulses to the meridian points.
This is a non-invasive gadget unlike the traditional therapy and helps in topical stimulation of the acupressure points.
This gadget is safe to use without any side-effects.
It normally comes with two operation modes: Dome type, and Node type. In Dome mode, you can use this device on your face and other sensitive areas, while the node mode is for use on other parts of the body.

Laser acupuncture pen offers a painless, non-invasive method of therapy.
You have to identify the meridian point and place the pen on it. The electric pulse released will stimulate the point of healing.
This device is an easy and fast method to treat pain. You can use this device to treat chronic headaches, nausea, myofascial pain.

The Meridian Energy acupuncture pen is a versatile one and can be used for different purposes.
This pen also employs electro pulses and stimulates directly into the body tissues and organs. It helps to regulate your biological field and adjusts your biological cells and thus helps in pain relief.
This pen can be used to treat joint pain, for beauty care, and to give you a facelift.
Benefits of Acupuncture 
The National Centre For Complementary and Integrative Health (NCCIH), states that acupuncture has been proven to help in cases of:
Headache and migraine
Lower back pain
Neck pain
Knee pain
Osteoarthritis
The WHO has listed a number of conditions in which acupuncture has proven to be effective, like:
Painful periods
Gastric conditions
High and low blood pressure
Nausea and vomiting
Dysentery
Facial pain
Sprains
Tennis elbow
Morning sickness
Dental pain
Sciatica
Rheumatoid arthritis
Inducing labor
According to the World Health Organization, acupuncture may help with the following conditions, but more scientific evidence is needed to substantiate this claim:
Fibromyalgia
Spine pain
Stiff neck
Vascular dementia
Whooping cough
Postoperative convalescence
The WHO also states that acupuncture may help with a few infections. However, they point out that "only national health authorities can determine the diseases, symptoms, and conditions for which acupuncture treatment can be recommended." 
To aid your shopping experience, we have prepared a list of important factors that you need to keep in mind while shopping for an acupuncture pen. 
Buying Guide – How To Choose The Best Acupuncture Pen 
Versatile: An acupuncture pen with different probe heads is more versatile and can be put to different uses. If you are someone looking for a product that can cater to your different requirements, look for a pen with multiple probe head attachments.
Warranty: Ensure that the company selling the device offers a decent warranty period. Sellers and companies that are confident about their products will provide a good warranty period for their products. In case the product is defective or fails to perform satisfactorily, you will have the option of exchanging or returning it. 
Intensity Levels: For a personalized therapy experience, look for acupuncture pens that offer multiple intensity levels. This feature will help you adjust the intensity level according to your comfort. 
Auto shut-off: The auto shut-off feature adds to the safety of the device. Acupuncture pens equipped with this feature automatically stop after a timed therapy session, thus preventing overheating of the device and also saving energy. 
FDA-approved: A device that is FDA-approved is safer to use. Shocking and fire hazards are factors that are important to consider when buying an acupuncture device.
If you are too keen on the safety aspect of the device, make sure it is FDA-approved.
If a trained professional recommends you use an acupuncture pen, take your pick from our above list of top 5 devices, keeping the points mentioned in the buying guide in mind. 
Frequently Asked Questions
Is acupuncture pen medically proven?
Currently, there is no scientific evidence that acupuncture or meridian points exist. It is hard to prove whether they exist or not. But some studies have evidenced that acupuncture works for some conditions.
Is acupuncture a permanent cure?
Acupuncture therapy is found beneficial in some conditions, but it is not a cure for everything. It will not be able to eliminate the symptoms, but it can help ease them. But you should continue taking your medicines. Consult a medical professional before trying it.
What to keep in mind before going for an acupuncture session?
You should avoid caffeine and alcohol before and after the session.
Can you acupuncture yourself?
Self-treatment is not recommended either with gadgets or needles. Acupuncture therapy should be carried out by a trained practitioner.