9 Best Boar Bristle Brushes For Fine Hair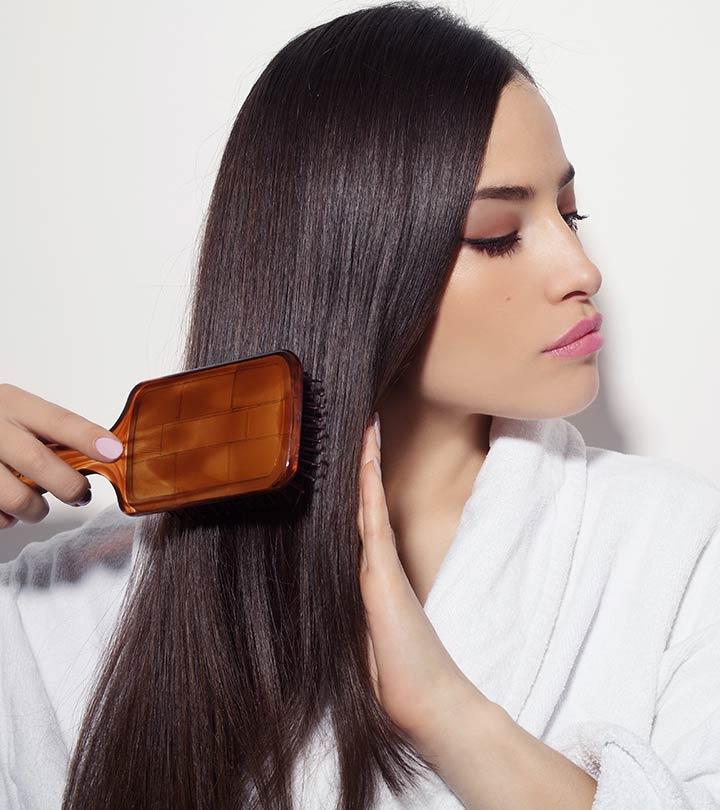 Fine hair is hair that is limp or lacks volume. Due to this, it is not very easy to style this hair type. Also, fine hair is particularly susceptible to damage. While heat styling tools and sulfate-containing hair care products are the usual culprits, poor-quality hair brushes can also cause breakage. This is where boar bristle brushes can help.
Boar bristle brushes glide smoothly through your hair and work their magic on your scalp by evenly distributing its natural oils from root to tip. They also help increase blood circulation in the scalp, prevent oil build-up on the scalp, and improve hair texture. In this article, we have listed the best boar bristle brushes for fine hair that can detangle your hair, boost its volume, and keep it healthy and damage-free.
9 Best Boar Bristle Brushes For Fine Hair
Have healthy hair, but is it all tangled? Use this curved and detangling hairbrush that stimulates the natural oils in the scalp. Unlike other brushes, this has nylon bristles and nylon pins that will detangle your hair while offering the comfort of a massage. You can use it with your hair dryer for faster drying. It has an extra-large head and a curved shape and can be used on all hair types.
Pros
Nylon bristles
Detangles hair with ease
Unisex
Suitable for all hair types
Cons
None
Similar Products
The Dovahlia scalp brush is a unisex hairbrush that provides a smooth, silky shine. It comes with thick bands of boar bristles that reach your roots and nourish your hair with their natural oils. This boar bristle brush for fine hair is free of all cheap nylon fillers and rubber tire fumes that can damage your hair and scratch your scalp. It also comes in a combo set that includes a wooden detangling comb for detangling wet hair.
Pros
Redistributes natural hair oils
Durable
Provides root to tip conditioning
Cons
Similar Products
This brush works best in helping repair dry hair with its 100% conditioning treatment that gives it a smooth and shiny texture. The bamboo hairbrush is environment-friendly and eliminates the need to use conditioners and oily hair serums, saving you time and money. While improving your hair texture, it will also make your hair manageable and easier to style.
Pros
Repairs dry hair
Saves time and money
Unisex
Cons
None
Similar Products
From taming frizzy hair to treating split ends and scalp itching, this hairbrush works wonderfully on your hair and restores its natural shine. Make Bestool your new best friend if you need to try a new look as it works well with wigs, extensions, and weaves. Get rid of greasy and curly hair with the dual-bristle paddle brush that massages your scalp while evenly distributing the natural oils. The soft bristles improve scalp blood circulation, and this reduces pain and damage, making your hair stronger and healthier.
Pros
Restores natural shine
Helps get rid of grease and frizz
Improves scalp blood circulation
Cons
None
Similar Products
It's time to smoothen out your tangled hair with Diane's medium and fine bristled boar brush that leaves your hair smooth and silky. The double-sided brush helps provide extra shine to your hair. It has 100% medium boar bristles on one side, and firm bristles on the other. The brush is gentle and is suitable for sensitive scalps. Its advanced implantation technology helps in reducing bristle loss.
Pros
Double-sided brush
Provides extra shine
Helps get rid of tangles
Cons
None
Similar Products
This brush glides through thin hair and improves its texture. It helps you get healthier and softer hair by detangling knots and distributing the natural oils along the scalp to prevent breakage. The bristles, being very similar to the human hair, detangle hair effortlessly while promoting blood circulation, leading to improved hair growth. The brush provides a natural smooth treatment and is excellent for men, women, and even kids.
Pros
Distributes natural oils evenly
Helps treat dry hair
Removes dirt, dust, and dandruff
Comes with a hairbrush cleaner
Suitable for everyone, including kids
Cons
None
Care Me's vented ceramic barrel provides 50% more airflow from a blow dryer, evenly distributing the heat. This makes hair dry quickly. It adds shine and volume and distributes natural hair sebum as a conditioner and lifts hair right at the roots.
This brush doesn't mix nylon bristles; it is pure boar hair with added nylon ball tips that enhance the bristles' effectiveness. From straightening, curling, and blow-drying your hair, Care Me is the best styling brush for medium length hair. The ion-infused bristles of this brush are extremely helpful in holding moisture and reducing frizz and brittleness. The ball tips are as gentle as the breeze and don't snag the hair.
Pros
Multifunctional
Handles thick coarse hair effectively
Conditions hair, adding shine to it
Ion-infused bristles for frizz-free hair
Cons
None
Baasha Extra Large Round Brush With Boar Bristles can be used for smoothing, straightening, and blow-drying or curling. It is available in various sizes and suits all hair types. The large ones provide volume at the root and a bend in the middle of a curl at the bottom. This brush also aids faster drying and creates a perfect blowout. It ensures hair growth, nourishing and moisturizing every strand of your hair, and leaves it shinier and smoother. The ideal spacing of the bristles facilitates an excellent grip on all hair types and leaves you completely satisfied and in love with your hair.
Pros
Best for styling
Fast drying
Makes hair healthy and shiny
Cons
None
Fixbody is a must-have hair styling tool that helps pick loose hair with its retractable section needles. The boar bristles help in lubricating your hair, reduce frizz, and add subtle texture to enhance the beauty of your hair. This brush looks elegant and is comfortable to hold. It comes with a rubber handle and is easy to use. The ceramic coating barrel is not only high-heat resistant but also helps you get rid of the bad smell. It is lightweight as well.
Pros
Retractable section needle
Nano-ionic technology
Ergonomic design
Protects hair
Cons
None
Now that you know the secret of beautiful and shiny hair, what are you waiting for? Give these boar bristle brushes a try, and step out with confidence like never before.