9 Best Protein-Free Shampoos For Natural Low Porosity Hair
No more breakage, split ends, and hair damage. Get the strong hair of your dreams!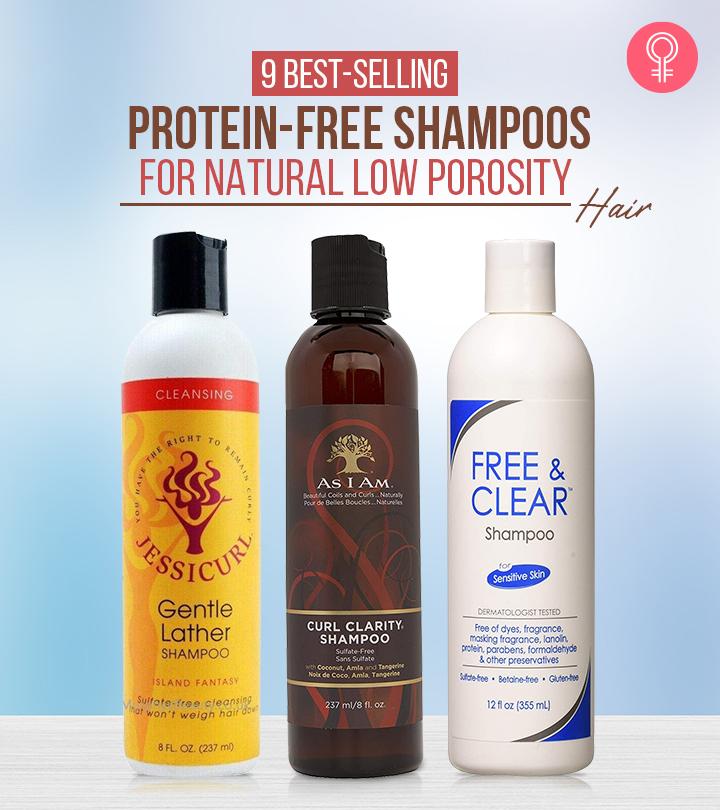 We've all been told to concentrate on protein sources to make our hair grow faster all these years, and the mention of protein-free shampoo might startle you. But we will tell you exactly why you need it. Healthy hair growth depends on the perfect balance of moisture and protein, which can get disrupted by heavy-duty protein ingredients. If your hair has low porosity, a shampoo free of proteins can give you the best results. Here is a list of 9 shampoos free from proteins to keep your hair glossy, healthy, and strong.
The 9 Gentle, Protein-Free Shampoos For Low Porosity Hair – 2023
Aunt Jackie's Curls & Coils Shampoo is enriched with natural conditioners and plant-based nourishing ingredients that gently cleanse your hai, removing all impurities. The formula softens and smoothens out even the most unmanageable tresses. The shampoo detangles wet hair easily so that there's no hair breakage when you comb your hair. Shea butter in the formula contains fatty acids and vitamins A and E that nourish and tame frizz. It also protects hair from damage caused due to hot styling tools and coloring. Coconut oil has proven efficacy in deeply moisturizing the hair, slowing down premature greying, and promoting the growth of thicker hair. Extra virgin olive oil in this hair product for damaged hair defines your curls, and deeply nourishes and softens hair to enhance shine. Check out this video to learn more about a reviewer's experience of testing the product.
Key Ingredients: Shea butter, Coconut oil, Extra virgin olive oil
Pros
Rich lather
Organic ingredients
Suitable for dandruff-prone scalp
Gentle formula
Detangles knots
Anti-frizz
Sulfate-free
Paraben-free
Mineral oil-free
Petroleum-free
Cons
The Free & Clear shampoo is specially designed to wash off build-ups from conditioners, sprays, serums, and other hair care products. This dermatologist-tested shampoo balances oil production, flaking, and scaling. After a shower, your hair feels clean, soft, and manageable. It enhances the volume of your hair and boosts shine. The formula does not have any irritants.
Key Ingredients: Glycerin, Panthenol, Coco-glucoside
Pros
Ideal for sensitive scalp
Hypoallergenic
Nourishing hair care formula
Travel-friendly
No dyes
No fragrances
No lanolin
No proteins
No parabens
No formaldehyde
Cons
Tgin Moisture Rich sulfate- and protein-free shampoo has intense conditioning properties that revive dull hair. Amla oil extracted from gooseberry stimulates blood circulation, retains moisture, promotes hair growth, prevents thinning, hair loss, and premature greying. Coconut oil gently cleanses the hair and stimulates hair follicles to encourage healthy hair growth. Provitamin B5 is a natural humectant that retains moisture in your locks, enhances elasticity, and strengthens hair shafts. The result of using this gentle hair cleanser is healthy, moisturized hair that is left feeling soft and smooth.
Key Ingredients: Amla oil, Coconut oil, Provitamin B5
Pros
Botanical ingredients
Gentle cleansing
No harsh ingredients
Sulfate-free
Paraben-free
Lanolin-free
Petroleum-free
Mineral oil-free
No artificial colors
Fragrance-free
Cons
Might leave a residue
May make scalp itchy in some users
The As I Am Curl Clarity Shampoo contains scalp-friendly ingredients that gently remove product build-up and environmental impurities from the hair and scalp. The coconut extracts in this hair cleanser without protein soften hair, treat dandruff and flaky scalp, repair damage, and smoothen split ends. Amla nourishes the hair with essential nutrients, prevents early graying, enhances natural curls, and controls hair loss and thinning. Tangerine is rich in vitamin C that forms a protective shield around your hair strands and boosts collagen production. The formula is anti fungal and antiseptic – it treats scalp infections and dandruff, and soothes irritation. Watch this video to check out a reviewer's experience of using this product, before buying it for yourself.
Key Ingredients: Coconut, Amla, Tangerine
Pros
Sulfate-free
Compact, eco-preserving design
Safe for color-treated hair
Suitable for natural and textured hair
Cons
Unpleasant scent
Not mild enough for regular use
The Alaffia Everyday Shea Shampoo that is enriched with shea leaf, unrefined shea butter, and virgin coconut oil. This deep cleansing shampoo washes away built-up residues, scales, flakes, and impurities without stripping off natural oils from hair and scalp. Shea butter leaf and fruit extracts deeply moisturize the hair to soften it and lock in natural oils. Virgin coconut oil penetrates deep into the scalp to moisturize your hair. The antioxidants and omega fatty acids protect the hair against damage, frizz, split ends, breakage, thinning, and heat from styling tools, making the product a great choice as a daily shampoo.
Key Ingredients: Shea leaf extract, Raw shea butter, Virgin coconut oil
Pros
Organic and unrefined ingredients
Silky smooth texture
Rich lather
Unscented
Cruelty-free
No harsh chemicals
No parabens
No phthalates
No silicones
No mineral oil
Prevents heat and styling damage
No artificial color or synthetic fragrances.
Cons
Leaves a residue
Waxy and thick consistency
If your hair becomes dry and frizzy after a shower, then Jessicurl Gentle Lather Shampoo is exactly what you need. The shampoo contains mild cleansing agents that thoroughly wash off dirt and impurities from the dry scalp and the hair shafts. Enriched with raw shea butter and virgin coconut oil, the shampoo moisturizes natural hair to make it smooth and manageable, making it a great addition to your hair care routine. It is made with pure and organic ingredients that give you beautiful and voluminous hair without weighing it down.
Key Ingredients: Raw shea butter, Virgin coconut oil
Pros
Creamy lather
Fragrance-free
Hypoallergenic
Sensitive skin-friendly
Sulfate-free
Vegan
SLS-free
No synthetic fragrance
No mineral oil
Dye-free
Phthalate-free
Paraben-free
Silicone-free
Suitable for frizzy hair
Cons
Watery consistency
Has a greasy feel
The Kinky-Curly Come Clean Organic Curl Care dissolves grease and build-up without disrupting your hair's moisture balance. Phytic acid is a natural chelating agent that has proven efficacy in eliminating hard water minerals like calcium and magnesium that can damage your hair. Soy and corn in this pH-balanced shampoo soften hard water, cleanse the scalp, and prevent future hard water build-up. Mandarin orange extract has antiseptic and anti fungal properties that makes your hair healthy, voluminous, and bouncy. Check this video detailing a tester's experience of using this product before buying it.
Key Ingredients: Phytic soy, Mandarin orange extract
Pros
pH balanced
Sulfate-free
Color-safe
Suitable for dry, damaged hair
Gentle for daily use
Cons
Some ingredients are comedogenic.
The Ouidad shampoo cleanses and clarifies the hair and scalp while hydrating them and retaining their natural nutrients. The formula contains a blend of orange, grapefruit, and lemon, which act as powerful chelating agents. Lemon extracts soak up dirt and break them down, and prevent fungal growth on the scalp. Grapefruit is rich in vitamins A and C that promote healthy growth of thick hair, boost shine, and wash away build-up from styling products. Orange flower extracts protect the hair from harmful coloring agents and UV ray damage and fights free radical damage. The shampoo has a lingering citrusy, fruity fragrance with woody undertones.
Key Ingredients: Lemon, Grapefruit, Orange flower extracts
Pros
Safe for color-treated hair
Gentle on curls
Cons
The Alikay Naturals Moisturizing Black Soap Shampoo is made with raw black soap that intensely cleanses the hair removing environmental pollutants, grease, and dirt. This hydrating hair cleanser also eliminates dandruff-causing build-up and soothes itchy scalp. It contains natural ingredients such as cocoa seed powder, which stimulates hair follicles to promote hair growth and soothe inflammation, while plantain skins smoothen and volumize hair, prevent premature greying, and make the hair shiny. The antioxidant properties of plantains protect the hair by neutralizing free radicals and damage caused by environmental stressors. Tea tree oil dissolves residue and dead skin cell build-up and also kills germs and dandruff-causing microbes.
Key Ingredients: Cocoa seed Powder, Plantain skins, Tea Tree Oil
Pros
Natural and organic ingredients
Mineral-rich
Mild on the scalp
Sulfate-free
Suitable for kinky, curly, wavy, straight hair
Cons
*The prices provided in this article are based on the latest available information. However, they may vary due to changes in pricing by the seller and/or promotional offers.
It is a common perception that protein treatments can be fantastic for your hair. This is because almost 90 per cent of your hair is made from keratin, which is also a type of protein. However, too much protein can damage your hair stands, especially if you have protein-sensitive hair. To help you select a protein-free shampoo for low porosity hair, we have compiled a list of factors to keep in mind while making your next purchase. Scroll down to find out more!·
Factors To Consider When Selecting The Best Protein-Free Shampoo
Always remember that each protein-free shampoo is manufactured differently. So, even though you are buying a protein-free shampoo, you also have to consider the following factors.
Your natural hair type plays a major role in deciding which protein-free shampoo to use. If you have relaxed hair, you need a shampoo which can prevent flyaways and frizz. Alternatively, if you have curly hair, focus on preventing breakage and dryness. For fine hair, avoid thick oils in the formulation to prevent limp strands and scalp oiliness.
If you are sensitive to fragrances, steer clear of shampoos that have perfumes or fragrances. Avoid products that contain ingredients like parabens, sulfates, PEGs, phthalates, and formaldehyde. Also, if you are allergic to coconut or gluten, make sure to select dermatologist-recommended products without these in the formulation.
For low-porosity hair, avoid common hair proteins like keratin, quinoa protein, rice protein, amino acids, oat flour, hydrolyzed protein, silk protein, wheat protein, and soy protein.
For dry or brittle hair, choose nourishing ingredients like olive oil, avocado oil, argan oil, and almond oil. For oily scalp and hair, look for tea tree oil or lemon extracts to control excess oiliness and sebum, and also prevent itchiness and irritation.
But, do remember that the goal should be to maintain the correct balance of moisture and protein. Depending on your natural hair type, you may need to use protein-free shampoos more or fewer times than the average time frame mentioned above.
Rebekkah O'Neill, Master Stylist, says, "If your hair has low porosity, you want to opt for more natural products. Products that don't contain sulfates are better, as they dry out the hair, and we want to avoid that. Products that also contain alcohol want to be avoided for the same reason. There are plenty of great products in this article that will get you on your way to beautiful healthy hair in no time!"
Why Trust StyleCraze?
The author, Shiboli Chakraborti, has a deep interest in hair care and styling products. She recommends the use of protein-free shampoos for low-porosity hair. To help our readers find the best products in this category, she went through multiple online reviews from product users and looked closely at the ingredients and formulations of the products to shortlist the safest and most effective ones. The shampoos listed here are free of protein and perfect for achieving healthy and nourished tresses for those with low-porosity hair.
Frequently Asked Questions
How do I get rid of protein buildup in my hair?
You can break and eliminate the protein buildup from your hair by washing it in warm water with a clarifying shampoo.
How do I know if I have protein overload in my hair?
If your hair feels stiff, dry, and lifeless that has lost its natural shine, it has an overload of protein. A common symptom of protein buildup is brittle tresses.
How often can I use this protein-free shampoo?
Wash your hair two or three times a week with a protein-free shampoo. This is enough to maintain the protein and moisture balance in your tresses.
Should I use protein-free shampoo?
Yes. A protein-free shampoo is great for boosting moisture in your tresses. Also, they define and enhance the texture of your hair.
Do all protein-free shampoos contain silicones?
No. Certain protein-free shampoos like the Jessicurl Gentle Lather Shampoo and Alaffia Everday Shea Shampoo are devoid of silicones.
Recommended Articles