15 Best Wrinkle Creams To Achieve Younger-Looking Skin – 2022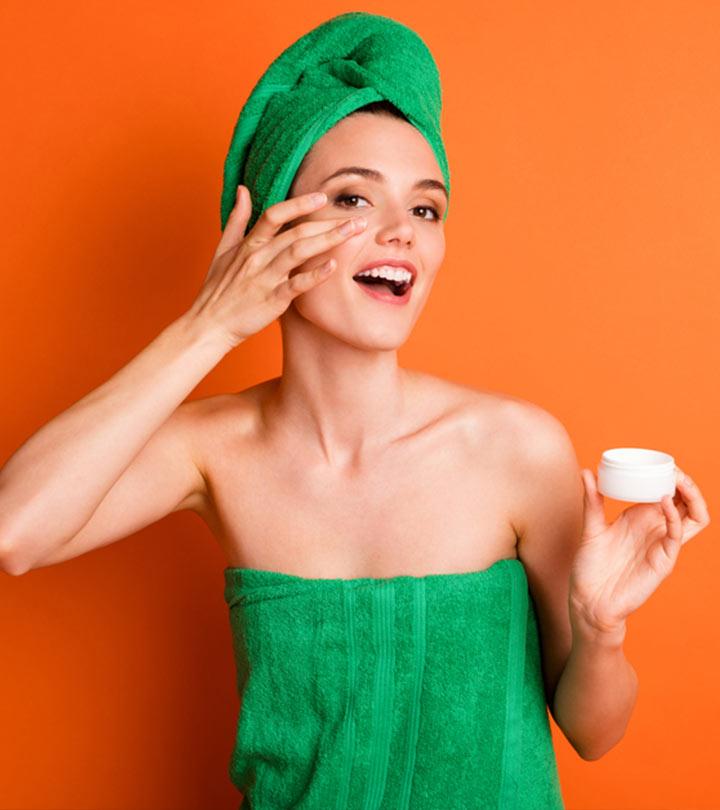 Let's get one thing clear – wrinkles are normal and nothing to be ashamed of. But if you want to smoothen them out a bit and prevent them from deepening, you can start using the best wrinkle creams right now. Other than age, several factors like smoking, genetics, exposure to sunlight play a role in causing those fine lines. Using a wrinkle cream regularly can make your skin look young and healthy.
When you decide to start using a wrinkle cream, it is essential to pick the right one. If you are putting it on before stepping out for the day, then a cream with SPF is recommended. If you are using it before going to sleep, then a heavier night cream will allow your skin to absorb all the ingredients, allowing it to work its magic. To get you started on this journey, we have compiled a list of the best wrinkle creams that will give you plump and glowing skin. Check them out!
15 Best Wrinkle Creams To Plump, Firm, And Tighten Skin!
Infused with retinol, this face cream is formulated to fight 5 main signs of aging, such as wrinkles, roughness, fine lines, saggy skin, and uneven skin tone effortlessly. It's also a great pick if you are dealing with dark circles, crepey skin, puffiness, and sun damage too. This natural wrinkle cream contains aloe vera, shea butter, hyaluronic acid, vitamin E, jojoba oil, sunflower seed oil, and green tea to deliver intense moisture as it combats stubborn signs of aging. Know more about this product in this video. 
Pros:
Ensures zero residue
Brightens, hydrates, and lifts the skin
Reduces redness and prevents breakouts
Gentle, lightweight, vegan and cruelty-free
Suitable for applying on face, neck, and hands
Ideal for sensitive skin and to use around the eyes
Non-drying, non-comedogenic, and absorbs quickly
Free from parabens, gluten, phthalates, SLS, artificial fragrances, and more
Cons:
May not be suitable for very oily skin
This wrinkle repair cream by Neutrogena guarantees visible results in just 1 week. One of the best forehead wrinkle creams on the market, the formula contains highly-concentrated and accelerated retinol SA along with glucose complex and hyaluronic acid to counter deep wrinkles, crow's feet, and smile lines effortlessly. The cream is ultra-rich and moisturizing and plumps, hydrates, and rejuvenates skin with every use. And to top it all, you can use this anti-aging wonder twice a day to hasten results.
Pros:
Gentle formula
Reduces dark and age spots
Reduces the appearance of wrinkles
Ensures smooth skin in 1 day
Renews and brightens dull skin
Cons:
Specially formulated only for mature skin
Are you looking for the best over-the-counter wrinkle cream? This night cream by RoC could be the one. Its retinol and mineral complex not only claim to make your skin look 10 years younger but also reduce deep wrinkles up to 50%. Moreover, this deep wrinkle treatment works its magic overnight when the skin is free from other products to give you a refreshing glow the next morning. It is clinically proven to firm and lift the skin and works actively to correct uneven skin tone. Learn more about this product in this video.
Pros:
Dermatologist-tested
Ensures a visible difference in 8 weeks
Hydrates intensely and combats dryness
Gentle, non-greasy, non-irritating, and non-comedogenic
Suitable to use for dark circles, fine lines, crow's feet, and more
Cons:
In rare cases, it may leave the skin dry.
The Onespring Pro Retinol Moisturizing Cream comes with hydrating and nourishing ingredients that minimize dryness and irritation in your skin. The hyaluronic acid in the cream moisturizes and improves skin elasticity, the jojoba oil shrinks pores and restores skin's pH levels, the soothing chamomile is anti-inflammatory, while the retinol in the formula improves fine lines, lightens dark spots, and prevents premature aging of the skin. This hypoallergenic cream also provides radiant skin.
Pros
Minimizes dryness and irritation
Helps in cell renewal
Hydrating
Paraben-free
SLS-free
Cruelty-free
Cons
Might not be suitable for sensitive skin
Dryness and dullness making your skin look older? Try this collagen and hydration combo ASAP! Boosting moisture levels by 90%, it leaves your skin refreshed and younger-looking with every use. Moreover, this non-oily cream contains hyaluronic acid, vitamin C, super lotus, jojoba oil, vitamin A, and antioxidants to combat wrinkles, dark spots, and under-eye puffiness. Other active ingredients like aloe vera gel, coconut oil, and avocado oil ensure that your skin is left feeling moisturized and supple. It also helps shrink pores and retains moisture with its hydro lock technology too.
Pros:
Dermatologist-tested
Improves skin elasticity and clears dead skin cells
Moisturizes intensely
Leaves skin soft and smooth
Combats age spots and deep lines
Rejuvenates and brightens instantly
Hypoallergenic and non-comedogenic
Suitable for all skin types, textures, and tones
Cons:
May not be suitable for very sensitive skin
Wrinkles around the eyes or lips can be a nightmare and so can dealing with puffiness, dark circles, and dullness too. Add this vegan wrinkle cream to your skin care routine as it is formulated with 2.5% retinol, hyaluronic acid, stem cell extracts, multiple vitamins (B5, C & E), aloe vera juice, and shea butter and is the only solution you need  to fight all those problems. This peptide complex formula claims to exfoliate and minimize pores too. Yep, just the wrinkle filler you need that fights aging signs by stimulating collagen at the cellular level— give this hypoallergenic blend a try ASAP!
Pros:
Improves elasticity
Combats pimples, cysts, and breakouts
Brightens, firms, and smoothens instantly
Renews, regenerates, and refines dull skin
Reduces redness and balances sebum production
Eliminates dark spots, sun spots, and sun damage
cGMP-certified, cruelty-free, paraben-free, and sulfate-free
Cons:
Some may find it slightly sticky
How about protecting your skin from aging signs and sun rays with one cream? Yep, this tinted moisturizer powered with broad-spectrum SPF 45 offers not 1, not 2 but 5 benefits for your skin! It hydrates, conceals, corrects, brightens, and protects the skin with its powerful blend that contains 3 peptides, vitamin C, white birch extract, yeast extract, zinc oxide, titanium oxide, and more. So basically, while protecting skin from UVA/UVB radiation, this anti-aging moisturizer also combats wrinkles, fine lines, and strengthens the skin's moisture barrier. This video will provide you with added insights about the product.
Pros:
Moisturizes intensely
Delivers a sheer finish
Corrects uneven skin tone
Restores youthful glow on the skin
Reduces photoaging and sun damage
Eliminates redness and enhances complexion
Cons:
Wrinkles and fine lines stand no chance against this powerful blend that targets 10 types of collagen! Formulated with a one-of-a-kind technology, the cream not only reduces aging lines visibly but is powerful enough to erase stubborn stretch marks as well. And besides lifting, firming, and tightening the skin, it also ensures 72 hours of intense hydration with natural ingredients such as murumuru seed butter, aloe vera extract, theobroma seed butter, and ginger root extract.
Pros:
Reduces aging lines in 2 weeks
Eliminates stretch marks in 4 weeks
Leaves skin soft, smooth, and radiant
Suitable to use from head to toe
Cons:
Expensive
May not be suitable to use under makeup
Say hello to beautiful and wrinkle-free eyes with this gem! More like a go-to magic stick to reduce puffiness, dark circles, wrinkles, and fine lines, this applicator not only cools down and relaxes the eye area but protects the skin against photoaging and sun damage as well. Formulated with broad-spectrum SPF 35 to prevent future damage, it smoothens the skin's texture and guarantees long-lasting results too. Yep, no more stinging and burning sensations to deal with around your eyes if you have this mineral-packed cream in your makeup pouch.
Pros:
Available in 4 shades
Suitable to use twice a day
Doubles up as an eye primer
Boosts collagen and reduces eye bags
Contains natural and plant-based ingredients
Dermatologist- and ophthalmologist-recommended
Ideal for sensitive skin and delicate eyes
Cons:
With this deep wrinkle cream, consider sagging, crepey, and loose skin taken care of with every use! Infused with hyaluronic acid, collagen, vitamin E, and 3% retinol, this wrinkle filling and skin-nourishing cream is a must-try for those dealing with expression lines and sagging skin on the face and neck. Whether you use it during the day or as an overnight treatment, it hydrates, smoothens, and tightens skin with its powerful blend. Additionally, this formula also contains coconut oil, aloe vera, green tea, olive oil, and jojoba oil to nourish the skin intensely.
Pros:
Boosts cellular turnover
Improves skin's texture
Protects from skin-damaging radicals
Gentle and suitable for sensitive skin
Hypoallergenic, Non-GMO, and cruelty-free
Free from parabens, alcohol, and artificial fragrances
Cons:
Not ideal if you need instant results
Slow down those early signs of aging with this extra firming day cream. Now, whether you are in your 40s or early 50s, this powerful blend claims to lift and firm skin instantly with daily use. Moreover, it also guarantees moisturizing effects while filling wrinkles, plumping the skin, and smoothening the texture. With nourishing ingredients like shea butter, oat kernel extract, sunflower seed oil, and acerola seed extract, you can enjoy both moisturizing and wrinkle-repair benefits with this one!
Pros:
Matte finish
Reduces the appearance of fine lines
Suitable for all skin types
Smooth texture
Contains vitamin B5
Cons:
Expensive
May not be ideal as a night cream
This moisturizing therapy will have you whipped for its anti-aging effects, not kidding. A premium and lightweight cream, it not only tackles wrinkles and fine lines but also crepey skin, sagging skin, dark spots, and discoloration. Apply it generously on your neck or chest areas and watch it smoothen the texture instantly. Moreover, it's formulated with broad-spectrum SPF 25 to protect from harmful sun rays and vitamin C ester, peptides, and vitamin B3 to moisturize intensely.
Pros:
Tightens skin
Prevents sun damage
Corrects uneven skin tone
Plumps up creases, fine lines, and wrinkles
Suitable for all mature skin types
Cons:
Is your skin losing its firmness due to glycation? If yes, choose this treatment that claims to tackle skin thinning, crepey skin, wrinkles, fine lines, and rough texture with its advanced formula. The blend contains blueberry extract, and phytosphingosine that works towards restoring the skin's moisture and nutrients levels to improve optimal firmness. Go on, fight severe signs of aging and restore your youthful radiance with this gem!
Pros:
Improves texture
Comforts and soothes skin
Stimulates collagen and elastin
Free from alcohol and dyes
Suitable for dry and aging skin
Ideal for applying twice a day on face, neck, and chest areas
Cons:
Missing your enviable cheekbones and jawline, are you? Trust this Murad night cream to restore your natural contours with its tri-active technology and hyaluronic acid formula. Wake up to younger-looking and refreshed skin with this night cream that claims to be fast-acting and intensely hydrating. One of the best retinol formulas, it is an ideal choice for aging and mature skin types, especially if you are dealing with deep wrinkles, uneven skin tone, and fine lines. This one also guarantees to plump skin and restore the radiance in just 2 weeks!
Pros:
Combats dryness
Slows down aging signs
Leaves skin smooth and firm
Strengthens skin's natural barrier
Science-backed and cruelty-free
Gentle and suitable for sensitive skin
Cons:
If you don't mind going all out to restore your youthful radiance, this night cream promises dramatic results in just 8 weeks! Formulated with advanced MEP technology, it restores estrogen levels in the body to improve optimum vitality and vibrancy. Plus, the formula also contains peptides and niacinamide to protect the skin from free radicals, smoothes skin, and minimizes wrinkles and fine lines effortlessly. Moreover, it repairs and restores skin to its flawless glow overnight, thus making your mornings worth it with every use! Try it if you don't mind loosening your purse strings a little.
Pros:
Ultra-nourishing formula
Improves complexion and elasticity
Hydrates and moisturizes intensely
Reduces sagginess, dryness, and dullness
Strengthens and maintains the skin's moisture barrier
Suitable for all mature skin types
Cons:
Looking younger will always be an option if you have one of these creams in your skincare routine! There you go, those were the 15 best wrinkle creams of 2022 for you. Are you still unsure about how to choose the right wrinkle cream? Or wondering how to apply it? Check out our buying guide below.
How To Choose The Right Wrinkle Cream?
Look out for the following features in the product before buying:
Before you invest in any anti-aging cream, check if the ingredients and the cream are suitable for your skin type. Most wrinkle creams include retinol, which is a dermatologist-recommended ingredient to banish wrinkles. However, it can still be powerful and unsuitable for some skin types, which is why it is ideal to consult the doctor before using it. Besides retinol, creams with natural oils are best suitable for dry to normal skin, whereas, for sensitive skin, a dermatologist-tested, gentle, or all-natural formula would be ideal.
Ultra-moisturizing formula
Moisture loss or dryness can speed up aging too. Hence, it is imperative to pick an ultra-hydrating and moisturizing formula for the best experience. Some of the moisturizing ingredients you must look out for are shea butter, jojoba oil, vitamin E, vitamin b3, and more if you are dealing with extreme dryness or dullness.
Pick a cream that guarantees visible difference on the skin and long-lasting effects as well. Besides, if you have sensitive skin, you must choose a dermatologist-tested formula for satisfying results.
Day cream or overnight treatment
Lastly, never use a day cream at night or vice versa, as both creams work differently on the skin. Hence, before buying, check if the cream is a day or night cream and use it accordingly.
How To Apply A Wrinkle Cream
Applying a wrinkle cream on the skin is easy. Here are some tips for you:
Clean and pat dry affected areas.
Take a pearl-sized amount and dot your face, neck, and other regions that require wrinkle repair.
In circular motions, massage your skin, especially the contours, forehead, and jawline areas, followed by neck and decollete.
Why Trust Stylecraze
Vaishnavi Kothuri is a skincare enthusiast with a keen understanding of product formulations and which ingredients do what for the skin. She has handpicked the best wrinkle creams available on the market following extensive product research for this article. The creams she has reviewed here are exceptionally well formulated with the most effective yet gentle ingredients, affordable, and work visibly on facial wrinkles.
Frequently Asked Questions
Do wrinkle creams work?
Absolutely! Wrinkle creams are formulated with anti-aging ingredients that reawaken the dormant collagens and make your skin look plumper, tighter, and rejuvenated than before.
Can a wrinkle cream make wrinkles worse?
Yes! A wrinkle cream can make wrinkles worse if you are allergic to any ingredient or if the cream is not suitable for your skin type. Hence, it's ideal to consult a dermatologist before using a cream, especially if you have sensitive skin.