The 11 Best Hand Creams With SPF To Splurge On In 2023
Moisturize your hands to make them soft and smooth with young-looking, firm skin.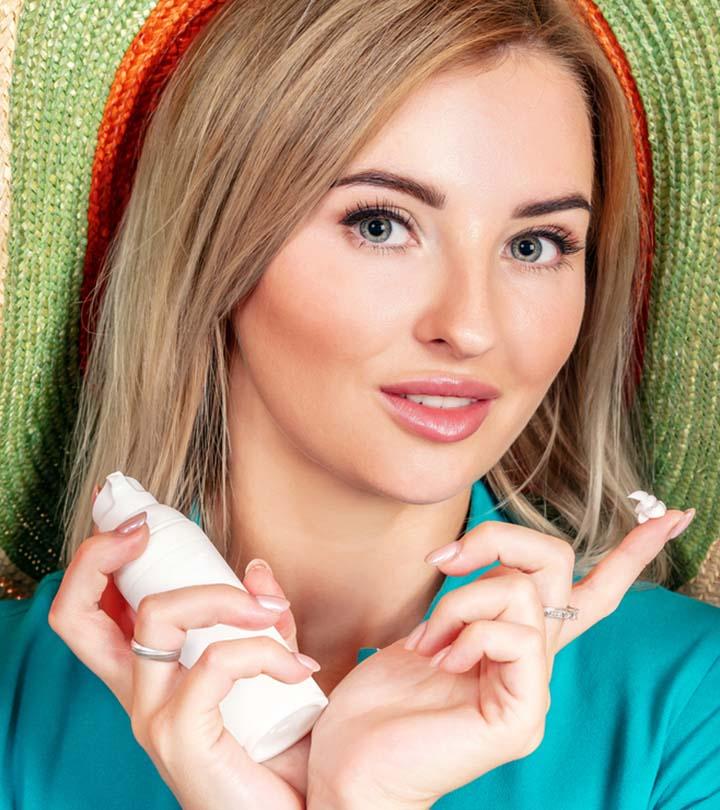 Environmental factors like harmful UV rays, rough water, polluted air, and more can make your hands rough and dry. What is more, excessive hand washing, dehydration, and beauty products with irritants can further aggravate the situation by making your hands unhealthy. But if you have the best hand cream with SPF in place, your days of worries are over. The combination of all the factors mentioned above can make your hands prone to dark spots, wrinkles, and photoaging, which is why a good hand skincare routine and suitable hand creams with SPF are of utmost importance for you to achieve beautiful and healthy hands. Since our hands do not just carry our lifelines but also speak volumes about who we are, give them the care they deserve. To make your task easy, we have made a list of the most effective hand creams with an SPF. These products are a total must-have for your skincare collection. So, without further ado, let us go ahead and check the list out. Since the market is already crowded with umpteen options, let this article be your buying guide and make your search mission easier.
11 Best Hand Creams With SPF Of 2023 To Prevent Dryness And Aging
Besides our face, our hands are also susceptible to harmful UVA/UVB rays that can cause skin cancer. So, if you've been religiously slathering sunscreen lotion on your face but forgetting to pay attention to your hands, now is a good time to start. This 2-in-1 formula not only moisturizes dry  and parched skin, it also protects your skin from sun exposure. This is the best hand cream for wrinkles and dryness if you want prolonged hydration for your skin and want your hands to look youthful. It is non-greasy, absorbs fast, and mild enough to be used every day, several times a day. Apply generous amounts of this lotion 15 minutes before you head out.
Pros
Fragrance, dye, and paraben-free
Affordable
UV protection
Fast-absorbing
Non-greasy
Cons
Might not be suitable for little children with sensitive skin
Price at the time of publication: $14.99
If SPF is not your best friend yet, it's time to rethink your friendship with it. Your beautiful hands will thank you after the first use of Supergoop's Forever Young Hand Cream with SPF 40. Enriched with sea buckthorn, the photoaging technology of this hand cream penetrates into the deeper skin layers, moisturizes, brightens, and helps in significantly improving skin texture. The powerful antioxidants and natural oils present in the cream make it one of the best anti-aging hand cream with SPF for 2023.
Pros
Suitable for all skin types
A small amount goes a long way
Protects hands from premature aging
Contains omega-7 fatty acid
Helps in preventing sunburn
Cons
Should not be used on damaged or broken skin
Our hands go through a lot every single day. So, for all the services it provides all day long, it's only fair to treat them with love and care. You can do so by applying a small amount of Deborah Lippman's Rich Girl Hand Cream because a small amount is all you need! Enriched with shea butter, avocado, and jojoba oil, this award-winning cream will make your hands feel soft, smooth, and supple. Its broad-spectrum SPF 25 hand sunscreen promises to protect your hands from the harsh rays of the sun.
Pros
Botanical lightening complex evens out skin tone
Luxury hand and foot care
Paraben-free
Non-greasy
Absorbs quickly
Cons
Although it has a floral scent, it may be too strong for some people.
Price at the time of publication: $28.0
If it's a super-moisturizing and non-oily hand cream you are looking for, you can trust Ahava's Age Perfecting Hand Cream to do the trick! Formulated with anti-aging ingredients like active Dead Sea minerals, date extract, and algae, this miraculous product will keep your hands youthful-looking forever. It is the best hand cream for dark spots and protects your hands from the signs of aging. The SPF 15 present in the hand cream provides superior protection from the harmful rays of the sun and other environmental factors. Apply the cream liberally 15 minutes before you expose your hands to the sun.
Pros
Evens out skin tone
Hypoallergenic
Vegan
Paraben-free
It is one of the best natural mineral sunscreens for your hands.
Cons
Expensive
Strong fragrance
Price at the time of publication: $34.5
Pros
Broad spectrum protection
Refreshing and soothing ingredients
Lemongrass fragrance
Hydrates and softens skin
Leaves behind no greasy feeling.
Cons
The SPF protection is not long-lasting and you need to keep applying the cream once every 3 hours.
Price at the time of publication: $29
Pros
Lightweight
Hypoallergenic
Paraben-free
Mineral oil-free
Vegan
Cruelty-free
Suitable for sensitive skin
Cons
None
Price at the time of publication: $15.3
Pros
Suitable for all skin types
Anti-aging and antioxidant properties
Paraben-free
Retinol present in the cream renews skin cells
Cons
May take some time to absorb
Price at the time of publication: $16.49
Pros
Hypoallergenic
Absorbs well
Great for sensitive skin
Non-comedogenic
Reef-friendly
Oil-free
Water-resistant
Oxybenzone-free
Octinoxate-free
Gluten-free
Cruelty-free
Paraben-free
Cons
None
Price at the time of publication: $15.49
Pros
Formulated with natural extracts
Water resistant for 45 minutes
Citrus fragrance
Made from 100% pure hemp oil
Cons
Price at the time of publication: $15.89
Pros
Skin damage repair
Broad spectrum SPF 50 protection
Anti-aging
Water-resistant up to 40 minutes
Moisture retention
Parabens, fragrance, and cruelty-free
Cons
Some may find the consistency slightly thin
Price at the time of publication: $37.0
This all-in-one Jergens BB Hand Cream with hand sunscreen makes your hands beautiful and smooth by protecting it from sun exposure and other harsh environmental factors. It's mild and gentle and works towards making your hands look 5 times more youthful. It gets to action immediately by hydrating and making the skin soft and protects skin with SPF 20. After using it for two weeks, you will find that your skin tone is even and dark spots have been reduced significantly.
Pros
For all skin tones
Specifically designed to enhance skin tone
5 beautifying benefits in one moisturizer
BB hand-cream
Reduces appearance of dark spots
Cons
Now that we've looked at some of the best hand creams with SPF in 2023, let's take a look at some things you need to consider while buying one.
How To Choose The Best Hand Cream With SPF
There are a lot of ways to choose a good hand cream that suits your hands. If you are planning to pick one, go through these points.
The first thing you need to lookout for while buying a hand cream is if it would suit your skin type. For oily skin, get a hydrating lotion enriched with retinol or grapeseed oil that balances the oils in the skin and controls it. If you have rough and dry skin, an extra dose of hydration and moisturization is mandatory. Get hand creams formulated with shea butter, aloe vera, glycerin, or even coconut oil.
If your skin sees a lot of sunlight on a daily basis, get a broad spectrum SPF cream that offers long-lasting protection from the harmful rays of the sun. There are hand creams that are formulated with SPF 15, SPF 30, SPF 45, and SPF 50. Dermatologists recommend using a hand cream with SPF levels above 30. Such creams shield your skin against 97% UV rays.
Read the ingredients list carefully to find out what suits your skin. For dry hands, you can choose creams enriched with vitamin E, aloe vera, and beeswax. Creams formulated with vitamin C, tea tree oil, and retinoids can reverse the signs of aging. Clay or grapeseed oil-infused hand creams absorb excess oils from oily hands and keep them dry.
There are hand creams that are thick and buttery, and a few that seamlessly glide over your skin. If you have an oily skin, choose something that is lightweight and non-greasy. For dry and rough hands, pick a thick cream to trap and retain moisture in the skin cells.
How To Use A Hand Cream

Step 1 – Wash your hands well with a good moisturising hand wash.
Step 2 – Pat them dry with a towel. Avoid roughly wiping your hands.
Step 3 – Take a good amount of your hand cream and smoothly apply it on your palms.
Step 4 – Do not forget to apply it on your nails and in the middle of your fingers.
Step 5 – Spread the cream on your wrists for well-moisturized hands.
Why Trust StyleCraze?
Vaishnavi Kothuri, the author of this article, loves trying out different skincare products. She recognizes the importance of SPF and what an important role they play in protecting the skin from damage. She has tried out several hand creams with SPF, checked online reviews, user feedback on trusted platform to curate this list. These products are affordable, free of harmful chemicals, and protect the skin from the harmful rays of the Sun.
Frequently Asked Questions
Should hand creams have SPF?
Hand protection creams with SPF can be a good choice. One of the major reasons why our skin ages is due to the exposure to UV rays. Apart from getting a cream that hydrates and softens, a hand cream with sunscreen reduces the signs of aging.
Can I use face sunscreen on my hands?
The skin on your face is thinner when you compare it to the skin on your hands. You need a thicker cream for your hands for better moisture retention and better sun protection.
What is the best hand cream for aging hands?
Based on customer reviews, Supergoop's Forever Young Hand Cream can reverse aging of hands and make them look youthful. This can be the best cream for aging hands.
How do you get rid of crepey hands?
Crepey hands can be healed with good moisturization along with medical treatment and is the key to soft and healthy hands.  Use cream-based moisturizers and a hand lotion for aging hands. Also, massage them with petroleum jelly at night for better blood circulation.
Can hand lotion be used as sunscreen?
Yes, hand lotions with SPF can protect you from sun rays. However, hand lotions usually have thicker and greasier consistencies, so it is best not to use them on other body parts.
How do you keep sunscreen on your hands?
Avoid touching or grabbing many things after applying sunscreen on your hands. Otherwise, the formula will transfer from your hands and become less effective. However, you can apply an additional layer to prevent this issue.