11 Best Drugstore Henna Hair Dyes Of 2023
Transform your dull hair into uniquely colored ones with these affordable natural powders.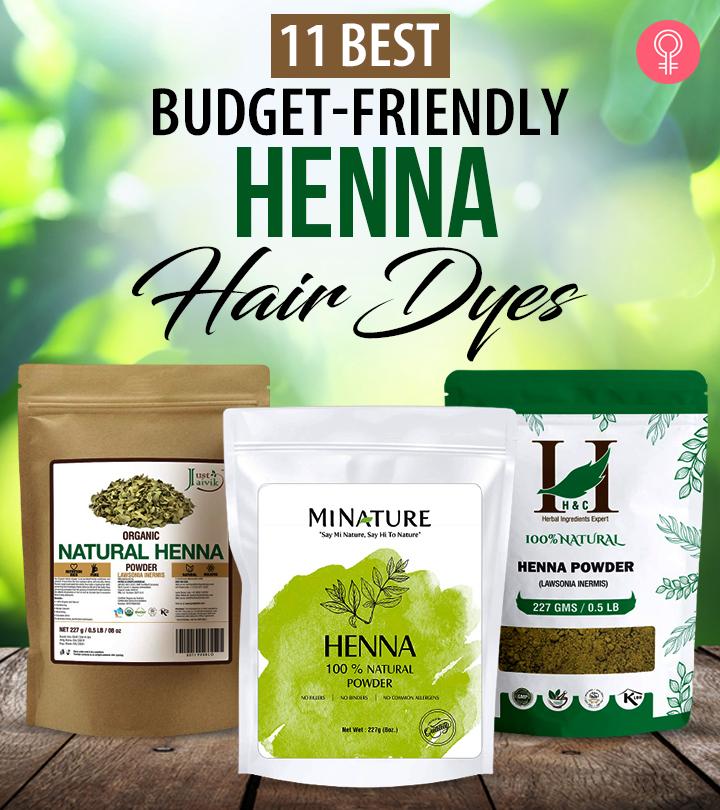 Are you looking for the best drugstore henna hair dyes? Well, you are at the right place. Henna dies are perfect for those who need a change from their natural hair color but don't want to use chemical colors worrying if they'll weaken the hair. They are also pocket-friendly and give a reddish-brown tinge to your hair. Contrary to chemical dyes, henna strengthens your hair and gives a natural-looking color that shines when you go outdoor. Here are 11 henna dyes for you to choose from.
11 Best Henna Hair Dyes To Try
The Henna Guys Henna Hair & Beard Dye is a unisex product and has a formula containing henna, indigo, amla, false daisy, red clay, and hibiscus powder. The powder color needs to be mixed with water before application and imparts a dark brown color. It is available in 10 different shades and is free of harsh chemicals and artificial color developers. The kit comes with a shower cap and gloves.
Pros
Contains organic ingredients
Paraben-free
Alcohol-free
No synthetic fragrances
No color developers
Not tested on animals
Cons
Poor color payoff on dark hair
The Hannah Natural Pure Henna is a 100% chemical-free and all-natural product. This herbal henna does not contain any other harmful additives and works as an excellent natural conditioner to keep your hair soft and nourished. It is finely milled and can be easily mixed. The kit contains two packs of henna, a pair of gloves, a shower cap, and detailed instructions. If you want to know more about the benefits of this product, check out a tester's experience in this quick review on YouTube.
Pros
Chemical-free
Works best for short hair
Contains 100% natural henna leaves
Cons
The H&C 100% Natural Henna Powder imparts a very subtle, natural-looking color. The powder is made of 100% organic henna leaves minus any chemicals or PPD and is safe for all ages. The henna powder is triple sifted and forms a clump-free paste when mixed with water. It can be used with different ingredients like bananas and amla to improve scalp health and keep your hair conditioned until the next wash.
Pros
100% natural
Natural-looking finish
Contains organic henna leaves
Triple sifted powder
PPD-free
Not tested on animals
Hypoallergenic
Cons
None

The MI Nature Henna Powder is 100% natural, vegan, and free of pesticides. It does not contain metallic salts, peroxides, PPD, ammonia, or other added preservatives. This high-quality henna powder helps control hair damage, stimulates hair growth, and prevents hair fall. It gives a rich, reddish color and can be combined with Indigo powder for black and brown shades.
Pros
Contain natural ingredients
Nourishing
Hair strengthening
Non-toxic
Vegan
Pesticide-free
Synthetic preservative-free
Ammonia-free
PPD-free
Cons
Does not include instructions
The Just Jaivik Organic Natural Henna Powder is 100% natural and USDA certified. It is free of additives and adds natural shine and color to your hair. The henna leaves are handpicked, and the powder is thoroughly sifted for easy mixing. It is gentle on the scalp and strengthens the hair. The product is formulated without bleaches or PPD and is safe for all ages.
Pros
100% natural
USDA certified
Safe for all ages
PPD-free
Cons
The Godrej Nupur Henna is a combination of henna and eight natural herbs. It contains aloe vera, water hyssop, Indian lilac, hibiscus, and false daisy extracts that keep your hair soft, shiny, and glossy. It helps prevent scalp infection and keeps the hair moisturized and nourished. The powder gives a reddish hue to the hair. The packet contains 400 grams of henna powder that may last for four treatments for mid-length hair.
Pros
Contain natural extracts
Ammonia-free
No synthetic preservatives
Cons
May not last long
Unpleasant fragrance
The Reshma Henna Hair Color is made of the purest and refined forms of henna. It contains nourishing ingredients like fruit and vegetable extract that give the color, help seal scalp moisture, and condition the hair to keep it soft and silky. It does not contain any harsh chemicals like ammonia and peroxides. The color lasts for almost 4-6 weeks, making it quite fade-resistant, and also gives better color payoff on lighter hair. The kit includes henna powder, gloves, an application brush, and an instruction manual.
Pros
Ammonia-free
Peroxide-free
Easy to use
Free from animal testing
Cons
The Rainbow Henna Hair Color & Conditioner is a versatile product and provides excellent gray coverage. It is 100% natural and contains a blend of red henna (Lawsonia Inermis) and black henna (Indigofera). The powder blends well with your natural hair color, is easy to use, and suitable for all hair types. It is available in 12 different shades ranging from black to blonde. Check out a tester's experience and an honest review of the product.
Pros
100% natural
Multiple color options
Pesticide-free
Dye-free
Cons
Has a gritty texture
Unpleasant smell
Covering your gray hair is easy with the Dabur Vatika Henna Hair Color. It is enriched with the goodness of henna that colors and strengthens your hair while adding a glossy shine. The product contains olive extract that nourishes your hair and prevents further damage. This easy-to-use gorgeous hair color works like a herbal conditioner. It prevents dandruff, is 100% natural, and available in two different shades. Here's a video featuring a detailed review of the product.
Pros
Natural-looking color
Easy to use
Ammonia-free
No harmful chemicals
Available in two shades
Cons
None
The Zenia Henna Powder is 100% natural and contains organic henna leaves. It is triple sifted and mixes into a very smooth paste. The powder fights dandruff, nourishes the scalp, and provides deep conditioning to the hair to keep it soft and smooth. It imparts a warm copper tinge to the hair and is vegan and pesticide-free.
Pros
Cruelty-free
Ammonia-free
Metallic salt-free
Peroxide-free
Dye-free
Vegan
Pesticide-free
Cons
The Surya Brasil Henna Cream is a semi-permanent hair color infused with rich botanicals and fruit extracts. It contains rose and jasmine essential oils, aloe vera, and chamomile extracts. It offers a vibrant color payoff and deeply conditions the hair to keep it nourished and prevent further damage. The product also maintains the scalp health and provides excellent gray coverage.
Pros
Ammonia-free
PPD-free
Peroxide-free
Paraben-free
Non-GMO
Heavy metal-free
Cons
*The prices provided in this article are based on the latest available information. However, they may vary due to changes in pricing by the seller and/or promotional offers.
If you are looking to give your hair a change but don't want to dabble with chemical dyes, then a good-quality henna dye is the best option. It refreshes your hair color and gives it a glossy shine. It has been used for thousands of years, but along the way the formulations have changed. Today there are a variety of options to choose from and to help you make a decision regarding the best drugstore henna hair dyes,  we have this quick buying guide given below.
How To Choose The Best Drugstore Henna Hair Dyes
Mostly henna powder is green or brownish-red in color. After applying, you will be able to see the actual burgundy or auburn shade of the dye. It may take a few tries for you to get the perfect shade you want; for brunette hair, some dyes give a warm red, while others give a darker shade of red.
Since it is a natural product, age can affect the efficacy of henna dye. Old batches can cause allergic reactions and will not provide a solid color. Fresh henna offers the deepest shades and will be skin friendly as well. Check for expiration dates before you choose your henna dye.
You can tell good quality henna by looking at the fineness of the powder. Triple-filtered microfine henna powder is sifted again and again to get rid of all the impurities. This fine henna dye  gives a creamy paste minus any lumps and can be easily applied to the scalp. Opt for expert-recommended products to avoid compromised quality.
Check the ingredient list to look for organic and natural ingredients that will nourish and condition your hair while coloring it. Henna dyes help to treat dry and damaged hair as long as they are chemical-free. Avoid ingredients like PPD, ammonia, peroxide, metallic salts, and other preservatives. These will change the pH balance of the scalp and are especially harmful for dry scalp conditions. Perform a patch test to avoid any potential allergic reactions.
Most henna hair dye is sourced from locations in Southeast Asia and the Middle East. Rajasthan in India and Morocco in North Africa produce some of the most popular types of henna. For a crimson tone, choose Moroccan henna and for a reddish-brown, the Rajasthani origin henna is best.
Why Trust StyleCraze?
The author, Oyendrila Kanjilal, is a hair care enthusiast who loves keeping a close eye on the newest hair trends. According to her, applying Henna is a natural way to add shine to your hair and darken your locks. After extensive research and reviewing numerous online reviews, she compiled the best drugstore henna hair dyes. These products are formulated with organic ingredients and ammonia-free chemicals that are beneficial to your hair and scalp for the long run.
Frequently Asked Questions
Can henna ruin your hair?
Yes, if the henna product contains additives and harmful chemicals like PPD and ammonia, it can cause damage to your hair.
How long does henna dye last in your hair?
Henna hair dye lasts for almost 4-6 weeks on your hair.
Which is better, hair dye or henna?
Henna is better as it is a natural and safer option, and unlike hair dyes, it does not contain any chemicals.
Is henna good for gray hair?
Yes, henna is excellent for gray hair coverage.
Does henna thicken hair?
Henna may increase the thickness of your hair. It attaches itself to the hair cuticle and creates a loosening effect that weighs down your hair to make it appear thick.
Is it better to apply henna on dirty hair?
No, always apply henna on clean hair.
Recommended Articles