Top 11 Night Creams For Oily Skinned Women – 2022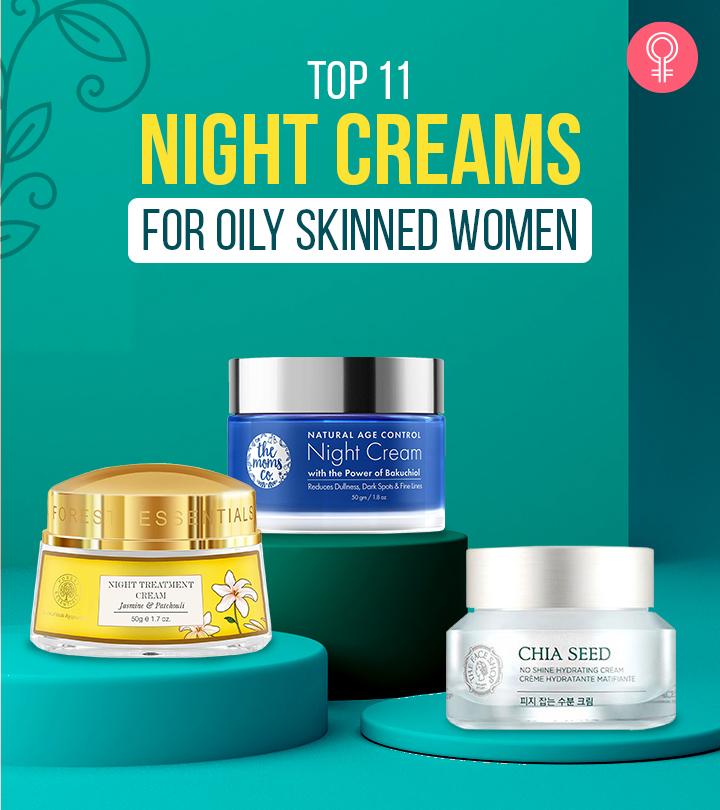 Even oily skin needs moisturization. An overnight cream is the best way to amp up the repair cycle of your skin. However, finding the right night cream for oily skin can be tough. It needs to be lightweight and hydrating at the same time so that you don't wake up with a greasy face. We have rounded up a list of the best night creams that you can add to your night skin care routine. Check it out!
The Best Night Creams For Oily Skin – 2022
Your skin is going to love this refreshing night cream. It is formulated with lightweight argan oil and green tea extracts. This night creams cuts down greasiness and helps your skin combat issues like rough texture, fine lines, age spots, and open pores. It has a gel-like formula that sinks into your skin easily. It also contains licorice extracts that brighten your skin.
Pros
Non-comedogenic
100% vegan formula
Paraben-free
Phthalate-free
Cruelty-free
SLS-free
100% natural product
No DEA and PABA
Cons
None
The primary focus of a good skincare regimen would be to keep the skin well hydrated. Olay Regenerist Night Cream hydrates the skin overnight to keep it looking fresh and youthful throughout the day. It contains a chain of anti-aging ingredients, such as Vitamin E, pro-vitamin B5, green tea, and glycerin. Amino-peptide +B3 complex is an exclusive component that makes the cream stand out.
Pros:
Rejuvenates the skin surface layers to bring on a youthful glow
Exfoliates the skin surface to remove damaged cells
Reduces fine lines and wrinkles
Hydrates the skin in a time-controlled manner to provide adequate moisture content in the skin overnight
Stimulates the regeneration of skin cells
Non-greasy, light-weight texture
This lightweight cream, powered with Bakuchiol is non-greasy and gets absorbed easily! The Natural Age Control Night Cream hydrates the skin with Hyaluronic Acid which doesn't make the skin oily. It has Bakuchiol which reduces the appearance of fine lines and wrinkles while Niacinamide reduces pigmentation. Natural Vitamin E present in the night cream is a powerful source of antioxidants which helps reduce the early signs of ageing. Chia Seed Oil, together with Niacinamide, works on reducing the appearance of dark spots and blemishes. Wake up to a younger looking skin that feels refreshed with The Moms Co.'s Natural Age Control Night Cream.
Pros
Non-greasy, lightweight cream
Reduces fine lines and wrinkles
Restores skin firmness
Improves uneven skin tone
Repairs and rejuvenates the skin
Gets absorbed easily
Vegan and cruelty-free
Cons
None
This overnight skin repairing night cream evens out your skin tone and reduces dullness, dark spots, and all the damaging effects of pollution and other environmental factors. It keeps your skin moisturized without making it oily.
Pros
Preservative-free
Fragrance-free
Organic ingredients
No artificial colors
Suitable for all skin types
Cons
None
This night cream contains skin renewing peptides that soften and lift your tired skin. It repairs, restores, and protects your skin's natural barrier, making you look refreshed when you wake up in the morning.
Pros
Fragrance-free
Non-greasy
Hydrating formula
Non-irritating
Non-comedogenic
Developed with dermatologists
Phthalates-free
BPA-free
Cons
None
Price at the time of publication: $15.87
This lightweight corrective cream is specially formulated for combination and oily skin. It is a blend of enzymes, herbal extracts, and skin hydrators, such as patchouli and jasmine, that reduce excess oil production and even out your skin.
Note: This product contains herbal extracts that may cause an allergic reaction. If you are allergic to any ingredient, avoid using this product. Check the ingredients list carefully before purchasing.
Pros
Natural ingredients
No harmful chemicals
Paraben-free
Cons
None
This night cream works to reverse all signs of damage and make your skin glow by the morning. It tightens your skin, boosts collagen and elastin production, and maintains the moisture level of your skin. It is suitable for all skin types. It is available in two formulas – one for oily and combination skin and the other for dry and dry combination skin.
Pros
Paraben-free
Allergy-tested
100% fragrance-free
Contains antioxidants
Cons
The Himalayan Organics Retinol Face Cream is packed with active botanical extracts that boost the natural collagen production of your skin. Retinol imparts radiance and rejuvenates dull, tired skin. The fast-absorbing formula reduces the appearance of wrinkles, fine lines, pigmentation, and age spots. This night cream helps protect your skin from damage, supports its renewal process, and maintains the lipid barrier. It keeps your skin hydrated and provides a velvety, smooth finish.
Pros
Absorbed quickly
Vegan
Non-greasy
Sulfate-free
Paraben-free
Mineral oil-free
Silicone-free
No harmful chemicals
Cons
None
This night cream from Dot & Key is formulated with powerful ingredients like hibiscus, retinol, and ceramide. They help to reduce wrinkles by boosting collagen, prevent dryness and irritation, control sebum, and make you look younger. This anti-aging night cream removes pigmentation, dark spots, and other blemishes to offer you an even-toned skin. Additionally, the Sea buckthorn berry and hyaluronic acid keeps your skin hydrated for a youthful and bright feel.
Pros
Dermatologist-tested
Cruelty-free
No nasty chemicals
Cons
This is another lightweight and oily skin-friendly night cream that protects your skin from the damaging effects of environmental pollution and stress. It delays the signs of aging, boosts collagen production, and reduces blemishes, age spots, wrinkles, and fine lines while you get your beauty sleep.
Pros
Contains allantoin, retinol, and AHAs
Pleasant fragrance
Suitable for oily and combination skin
Cons
This product claims to make your skin look and feel younger within a week. It contains hyaluronic acid that keeps your skin hydrated and plump. It also contains retinol that reduces the appearance of fine line and wrinkles.
Pros
Cruelty-free
Hygienic packaging
Lightweight
Does not irritate the skin
Cons
Takes long to show results
Price at the time of publication: $2321.0
Now that you know which night creams work best for oily skin, let's look at some essential points to consider before purchasing one.
Things To Consider Before Buying A Night Cream For Oily Skin
Skin Type And Ingredients
Not all night creams are meant for all skin types. Therefore, choose the one that suits your skin type. For example, if you have oily skin, opt for a night cream that deals specifically with oily skin. Look for ingredients like tea tree oil, aloe vera, salicylic acid, and glycolic acid as they are great for oily skin.
Night creams mainly deal with aging issues like wrinkles and fine lines. Look for night creams that have an anti-aging formula to fight the signs of aging while you sleep.
Be clear of your purpose for buying a night cream. For example, if you want to deal with fine lines and wrinkles, opt for a night cream that helps reverse age-related issues. If you wish to tackle sagging, opt for a night cream that aids in skin firming. Also, ensure that the cream is suitable for oily skin.
At night, the skin renewal process hits its peak, and this is when your skin is the most receptive to ingredients. Night creams contain active ingredients that your skin can absorb easily. If you have oily skin, pick any one of these night creams to repair and pamper it. Let us know about your experience in the comments section below!
You can use good quality night creams to moisturize your face before going to bed at night. For people with oily skin, these night creams can work wonders as they help in getting rid of excess grease while being super hydrating. The natural ingredients in these night creams can fight skin issues related to dullness and dryness. They also combat premature signs of aging including dark spots, patches, and fine lines. However, while choosing the best night creams for oily skin, it is better to choose the ones that are free of parabens, phthalates, and sulfates.
Recommended Articles
The following two tabs change content below.