The 9 Best 30-Inch Gas Cooktops With A Buying Guide – 2023
Cook delicious meals in half the time with premium-quality and efficient cooktops.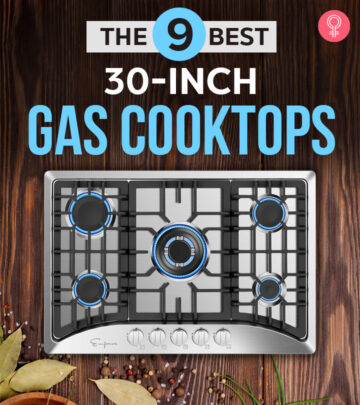 Whether you are an expert chef or cooking something for yourself and your family at home, having the best 30-inch gas cooktop can level up your cooking game. The 30-inch gas cooktops have high durability and some great designs. In addition, they consume high power, helping you cook your food in no time. We have shortlisted the best 30-inch gas cooktops with the best features for you to choose from. Scroll down!
The 9 Best 30-Inch Gas Cook tops
Pros
Dishwasher-safe
Easy to clean
Responsive ignition
Cons
The bumpers are prone to wear and tear.
Price at the time of publication: $669.0
Pros
Auto-shutoff
Affordable
Dishwasher-safe
Scratch-resistant
Stain-resistant
Discoloration-resistant
Easy to clean
Cons
Price at the time of publication: $392.93
This cooktop by Deli-Kit is stable, safe, and energy-efficient. The cast-iron grates provide durability and support heavy work, while the stainless steel makes it resistant to corrosion. This five-burner gas cooktop can be powered through gas or propane and has a 110V AC pulse ignition.
Features
BTU: 3,413-11,262
Dimensions: 92 x 19.69 x 3.94 inches
Weight: 5 pounds
Color: Silver
Burners: 5
Material: Stainless steel
Warranty: 5 years
Ignition Type: Electronic
Pros
Rust-resistant
Corrosion-resistant
Long-lasting
Easy to clean
Cons
None
Price at the time of publication: $268.35
The Frigidaire FFGC3012TS Gas Cook top has a Simmer burner for delicate cooking and Quick boil burner for high-heat frying and searing. It features angled front controls that enable ease of use. The continuous, heavy-duty cast-iron grates offer the seamless movement of heavy pans and pots between burners and are sealed to provide easy clean-up and maintenance. This cooktop also has an LP gas conversion capability.
Features
BTU: 5,000-15,000
Dimensions: 35 x 26 x 10.25 inches
Weight:6 pounds
Color: Silver
Burners: 4
Material: Stainless steel
Warranty: 1 year
Ignition Type: Electric
Pros
Effective ventilation
Easy to clean
ADA compliant
Dishwasher-safe
Durable
Cons
Price at the time of publication: $799.99
Pros
ADA compliant
Dishwasher-safe
Easy to clean
Can be installed over 30-inch oven
Cons
Price at the time of publication: $609.0
Pros
ADA compliant
Dishwasher-safe
Sleek design
Easy to clean
Flame failure technology
Can be installed over 30-inch oven
Cons
Price at the time of publication: $409.99
Pros
Flame-out protection
NG/LPG convertible
Durable
Sleek design
Easy to clean
Cons
Price at the time of publication: $219.99
Pros
Energy-efficient
Easy to install
Ideal for compact kitchens
Cons
None

Price at the time of publication: $254.0
Pros
Excellent temperature control

Supports cooking pot maneuverability

Easy to clean

Easy to install

High end safety features

Durable

Quick ignition

Flame failure detection

Compatible with pans and pots of all sizes

Tri-ring Center Burner
Cons
none
Price at the time of publication: $1299
Instant heat control, leveling your cooking game, and high durability are what make gas cooktops sought after. They are found in professional kitchens around the world and are a favorite for home cooks. But, getting the right one could be hard and challenging. Here are some important factors to keep in mind while making a choice.
How To Select The bets 30-inch Gas Cooktops
Performance: Ensure you get a cooktop that performs well. The numerous types of cooking surfaces, heat levels, and gas burners will greatly influence the performance. Check the capacity and ability of the cooktop to handle loads.
Ignition type: There are two types of ignition types available for gas cooktops; auto and manual. Choose a manual for the old-school cooking experience while the auto is a modern-day technology. It is all about your preference when choosing the one you want. For a safe experience, the auto-ignition type is advised.
Design: Choosing the right features is vital in ensuring you get a cooktop that you will enjoy using to cook different meals. The design and burner size of the gas cooktop is another vital factor you should take into consideration. The design of the cooktop is linked to its performance and usage. Look into the burner sizes, the size of heat areas, and its overall design for maximized experience.
Maintenance: Make sure to get a product that you can easily clean. Cleanliness is an added advantage and it adds to the performance of the product. A good cooktop is easy to maintain and will require less effort for cleaning. Opt for a gas cooktop that has a smooth top and not stick material. This will allow you to clean it easily. Ensure you get one that is easy to clean by checking its surface and top components. It should not be hard to clean at all or require special tools or methods.
If you want to purchase the best gas cooktop amongst the many options, you need to consider a few factors.They are discussed in the following section. 
What Should I Look For When Buying A Gas Cooktop?
Number Of Burners: While two-burner cooktops are the commonly used type, three and four burners are becoming increasingly popular. As per your requirement, you can also go for five burners.
Ignition Type: Depending on your cooking style, choose manual operation or automatic ignition. In manual, you use a matchstick or a lighter for igniting, while in automatic, the flame turns on without user interference. The drawback of The manual mode may cause skin burns and rashes during ignition, while the automatic one is comparatively safe.
Sealed Burners: Here, the stove burners are sealed with the cooktop, which provides ease of cleaning and maintenance. However, it may not heat the utensils quickly.
Finish And Design: As opposed to the traditional models, surfaces like steel and tempered glass top with multiple burners and heating options are available. Make a choice depending on the style and finish that suit your kitchen decor and family requirements.
Burner Size: Along with the number of burners, the size is also an important factor. For instance, if you need one small and two large burners, a 3-burner stove might be a good fit. Check the number of large and small burners the model offers.
Installation Format: There are two kinds of installation formats for stove tops: desk stove and hob-tops. The former is placed on top of the counter using small leg stands, while the latter has built-in hobs to fit on the kitchen countertop seamlessly. Hob-tops enhance the aesthetic appeal of your kitchen and are handy while creating an ensemble.
A gas cooktop definitely serves as a tremendous advantage and necessary investment for your kitchen needs. But consider your cooking habits before deciding on the best one. Choose as per your cooking preference from our list of the 30-inch gas cooktops.
Why Trust StyleCraze?
The author of this article, Pratyasha Ray, is passionate about reviewing home appliances. She loves to stay updated with the latest home and kitchen products and has a keen interest in recommending the best picks for her readers. This list of the best 30-inch gas cooktops is curated after thorough research and reading customer reviews online from trusted platforms. These cooktops are durable and easy to clean.
Frequently Asked Questions
What is the difference between a cooktop and a range top?
A cooktop is dropped into the pre-cut cavity of your countertop, while a range top slides into the prebuilt shelf of your cabinet in a hidden manner.
How many BTUs do I need for my cooktop?
One high-power burner of more than or equal to 12,000 BTUs along with two medium-power burners is appropriate. If your cooking requires quick, high heat, take power a notch higher.
Is a gas cooktop better than an induction cooktop?
The induction cooktop is more energy-efficient than a gas cooktop as it distributes the heat and keeps the kitchen cooler and more comfortable. The food cooked on an induction receives 90% of the heat as opposed to just 40-55% in gas cooking. Also, induction is safe as there are no flames and easier to maintain thana gas cooktop.
How long do gas cooktops last?
Most gas cooktops last for 15 years and the electric ones for 13 years.
Why are induction cooktops so expensive?
An induction cooktop is expensive as the technology involved is more complex than that of gas cooktops. They offer better temperature control and cook food more quickly.