Waist Trainers – Best Body Shapers To Give You An Hourglass Figure Instantly
Want to take 2 inches off your waist and get an hourglass figure in just a minute? Then, you must try waist trainers. These are body shapers that make your tummy area look slimmer than your bust and hips.
Women who have tried waist trainers (including celebs like the Kardashians and the Jenners) l.o.v.e the way they feel after wearing them. In fact, wearing these regularly can help shape up your belly. But you also need to have a proper diet and workout plan. If you are new to this concept, read this post to know the A-Z of waist trainers. And if you confused about which one to buy, check out our list of 10 best waist trainers. Swipe up!
What Are Waist Trainers?
Waist trainers are basically waist shapers that look similar to the traditional corsets. Also known as waist cinchers, waist training corsets, and waist shapers, these accentuate your hips and the bust area along with slimming your waist. They are made of different materials and have different designs. They have become a fashion trend, and you can also wear them while exercising!
You might have seen ads of various types of corset-looking waist trainers on Facebook and Instagram and wondered if all of them are same? No. They are not. Here are the types of waist trainers.
What Are The Types Of Waist Trainers?
There are two types of waist trainers – corsets and waist cinchers.
Corsets were discovered and worn by women in the 18th century, and they are made of hard boning steel. They can amazingly shave 3-6 inches off your waist. But they can sometimes be painful to wear all day.
Waist cinchers have flexible plastic boning, which can be adjusted by a zipper or laces according to your comfort level. They can help take 2 inches off your waist. You can easily wear waist cinchers underneath your clothes during work, school, gym, or even at home to get a smaller waist. But how can wearing a waist trainer take off inches? Find that out in the next section.
How Do Waist Trainers Work?
The waist trainer works by increasing thermogenesis (heat generation) in your waist area, shaping up your waist, improving your posture, and giving a smoothening effect to your clothes over it.
When you wear a waist trainer regularly, the increased heat in your waist region will increase the metabolism of the cells in your midsection. As a result, you will shed the fat in your waist region.
Also, most of us have a skewed posture, which makes even the best of our figures look sloppy. Wearing waist trainers will prevent you from slouching and crouching by providing back support.
And finally, waist trainers improve the shape of your body, preventing any extra inches from bulging out.
But the main question is, are they safe to use? Here's what you've got to know.
Are Waist Trainers Safe To Use?
Waist trainers are safe to use as long as you are comfortable in them. If you buy one that is one or two sizes too small, thinking you will get a slimmer waist in just a day, it is only going to cause you pain. So, choose wisely. Do not go overboard and squeeze your midsection to a point where it becomes a health issue.
Now, let me tell you about the 10 best waist trainers in the market. Scroll down.
10 Best Waist Trainers That You Can Buy
1. Squeem Perfect Waist Firm Compression Waist Trainer
This is Brazil's No.1 waist trainer for women. It is a waist cincher and not a corset. It comes in different sizes and two colors (as of now). It has a contoured waist, a smooth midsection, and double row hook and eye closure. It offers adjustable compression levels that help reduce inches from the waist.
Pros
Helps correct the posture.
Made of comfortable fabric (75% natural rubber and 25% pure cotton).
Can be used by both tall and short women.
Has a sleek surface, giving your clothes a smoother look.
You can wear it beneath off-shoulder and strapless tops and dresses.
Cons
Might cause skin irritation.
You cannot give it for dry cleaning or wash it in the machine.
You cannot wear it with the trendy crop tops.
Price
$35.94 – $69.00
2. Colombian Latex Waist Cincher Waist Trainer Trimmer Long Torso With 3 Hook Rows
This is a highly flexible double latex waist cincher that doesn't cause discomfort when you are sitting or moving/twisting your torso. It helps shape up your torso by increasing heat generation in the area.
Pros
Helps take 3 inches off your waist area.
Has a latex core.
Improves posture.
Easy to move around.
Cons
Latex odor. 
Price
$25.95
3. Ann Chery Faja Deportiva Workout Waist Cincher
It is made of 50% latex, 48% cotton, and 2% elastane. It is great for wearing while working out. Different sizes and colors are available.
Pros
Soft and smooth inner layer for extra comfort.
Can wear it while exercising.
Durable and helps improve the shape of your torso.
Supports the back.
Cons
May be fragile.
Price
$21 – $59.50
4. Eleady Women's Underbust Corset Waist Trainer
For a slimmer and cleaner look, go for the Eleady Women's Underbust Corset Waist Trainer. It will make you sweat in the core area, which will help you lose the extra pounds quickly. The anti-droop design also helps keep your breasts uplifted, and the zipper and the hook prevent it from opening when you exercise.
Pros
You can wear it while exercising.
Zipper and three column hook closure.
Gives a sleek, slim, and natural look.
Available in various sizes.
Firms and hides flabby arms.
Cons
Cannot wash it in the machine.
Price
$18.99 – $19.99
5. Camellia's Women's 26 Steel Boned Corset Short Torso Heavy Duty Trainer Corset For Weight Loss
This is great for women who have medium to short torso length. It helps take away 3-4 inches off your waist. It is a good option for those looking to shed some inches quickly. You have to eat healthy and workout to get the best out of this trainer corset.
Pros
Built for heavy duty.
Stimulates fat burning in your midsection.
Strong steel bones provide enough support to your back.
Trendy and fashionable.
Cons
It might be a bit too much for a beginner.
Price
$32.99 – $36.99
6. Charmian Women's Latex Underbust Waist Training Steel Boned Shapewear Corset
This is made of 100% latex. It is spiral steel boned for waist cincher support, which helps correct your posture. It has soft plastic bones and can bend easily.
Pros
Best for giving shape to your tummy area.
Supports the back.
Great for new mothers.
Helps you get an hourglass shape. 
Cons
Latex odor.
Bends and fold in few places.
Price
$7.99 – $29.99
[ Read: 8 Best Exercises To Get Rid Of Muffin Top ]
7. YIANNA Women's Underbust Latex Sports Girdle Waist Trainer Corset Hourglass Body Shaper
This is a highly elastic natural latex waist trainer that has three hooks and eye closure for a firm fit.
Pros
Flexible and durable.
Soft plastic bones.
Gives you a smooth waistline.
Makes your torso look longer.
Can be used for yoga.
Tightens postpartum belly.
Cons
It might be too small for big boned and tall women.
Price
$16.59 – $28.89
8. Lover-Beauty Women's Latex Underbust Corset Waist Training Cincher 9 Steel Boned
It is made of 96% cotton and 4% spandex and has nine pieces of spiral steel bones. This provides added support and slims your waist. 
Pros
Reduces 4-5 inches of your midsection.
Works for tall women.
Flexible and durable.
Good back support.
Many sizes and colors are available.
Cons
May cause your back to bulge out.
May lift your bust uncomfortably high.
Price
$3.20 – $29.99
9. Maidenform Flexees Women's Shapewear Hi-Waist Brief Firm Control
Made of 70% nylon and 30% elastane. Helps slim your waist and supports your back.
Pros
Has a silicon elastic waistband that prevents it from rolling down.
Fresh 24/7 gusset.
Has two-ply mesh liner for comfort.
Firm control of your body shape.
Cons
Cannot wash it in a machine.
Price
$12.00 – $81.43
10. Atbuty Waist Trainer Corset Women's Latex Workout Waist Cincher BEst Body Shapewear Girdle
Has three layers. The outer layer is made of 96% nylon and 4% spandex, mid layer is made of 100% natural latex, and the inner layer is made of 96% cotton and 4% spandex.
Pros
Comfortable and has an instant slimming effect.
Durable and adjustable.
You can wear it while working out.
Provides a smooth waistline.
Cons
The material might seem too rigid if you are a beginner.
Price
$22.99 – $32.99
These are our top picks. As you can see from the pros and cons, not all waist trainers/corsets are meant for everyone. You have to choose the right one. Here's what you should look for while buying a waist trainer.
What To Look For While Buying A Waist Trainer
If you have decided to give waist trainers a go, keep the following things in mind:
Comfort – Unless it feels comfortable, you will not be able to wear it and see any results.
Fabric – Avoid itchy and uncomfortable fabric.
Style – Waist trainers are available in various styles; choose the one that is most comfortable.
Size – Unless you wear the right size, you will not see any results.
Adjustable fit – Buy a waist trainer that can be adjusted according to your need.
Durability
Cost
As mentioned before, you can use the waist trainers while exercising. But you must be aware of the following guidelines before doing so.
[ Read: 16 Simple Exercises To Reduce Belly Fat ]
Guidelines To Use Waist Trainers While Exercising
Wear it while doing resistance training or weight lifting.
Do not wear it while doing cardio or HIIT.
Wear a thin tank top beneath your waist trainer for maximum comfort.
Do not wear it too tight.
Do not wear a waist trainer beyond 7 hours per day.
Now, let's take a look at the benefits of getting a waist trainer.
Benefits Of Buying A Waist Trainer
Can actually help you shed fat.
Improves posture.
Acts as shapewear.
You will get an hourglass figure instantly.
Good for those suffering from back pain.
Great for those who want to do strength training.
Tips
If you are a beginner, wear your waist trainer for 1-2 hours on the first day.
Take a break and remove your waist trainer before going to sleep.
If you wish to lose weight, you must follow a healthy lifestyle along with wearing the waist trainer.
There you have it – the A-Z of waist trainers. Find your fit and buy one today! And do not forget to check out the 1500 calorie diet to know how you can lose the flab from your midsection. If you have any questions, please post them in the comments section below. Cheers! 
Expert's Answers for Readers Questions
Will a waist trainer make me slim?
Yes, if you wear it regularly, eat healthy, and workout at least 3-5 days a week.
Do waist trainers hurt?
If the design is uncomfortable, and the material used is not skin-friendly, you might end up feeling itchy and bruised.
Which size should I choose?
Use a measuring tape and measure your size to know which size will suit you best.
Banner Image Credits: Instagram
Recommended Articles:

The following two tabs change content below.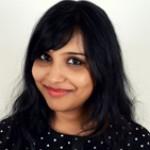 Latest posts by Charushila Biswas (see all)