10 Best Face Mists For Oily Skin That Brighten It Up
Control excess sebum production and achieve hydrated skin with these face mists.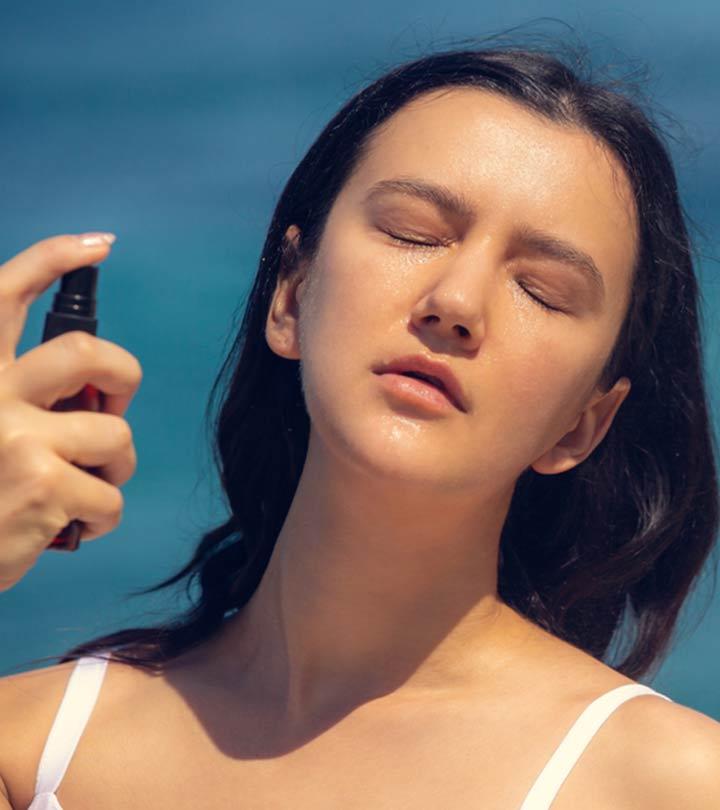 The best face mist for oily skin can help minimize acne, control sebum production, and provide hydration to your skin. Face mists are among the most underappreciated skincare products on the market and can really provide excellent additional benefits when included in your skincare regime at a reasonable price. A face mist can soothe irritated skin, brighten tired and dreary skin, and boost your mood. The best part is that it can do wonders for skin that tends to get oily. Face mists also aid in the setting of makeup, allowing it to stay for longer.
Surprised? Don't be afraid to try them out if you have not already. Facial mists feel extremely refreshing and can revitalize your skin. Matthew Rundle, an expert esthetician says, "I like to keep mine in the room fridge on holiday for an instantly cooling and rehydrating after a day on the beach." If you need help selecting the best face mist for your skin, we are here to assist you. So, without further ado, take a quick look at the top 10 face mists designed for oily skin so that your skin can look and feel radiant. Scroll down.
10 Best Face Mists For Oily Skin For A Refreshed Look
Pros
Smooths skin
Reduces the appearance of pores
Boosts glow of the skin
Sets makeup
Paraben and sulfate-free
Vegan
Cons
Price at the time of publication: $49.0
Pros
GMO-free
Handcrafted and vegan
Tones your skin
Moisturizes and softens skin
Paraben and sulfate-free
Alcohol and cruelty-free
Cons
Some may find the scent overpowering
Price at the time of publication: $34.0
Pros
Nourishes skin
Sets makeup
Instant moisture and glow
Suitable for all skin types
Paraben and dye-free
Cruelty-free
Cons
Contains artificial fragrance
Price at the time of publication: $9.0
Pros
Ultra-fine mist
Fruity scent
Fights free radical damage
Smooths skin texture
Cruelty-free and vegan
No artificial dyes or alcohol
Sulphate and paraben-free
Cons
Price at the time of publication: $30.0
With this facial mist, you won't be left yearning for moisture. It prevents dehydration and boosts skin radiance. The hydrating formula contains bamboo sap, green tea extract, lotus, 5-Hydra Complex, and a blend of natural Asian botanicals to prevent dehydration and boost skin radiance. So, grab this mist and stay ultra-fresh all day long.
Pros
Long-lasting
Sulfate-free
Paraben-free
Formaldehyde-free
Vegan
Cruelty-free
Mineral oil-free
Cons
None
Price at the time of publication: $35.0
Now you can look refreshed on a Monday morning while you head to work even if you are hung over from those late night parties over the weekend with this face mist. Sourced from the Neroli farms of Egypt, this hydrating face mist for oily skin is developed from gentle steam and distillation of neroli flowers, which are known for their regenerative benefits, antiseptic, antibacterial, anti-inflammatory, and pain-relieving properties. It helps treat pimples, acne, and reduces redness of the skin. This multipurpose orange hydrosol not just cleanse oily skin but also moisturizes your dry hair and scalp, and controls frizz. Wake up refreshed experiencing exotic flower scent by spritzing some on your pillow.
Pros
Cleanses and refreshes oily skin
Nourishes dry hair and scalp
Tames frizzy hair
Treats acne and breakouts
Can be used as a pillow or room spray
Cons
It may not be suitable for extremely sensitive skin
Price at the time of publication: $9.99
Pros
Alcohol and paraben-free
Gives a matte finish
Balances skin tone
Has antiseptic and anti-inflammatory properties
Cons
May not be suitable for extremely sensitive skin
Price at the time of publication: $50.0
You can use this facial mist from AZURE at any point of the day for an instant refreshed look. This face mist for oily acne-prone skin contains 100% organic hemp seed oil, rosehip oil, cucumber water, hyaluronic acid, beta-glucan, and vitamin B3 and B5 that penetrate deep to moisturize and rejuvenate the skin. Made in Korea, its anti-aging properties help reduce the appearance of fine lines and wrinkles and give you your younger-looking days back.
Pros
Non-GMO ingredients
Hypoallergenic
Paraben and phthalate-free
Gives even toned and hydrated skin
Reduces wrinkles and fine lines
Vegan and cruelty-free
Cons
Some may find the scent overwhelming.
Price at the time of publication: $11.99
Pros
Sweat and waterproof
Lightweight
Non-greasy
Controls sebum production
Sets makeup to last long
Cons
Price at the time of publication: $14.99
Pros
Soothes the skin
Antioxidant properties
Protects skin from damage
Provides deep moisturization
Easy to use
Cons
None
Price at the time of publication: $548.0
Now that you have had a glimpse of the best face mist for oily skin, here's how you can choose the best according to your needs.
How To Choose The Right Facial Mist For Oily Skin 
On your hunt for the perfect face mist, you should ensure that you do not pick products with ultra-drying ingredients as they can actually increase your skin's oil production. It is better to hence pick ones with soothing ingredients like rose and aloe as they can help reduce inflammation and also protect against external factors like UV radiation and pollution. You should look for antibacterial properties if your skin is prone to acne.
Skincare experts recommend that you choose face mists that are oil and silicone-free as they can clog your pores and lead to build-up of excess oil and impurities. Silicone can also promote breakouts, acne, and blemishes. So it's a strict no to products with silicone if you have oily skin.
If you are looking for face mists that can also extend their benefits to enhancing your makeup, you can look for a mist that has glycerine and squalene on their ingredients label as they can make excellent primers.
For better results, you should pay attention not just to pick the right face mist but also use it correctly as that helps your skin to absorb extra moisture and nutrients. Follow the label instructions for optimal results.
How To Use Face Mist For Oily Skin
The first and the most important thumb rule is not to go overboard with spritzing. You can ideally use it twice a day or more frequently if you are traveling or your skin needs extra moisturization. You can apply it over makeup to enhance the glow of your face but it is best to spray it after you clean your face as it helps the ingredients of the product to penetrate deep into your skin. Ensure that you have your eyes closed and are holding the spray about 10 to 12 inches away from your face before your spritz once or twice.
Why Trust StyleCraze?
Kirtana Divakar, the author of this article, is fanatic about trying different skin care products. So, she browsed different forums online and checked the user feedback to provide the best face mist for oily skin. As a result, she has created a list of products formulated with soothing ingredients that help set makeup. In addition, some of these face mists can also smoothen and brighten your skin.
Frequently Asked Questions
Is face mist good for oily skin?
For oily skin, it is recommended by experts that you use face mists that are oil and silicone-free so that you can prevent clogging of pores and any build-up.
Is Rosewater good for oily skin?
Rosewater can be good for oily skin due to its astringent properties. It is effective in removing dirt and oil and maintaining your skin's pH balance.
Are face mist and toner the same?
No, they are meant for different purposes. Toners cleanse your skin and prepare it for moisturization whereas a face mist gives you a refreshed look at any time of the day
Can we use face mist daily for oily skin?
Yes. Oil- and silicone-free face mists work wonders on oily skin as they do not clog pores.
What is face mist used for?
Face mists reduce sebum production and offer an oil-free look. They are also great for priming, setting make-up, boosting hydration, and a quick pick-me-up.
Is face mist necessary for oily skin?
No, it is not mandatory to apply face mist. However, to overcome excessive sebum production during the summer, use a face mist to achieve a shine-free, refreshed look effortlessly.
Can I use mist instead of moisturizer?
Yes, you can use a face mist instead of a moisturizer.
Can I use face mist after makeup?
Yes, you can use face mist after and before the makeup application.