10 Best Face Mists For Oily Skin To Brighten Up Dull Skin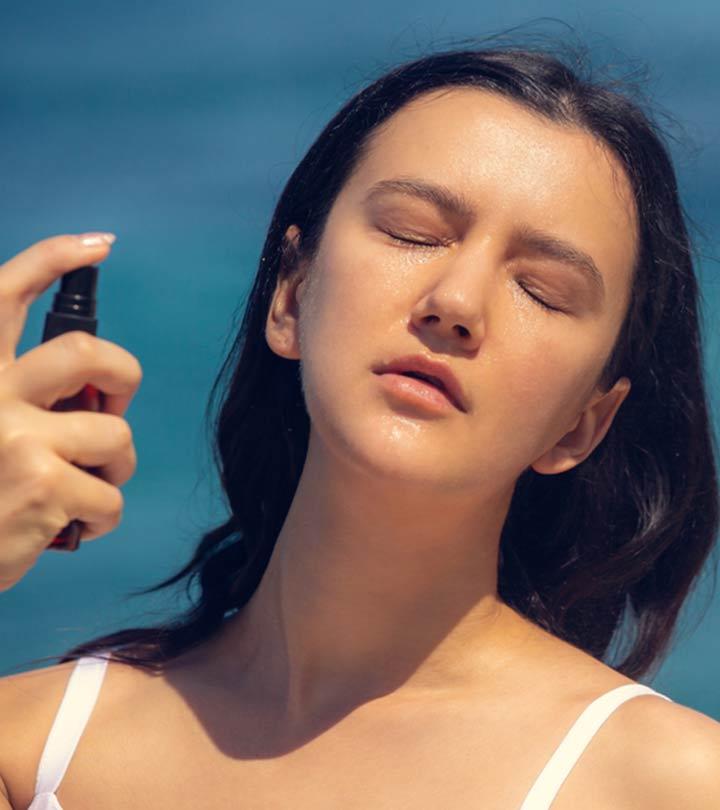 A beautiful refreshed skin is just a spritz away. Yes, you heard it right. We are talking about face mists here. They are one of the underrated skincare products in the market that provide numerous benefits at a reasonable cost. Whether you are looking for a product to instantly calm your irritated skin, brighten an exhausted and dull skin, or just for something to boost your mood, a face mist can help with all that, and the good news is that they do wonders for oily skin too.
The best face mist for oily skin not only controls sebum production and provides moisture to your skin but can also combat skin issues like acne and rosacea. They can also help set makeup for it to last longer. Surprised? Don't be, just give it a try and see it for yourself. We are here to help you choose the best face mist for you. Let's now dig into the 10 best face mists for oily skin for good measure.
10 Best Face Mists For Oily Skin For A Refreshed Look
Whether it's a quick 'give me a ride' to work, a refreshing spray after a long boring meeting, or that after deboarding a jam-packed train or bus, this natural face mist for oily skin can make you look fresh with visibly smooth skin. A few spritz of peppermint essential oil, rose and rosemary oil, and green grape at any time of day not only accelerates the glow of your face but also soothes and tones the texture. This clinically-tested mist diminishes the appearance of pores on your face and can also be used to set your makeup.
Pros
Smooths skin
Reduces the appearance of pores
Boosts glow of the skin
Sets makeup
Paraben and sulfate-free
Vegan
Cons
With this all-natural face mist for oily skin, your skin will no longer crave moisture. Prepared with plant-based and organic ingredients like rose water, hibiscus flower extract, coconut water, and vegan hyaluronic acid, its steam-distilled therapeutic essential oils are rich in antioxidants and locks-in moisture in your skin. It soothes and softens your skin, and treats redness of the skin. If you're looking for a skin-miracle, you definitely need this face mist.
Pros:
GMO-free
Handcrafted and vegan
Tones your skin
Moisturizes and softens skin
Paraben and sulfate-free
Alcohol and cruelty-free
Cons
Some may find the scent overpowering
Your search for a multitasking face mist ends here. You'll fall head over heels in love with this hydrating face mist for oily skin. Inspired from traditional European remedies, it is formulated with fruits and herbs that can promote your skin's natural glow. The aloe leaf juice, extracts of coconut, grape, and green tea leaves refresh your stressed out skin and moisturize it to give you a luminous complexion. Suitable for all skin types, it can also be used to set your makeup and help it last longer.
Pros
Nourishes skin
Sets makeup
Instant moisture and glow
Suitable for all skin types
Paraben and dye-free
Cruelty-free
Cons
Contains artificial fragrance
Just visualise a facial service at a salon with an undeniably soothing fruity scent of watermelon and ultra-fine mist refreshing your skin. Well, that's what good face mist for oily skin is all about. The fruit-powered skincare product contains 84% watermelon, hyaluronic acid, and hibiscus that give your skin an inner glow and radiance. It can ward off uneven texture by moisturizing your skin, irrespective of your skin type, with its fog mist formula while nourishing your skin. Say yes to this facial mist and give your face the best that it deserves.
Pros
Ultra-fine mist
Fruity scent
Fights free radical damage
Smooths skin texture
Cruelty-free and vegan
No artificial dyes or alcohol
Sulphate and paraben-free
Cons
With this facial mist, you won't be left yearning for moisture. It prevents dehydration and boosts skin radiance. The hydrating formula contains bamboo sap, green tea extract, lotus, 5-Hydra Complex, and a blend of natural Asian botanicals. So, grab this mist and stay ultra-fresh for long hours.
Pros
Long-lasting
Sulfate-free
Paraben-free
Formaldehyde-free
Vegan
Cruelty-free
Mineral oil-free
Cons
None
Now you can look refreshed on a Monday morning while you head to work even if you are hung over from those late night parties over the weekend with this face mist. Sourced from the Neroli farms of Egypt, this hydrating face mist for oily skin is developed from gentle steam and distillation of neroli flowers, which are known for their regenerative benefits, antiseptic, antibacterial, anti-inflammatory, and pain-relieving properties. It helps treat pimples, acne, and reduces redness of the skin. This multipurpose orange hydrosol not just cleanse oily skin but also moisturizes your dry hair and scalp, and controls frizz. Wake up refreshed experiencing exotic flower scent by spritzing some on your pillow.
Pros
Cleanses and refreshes oily skin
Nourishes dry hair and scalp
Tames frizzy hair
Treats acne and breakouts
Can be used as a pillow or room spray
Cons
It may not be suitable for extremely sensitive skin
Plump up your dehydrated skin after a long flight or refresh your face after a sweaty session at the gym with this hydrating face mist for oily skin. It combines the power of its 5 aromatic essential oils that include lavender, rosemary, geranium, thyme, and cypress that heal the skin to give you a refreshed, soothed, and even-toned skin. It tightens your pores to give you a matte look and restores skin's optimal balance. It can be used to enhance your daily makeup or to quench the thirst of your skin all day long.
Pros
Alcohol and paraben-free
Gives a matte finish
Balances skin tone
Has antiseptic and anti-inflammatory properties
Cons
May not be suitable for extremely sensitive skin
You can use this facial mist from AZURE at any point of the day for an instant refreshed look. This face mist for oily acne-prone skin contains 100% organic hemp seed oil, rosehip oil, cucumber water, hyaluronic acid, beta-glucan, and vitamin B3 and B5 that penetrate deep to moisturize and rejuvenate the skin. Made in Korea, its anti-aging properties help reduce the appearance of fine lines and wrinkles and give you your younger-looking days back.
Pros
Non-GMO ingredients
Hypoallergenic
Paraben and phthalate-free
Gives even toned and hydrated skin
Reduces wrinkles and fine lines
Vegan and cruelty-free
Cons
Some may find the scent overwhelming.
Spritz this face mist for oily acne-prone skin to boost moisturization and give yourself a radiant complexion and spring of refreshment to your face. The airbrush design of this lightweight setting spray formulated with niacinamide, castor oil, and glycerin promotes deep moisturization and prevents your makeup from fading anytime soon. Its sweat and waterproof formula controls the production of excessive oil, leaving you with ultra-soft skin throughout the day. This cruelty-free, and non-comedogenic mist is ideal to set your makeup and make it last as long as 16 hours without fading or washing away your makeup from sweat.
Pros
Sweat and waterproof
Lightweight
Non-greasy
Controls sebum production
Sets makeup to last long
Cons
This is one of the best face mists for oily skin that can brighten up your face and day. It explores its skincare ingredients deep down the sea for its rich mineral values and to help bring out your inner glow. Consisting of 9 marine extracts including seaweed, sea grapes, and alginic acids present in different kinds of algae, this hydro-boost spray provides deep moisturization, improves skin texture, and protects skin from damage and stress with its antioxidants and anti-aging properties. It strengthens the skin's natural barrier with its ceramide booster and soothes your irritated skin by treating rosacea and redness. Just a few spritz of this ultra-fine mist can give you refreshed and glowing skin instantly.
Pros
Improves skin texture
Antioxidant and anti-aging
Protects skin from damage
Provides deep moisturization
Calms irritated skin
Cons
Contains artificial fragrance and alcohol
Now that you have had a glimpse of the best face mist for oily skin, here's how you can choose the best according to your needs.
How To Choose The Right Facial Mist For Oily Skin 
On your hunt for the perfect face mist, you should ensure that you do not pick products with ultra-drying ingredients as they can shoot up the oil production. It is better to hence pick ones with soothing ingredients like rose and aloe as they can help reduce inflammation and also protect against external factors like UV radiation and pollution. You should look for antibacterial properties if your skin is prone to acne.
Skincare experts recommend that you choose face mists that are oil and silicone-free as they can clog your pores and lead to build-up of oil and impurities. Silicone can hence promote breakouts, acne, and blemishes. So it's a strict no to products with silicone if you have oily skin.
If you are looking for face mists that can also extend their benefits to enhancing your makeup, you can look for ones with glycerine and squalene on their ingredients label as they can work as good primers.  
For better results, you should pay attention not just to pick the right face mist but also use it correctly as that helps your skin to absorb extra moisture and nutrients. Read on to find how to put it to proper use. 
How To Use Face Mist For Oily Skin
The first and the most important thumb rule is not to go overboard with spritzing. You can ideally use it twice a day or more frequently if you are traveling or your skin needs extra moisturization. You can apply it over makeup to enhance the glow of your face but it is best to spray it after you clean your face as it helps the ingredients of the product to penetrate deep into your skin. Ensure that you have your eyes closed and are holding the spray about 10 to 12 inches away from your face before your spritz once or twice.
A long tiring day can make your skin look stressed and dull. Your existing skin issues can get worse, especially if you have an oily skin type. The oil production increases with rising in the production of stress hormones in your body which can lead to acne and other skin ailments. As you cannot avoid this unforeseen stress due to the pandemic, the best thing to do would be to use the best face mist for oily skin. These portable hand-bag sized sprays moisturize and refresh your skin by fighting dryness and rejuvenating tired and dull skin. So, add your favorite face mist to your shopping cart and try it right away.
Frequently Asked Questions
Is face mist good for oily skin?
For oily skin, it is recommended by experts that you use face mists that are oil and silicone-free so that you can prevent clogging of pores and any build-up.
Is Rosewater good for oily skin?
Rosewater can be good for oily skin due to its astringent properties. It is effective in removing dirt and oil and maintaining your skin's pH balance.
Are face mist and toner the same?
No, they are meant for different purposes. Toners cleanse your skin and prepare it for moisturization whereas a face mist gives you a refreshed look at any time of the day
Recommended Articles