Body Polishing At Home: A Complete Guide
Get that full-body, divine bridal glow at home by following these simple steps.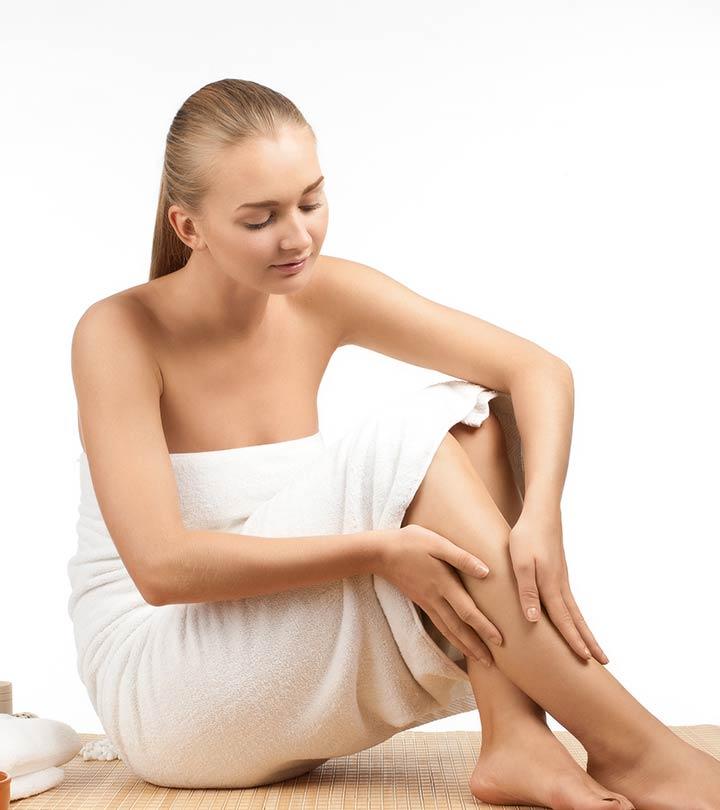 What is body polishing? If you have any queries about body polishing as part of your beauty treatment, keep reading because we have answers.
Body polishing treatment imparts a healthy radiance to your skin. It is quite popular among upcoming brides. However, everyone should get their bodies polished routinely as it is a cleansing process that removes impurities, dead cells, and dirt from the skin. Body polishing is usually done at spas; however, the prices are fairly high. Not to worry as body polishing is simple to accomplish at home as well! The best part is that doing it at home saves you money, allows you to do it at your leisure, and you can customize everything as per your skin needs.
What Is Body Polishing?
This one's a no-brainer. This is an elaborate skin treatment where you (or any professional) scrub your body with cream that's a bit abrasive. Usually, it contains sugar, salt, or any other grains, but it is not as abrasive as a body scrub. The massage and the cream work together to exfoliate and hydrate your skin and boost blood circulation. The result – soft, supple, and smooth skin.
Wondering whether it's good for your skin or not, right? Let's find out!
Is Body Polishing Good For Skin?
Throw all your worries down the drain because skincare with body polishing is safe for your skin. It acts as a cleanser that removes all the dirt from your skin. Also, it uses natural ingredients and essential oils that have therapeutic benefits for your skin, body, and mind.
How does body polishing benefit you? Here's your answer.
What Are The Benefits Of Body Polishing?
It removes dead skin cells and promotes regeneration of new cells.
Makes your skin soft and radiant.
Reduce dryness and moisturizes your skin.
It promotes blood circulation (when you massage during polishing).
It eliminates the superficial signs of sun damage.
Last but not least, it is a relaxing experience that leads to skin rejuvenation.
Now, here is what you have been waiting for all this while – a step by step guide to the royal treatment at home.
Body Polishing At Home: Step By Step Procedure
Do you know what the best part of doing body buffing at at home is? It not only saves your time and effort, but you can easily customize the treatment (and the ingredients) as per your need.
What You Need
Pumice stone
Loofah (natural or synthetic)
3 tablespoons olive oil
Any DIY body polish
Method
Take a shower with lukewarm water.
Warm the olive oil a bit, and massage your entire body with it for 10 minutes.
Take the body polish and gently massage it with the loofah. Do it in a circular motion for at least 10-15 minutes.
Gently scrub the hard areas on the knees, elbows, and heels with the pumice stone.
Follow this with a refreshing bath. Avoid using soap.

Quick Tip
Wax your body two days before body polishing for a more radiant and flawless result.
Doesn't this sound exciting? Let's get you more excited about these easy body polish recipes that you can make at home.
Homemade Body Polishing Recipes
1. Brown Sugar And Jojoba Oil Body Polish
Ingredients
1 cup brown sugar
2 tablespoons jojoba oil
½ cup honey
What You Need To Do
Blend them well, and the body polish is ready to use!
Why This Works
The key ingredient, jojoba oil, has anti-inflammatory properties.
2. Sugar, Olive Oil, And Rose Petals Body Polish
Ingredients
½ cup dried rose petals
1 cup sugar
⅔ cup olive oil
1 tablespoon shea butter
2-3 drops of essential oil (of your choice)
What You Need To Do
Combine all the ingredients to make your body polish.
Why This Works
Shea butter has moisturizing properties and is rich in antioxidants that protect it from free radical damagei  XRefers to the cell and DNA damage caused by unstable molecules leading to inflammation and diseases like rheumatoid arthritis. .
3. Baking Soda, Lemon, And Coconut Oil Body Polish
Ingredients
1 cup baking soda
½ cup lemon juice
1 tablespoon coconut oil (unrefined)
2 drops of any essential oil
What You Need To Do
Mix them, and your body polish is ready!
Why This Works
Anecdotal evidence suggests that baking soda can improve psoriasisi  XAn autoimmune disease that causes itchy rashes and inflamed scaly patches on the skin, especially the scalp and elbows. .
4. Strawberry And Sugar Body Polish
Ingredients
1 cup sugar
2-3 fresh strawberries (crushed)
½ cup coconut oil (unrefined)
2 tablespoons shea butter
3-4 drops essential oil (you may use orange, lavender or any other oil of your choice)
What You Need To Do
Combine all the ingredients in a bowl. Add the essential oil at the end and mix well. Store it in an airtight glass jar.
Why This Works
Coconut oil provides hydration to the skin and has antibacterial properties that keep your skin protected.
5. Sugar, Orange, And Olive Body Polish
Ingredients
½ cup brown sugar
¼ cup olive oil
2 teaspoons orange juice (freshly squeezed)
1 teaspoon orange zest (for additional color and fragrance)
2-3 drops orange essential oil (optional)
What You Need To Do
Blend all the ingredients.
Why This Works
Orange is rich in vitamin C and antioxidants that keep the skin nourished and protected.
6. Salt, Sugar, And Honey Body Polish
Ingredients
1 cup bath salt (preferably sea salt or you may use any bath salt)
1 teaspoon Himalayan rock salt
1 teaspoon honey
½ cup coconut oil
1 tablespoon rosemary leaves (optional)
What You Need To Do
Mix all the ingredients in a bowl until you get a creamy and thick consistency. Store in a jar. Refrigerate for 15-20 minutes and then use.
Why This Works
Honey, the key ingredient in this recipe, can help modulate the skin's immune system.
7. Epsom Salt Bath Soak
Ingredients
1 cup of Epsom salt
¼ cup of your preferred carrier oil (like coconut or olive oil)
10-15 drops of your preferred essential oil (such as essential oils of lavender, eucalyptus, or citrus)
What You Need To Do
Combine the Epsom salt and carrier oil of your choice in a mixing bowl.
Add the essential oil to the mixture and stir well to ensure even distribution.
You now have a wonderfully fragrant and exfoliating body polish ready for use.
Why This Works
Epsom salt has magnesium ions that easily penetrate the skin. These ions help reduce inflammation, improve skin hydration, increase collagen production, promote blood vessel growth, and accelerate repair of the skin's protective barrier (1
). This Epsom salt bath soak will not only make you feel refreshed but also leave your skin beautifully polished and glowing.

Quick Tip
Dry brush your body using a soft-bristle brush before your shower 1-2 times weekly to get rid of dead skin cells and stimulate
lymphatic drainage
i
X
The movement of lymph (the excess fluid that drains from cells) in the lymphatic system to reduce swelling.
.
Here are a few quick tips for making the best use of your DIY body polish.
Quick Body Polishing Tips
You can prepare and store the body polish or make it according to your need. If you are storing it, make sure you finish the product within a month. These products are au naturel and don't have any preservatives. So, they won't last long.
When scrubbing a particular area of your body with the polish, make sure you do not over scrub it. Otherwise, you will get ugly scratches.
The polishes contain oil. So, be extra careful when using them in your bathroom. After you wash them off, the floor will get slippery.
Do not apply any of these on wounded and cracked skin.
Also, consider the skin type before using any body polish.

If you have oily skin, use body polishes with sea salt or bath salts. It has essential oils that kill bacteria and keeps your skin healthy and glowing.
If you have dry skin, go for a brown sugar based body polish (simply use brown sugar instead of white sugar). Brown sugar hydrates and moisturizes your skin.

Megan Andersen, a blogger, recalls her personal experience of treating her dry skin issues with a homemade DIY sugar scrub. She discusses winter skincare woes and shares why she uses both sugar and oil, stating, "The sugar was a gentle abrasive, but made mean work of my little patches of dry winter skin, and the olive oil felt nourishing and satiny. I would ABSOLUTELY recommend making this scrub to use the night of a romantic date, or after a long and exhausting day when relaxation is a must. I felt like I was glowing after using this (i)."

If you have sensitive skin, go for a body polish that has shea butter. It calms your body and doesn't cause any irritation.
For those with normal skin, sugar scrubs work best.
Pro Tip: You can crush and blend any fruit (like avocado, pineapple, apple, and papaya) in your DIY body polish. The natural acids of fruits detoxify and cleanse your body.
Warnings
Test on small patch of skin before scrubbing your entire body to ensure that it doesn't irritate your skin.
Look out for allergies.
Infographic: DIY Body Polishing Recipes
Body polishing is a form of complete body exfoliation that hydrates the skin while smoothing it, and removing dead skin cells and promoting cell regeneration. Due to the high cost of body polishing at the salon, you can prepare your own at home using a few readily available organic products. Learn more about body polishing and how to do it at home by checking out the infographic below.



Since going to the salon for body polishing is expensive, you can make your own body polish at home with a few natural ingredients at your disposal. Creating body polishes with ingredients such as olive oil, lemon, brown sugar, or baking soda will remove dead skin, promote cell regeneration, hydrate your skin, and stimulate blood circulation. Ensure that you finish your body polish within a month and avoid applying them on cracked or injured skin. Now that you know what is body polishing, conduct a patch test before you use it to ensure there is no allergic reaction.
Frequently Asked Questions
Can I use body polish daily?
No, you should not use body polish daily. Body polish is made of sugar or salt grains that exfoliate dead skin. Overusing body polish can make your skin more sensitive and dry.
Can I use body polish on my face?
No, you should not use body polish on your face since the skin on your face is more sensitive and thinner than the rest of your body.
Is body polish the same as a body wash?
No, there is a fundamental difference between body polish and body wash. A body wash is a liquid cleanser used to cleanse the body daily while body polish contains sugar or salt grains used once a week to exfoliate dead skin.
Can we do body polishing after waxing?
No, ensure that you wax your body two days before using body polish for smooth and glowing skin.
Which is better: body scrub or body polish?
A body polish is better than a body scrub. A body scrub only exfoliates dead skin and improves blood circulation. A body polish not only removes dead skin but also keeps the skin hydrated and nourished.
Does body polishing remove dark spots?
Yes, body polishing removes dead skin, dirt, and germs, which may help lighten the appearance of dark spots.
Key Takeaways
Body polishing is a relaxing experience.
Body polishing may help remove dead skin cells and improve skin texture.
You can do body polishing from home using ingredients like sugar, baking soda, or lemon.
Avoid over-scrubbing the polished area or you might get scratches.
Discover the luxurious world of body polishing! Dive into this informative video that unveils the process, benefits, and secrets behind this rejuvenating treatment for your skin.
Personal Experience: Source
i. Soothe Winter Skin with this Homemade Sugar Scrub
http://radmegan.com/2011/01/soothe-winter-skin-with-this-homemade-sugar-scrub.html
Sources
Articles on StyleCraze are backed by verified information from peer-reviewed and academic research papers, reputed organizations, research institutions, and medical associations to ensure accuracy and relevance. Read our editorial policy to learn more.
How to Promote Skin Repair? In-Depth Look at Pharmaceutical and Cosmetic Strategies
https://www.ncbi.nlm.nih.gov/pmc/articles/PMC10144563/
The following two tabs change content below.