The word 'vera' means true or genuine. This makes aloe vera the most genuine and versatile panacea for all your health woes. You must have seen an aloe vera plant in a kitchen garden and must have wondered how this ornamental plant can help improve your health. Well, that is nature's most jealously guarded secret!
Many of us must have also used facial creams and shampoos enriched with Aloe juice. The sap derived from the stems of this succulent plant is used to make the aloe vera juice. With so many benefits to offer, it is no wonder that  Aloe Vera was considered the plant of "immortality" by the Egyptians. Aloe vera has been used since time immemorial for its soothing and curing properties.
But do you know why this short cacti plant is known as the 'miracle plant'? To know the miraculous properties of aloe vera juice, you have to know how to make aloe vera juice at home. Always use organic aloe vera juice to reap maximum benefits.
Aloe vera is a succulent plant species that has thick, fleshy stems with spiny leaves. The fleshy stem contains the aloe juice which is being used for various purposes, since the beginning of the first century, as an excellent home remedy. The juice and the gel are used in numerous medicinal, cosmetic and health treatments.
How To Make Aloe Vera Juice:
Cut and open a few stems of the plant from the middle section. Choose the outer stems as they are the most mature of all and have the highest concentration of antioxidants.
The liquid which oozes out is the fresh aloe gel.
Squeeze out the entire gel from the stem and store in a bowl.
Put the gel in a blender and add 1 cup of water.
Blend them to get pure Aloe Vera juice. Use the extracted juice within 3-4 days; otherwise the juice will lose the antioxidants.
Rich Source Of Vitamins And Minerals:
Both the aloe juice and gel are powerhouses of antioxidants, antibiotics, work as stimulators of cell growth and have scar and pain inhibitor properties. They are rich in the following vitamins and minerals:
Calcium
Sodium
Iron
Potassium
Manganese
Zinc
Folic acid
Vitamins A, B1, B2, B6, C, E
Amino acids
Aloe vera is the most bioactive of all aloe species. There are more than 75 active constituents in the plant. This includes polysaccharides like acemannan, anthraquinoes like barbaloin, enzymes, lignin, saponins and salicylic acids.
Aloe vera gel can be used for its laxative properties. Sometimes, the aloe vera gel and the entire leaf are used to treat ulcerative colitis, metastatic cancer, infectious disease and chemotherapy treatment.
Aloe Vera Juice Benefits:
Aloe Vera produces two substances called gel and latex. Aloe gel is the clear jelly-like substance that is found inside the plant. This aloe juice comprises of the pulp extracted from the fleshy plant stems. Aloe juice can be applied on the skin and hair or consumed to get relief from irritable bowel syndrome, inflammation, osteoarthritis and stomach ulcers. It is also a general health tonic that you can consume every morning to reap all its benefits.
Benefits Of Aloe Vera Juice For Health:
1. Digestive Cure:
Aloe Vera is very useful for curing bowel problems due to its high anti-inflammatory properties. Aloe vera also helps in the growth of good bacteria in the gut, this keeps all digestive disorders at bay (1).
[ Read: How To Get Relief From Indigestion ]
2. Rheumatoid Arthritis Treatment:
Rheumatoid Arthritis is an auto-immune disease which affects the entire body. The immune system attacks the body tissues, especially the membranes lining the joint. There is inflammation and stiffness. There is fluid build-up in the joints that makes the matter worse. Since rheumatoid arthritis is a chronic disease, the patients generally have conventional drugs like painkillers, non-steroidal drugs and corticosteroids. These medicines have a harsh impact on the health.
Whereas, having aloe juice for two weeks can help reduce inflammation in the body like rheumatism, inflammation of ears and eyes and arthritis. Aloe juice contains anti-inflammatory compounds like plant sterols that help to reduce the pain and stiffness to a great extent. The plant sterols function like the steroid painkillers, without causing any harm to the body (2).
3. For Muscle And Joint Pains:
Applying the gel externally can ease muscle and joint pains. But do not forget to use freshly prepared gel (3).
4. For Heart Reflux:
Having severe digestive problems? Drink Aloe Vera juice as it reduces the symptoms of heart reflux and stabilizes the alkaline levels of the body. It has a soothing effect on the stomach walls and reduces heart burn and discomfort. Due to its laxative properties, it also treats constipation (4).
5. Reduces Cholesterol Level:
Aloe is great for maintaining the cholesterol level by reducing triglycerides. Include fresh Aloe juice in your daily diet to maintain your cholesterol level and increase the level of good cholesterol. By reducing cholesterol, you are protecting your heart from damage (5).
6. Healthy Weight Loss:
You must have taken slimming tablets or tried all the exercises and diets to lose weight. However, you didn't get the desired results. Do you want to lose weight naturally? Aloe vera juice is an easy and natural weight loss solution (6). It reduces the weight by stabilizing the metabolic rate, reducing the lipid levels and helping burn fat.
[ Read: Benefits Of Aloe Vera For Health ]
7. For Dental Or Oral Hygiene:
Studies have shown that regular consumption of aloe juice improves the oral health and hygiene (7). It reduces gingivitis and plaque formation. It provides a relief for cold sores and mouth ulcers.
Washing the mouth with aloe juice improves the oral hygiene. A study from the Journal of Indian Society of Periodontology reveals that the local application of aloe vera juice improves the periodontal health post dental procedures like root canal and scaling. Another study from the Journal of Advances in Clinical and Experimental Medicine shows that aloe juice helps to reduce oral lichen planus, a common dental problem.
8. Fights Diabetes:
Aloe Vera is good for diabetes patients because it helps to regulate the blood sugar levels when consumed regularly. However, consult your doctor before you start consuming the aloe juice. You need to have the dose prescribed by the doctor so that it doesn't interfere with the medicines you are having to curb blood sugar (8).
9. Helps To Detox:
Mix 2 teaspoons of fresh Aloe Vera juice with 1 glass of water and drink it every day early in the morning. This will help detoxify and cleanse your system. Aloe juice helps to treat ulcers and detoxify the digestive system (9).
10. Maintains Gum Health:
Applying fresh aloe gel directly to the gums reduces the pain and inflammation. Since oral hygiene affects the overall health, it is important to curb gum bleeding and inflammation. If gum bleeding is due to bacterial infection, aloe juice helps to fight infections and makes your mouth clean and fresh. No doubt, so many toothpaste and mouthwashes are made of aloe vera extracts (10)!
11. Reduces Eye Irritation:
Create your own natural eye wash with Aloe Vera gel. Mix 2 teaspoons of aloe gel in a cup of water. You can also add a teaspoon of boric acid. Use this eye wash to reduce the reddening and irritation in the eyes (11).
12. Relieves Sinus And Chest Congestion:
Suffering from constant sinus problems? Now ditch your medicines and try the natural option. Aloe Vera is rich in magnesium lactate that works as an antihistamine, which helps in reducing the problem of sinus and chest inflammation due to various allergies (12).
13. Anti-Carcinogenic:
The regular intake of the aloe juice helps to fight cancer. It contains high level of anti-carcinogenic properties that hinder the growth of tumours (13).
14. Builds Immunity:
Drinking aloe juice regularly replenishes the amino acid deficiency in your body. The high vitamin content in it boosts up your body's immune system and self-defense mechanism (14).
15. Fights Common Cold And Cough:
For those who suffer regularly from cold, coughs, flu, stuffy nose, bronchitis and other respiratory disorders, Aloe Vera juice is the best natural solution (15).The Vitamin C content of the aloe vera juice ensures protection from common colds that occur with environmental changes.
Benefits Of Aloe Vera Juice For Skin:
Aloe Vera is suitable for all skin types including highly sensitive skin. You must have seen and used various skin care products which contain the Aloe gel. It is the most common remedy for all skin problems.
16. Fights Signs Of Ageing:
The anti-ageing property of Aloe keeps the skin supple and rejuvenated and also lightens blemishes (16).
17. Removes Dead Cells And Stretch Marks:
Aloe Vera moisturizes the skin and helps to remove dead cells, wrinkles and fine lines. Aloe juice also helps to remove stretch marks (17).
18. A Soothing Aftershave:
Men can use Aloe Vera gel as an after shave. It reduces the irritation and inflammation of the skin (18) and heals the cuts due to shaving.
19. Removes Acne And Acne Marks:
Suffering from acne for a long time? Then make Aloe Vera your friend as it is the best natural remedy for curing acne and pimples and also its scars. It has antimicrobial property that helps kill the bacteria causing acne and reduces the acne marks by lightening the skin (19).
20. Prevents Sun Tan And Soothes Skin:
All of us apply numerous sun blocks and creams to prevent the harmful sun rays from damaging our skin. But the rays sometimes penetrate through them. Aloe Vera gel is highly beneficial for treating sun burns. It is an excellent cooling agent. Apply fresh gel on your skin everyday to get immediate results. It reduces the pain and the redness of the skin and forms a protective layer which reduces further damage (20).
The following two tabs change content below.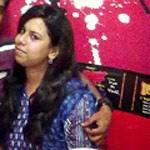 Latest posts by Ankita Biswas (see all)