Food Nail Art Tutorial With Detailed Steps And Pictures
When asked about food, all things sugary and sweet first come to my mind. And of all those wonderfully tempting things, I love cupcakes. Pretty little cupcakes with loads of frosting and candy sprinkles, who can resist them? Here is a food nail art design to pay tribute to our favorite cupcakes. The design is simpler than it looks and can be done by anyone. Ready? Let's start:
Food nail art tutorial:
****** MATERIALS NEEDED ******
- Light pink nail polish
- Cream nail polish
- White nail polish
- Dotting tool
- Multi colored tiny beads
- Pink rhinestone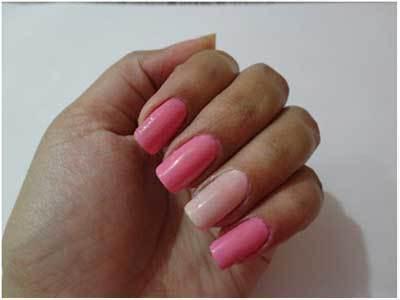 Step 1:
Apply two coats of a light pink polish (Lakme Color Crush no. 30) to all your nails except the ring finger. On the ring finger, apply two coats of a cream polish (Jordana Soft Pink).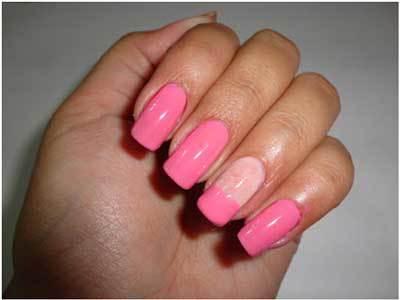 Step 2:
With the pink polish, make a straight french tip on the ring finger. Let dry completely.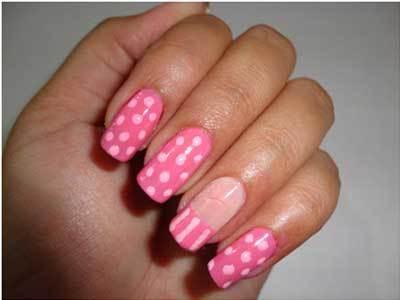 Step 3:
Take a little of your pink polish on a piece of paper and add some white polish to get a colour lighter than the pink you have. I have done this because I don't have a lighter shade, you can use it if you have it. Make dots using this new shade and dotting tool on four fingers. On the ring finger, make 3 vertical stripes as shown with a toothpick. This is the base of the cupcake.
Step 4:
Now using the white polish and a dotting tool, add frosting to the cupcake. Let it spill a bit on the base so as to cover the top edge of the base. While it is wet, sprinkle some colored metal balls to resemble sprinkles. I have mixed up gold, silver, pink, orange, green and red balls. Finish off with a pink rhinestone as a cherry on the icing. Voila you are done.
If you want, you can also repeat the cupcake on your thumb or on all your nails, but I think it looks better as an accent. Don't forget to checkout our collection on nail art designs for beginners.
Fast food nail art is quite attractive to look at! Just one risk though, it must just keep you craving those delicious cup cakes that you love!
I am a degree college professor who loves hoarding makeup. Totally addicted to nail polishes and nail art :)