We have picked the top most 10 beautiful girls worldwide who are considered to be the most beautiful in the industry. Below is the list of them.
Worlds Most Beautiful Girls
1. Camilla Belle:
Camilla bella is a famous actress who starred her career with hit movies like 10,000 BC etc. She was born in California and she is the only child to her mother Cristina who is a fashion designer and father Jack who owns a construction company. When counting the most beautiful girls in the world she definitely ranks high!
[ Read: Beauty Tips For Girls ]
2. Liv Tyler:
The girl who was starred in the famous movie 'The incredible hulk' is an American actress who was born on 1st July 1977. She is one of the most beautiful ladies with a unique and strong character. Her innocent smile shows the real cuteness of a little girl in every role she plays. She too cannot be missed among the most beautiful girls in the world.
3. Jessica Alba:
Jessica Alba was born in California in the year 1981. At the very young age of 13, she began to appear on television and movies which later made her way to the successful movies like Sin City, Fantastic Four, Into the Blue etc. Oh she is definitely one of the world's most beautiful girlsz.
4. Kate Hudson:
Kate Garry Hudson is an American actress who was starred in the hit films like 'how to lose a guy in 10 days', 'the skeleton key', 'bride wars', 'My best friend's girl' etc. She is the daughter of academy award winning actress Goldie Hawn and Bill Hudson, who is an actor, comedian and musician in Los Angeles.

5. Kate Beckinsale:
She is an American actress who was born in England. She resides in London with her mother Judy Loe who works as an actress too in British Television Productions.
6. Priyanka Chopra:
Priyanka chopra is an Indian film actress who started her career just after winning the Miss India and Miss World titles in the year 2000. Not only an actress, but is also a song-writer and a singer who recently has launched her debut single 'in my city' in September 2012. She was appreciated for her roles in the hit movies like fashion, kaminey and barfi for playing strong characters and her impeccable acting skills.
[ Read: Beautiful Asian Girl ]
7. Sandra Bullock:
Sandra Bullock is an American actress and producer who was born on 26 July, 1964. She attained the heights of success and fame after showcasing her performance in the movies like speed, the proposal, the blind side, the lake house, the net, hope floats etc.
8. Eva Longoria:
Eva longoria is a film and television actress who has done her Bachelor in Science in Kinesiology from the Texas A&M University-Kingsville. She won the talent hunt contest which made her way to Los Angeles. She attained fame by performing as Gabrielle 'Gaby' Solis in the serial 'Desperate Housewives'. The famous magazine in America said that she possesses very beautiful eyes with a cute face yet a seducing facial expression.
9. Bipasha Basu:
Bipasha Basu or popularly nick named as Bips is a model turned actress who serves the Indian film industry. She was a super model before she entered the film line to sizzle and spellbound the people with her charm and beauty. She is the actress who has been the cover page girl for more than 40 magazines.
[ Read: Beautiful Russian Girl ]
10. Alia Bhatt:
This girl is the youngest one on the list who is a March 1993 born. This Mumbai girl is a daughter of film-director Mahesh bhatt and film actress Soni Razdan. She has just entered the film industry by starring in her debut movie 'the student of the year' which was a successful hit in 2012.
11. Maria Sharapova:
She is one of those few who stands out in this list where women are mostly actors or model. This stunning beauty is a well known tennis star! She is a living example that beauty and sports can go together. It is all about how you handle it.
12. Irina Stark:
This Russian stunner definitely choose the right profession when she decided to get into modelling!
13. Carey Ng:
This star won the Miss Malaysia 2013 tittle and is ready to hit the Miss Universe stage. And there is no question as to why she is the chosen one!
14. Whulandary Herman:
This Indonesian beauty moved to Jakarta to make a mark in the world of modelling and it has most definitely paid off. This year she will be seen on the Miss Universe platform!
15. Nozomi Sasaki:
She is what you would point at if someone asked you for a live doll! This japanese beauty has a charm to her face that is simply irresistable.
16. Meisa Kuroki:
This lovely lady is a japanese model, singer and actress that has stolen the heart of many!
17. He Wenna:
She is a trampoline gymnast from china and she won the Olympics gold in 2008. One look at her and you will definitely be dumbstruck!
18. Katie Liu Leung:
This young star found fame in the Harry Potter series playing the role of Harry's first love, cho Chang.
19. Emanuela de Paula:
This bombshell from Brazil is one of the prettiest faces you will ever see on the ramp. She has worked with number famous brands with Ralph Lauren being one of them.
20. Barbara Fialho:
This lovely face moved to the city at the age of 15 to make it as a model. She was lastly seen in the video by Ceelo Green!
21. Caroline Trentini:
Her success seems like it happened over night! She was spotted by a agent recently and is already modelling for well known brands. If you looking for someone who looks gorgeous in pretty much everything, then she is just right for the job!
22. Selena Gomez:
She entered the world of movies and TV at a very young age in a popular TV series called the wizards of waverly place. And there has been no stopping her since then! Her main aim however was to enter the music industry and she has achieved that rather successfully too.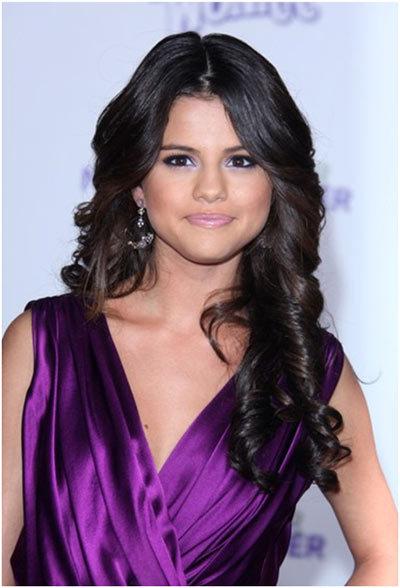 23. Kristen Stewart:
This beauty was first seen as "Bella" in the twilight series and since then we have fallen for her beauty!
24. Madhuri Dixit:
If your talking about natural beauty then who will make for a better example than this beauty in her 40's.
25. Deepika Padukone:
This athelete turned actress has made a mark in almost no time at all! Her beauty is certainly not something that we can question.
The following two tabs change content below.
Latest posts by Anamika M (see all)