Nail art is becoming very popular among fashion lovers. We love sporting nail arts on special occasions, be it our own wedding or our friends wedding.
You can do your own nails by using the right products or get them done at salons. Doing your own nail art however can have two advantages, one is that you will have a lot of fun and two is that it will save a lot of money!
However, if you are the bride, then do remember to keep your wedding nail art designs simple and neat as Indian brides already wear loads of heavy jewelry and clothes.
Nail Art For Wedding:
Given below are tutorials on nail art for wedding:
Tutorial 1:
Things you will need:
Pink nail polish (you can use any shade to match your outfit)
Silver/golden striper pen
Rhinestones
Pearls
Golden seed beads
Base coat and topcoat
Step 1:
Apply your base coat and base colour and let it dry
Step 2:
Draw a line using silver stripper nail art pen on one side of your nail. As shown in the picture.
Step 3:
Now add one pearl each on all nails. As shown in the picture.
Step 4:
Then add two rhinestones each on all nails. One, above the pearl and one, below the pearl. As shown in the picture.
Step 5:
Finish it by adding seed beads as shown in the picture and apply a top coat. This completes the look.
Tutorial 2:
Here comes an other set of nail art designs for wedding
Things you need:
Fuchsia base color (Of your choice)
Glitter polish (any of your choice)
Dark red color (ive used hot red from revlon street wear)
Shimmer white (ive used shimmer white from elle18 nail pops)
Golden color (optional)
Clear top coat.
Steps:
1. First put two coats of base color.
2. Then with the brush first use the shimmer white to make one side of flower petals, (don't worry about the shape to be perfect), but make demarcations of the number of petals , keep it to 3-4. Below u see 3 clear demarcations for 4 petals.
3. Now leaving a little gap follow the petal shapes and make a layer with red.
4. Now do a 3rd layer leaving a little gap with the shimmer white polish, and then another layer with the red colour nail polish .
5. Lastly put a dot of golden on the side of the nail as if to show center of the flower.
6. To finish off take a sponge (from any old cushion take a little bit and use for sponging after that clean it with remover so that u can reuse it later for another sponging art) and dab on some glitters from a glitter polish, or loose glitters, use it on the other side of the flower. You can also use rhinestones at the center of the flower or as you want. Finish off with a top coat.
Note: If you don't have a nail art brush , take an old nail polish brush from an old nail polish and with hair trimming scissors i.e. small scissors carefully cut half the length of the brush and then cut bristles from sides carefully to get a smaller diameter of brush .But you surely need someone to help you with the right hand painting because it's free hand so painting the right hand all by yourself is difficult. Though not impossible task, you can still go slow and patient .
You can also try out the following wedding nail arts. Some of the best pictures and ideas are as follows. There is also nail art app for free download where you will get amazing nail art designs and ideas.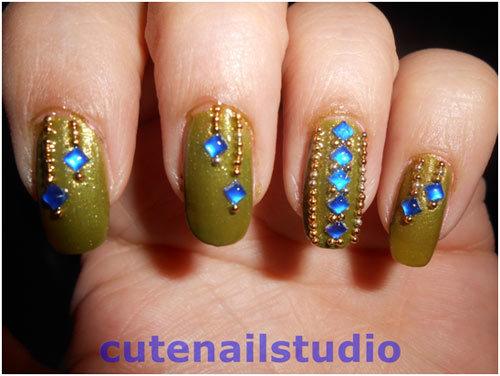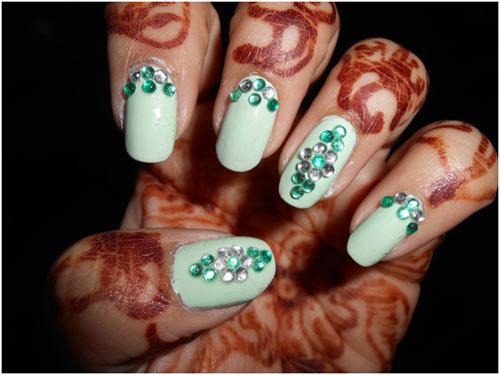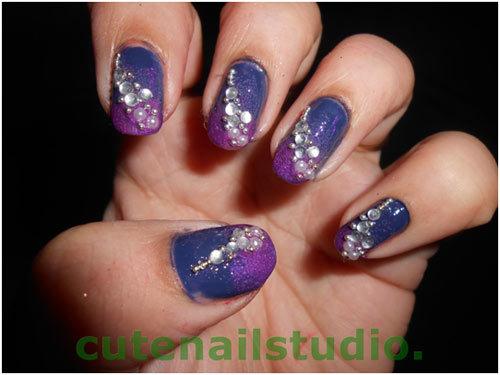 Hope you liked these Nail designs. Leave your comments below.
Recommended Articles:
The following two tabs change content below.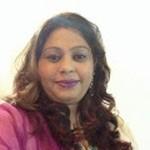 Latest posts by puja malhotra (see all)