15 Amazing Benefits Of Castor Oil For Skin, Hair And Health
Castor oil is one of the most ancient oils, known for its powerful therapeutic properties. It is derived from the beans of the castor plant (Ricinus communis), grown in the tropical regions. Castor oil has anti-inflammatory and anti-bacterial properties, for which it is being used for centuries around the world. The benefits of castor oil are also derived from its high concentration of unsaturated fatty acids. It contains Vitamin E, proteins and minerals alongside possessing antibacterial and antifungal properties. It is thick and viscous, which is why some may not prefer it. However, once we read about the amazing benefits of castor oil, we might be taken aback.
Castor oil is useful for the skin, hair, health and beauty and is thus used in various cosmetics, soaps, textiles, massage oils, medicines and other everyday use products. There are only a handful of such natural products as castor oil that alone can fight against so many ailments.
Castor oil has been used as a great remedy for various illnesses and can be consumed internally or applied on the skin externally. It helps to strengthen the immune system and cure various diseases like:
Multiple Sclerosis
Parkinson's Disease
Cerebral Palsy
Hair loss
Pain from Arthritis and Rheumatism
Castor oil can also be used to cure everyday problems like:
Yeast Infections
Constipation
Gastrointestinal Problems
Menstrual Disorders
Migraines
Acne
Sunburn
Athlete's Foot
Ringworm
Itching
Warts
Age spots
Skin Abrasions
Inflammation
Now let us take a look at the most well known Castor oil benefits:
1. Arthritis:
Due to its well known anti-inflammatory properties, castor oil is used as an effective remedy for arthritis. It acts as excellent massage oil for joint pain, nerve inflammation and sore muscles.
Massage your joints using castor oil and then follow up with warm compresses. It provides you with immediate relief. Research supports this, so don't ignore this as folklore!
[ Read: Flax seed oil Benefits ]
2. Treatment of mild surface tumours:
Research shows that castor oil leads to an increase in the production of T-cells in the human body. Castor oil was recommended by the American psychic, Edgar Cayce for treating mild surface tumours. For this, the castor oil pack should be placed on the affected area and covered with a hot water bottle.
3. Constipation:
Studies have shown that castor oil is effective for treating constipation, as it is a powerful laxative. So, you can consume a teaspoon of castor oil in the morning or dilute it with orange juice or even cranberry juice to reduce the bitter and unpleasant taste of the oil. However, mixing with any other juice may reduce the laxative effect of the oil.
[Read: What is a healthy diet to fight constipation?]
4. Ringworms:
Ringworm is one of the most common and stubborn skin problems, which occurs commonly across all age groups. Castor oil contains an active compound called undecylenic acid which is very effective for treating this fungal infection.
Dilute 2 teaspoons of castor oil in 4 teaspoons of coconut oil. Alternatively, you can wash castor leaves in water and soak them in coconut oil for few hours, and then heat gently.
Apply over the affected area under your feet and cover with a cotton cloth.
Keep it overnight for best results. Repeat this procedure until it is cured.
5. Skin problems:
Castor oil is a boon for all skin problems, as it reduces various problems like sunburn, acne, dry skin, stretch marks etc. It also helps to eradicate skin infections like warts, boils, athlete's foot and chronic itching.
Apply castor oil over the affected areas, daily in the morning and evening.
For larger skin areas, dip a cloth in the oil and wrap around the affected area.
6. Wrinkles and fine lines:
Castor oil can penetrate deep into the skin and stimulate the production of collagen and elastin, which helps to soften and hydrate the skin. It delays the appearance of wrinkles and fine lines. Thus, castor oil rejuvenates and repairs the skin, making it smooth, soft and youthful. It is used by many around the eye area for treating fine lines.
Apply castor oil over the wrinkles and fine lines before going to bed daily.
[ Read: 5 Natural Facial Packs to fight Wrinkles]
7. Acne:
Castor oil is rich in Ricinoleic acid, which fights off the acne-causing bacteria. It effectively penetrates the skin layers, thus making it an excellent remedy for acne.
Wash your face with warm water, as this will help to open up your pores.
Simply massage your face with the oil and keep it overnight. Wash off your face the next morning.
8. Moisturizer:
Castor oil is well-known for its moisturizing properties. Its high concentration of fatty acids is responsible for this. These fatty acids penetrate the skin easily and quickly to remove dry patches which helping to restore hydration to your skin. Only a little amount of castor oil is required for this purpose. Hence, if you are looking for an inexpensive and natural moisturizer for your skin, you know what it is!
Apply a few drops and massage on your skin at night to wake up to smooth, supple and revitalized skin in the morning.
9. Fade scars:
No one likes scars, particularly on areas like the face. Castor oil for skin is sometimes used for the reduction of the appearance of scars. Though it works slowly in this regard, with continuous use, it can produce permanent results. The fatty acids in castor oil penetrate into the scar tissue and plump it out while encouraging the growth of healthy tissues around it. This in turn gives a diminished look to the scar.
10. Thicken Eyebrows:
As some of you might already possess the knowledge, castor oil helps to thicken your eyebrows and eyelashes. It prevents thinning and stimulates rapid growth of hair. Its unusual chemical composition helps to keep your eyebrow and eyelash hairs from breaking.
Rub castor oil over your lashes and brows, before going to bed. Repeat this procedure every night to get best results.
An alternative way is to gently massage each eyebrow with castor oil for a couple of minutes and leave on for half an hour. Then use lukewarm water and a mild cleanser to wash it off. This needs to be done daily too.
[Read: Eyebrow Shapes that Suit Your Face Shape]
11. Prevents Hair Loss and induces new hair growth:
Using castor oil for hair is one of the best solutions ever to many problems!
Hair loss is a persistent and ever-growing problem today. However, you can combat this with the help of castor oil. Castor oil can truly work wonders for your hair. No wonder it's such a popular treatment for hair -related problems.
Ricinoleic acid, which is a major component of castor oil, is known for its anti-bacterial and anti-fungicidal properties, which protect the scalp and hair from the infections causing hair loss. Omega 9 fatty acids present in castor oil nourish the hair and promote hair growth. When used regularly, castor oil boosts blood circulation to the hair follicles, thus leading to regrowth.
Massage your scalp and hair roots with castor oil and wash off after an hour.
12. Treatment of scalp infections, thinning hair and hair damage:
Scalp infections are also a major cause of hair loss seen among men and women alike. With its antifungal and antibacterial properties, castor oil can effectively treat scalp infections. It moisturizes dry, flaky and itchy skin.
Castor oil is loaded with essential nutrients such as amino acids, omega-6 fatty acids and Vitamin E. Hence, it can put an end to hair breakage, hair thinning and split ends which are common hair issues faced by many of us. Castor oil penetrates deep into your scalp to smoothen out rough hair and reverse the signs of hair damage. In addition to these, it imparts thickness to your hair. Therefore, those with the problem of hair thinning should use this oil.
To free your scalp of all infections and to flaunt those shiny tresses minus the hair damage, use castor oil on your hair and scalp on a regular basis, and we are sure you will reap its benefits.
13. Hair Darkening:
Some of us prefer dark black hair. Castor oil can be helpful in this regard. The humectant properties of castor oil, combined with the nutrients it contains, help to lock in the hair moisture, thus helping it appear darker.
For this, all you have to do is take a pea-sized amount of castor oil and mix with your leave-in hair conditioner or hair mousse. Whenever you are using this, apply evenly and distribute nicely over your hair.
14.  Removes Corns:
Due to its high content of fatty acids, castor oil softens rough and thickened skin, including corns and calluses. Castor oil is very effective at removing those troublesome corns from your feet. You may try this inexpensive home remedy to get sure shot results.
Here's how you can remove corns with the help of castor oil:
This treatment is to be done every night before you sleep.
You will need castor oil, first aid tape, cotton balls and a pair of cotton socks.
Dip a cotton ball in castor oil till it absorbs the oil nicely; now squeeze out the excess oil and place this over the corn on your feet. Thereafter, secure this in place with the first aid tape.
Wear your cotton socks and go to sleep.
Remove the cotton ball and the tape the next morning.
2-6 nights should be enough for those corns to get removed.
[ Read: Clove Oil Uses ]
15. Stretch Marks:
Rub castor oil over the stretch marks on your stomach and thighs, caused due to pregnancy and/or excessive weight gain. Apply regularly to get the best results.
Note:
Castor oil has not been known to produce any side effects with external usage. However, if you want to use it internally as for example, to treat constipation, you should take the right dosage. Therefore, make sure you read the instructions on the label before intaking it.
Tips:
It is recommended not to use too much castor oil when you are applying it on your face. This is because it is highly concentrated and too much of it can clog the pores, leading to skin irritation or breakouts. Hence, use it sparingly.
Advice:
Pregnant and lactating women, those with intestinal blockage or appendicitis should not consume castor oil. Kindly consult your doctor if you want to use this oil.
Did you like this post? Do leave us your feedback below.
Share on Facebook
Share on Pinterest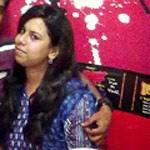 I am a 20 year old engineering student.. An avid writer, orator and a journalist by hobby, I am also a food blogger... I love getting dressed in chic clothes and the right make up of course!!!