The only time a woman is helpless is when her nail polish is drying. And even then, she could pull the trigger if she wanted to.
These words pretty much sum up the guts in a woman, and the soft corner for colors on the nails. Raise your hand if you agree with us. Nail polishes are known to make and break days. On a bad day, there is always red lipstick and nail polish. The pain of a broken nail is almost comparable to the pain of a broken heart. Okay well that might be an exaggeration, but the point does come across.
Though painting nails is so much fun, nail art adds more fun to it. Wonderful patterns add a touch of glamour. But what if we told you that adding a little something on the nails, in 3D is almost double the fun?
Beads nail art design or caviar nail art design, as it is more popularly known, has been a very famous nail trend since the past couple of years. Caviar manicure was first introduced by a UK based beauty brand. They came out with a kit containing a nail polish and colored beads. To get the manicure, you need to paint your nails with the given polish and stick the really tiny beads on them. Unfortunately, these kits are not yet available in India. Secondly, the exorbitant price charged for these kits may be a major turn-off for most of us. But that does not mean this trend is going to go untried or any less loved! A number of online stores sell these nail art with beads at great prices.
Here is a simple and girly version of this nail trend.. You can also directly pour the beads on your nails when the polish is wet, but the method here is far simpler. Make sure to have a piece of paper to work on while using these beads, in case you accidentally spill them. Are you ready to learn how to do caviar beads nail art?
[ Read: Nail ]
Things Needed:
Copper, bronze, purple, pink, green and silver tiny beads.
Stepwise Tutorial:
Step 1:
Apply any bright pink polish to all your nails. What you see here is 3 coats of Essie Jam 'n' Jelly. Three coats have been done to cover any visible nail line, but two coats should work well. Let it dry completely.
Step 2:
Mix equal quantities of the beads in the colors mentioned above in a medicine measuring cup.
Step 3:
Apply a thick coat of a quick drying topcoat to your ring finger nail. While it is wet, quickly dip the nail in the beads and remove. If some areas seem bare, dip the nail again. That is it. You have your beads nail art.
Step 4:
Seal the beads with topcoat when completely dry to avoid fall-off. The topcoat might make the beads lose a bit of their shine, but that is unavoidable if you want them to last long. For a single day's wear, skip the topcoat. If you are adventurous enough, apply the beads on all your nails. You can also mix and match different colors as per your liking or go for a completely different color on the accent nail. In that case, paint the accent nail in the color of your beads eg. gold polish for gold beads.
Go for a light accent with dark colors or for a funky festive look, apply gold and silver beads alternatively on each nail.
So grab your favorite polish and a set of beads and start caviar-ing your manicure. What colors are you planning to try this easy nail art design with??
You can also try many other beautiful nail art designs from the nail art for all app. All you need to do is download and keep trying them if you are a real nail art lover.
The following two tabs change content below.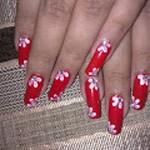 Latest posts by Neha Mane (see all)