I am really in a Christmas mood…So here is one another tutorial for Christmas nail art.
Leaf nail art:
Things You Will Need:
Golden nail paint( I used NYX girls Buzz worthy).
Stepwise Tutorial:
Step 1:
. Paint your all nails red except ring finger. On your ring finger apply golden nail paint.
Step 2:
Now add 3 red rhinestones towards your cuticle as shown.(on ring finger)
Step 3:
Make 3 lines with green colour as shown in the pic.
Step 4:
Now make leaves like pattern out of these lines.
Step 5:
Add little details with black colour to the leaves as shown.
Step 6:
Add loose glitter on your other nails and apply top coat to your all nails and you are done.
Final Look:
Hope you all like this! Aren't leaf nail designs simply a mood lifter?
if you try this easy nail art at home , upload your pic in the photo section of the Style Craze community,
Puja Malhotra
http://cutenailstudio.blogspot.in/
Love Nail Art?
(Subscribe to get Beautiful Nail Art Ideas daily)
The following two tabs change content below.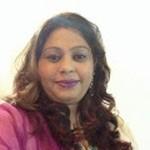 Latest posts by puja malhotra (see all)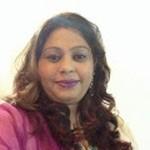 I am a trained nail artist and mother of 5 year and half year old girls...... I own my own nail art studio and do nail art professionally and teach nail art. I am nail polish addict.:) My nail polish obsession started since my childhood. I wont mind painting my nails every day. I love keeping myself updated with new nail art trends and I hope you enjoy reading it as much as I enjoy working on it.