This holiday, don't let Christmas trees have all the glitz: give your nails a tad bit extra sparkle this season by glam-ing up an ordinary manicure into an extraordinary, just add rhinestone to charm your nails! A simple Christmas holly leaf pattern is one of the easiest ways to wear your Christmas spirit on your fingertips. Plus you don't need a steady hand to pull off this holiday look either.
We can pretty much guarantee that during the gift-giving season instead of tying the holly leaf garland in your door you will enjoy adding a holly leaf to your nails. To keep things simple, I went with a basic red and gold polish using NYX Nail Polish. After painting each finger and adding a glam holly leaf charm to just one finger, this simple look makes this manicure seem much more advanced, and so much festive.
So here is one another tutorial for Christmas nail art.
Leaf Nail Art Tutorial:
Things You Will Need:
Red nail paint
Golden nail paint (I used NYX girls Buzz worthy).
Rhinestones.
Green nail paint
loose glitters
Acetone
Cotton Swabs
Toothpick
Just keep reading for a step-by-step tutorial.
Stepwise Tutorial:
Step 1:
To recreate this look, first prep your nails by moisturising and buffing them and then apply a base coat, like Essie Ridge Filling Base Coat. Next paint all your nails red except the ring finger. On your ring finger apply golden nail paint.
Step 2:
Now coat the sides with the help of glue use a toothpick, and place the 3 red rhinestones towards your cuticle as shown in the picture below (on ring finger.) It is very important that the rhinestones are small in size and of good quality also ensure you do not add more than 3; else you will not be able to seal it with the top coat.
Step 3:
Once the red rhinestones are set, take your green nail polish and draw 3 lines as shown in the image.
Step 4:
Next take the same green colour and make leaves like pattern out of these lines.
Step 5:
Once done, let it dry completely and add little details with black nail polish to the leaves as shown in the picture below.
Step 6:
Then add some glitz by sticking loose glitter on your other remaining fingernails. Once done, use a cotton swab dipped in acetone to clean the colour off your fingers. I have used ULTA Maximum Strength 100% Pure Acetone Nail Polish
Final Look:
Finish the manicure with a couple of applications of a very thick clear top coat until the edges are sealed and the nail is smooth to the touch. I have used, Umbrella Oxygen Raincoat Top Coat as it has a UV filter too – perfect for my nails while I'm hitting a beach or going out for a lunch
Tip: To remove the nail art, soak your nails in acetone for about 30-60 seconds.
So, here you have the classy holly leaf nail print in its final form.
With a trendy nail art that easy, we'll be donning this fancy and yet easy holly leaf print nail art for days to come. And if you wish to see more prints or any other designs on your nails, leave us your comments below and we will cater to your requests. Also, if you are planning to try this nail designs do share your pictures with us.

Bonus: With over 5,000+ Nail art designs and Nail art tutorials to choose from, Nail Art For All is the best android app that you will ever need for nail art.
http://cutenailstudio.blogspot.in/
The following two tabs change content below.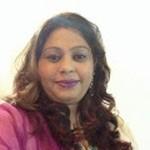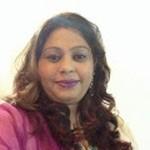 Latest posts by puja malhotra (see all)