If you haven't come across feather hair extensions and feather nail arts, then you've probably been living under a rock.  From tumblr, pinterest to instagram, this refreshing feather nails are quite a staple on the social media network for some time now. Plus this is something different from the usual nail art prints, and also happens to be pretty easy to create yourself using feathers and scissors. I also find this equally fun plus the cuteness quotient can win you few extra brownie points. Whether you believe us or not, trust us when we say this, feather print nail trend isn't going to fade anytime soon.
So read ahead to create some serious feather print nail art this season…
Things You'll Need:
A neutral base color from Revlon
Base coat, Essie Ridge Filling Base Coat
A top coat, Umbrella Oxygen Raincoat Top Coat
Various patterns and designs of feathers
Scissors
Acetone
Cotton Swabs
Feather Nail Art Tutorial:
Read and follow this simple step by step tutorial to get beautiful feather nails.
Step 1:
Feathers come in many colors or you can collect them too from different sources.
Step 2:
To recreate this look, first prep your nails by moisturising and buffing them square. Next, apply a thin base coat, like Essie Ridge Filling Base Coat. Now if you want, you can paint your nails with a base colour. I skipped it.
Step 3:
Let it dry completely. Then pick a feather and carefully place the tip of the feather onto your nail.
Step 4:
Press the feather down onto the top coat, making sure it's completely stuck down and let it dry on for about 30 seconds!
Step 5:
After it's stuck on decently, trim off the excess. Repeat the same steps on the other nails. Let it dry thoroughly. Make sure not to overcrowd your nails with the feathers.
TIP: Try to trim as close as possible to the end of your nail. If possible, trim the feather so that it's just a tiny bit shorter than your nail!  It might take a couple tries to trim them properly though.
Finish the manicure with a couple of applications of a very thick clear top coat.  And wait for five to 10 minutes, so the feathers are sealed and the nail is smooth to the touch. I have used, Umbrella Oxygen Raincoat Top Coat as it has a UV filter too – perfect for my nails while I'm hitting a beach or going out for a lunch with my girls.
Final Look:
I used different color and designs of feathers on each finger. This particular feather has very beautiful polka dots in it (Please refer above red feather picture to have a clear view.)
Since I'm a huge fan of glitters, I also added one layer of silver glitter. Remember to let it dry completely. Once done, use a cotton swab dipped in acetone to clean the extra colour off your fingers
Tip: To remove the nail art, soak your nails in acetone for about 10-15 seconds.
So, here you have the girly and funky feather nail print in its final form.
With a trendy nail art that easy, we'll be donning this fancy feather print nail art for days to come. And if you wish to see more prints or any other designs on your nails, leave us your comments below and we will cater to your requests. Also, if you are planning to try this nail designs do share your pictures with us.
Bonus: Here is a simple Android Nail Art App that will give you a huge collection of images for inspiration.
Recommended Articles:
The following two tabs change content below.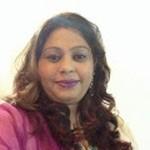 Latest posts by puja malhotra (see all)