Every year we see new things in the world of nail art. Last year it was crackle nails and this year the nail art industry came up with magnetic nails!
This article is all about what magnetic nail paints are, how they work and how you can use them to create a beautiful nail art! Before we show you how to use them for your nail art, let us first see what they are.
What are magnetic nails?
It's basically a technique where magnetic nail paint is used to create very pretty nail art design. Magnetic polishes invariably come in many metallic shades.
How does a magnet nail polish work?
Magnet polishes create beautiful 3D nail effects as this polish is made up of specially developed and formulated metallic particles that are meant to create a 3d pattern on nails using magnetic forces.
As you hold the magnet over nail, the iron powder in the formula of magnetic polish gravitates towards the magnet forming the pattern similar to the design made up on the magnet. The magnet is either included in the cap of your polish or provided extra with the nail polish. You can try these polishes from china glaze,faces,Claire's etc. the cost of these polish varies from Rs. 550 to 600 depending upon the brand you are buying.
Though it is costly, it is definitely worth a try. You can make many designs using following steps such as funky French magnetic manicures or accented magnetic manicures and you can do your nails on both hands effortlessly. Here I have done full nail magnetic manicure.
How to do magnetic nail art:
1. Remove any oil or old nail polish from your nails using acetone free nail remover as acetone is very harsh on our nails and apply base coat. Let it dry completely.
2. Now set aside the cap of or magnet of your magnetic polish.
3. Apply generous coat of magnetic polish to one of your nails. I suggest working one nail at a time. Because you have to be very quick and put the magnet over your nail polish before it dries. Hold the magnet very close to the nail for 10-15 seconds, take care that you don't touch the nail with the magnet otherwise it will ruin your manicure and put bald patches on it.
4. Repeat this step on all your nails and when dry, apply your topcoat to seal in your new nail design and you are done.
P.S. magnets comes in many design with horizontal lines to hearts and swirls and you can check the nail magnet pattern before buying or you can buy extra magnets with different designs to add variety of patterns in your stash. How to do magnetic nails becomes a not so troubling technique with this.
From where you can buy these polishes?
These polishes are available at different cosmetics counters such as faces ones at your nearest malls or some online sites are selling these and separate magnets with different designs.
Here is the final result:
So what do you think of these polishes? Are they a yes or a no for you? If you have tried magnetic nail polishes do let us know!
Are you interested to try more nail art designs to do in your spare time at home? There are many free nail art ideas you can get in the nail art android app. Just download it and get interesting designs on your nails.
The following two tabs change content below.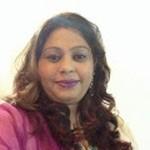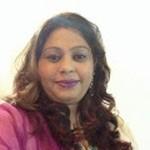 Latest posts by puja malhotra (see all)