Wedding is no doubt one of the most important days in the life of a girl and she is definitely the queen of the day! Everyone is very keen on how the bride looks; and so, even the would-be-brides put in a great deal of effort to get the right look and accessories! And there focus is always on three very important aspects which are the bridal dress, bridal makeup and bridal hairstyle. Speaking particularly of bridal hairstyle, the bridal hairdo you choose should go with your outfit. Since Indian weddings are full of rites and rituals, there are a variety of Indian bridal hairstyles that run parallel with the heavy jewelry and embellished bridal outfits that are just perfect for the occasion.
Indian Wedding Hairstyles
1. Traditional Bun Hairstyles:
Indian brides generally go for voluminous, beautifully shaped buns that are further enhanced with flowers or other hair accessories. The traditional bun hairstyle of the different hairstyles for  Indian wedding is where in the hair is first pulled together and then twisted in the form of a bun, goes in perfect harmony with the traditional Indian wedding outfits like sarees and lehengas.
2. Pinned-up bun:
Pinned-up bun is also a great wedding hairstyle idea for Indian brides. Pinned up bun isn't actually a bun, rather a small quantity of hair are pinned on top of the head to create an illusion of a bun. It can be ideal option for those who would love to wear a traditional bun on their big day but their hair is not long enough to style it. Embellish the bun finally with beads or floral accessories to give it a trendier look.
3. Side Bun:
Another variation of the traditional Indian bridal hairstyle comes in the form of 'Side Bun'. This hairstyle is somewhat similar to the traditional high-bun; the only difference is that rather than placing in the center, the bun is shifted to one side. After a thorough blow-dry, the hair is brushed straight and then pulled into a low puffed-up hair bun, onto a side. This style, however, looks great only if you have well-defined cheeks and prominent eyes.
4. Updo:
This Sleek and stylish Updo is a classic hairstyle for Indian wedding can also be one of the eye-catching and traditional looking bridal hairstyles for Indian weddings. Think about Bouffant updo, White Ribbon Updo or Sweep Updo.
5. Spanish Updo:
If, however, you don't want to go the usual run-of-the-mill updo hairstyle, the Spanish updo might just impress you provided that your hair is long and thick. Start off by blow-drying the hair to add enough volume and then part horizontally. Grab the upper part of the hair and style it up, with elaborate curls, and let the other part flowing down at the back. Enhance the 'do with floral or bejeweled accent pieces or simply with crystal or fancy bows and you're done.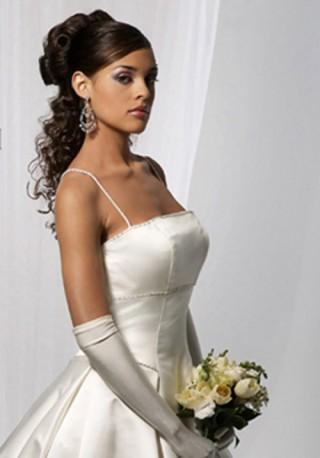 6. An embellished Braid:
When it comes to bridal hairstyles for Indian brides, Bun is not the only hairstyle option. You may also go for beautiful braids adorned with flowers at each twist. This style works best for long hair. Hair is parted in the middle and braided with flowers and jewels. An important feature of this traditional Indian bridal hairstyle is that thereafter the middle part of the head is festooned with jewels that reaches the bride's forehead and adds stars to her look.
7. Bohemian Hairstyle:
If you are daring enough to try an entirely different hair look on your nuptials, the bohemian hairstyle is an excellent alternative! It works well for long, flowing hair. You simply have to set your manes in Velcro curls. As soon as the curls are set, pull them away from the face and crown them with a tiara leaving them loose at the back.
So which style do you plan to flaunt on your wedding day?
Image source: 1 , 2 , 3 , 4 , 5
If You Enjoyed This Post, Sign Up For Newsletter
(And get your daily dose of Beauty & Wellness tips straight to your inbox)
The following two tabs change content below.


I have a great passion to write on health, beauty and hair care. I believe that combination of these three will make anyone's life happy. My other areas of interests are cooking, gardening and travelling. I always strive for new things and try to live my life to the fullest.