Vintage Antique Floral Newspaper Nail Art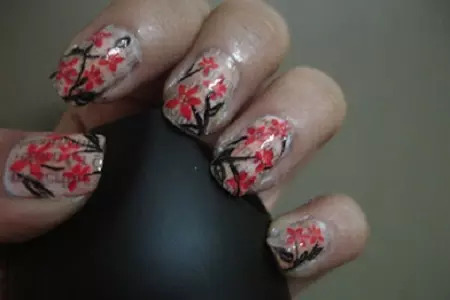 I am a big fan of nail polish designs. And I love watching Robin Moses nail arts because they are terribly difficult ones and awesomely artistic, so rather than trying i like watching them (LOL). She is damn good with free hand painting but …Am no less sly.
So after replaying the vintage antique newspaper nail art video at least four times in a row, I found out how to make the process simpler and easier for me. All this trouble only because am not that good with small painting. In addition, since I tend to paint with polish and not use acrylic colors, the polish dries up in seconds giving me no time to give in too much to the intricacies of facial features or very small flowers on nails as Robin Moses does.
I already know how to do newspaper nail art, so i was not worried about that. What, however, was freaking me out was how to get the beautiful and intricate flowers. And then suddenly  it struck , hey what the heck i can stamp them out!
So here's an equally beautiful and easy technique of vintage floral newspaper nail art.
You need:
 1. Matte white for the base (I am using Gaits No 25)
2.Tips and toes Victoria (Robin Moses mixed up so many colors, all went over my head , but i found out Victoria gives the almost same finish ) , why need hard work? )
3. Newspapers cut outs. Don't cut too small; strips should be slightly bigger than size of your nails.
4. Deo spray (i am using Yardley Sandalwood , the smell has nothing to do with it. You just need a deo spray that's it, though sandal wood from Yardley is to die for …itsssssss soo good!)
5. Image plate no 57, special stamping red polish from konad and elle 18 black polish, along with elle18 transparent top coat and your nail art brush.
Step 1:
Coat with two coats of matte white. Let it Dry completely.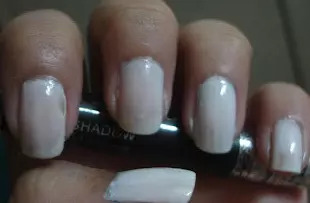 Step 2:


Swipe only with one dip into victoria, haphazardly over the white after the white is completely dried. (You will not be covering the white totally in victoria, you just need an old news paper type of brownish finish where white will be visible from sides and beneath as well. A very thin layer of Victoria is all that you need).
(Forgot to take the picture, but you can guess from the one below. )
Step 3: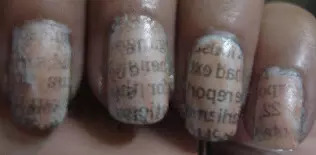 Let the Victoria dry completely. Then take one piece of newspaper cutting at a time and spray deo evenly on THAT SURFACE FROM WHICH YOU NEED THE PRINT.
Put immediately onto nails and press it on with a slightly rolling motion with the other hand's thumb. Don't press too hard, otherwise the fibers will get stuck to your nails and your base will be totally ruined. And you will have to start from scratch. Since you are using a deo spray you need to press only with moderate pressure and rolling motion to get print on all sides of nails. Pull out gently.
Step 4:
Stamp out the red flowers from image plate 57 with special red polish. Don't forget to clean after every stamping with remover. The plate and the scrapper needs to be absolutely clean to get the nest stamp out properly.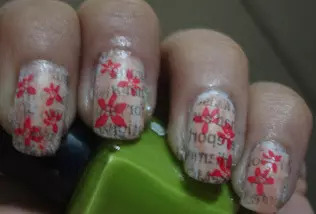 Step 5:


Draw the twigs with the nail art brush and also some leaves if possible.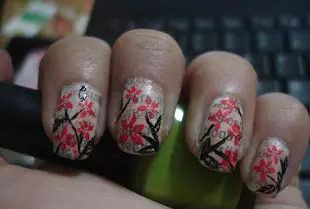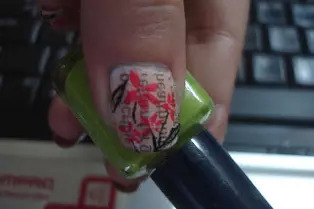 Step 6:
Finish off with a top coat.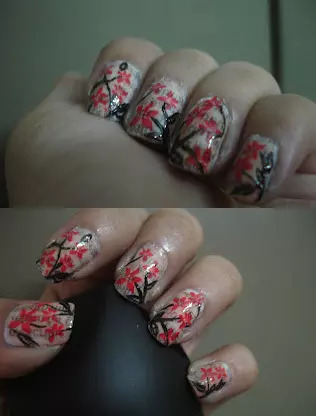 Hope u liked this one. I'll try on some more designs with newspaper base. How I wish my nails were a bit longer.  I cut them all short during my exams to get rid of distraction and nail craziness!
Like this post, then :
I love makeup,dance,dressing up,singing,writing ,acting (stage drama),eating and nail arts. I live life to the fullest and enjoy every moment as it comes.
Featured Products