7 Best Hybrid Bikes For Women To Get You In Shape – Buying Guide – 2022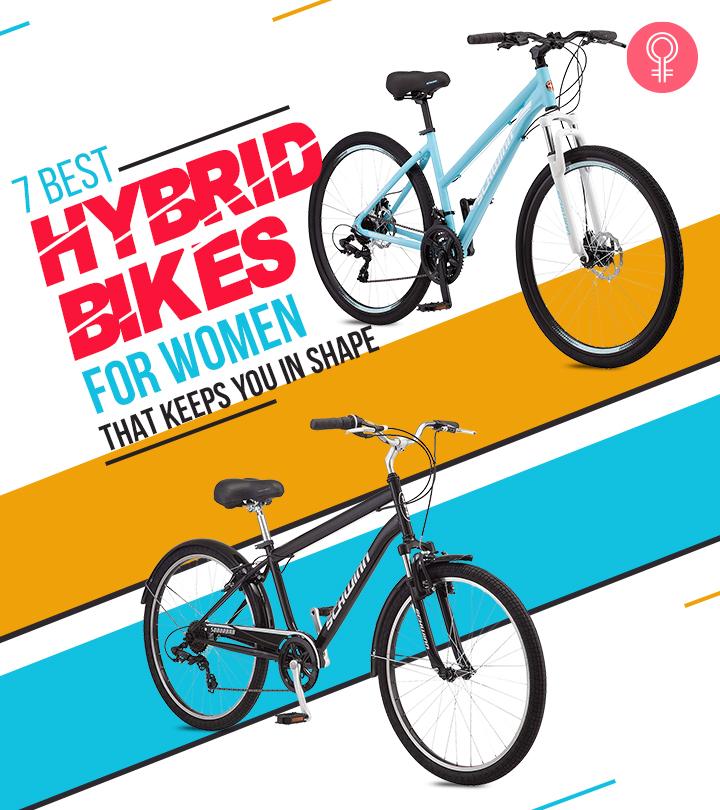 After spending almost two years at home (thanks to the pandemic), shedding quarantine fat is the toughest job. Hence, we curated a list of the best hybrid bikes for women that'll help you get back in shape. Yoga and home workouts are great, but nothing can beat the efficiency of riding a bike. It helps build cardiovascular fitness, improves posture, and engages your joints. Another brownie point about cycling is that it's fun and eco-friendly. However, if you thought buying cycle would drill holes into your pocket, you'll be happy to know that isn't the case. Budget-friendly hybrid bikes are great for exercising as well as commuting. Their ergonomic design is perfect for women.
So, to make your decision easy, we made a list of 17 hybrid bikes that are pocket-friendly.

7 Best Hybrid Bikes For Women
The Discover 700c Step Thru Hybrid Bike from Schwinn combines comfort and style. Its ergonomic design features alloy frames, suspension forks, and 700c wheels that offer less rolling resistance and great shock absorption. With a 21-speed twist shifter, alloy linear-pull brakes, padded seat, and rear derailleur, you get extra comfort along with a dependable braking system. Besides hybrid saddle and firm grip, its rear cargo rack for storage and aluminum fenders for protection from splashes make it great for leisure neighborhood rides for all women.
Specifications:
Fender Material: Aluminum
Style: Discover
Color: Black
Speed: 21 twist shifters
Brake: Linear pull brake
Wheel Size: 28 inches
Use: Fitness/Transport
Features:
Adjustable padded seat
Durable steel frame
Suspension fork
Pros
Vintage style
Rear cargo rack
Firm grip
Lightweight
Durable
Quick gear shift
Easy to assemble
Cons
Tires wear out quickly uses
Want to look smart while riding? Pick up these Wayfarer retro-styled hybrid bikes for women from Schwinn and head off to conquer the world. Apart from its cool design, the steel urban style frame with rear rack and chrome fenders. Its sturdy yet responsive design comes with 700c wheels for a smooth ride on the road. And the alloy front and rear linear-pull brakes keep you safe during the ride. Additionally, its 7-speed twist shifter comes with a rear derailleur that enables quick gear changes through all terrain.
Specifications:
Fender Material: Chrome
Style: Step-through frame
Color: Yellow
Speed: 7
Brake: Rim brake
Wheel Size: 29 inches
Use: Road
Features:
Retro city-style steel frame
Spring seat
Rear rack
Step-through frame
Schwinn rear derailleur
Pros
Lightweight
Sturdy
Smooth gear change
Value for money
Cons
Hard to assemble
Stiff seats
From casual commuting to mountainous terrain, Schwinn GTX hybrid bikes are great for versatile riding for women. This multi-sport bike features a dual-sport aluminum frame, suspension fork, 21-speed shifters, and rear derailleur. The Schwinn suspension fork absorbs on-road impact, making your ride less bumpy. Besides a smooth ride with added stability, it comes with great stopping power, a lightweight body, and a strong grip on the road due to its V-brakes, double-wall rims, and sturdy multi-use tires. Thanks to its triple alloy crank and adjustable seat post that makes your ride way more comfortable and fun.
Specifications:
Fender Material: Aluminum
Style: Gtx 1.0
Color: Light blue
Speed: 21 twist shifter
Brake: V-brakes
Wheel Size: 28 inches
Use: Trail
Features:
Alloy double wall rims
Alloy triple crank
Adjustable seat post
Multi-use tires
Pros
Lightweight
Durable
Dependable brakes
Great stability
Sturdy frame
Adjustable seat
Comes with money back guarantee
Cons
Looking for an affordable bike that you can take to trails? Then, this Suburban Classic from  Schwinn is meant for you. This hybrid bike for women features a steel frame and swept-back handle that helps maintain your posture while riding. The large-cushioned saddle with an adjustable seat lets you customize the height as per your requirement. Plus, the bike comes with a 7-speed twist shifter for high speed. Additionally, the front and rear linear-pull brakes, along with strong alloy rims and oversized tires, keeps you safe on-road.
Specifications:
Fender Material: Aluminum
Style: Classic
Color: Black
Speed: 7 twist shifter
Brake: Linear pull brakes
Wheel Size:  5 inches
Use: Trail
Features:
Linear pull brakes
swept-back handlebars
Adjustable seat post
Oversized tires
Cushioned saddle
Pros
Comfortable frame
Secure stopping power
Smooth ride
Lightweight
Sturdy
Sleek design
Easy to set up
Great quality
Cons
Whether you are a seasoned rider or a novice, this hybrid bike from Kent is an ideal choice for all. Its 6061 lightweight aluminum frame with an alloy crown suspension fork ensures faster movement with great shock absorption. The splurge-worthy craftsmanship, simple yet sturdy design, and 32 spoke double-wall alloy rims give you stability on-road. Due to its rear derailleur, the powerful multiple precise gear changing system gives you speed and comfort while riding on slopes and bumpy terrains. Enjoying a safe and comfortable ride is seamless with this bike due to its linear-pull brakes and 21 speed twist shifter that ensures good stopping power.
Specifications:
Fender Material: Aluminum
Style: Classic
Color: White
Speed: 21 twist shifter
Brake: Linear pull brakes
Wheel Size: 29 inches
Use: Road
Features:
Allow crown suspension fork
36 Spoke double wall alloy rims
Shimano Rear Derailleur
Pros
Lightweight
Sturdy design
Excellent brakes
Easy to assemble
Cons
Want to experience efficient and fast riding? Then, you need these hybrid bikes for women from Schwinn. The Phocus 1500 exhibits features of a hybrid bike starting from a lightweight aluminum frame to a highly responsive suspension fork for greater shock absorption. Moreover, it also features front and rear Shimano derailleurs with 24-speed EZ-Fire trigger shifters for fast mobility with precise gear-changing options. Additionally, its 8-speed cassette and alloy crank give you more power on-road. The reliable mechanical disc brakes ensure safety on rugged terrains.
Specifications:
Fender Material: Aluminum
Style: Sleek flat bar
Color: Grey
Speed: 24- drivetrain
Brake: Mechanical disc brakes
Wheel Size: 5inches
Use: Road
Features:
Mechanical disc brakes
Rear derailleurs
double wall rims
8-speed cassette
Pros
Lightweight
Good stability
Durable frame
Less maintenance
Reliable stopping power
Optimal speed control
High quality
Cons
None
This step-through hybrid cruiser from sixthreezero renders an incredible look and makes it a great option for every rider. These versatile hybrid bikes feature an aluminum frame with a 7-speed setting perfect for urban commuting and cruising. Its external derailleur with front and rear hand brakes make long-distance commuting seamless. Besides, its synthetic leather comfy saddle and grip ensure a comfortable and stable ride. Moreover, its low swooping frame and foot-forward seat and pedal position ensure easy entry and upright position with varying height makes it effortless to stop or put your feet on the ground while staying in the saddle. Don't just go only on its stylish looks! It ensures an incredibly great ride due to its whitewall semi-slick tires for easy rolling on flat terrain and rear rack for holding baskets and other stuff.
Specifications:
Fender Material: Aluminum
Style: Step-through
Color: Cream with black
Speed: 1
Brake: Front handbrake and rear coaster brake
Wheel Size: 26 inches
Use: Single ride trips
Features:
Dual-spring saddle
Front handbrake and rear coaster brake
Rear rack
Full leg extension
Leather-stitched grips
Pros
Easy rolling
Easy entry on and off
Upright position
Nice grip
Great stopping power
Cons
None
Touring across varied terrain is quite obvious for fitness freaks or adventure lovers. But why rhetoric your mobility, rather getting a perfect one that meets all your needs is essential. So here we are with a precise list of what you need to consider before buying one:
How To Select The Best Hybrid Bikes For Women?
Wheel Size: The standard Wheel Size for most of the hybrid bikes is 700c, which is  wider than wheels of a regular road bike. The wider wheels offer more grip on slopes and uneven terrain. Plus, the 700c wheels gives you more cushioning on-road, increasing your riding experience.
Gears: Usually, a hybrid bike come with 1 to 27 gears or more to help you cover the distance between different terrains. When riding on hills you will need multiple gear to cover the slope, but  for the plains, you could do with only fewer gears.
Bike Suspension: Suspension absorb shock, and makes your ride less bumpy, especially for uneven terrains. But they do add some weight to the bike, and hence, some bikes come without this feature.
Brake Type: There are two main varieties of brakes – rim and disc. The former one is quite cheaper  provides superior performance on wet and steep terrain and is easy to replace. On the other hand, if you're looking for bikes with great stopping power with less finger effort then disc brakes would be the best fit.
Frame Material: Though steel and carbon frame are extremely common, many riders prefer hybrid bikes with aluminum frames. The aluminum is lightweight yet durable alloy, which can be molded quite easily. Plus, it cuts down the overall cost of the bike.
Handlebar Shape: The level of the seat and the handlebar decides your comfort level while riding. Hybrid bikes generally come with seats that are farther from the handlebar for a more comfortable ride. There are typically four different types: drop bar, moustache bar, flat bar, and riser bar.
Cargo Racks: Rear cargo racks add to your convenience during commuting. It can be helpful when you are planning to visit your nearby grocery store. But you can remove them if you don't need them to cut down some extra weight.
Fenders: If you are commuting or running a few errands on wet terrain, then fenders are an effective component that protects you from splash and road grimes. But if you are into fair-weather riding then opt out this feature to keep the weight of your bikes much lighter.
Whether you want to shed that extra quarantine fat or looking for a convenient commuting option, hybrid bikes will be your ultimate companion. These bikes are perfect for choppy pavements, mountainous terrains, and city streets. The best part is that these bikes have unique features like maintenance-free drivetrains, disc brakes, cranksets, shifters, rear derailleur, wheel rims, and rubber tread designs. The bikes reviewed in this list have a sturdy and lightweight design with improved features that give you a good grip on the road and the best biking experience. While selecting the best hybrid bike for women, the wheel size, frame material, brake type, and handlebar shape are important factors you should consider!
Why Trust StyleCraze?
The author, Aditi Naskar, holds a diploma in health and wellness and is passionate about fitness. Her passion lies in creating comprehensive content on health and fitness related topics to help her readers enjoy a smooth lifestyle. For this article, she has carefully weighed the most popular options of hybrid bikes for women to create this list of the best ones. These pocket-friendly hybrid bikes are great for exercising and traveling.
Recommended Articles
The following two tabs change content below.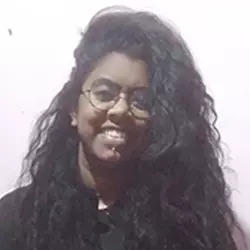 Aditi Naskar has a postgraduate degree in English literature from Presidency University, Kolkata, a bachelor's degree in education from WBUTTEPA,...
more