22 Simple Curly Hairstyles For Women Over 40
Simplistic yet gorgeous curly hairstyles to match the grace and poise in mature ladies.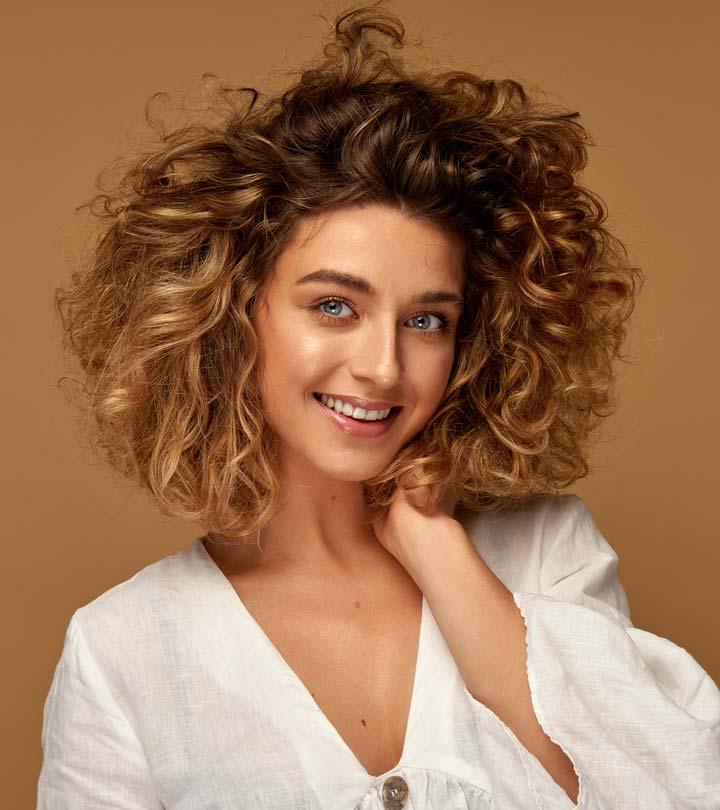 Many women believe that curly hair becomes more difficult to handle as they reach their 40s. However, your curly tresses can be tamed and made stylish easily with the right hairstyles. In this article, we have curated a list of the top curly hairstyles for women over 40, just for you!

Before You Get Started
Use Heat Protection: Always use a heat protectant spray before curling your hair to prevent heat damage and breakage.
Experiment With Colors: Colors can draw attention to your curls and make the ringlets and waves pop. You can choose between a balayage and an ombre for a cohesive look.
Use Leave-In Conditioner: Apply a lightweight leave-in conditioner after styling your curls to keep them bouncy all day long.
Use Setting Spray: Use a medium-hold spray after styling to maintain the curl definition. Also, medium-hold sprays allow you to adjust the hairstyle.
Nourish With Oils: Remember to oil your hair weekly to strengthen and moisturize it, as styling products and heat tools can dry and damage your locks.
A grave misconception floating around is that once a woman reaches her 40s, she stops caring about her looks. But in reality, women become more confident in who they are and what they want as they grow older. And this reflects how they dress and style their hair. But women with curly hair may think it is better to straighten their hair to manage it. Or maybe they feel their curls are not as beautiful as they were when they were younger. Therefore, it is time to change and embrace your stunning curls! Explore the various ways you can style your wild curls based on your face shape. And if you do not have curly hair, there's something for you too. Keep reading to know how to curl your hair using a flat iron, curling iron, or a blow dryer.
How To Curl Your Hair Using A Curling Iron
What You Need
Heat protectant
Curling iron (in the size of your choice of curl)
Hair spray (optional)
Paul Labrecque, a master stylist with over 25 years of experience, suggests, "With an iron that's a wand, I suggest using a heat-protective glove, too. It can get too hot depending on how long you're using it, and you can burn your fingers. When it comes to choosing a curling iron, opt for spring irons as they have a cool place to hold on each end and are the safest for anyone."
How To Style
When using any heat styling device on your hair, it is imperative that you use a heat protectant on it to protect it from getting damaged. Heat protectant can be in the form of a serum or a spray.
Start by picking up a 1 to 2 inch section of hair. Don't go for sections any bigger than that; otherwise, your curls will not have much definition.
Wrap this section of hair around your curling iron for 15-20 seconds to create your curl.
Repeat these steps until you have curled all your hair.
Shake out your curls with your hands if you want them to look more natural.
Spritz on some hair spray if you have a long day ahead of you and don't want your curls to unravel.
If you want to create a shaggy/messy/texturized curls look, simply spritz on some texturizing spray all over your curls and run a hair brush through them.

Quick Tip
If you have fine hair, you should keep the curling iron temperature below 300℉. For those with thick and coarse hair, the right temperature ranges between 350 to 450℉.
How To Create Big Voluminous Curls Using A Blowdryer
What You Need
Volumizing mousse
Round Brush
Blowdryer
Smoothening serum
How To Style
Start off by applying a dollop of mousse all over your washed, wet hair. This will give your hair tons of volume.
Start by blowdrying your hair while just brushing it down.
Once your hair is semi-dry and somewhat straight, start rolling individual sections of your hair around the round brush from the ends up and then blow dry them to create big curls.
Shake out your curls to give them more volume and apply some smoothening serum to get rid of any frizz.
How To Curl Your Hair Using A Flat Iron
What You Need
Heat protectant
Flat iron
Master stylist Paul Labrecque says, "When curling with a straight iron, you have to make sure you choose the right straightening iron. It should be thin and the blades of the iron should be movable so no ridges are made on your hair. Those with super curly hair should avoid all heating devices and be left to dry more naturally and slowly."
How To Style
Prep your hair with some heat protectant.
Pick up a 2 inch section of hair.
Clamp down your flat iron about a third of the way down from your roots.
Start twisting the flat iron away from your face so that the section of hair starts wrapping around it.
Keep twisting your flat iron slowly so that your hair gets ample time to get curled.
Keep twisting it until it has reached the end of the section of your hair and your curled hair naturally falls out of it.
Repeat this process until you've curled all your hair.
Which Type Of Curls You Should Go For Based On Your Face Shape
The shape of your face plays a huge role in determining how your curly hair will look on you. Since there are a variety of curly hair styles that you can go for, it's important that you pick one that will suit your face shape. Big blowdried curls done on layered hair work perfectly for round faces as they add more definition to your facial structure. For oval and oblong face shapes, tightly coiled kinky curls work beautifully as they add tons of volume around the faces and give them a softer look. Any kind of curly hair parted and swept to one side is perfect for anyone with a square-shaped face. People with diamond and heart face shapes are those lucky ones who can carry off any and all curly hairstyles with elan. Labrecque says, "Long narrow faces don't do well with curls. The width of curls and waves can make the entire narrow face disappear."
Well, now that you know how to curl your hair and which type of curls work best with your face shape, let's dive into the best curly hairstyles that you can sport if you are over 40!
22 Glamorous Curly Hairstyles For Women Over 40
1. Messy Curly Bun
Switch up your entire look by simply going for a messy bun. Just the hairdo that will make it difficult for people to take their eyes off you. It's playful and can be made in a few minutes. So, the next time you are running late, you know which hairdo to opt for.
2. Long Layered Curls
Cascading curls with layers are a match made in heaven! These voluminous locks look glamorous and subtle at the same time. You can finish off your look with a shine spray to get those luminous curls.
3. Shaggy Red Headed Bob
Now that you've hit your 40s and have a bit of time for yourself, why not shake things up a bit and have fun? This shaggy bob with texturized curls looks uber cool all by itself. But get your hair colored in a bright red shade to infuse some funk into your look.
4. Texturized Spiral Curls On Medium Length Hair
Imagine yourself frolicking in a meadow, wearing a long flowy dress and some wild flowers in your hair. This is the kind of curly hairstyle that would fit in that fantasy perfectly. These big spiral curls (achieved easily with the help of a curling iron and some texturizing spray) look their gorgeous best when done on medium or long hair.
5. Messy Curls On Layered Long Bob
Get back to your 70s' groove with this messy style that will channel your youth. The key to a good curly style lies in its layering. Layered haircuts make curls look super defined the way no other cut can. So, try out this layered long bob style with messy curls and bangs to feel young and fresh once again.
6. Kinky Curls With Subtle Highlights
Kinky curls have an appeal of their own that no other kind of curls can match. So, whip out that curling iron of yours (or maybe try out this technique that involves chopsticks?) to give your short bob a kinky twist. Complete your hair transformation with some subtle light brown highlights to give your hair that perfect sun-kissed look.
7. Curly Cropped Bob With Cropped Bangs
Gone are the days when long hair was the only suitable hairstyle for a woman. It's time to break that barrier and experiment with some unconventional styles, don't you think? So check out this ultra cropped curly bob that will have everyone sitting up and taking notice of you. The halfway cropped bangs only add to the funky vibe of this look.
8. Elegant Open Curls
If there's one actress who has aged gracefully in Hollywood, it has got to be Julia Roberts. And one hairstyle that she has managed to perfect over the years is the loose open curls style. This relaxed wavy style done on her shoulder length blonde hair personifies elegance and class.
9. Romantic Curls Bob
You probably fell in love with her the first time you watched You've Got Mail and have dreamt of getting her look ever since. Well, your quest ends here! These soft romantic curls (the result of a 1 inch curling iron) done on a short bob will leave you looking like the cute protagonist of a feel-good rom-com for sure!
10. Center Parted Curls
If a red carpet look is what you desire, then a red carpet look is what you'll get with this Michelle Pfeiffer inspired curly hair look. Just leave your hair in some hair curlers overnight to wake up with a totally transformed look in the morning!
11. Pin Up Curls
Just because you're in your 40s doesn't mean that you have to give up on your dream of looking like a pin up model! Life begins at 40, after all. So, whip out those trusty ol' hair curlers of yours and leave them in on the lower half of your hair overnight to get this sexy Marilyn Monroe-esque look.
12. Loose Curls Long Bob
On countless occasions I've found myself wondering if Nicole Kidman ever ages. And I've come to the conclusion that she is some sort of immortal being. And over the years she has perfected her signature wavy long bob look to the T. Just a few minutes with a curling iron after you've put on your outfit should work splendidly to create this look.
13. Rock Chic Curls Bob
It's amazing how far a set of hair curlers and a can of texturizing spray can take you in styling your curly hair. This rock chic look done with the aforementioned items will have everyone thinking of you as a woman who is in total control of her life and will not take any shit from anyone.
14. Sleeked Down Curls
When it comes to curly hair, you can play around with textures and styles to create unique hair looks. Take Sandra Bullock, for instance. She has parted her texturized curls down the middle and sleeked them down with some hair gel and bobby pins to create a stunning style of contrasts.
15. Low Defined Curls
One classic look that Hollywood actresses keep going back to is the low curls look. This straight on top/curly at the bottom style is the easiest way to create a look that is red carpet ready. Do what Salma Hayek did and part your hair on one side to look like the epitome of grace and class.
16. Wet Curls
Admit it, nothing can beat the sex appeal of the wet hair look. And when done on curly hair, the effect is even more breathtaking. Sofia Vergara shows us how it's done with her layered hair done up in voluminous curls and given the 'wet' effect with the help of some hair gel.


Quick Tip
You can add hair bows, flowers, hair combs, or jeweled hair pins to elevate your vintage curls hairstyle.
17. Tightly Coiled Curls
As you grow older, you may find yourself letting go of that straightening iron and your need to conform to societal beauty standards, and leaving your hair just the way it is. So, if your hair is naturally this curly (because the Lord knows you can't recreate these kind of curls) then it's time you forgo those heating tools and let them be just the way they are.


Quick Tip
Since tightly coiled curls tend to dry up more, you can use deep conditioning masks like coconut oil and honey to keep them hydrated and smooth.
18. Dual Toned Vintage Curls
Eva Longoria is one starlet who slays the hair game every time she steps onto the red carpet. So, it's no surprise that she looks absolutely stunning in this vintage era inspired curls. The brown and black combo of her short bob only enhance the look of her super defined curls.
19. Super Shaggy Curly Bob
The great thing about curly hair is that you can go as subtle or as crazy with it as your heart desires. So, if a sexy mop of shaggy curls is what you want, this is a style you definitely need to check out. These super texturized curls done on a short bob are the result of some great usage of a diffuser on a blowdryer.
Paul Labrecque adds, "Here's a tip for a beautiful diffused curls look — apply a plant humectant product and wrap your fingers around your curls. As you're drying and using the diffuser you'll start to see lush and large curls."
20. Swept Away Curls With Bangs
When it comes to Susan Sarandon, subtlety is her style statement. So, of course, her take on curly hair had to be super simple and understated. On her long bob, she has gone for gently swept away curls and some wispy bangs to create this classy hair look.
21. Sweetheart Curls
Diane Lane has that face that seems to say she is always going to be there to nurture and comfort you, don't you think? And this sweet curly hair style only adds to her fresh faced look. Just bust out your curling iron and spritz on some texturizing spray to get this sweetheart curls look.
22. Lion's Mane Curls
First things first, I'm pretty sure Jennifer Lopez sold her soul to the devil to still look like she's 20. Secondly, there's no way you can resist this curly hairdo. With big texturized curls that cascade down her face, Lopez looks nothing less than a fierce goddess who will eat your heart for breakfast if you cross her.
Infographic: Top Minimalist Curly Hairstyles For Women Over 40
While age can reduce the volume of your curls, that should not stop you from being the queen that you are! To help you out, we have rounded up the top elegant and fun hairstyles that can help you embrace your age with confidence and style. Check out the infographic below to know more!

As the ideas in this post illustrate, curly hairstyles for women over 40 need not be anything close to boring or overcomplicated. Depending on your hair length and face shape, you can choose from various options. Both short curly bobs and medium-length loose curls can look equally gorgeous if you know how to style them the right way. With celebrities over 40 flaunting their curls, there is no reason why you cannot wear and style yours proudly. However, if you have straight or wavy hair and want some oomph curls can bring, follow the curling guides in this post and get the curls of dreams in just a few steps.
Frequently Asked Questions
Does curly hair make a woman over 40 look younger?
Yes, curly hair can make a woman over 40 look younger as it adds volume to your tresses. The curls make your hair look fuller and thicker.
Should curly hair be layered?
This depends on your face shape. You can add layers to your curls if you want to add more volume to your tresses and give your face a more streamlined and elongated appearance.
Is it OK to have long hair in your 40s?
Yes, it is perfectly fine to have long hair if you are in your 40s. The main reason most older people prefer short hair is that it is easier to maintain. As you grow older, your hair loses its natural pigmentation and texture. But you can maintain it with the right hair routine and style.
Can a 40-year-old woman wear braids?
Yes, people of all ages can wear braids, whether you are a teenager or someone over 40.
What is the best hairstyle for over 40 with glasses?
There are many hairstyles for women over 40 who wear glasses to try out, such as the classic lob, a slicked back pixie, and a stacked bob.
Do bangs look good on 40-year-olds?
Yes, bangs look great on older women who have round, oval, diamond, and heart-shaped faces. They can conceal any fine lines or wrinkles on the forehead. However, bangs do require some maintenance, like regular trimming, to look fresh.
Key Takeaways
Many women believe that curly hair becomes more difficult to handle as they reach their 40s.
On the other hand, your curly locks can be effortlessly tamed and styled with the correct hairstyles.
And if you do not have curly hair, you have the option to curl your hair using a flat iron, curling iron, or a blow dryer.
Since there are a variety of curly hairstyles that you can go for, you must pick one that will suit your face shape.