Have you ever seen a typical Indian beauty without her a hint of her trusted eyeliner on an important occasion where she needs to make an impression? If you have, you have been witness to one of the rarest phenomenon in the culture. No Indian woman who takes care of herself steps out of her vanity with a little bit of eyeliner and/or kajal. We are just as obsessed with highlighting the eyes as our great grandmothers were years ago.
Although for them, making eyeliner was a tedious process of crushing something called 'anjana' stone and then dissolving it in the juice of 'kayyoni/Bangrah' and then dipping a cotton cloth wick in this paste, and then burning it in a diya and covering it with a clay pot to catch the soot. This collected soot is used to line the eyes as kajal.  But as time passed the process morphed either into burning a wick dipped in castor oil and collecting that soot to use or burning 2-3 almonds and collecting the ash and mixing it with pure ghee to use as kajal. These were the best kajals of that time.
But now, the process has become so easy that the only difficulty lies in which kajal cosmetics brand to make your regular one.
Here we are discussing 10 best kajals in India:
1. Maybelline Colossol Kajal:
This is one of the biggest crowd pleasers among the current kajals in the market .It is packaged very efficiently and claims to stay on for a long time. The color is also a very dark black, but it rather on the matte side. If you like the glossy kajal look, skip this. But if you are a matte girl, go for it.
2. Lakme Black Satin Kajal:
It is more of a chubby stick kajal and is super glossy and it does smudge a bit, but you can follow this kajal on the water line with some satiny eye shadow on the lash line so that it doesn't bleed too much.
[ Read: Lakme Kajal ]
3. Lakme Eyeconic kajal:
Lakme eyeconic kajal is smudge free, glides on easily and doesn't break quickly like many retractable kajals tend to do. Its tip is not very wide and the price is a bit steep though.
[ Read: DIY Kajal ]
4. Lotus Herbals Natural Kajal:
This kajal boasts of being all natural with the goodness of camphor, licorice and almond oil. It is dense black, glides on smoothly and has a reasonable price of Rs. 115.
5. Colorbar Kajal:
Colorbar kajal has a price of rupees 150 and it is jet black, super creamy and is enriched with vitamin E and Castor Oil. It is soft and easy to apply.
6. Himalaya Herbal Healthcare Kajal:
This kajal is another all natural product. It cost rupees 105 for 2.7g. It is hypoallergenic; it contains castor oil, almond oil, triphala, camphor. It is waterproof and is the twist up type, so it does not require sharpening. It is ophthalmological tested and contact lens safe. But the down side is that it has a tendency to smudge since it has a more oily finish.
7. Loreal Contour Kohl:
This is matte finish kohl liner that has been around for a while in the market and most people don't know about it. But its best point is that it is long lasting and stays on for long, but wipes off quickly with any good makeup remover.
8. Shahnaz Hussain Herbal Kajal:
This is an herbal kajal that is very soothing to the eyes on application. It has a black color and feels very cooling to the eyes. It is made of all natural products and has a very herbal smell that is appealing to all. It has the texture of old school Shingar kajal in a stick form.
[ Read: How To Apply Kajal ]
9. Faces Canada Kajal:
It is a very black kajal, almost MAC Smolder like and stays put for a long time. The packaging is very strong and travel friendly and efficient too, since it has a mirror. It is safe for contact lens wearers and people who have sensitive eyes. But the upside is that its price is just Rs 99/-
10. Shingar Kajal:
This is one of the oldest kajals. It remembers about the childhood and the price is also cheap. Though it smudges, the colour payoff is really good. One of the disadvantages of this kajal is that the lasting time is less.
The following two tabs change content below.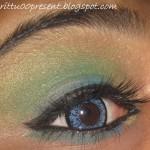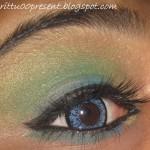 Latest posts by Fathima Abdul Kader (see all)