As much as 20s and 30s are a fun time, women in their 40s are much more sensible and mature, and confident to carry different hairstyle looks and styles in their stride. For those with curly hair, styling their look can be a lot of fun, especially by trying out some interesting hairstyles for curly hair that suit the personality while keeping it easy to maintain. Who says over 40 isn't fun?
Curly Hairstyles For Women Over 40:
1. Loose curls:
This is definitely a go to choices as curly hairstyles women over 40. This look can be easily achieved if you have naturally wavy hair, otherwise you can loosely curl your hair and let it fall down naturally. Part your front hair in the middle, which is a huge trend for this spring, and take some of the hair back from the centre of your head and pin it. Keep it open and loose.
2. Very short curly hair:
Another choice of the 2013 short curly hairstyles for women over 40! Very short hairstyles are super-easy to manage, and when you're over 40, you will have tons of responsibilities and things you need to look after, so this is quite perfect. Curly hair often tends to look frizzy, so keeping it really short can prevent it from looking puffed up.
3. Shoulder length curly hair:
This length allows you to keep it fun by keeping it open, you can also add a formal touch by tying it up. Since it's naturally curly, it will add volume and bounce to your look and give your face a fresh feel.
[ Read: Medium Hairstyles ]
4. Chin length curly hairstyle:
This is a great look if you don't want hair that's too short, but don't want to keep it long either. Extremely manageable and chic, this hairstyle lets you show off your curls while being effortless to manage.
5. Ear length curly hairstyle:
Not too short and still very short, the ear-length hairstyle instantly adds a glamour quotient to the face and gives it that sleek look. Looks perfect with curls – loose, tight or wavy.
6. Close cropped curly hairstyle:
Very short and very chic. This look is the lightest and most manageable of all, and will go perfectly well with wavy as well as curly hair. No maintenance and ready in a jiffy, this is your go-to hairstyle if you're looking for a change and want to take some years away from your face.
7. Uneven short curly hairstyle:
This is a fun look that allows you to keep it messy yet stylish. Cut hair closely at the back, leaving it loose near the neck and ears. Add a little cropped fringe hairstyles at the front to get that youthful look.
[ Read: Teen Hairstyles ]
8. Long tight curly hairstyle:
Curls are beautiful, and if you want to show off your curls, this look is perfect. With hair left long and cut at the same length at the bottom, this look lets your curls flow naturally. Use a leave-in serum or anti-frizz formula to ward off the frizz.
These are the curly hairstyles for women over 40. So, which hairstyle you are going to sport? Do share your thoughts with us.
Image Source: About.com, Slodive

The following two tabs change content below.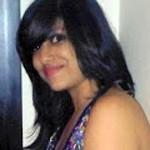 Latest posts by Debolina Raja Gupta (see all)