30 Stunningly Beautiful Hairstyles For Girls
A perfect hairstyle says a lot about you and definitely adds to your personality!
But when we have infinite hairstyle options available on the internet and all of them seem to look great, then we end up getting completely confused on which ones to try out!
So here I present a few Superb looking different hairstyles for girls with all hair types, hair lengths and occasions. Read on!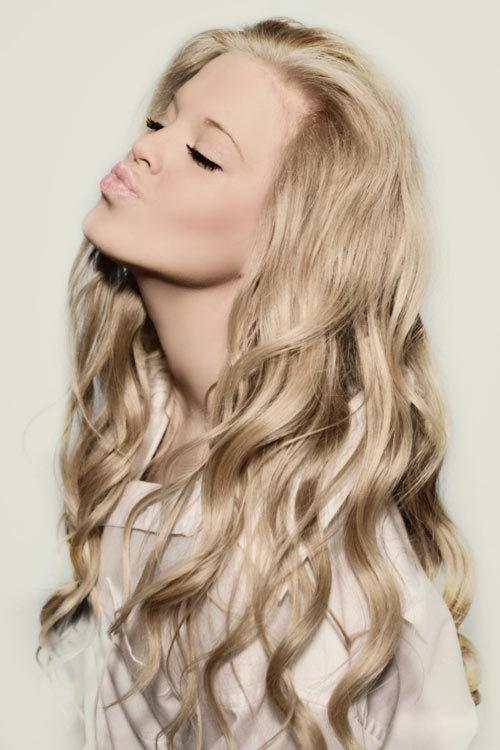 Long hair can be styled in many ways to suit one's needs. It can be straightened, curled, wrapped in buns, braided and more. Hair styling can be done in numerous ways when you have long hair. It gives you the opportunity to experiment with a lot of hairstyles because of its length.
[ Read: Cute Hairstyles For Little Girls ]

1. Curly Hairstyles For Long Hair: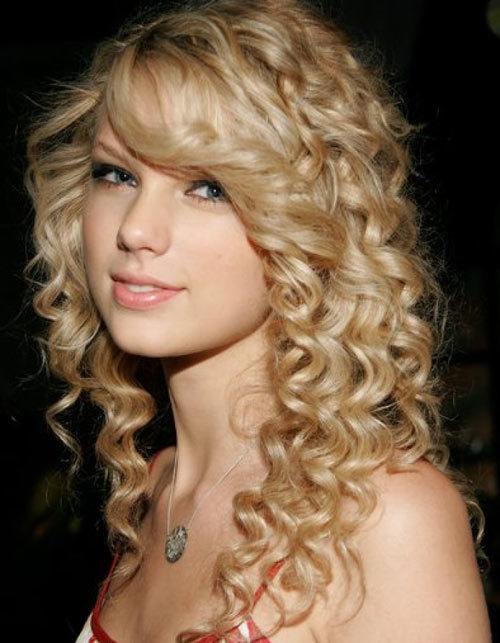 Curly hairstyles look very attractive for women with long hair. Long hair when straightened most of the times has a very monotonous effect. So curling it adds a lot of texture and makes you look very pretty. The above style is very easy to recreate. Just curl the bangs outwards and curl the rest of the hair into semi tight curls. You can use a curler or use an overnight curling method to curl. Apply some hairspray to keep the curls for a longer time. This hairstyle for girls with long and curly hair is perfect!
This is another girls hairstyle that would look great if you can sport a big chunky hair accessory with it. The hair accessory should be huge and this is what makes this look so feminine and attractive. This hairstyle is styled with super tight curls and it needs a pretty good length of hair for the hairstyle to come out good.  If you have shorter length, then some loose curls might work better with this look. Add a chic humongous hair accessory for this style to make an instant hit.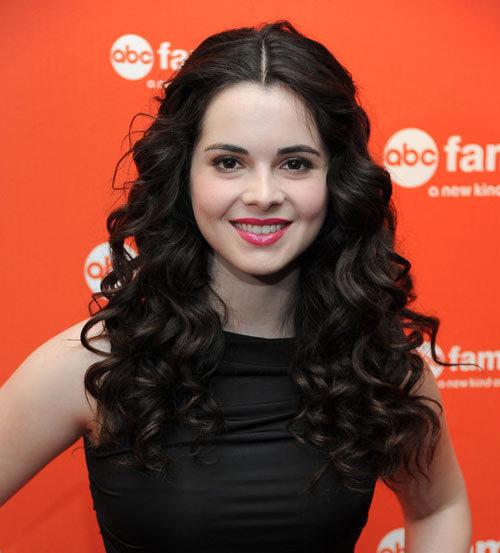 This style looks very chic and is apt for any special occasion too. Just middle part your hair and curl them. The curls can be slightly loose too. Bangs should not be left over the face and the face should be left clean. You can try this for day and evening parties too.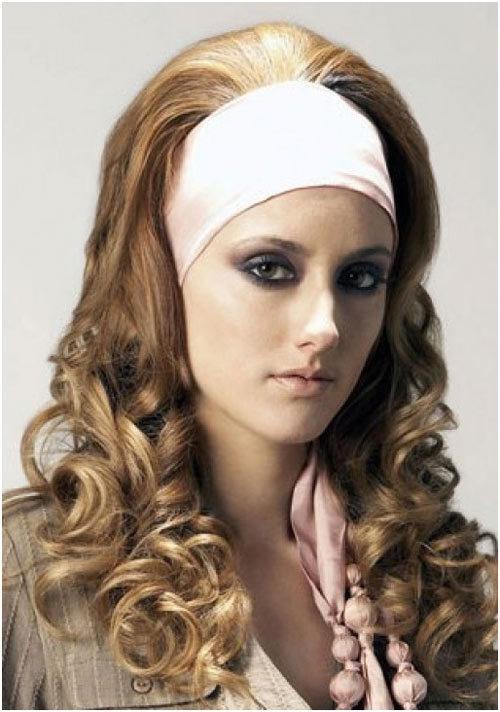 Can't seem to let go of the Retro trends?. Check out this hairstyle which is very retro and feminine. Hair is straightened on the top and made into a bump. This thick hair band adds to the look. The rest of the hair below the cheek bone is curled.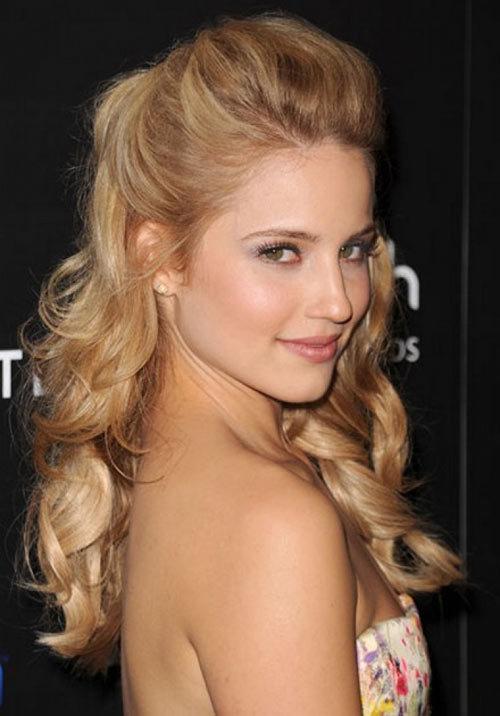 Here's another hairstyle which would be ideal for prom nights and other occasions. This is also a great choice for bridesmaids. The top portion of the hair is done into a puff and the rest are curled loosely with big volume curls.
[ Read: Lovely Curly Hairstyles for Long Hair ]
2. Wavy Hairstyles:
Wavy hairstyles look great! Most of them look very natural and are easy to recreate.
The look is very easy to do and also looks very natural. Nothing over the top. You can easily wear this to the office or on any casual occasions. This style also makes a great everyday hairstyle.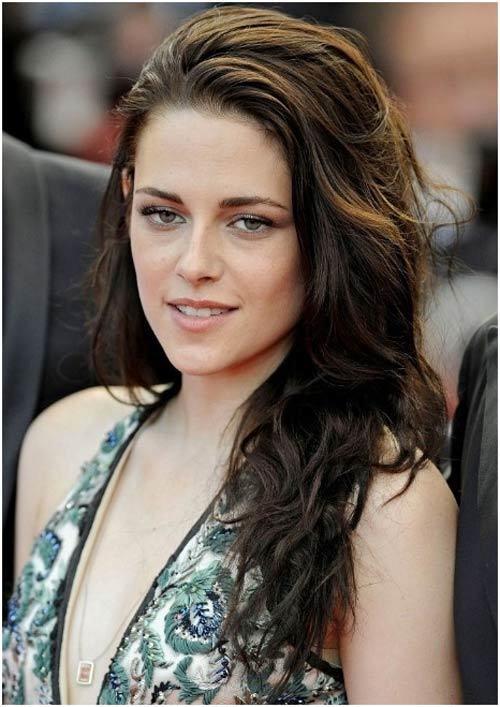 This look is a messy version of the usual wavy hairstyle. The hair is parted at the sides with some messy uneven waves created to suite the look.
[ Read: Wavy Hairstyles for Long Hair ]
3. Layered Long Hair: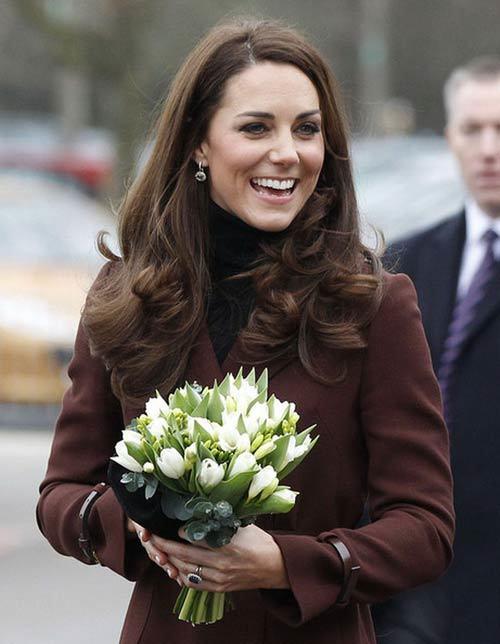 Layered hairstyles have always been popular. This hairstyle sported by Kate Middleton is very elegant and also adds a lot of volume. The loose big curls at the ends make it look more elegant.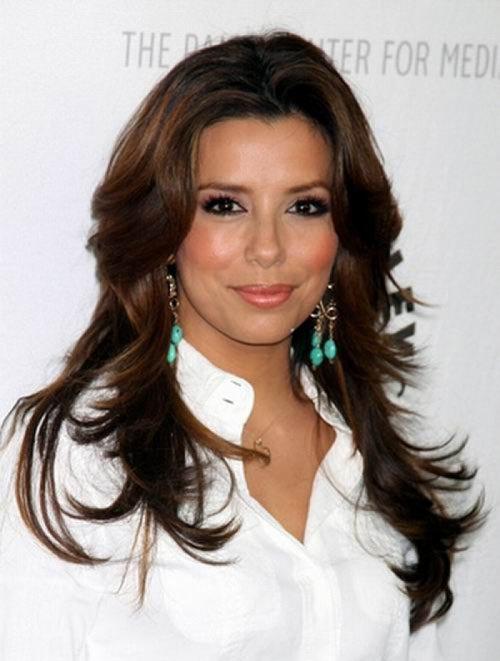 Here's a fabulous style with layers being added to the length of the hair. The front section is curled and kept out of the face.
[ Read : Layered Hairstyles for Long Hair ]
4. Bun Hairstyles For Long Hair:
Buns are now very much in style and we simply can't get enough of these.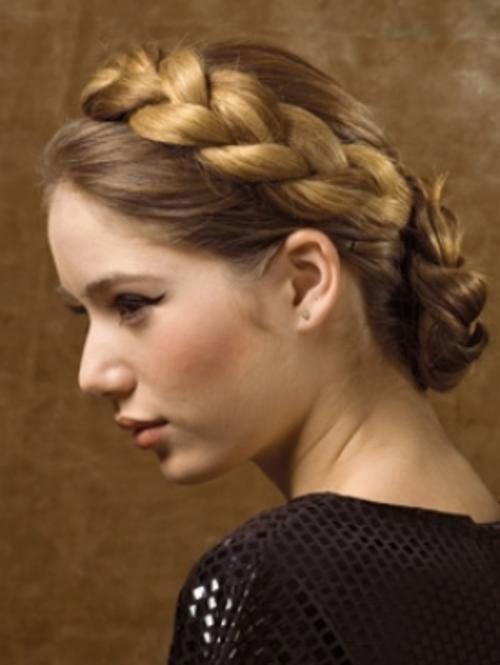 This hairstyle uses braids along with buns for an elegant up do. The braid is used as a headband and the rest of it is made into a bun.
[ Read: Long Bun Hairstyles ]
5. Pony Hairstyles For Long Hair: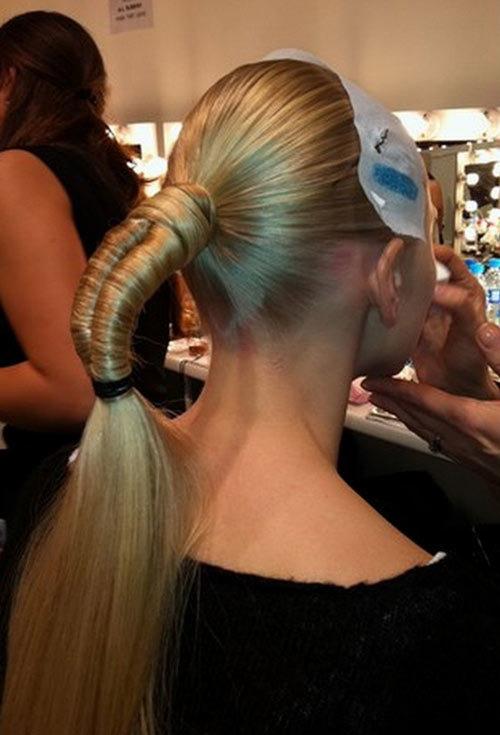 This hairstyle looks awesome and at the same time it keeps the hair out of the face making a neat ponytail. This hairstyle is sure to grab attention.
[ Read: Long Ponytail Hairstyles ]
6. Twist Hairstyle For Long Hair: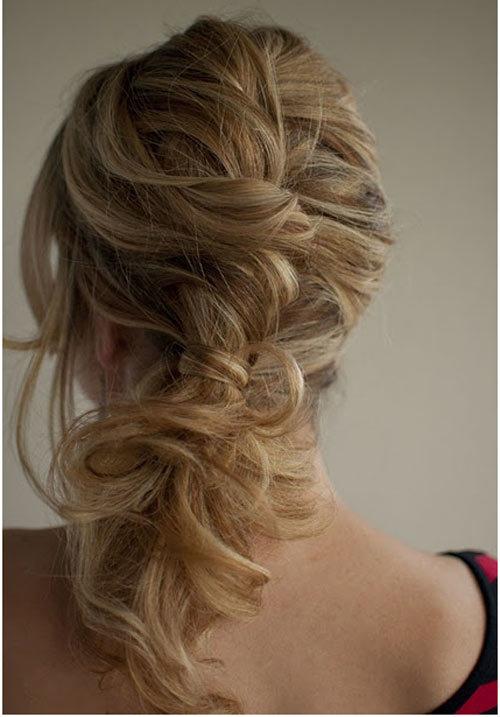 Here's a very messy twist hairstyle which will suit any casual occasion. Just make sure to use a stronghold hair spray to keep the twists and the hairstyle intact throughout the day.
7. Long Hairstyle With Bangs: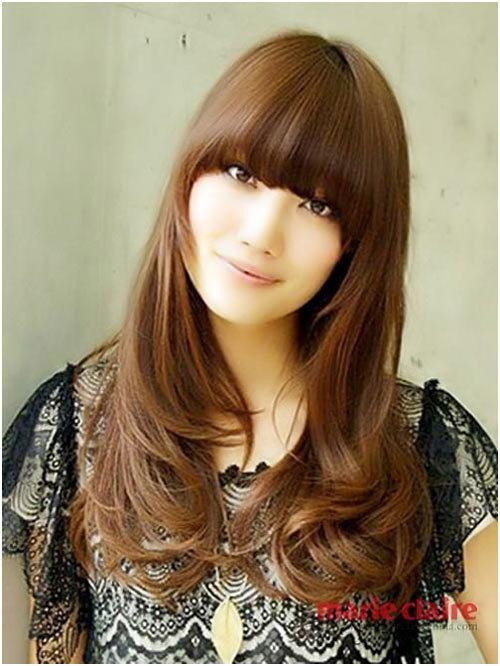 Here's a cool hairstyle with front bangs, This looks great for those who have a long face and   a large forehead. This hairstyle looks elegant and also cute.
[ Read: Bang Hairstyles for Long Hair ]
8. Emo Hairstyle: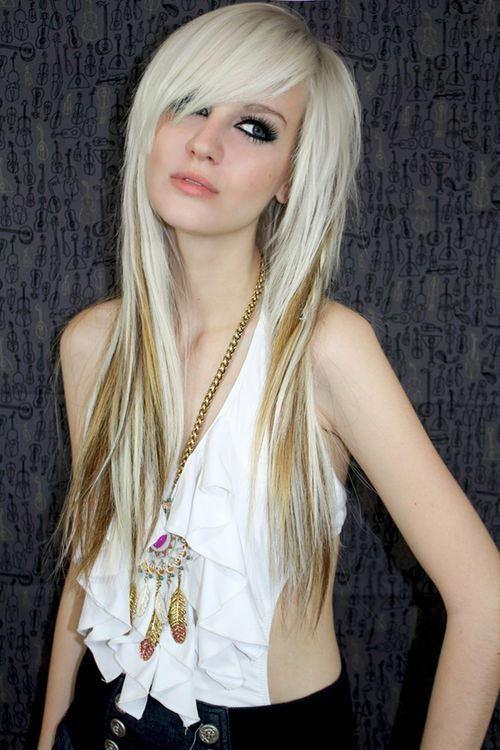 Emo hairstyles look cool and are also in trend these days. So here's the one we like. A long hairstyle with straight locks and occasional highlights.
9. Long Braided Hairstyle: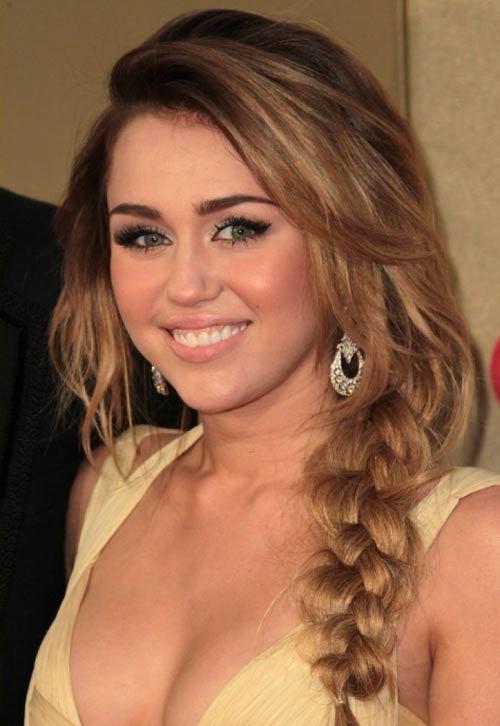 Long braided hairstyles are very popular and look great for any occasions. Here's one on Miley that we heart.
[ Read : Braided Hairstyles for Long Hair ]
10. Funky Hairstyle For Long Hair: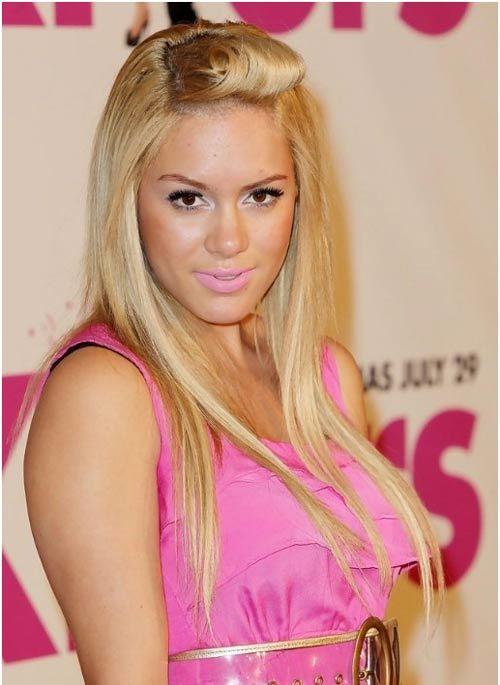 Here's a superb funky hairstyle. It has a large pin curl at the front and the rest of the hair is straightened.
11. Long Updo Hairstyles:
Long hair looks very versatile when it comes to hair up dos, it can be done in various styles and designs. Here are two that we love: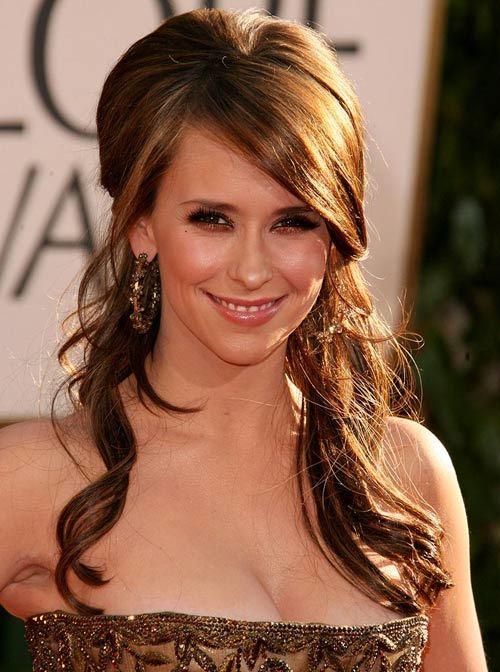 Here's one with a retro feel to it . And here's another one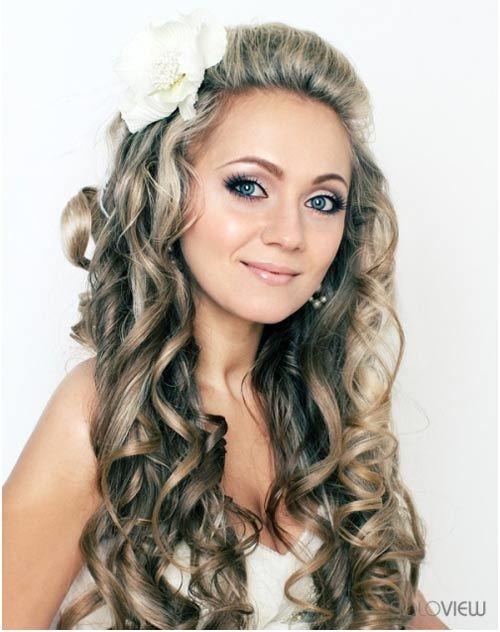 This style looks so fabulous and suits all wedding occasions, can be worn by the bride or the bridesmaids.
[ Read: Latest Updo Hairstyles ]
Medium Hairstyles For Girls:
Medium hair is just perfect to style a lot of hairstyles. Here are a few that you can sport:
12. Curly Hairstyle For Medium Hair: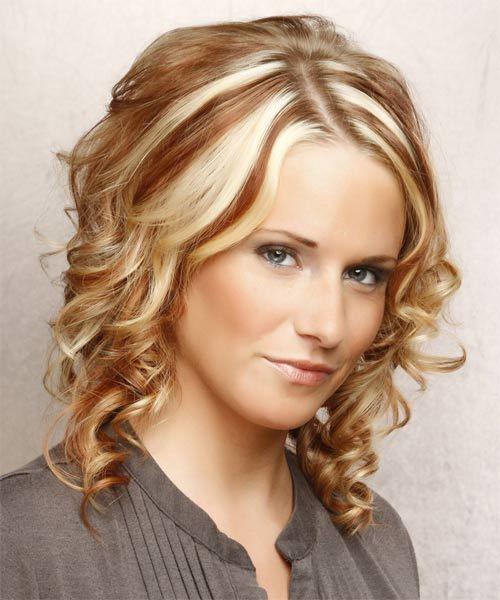 This one of the girls hairstyles looks great as the top portion is left straight and the lower part is curled in tight curls.
[ Read: Curly Hairstyles for girls ]
13. Wavy Hairstyle For Medium Hair: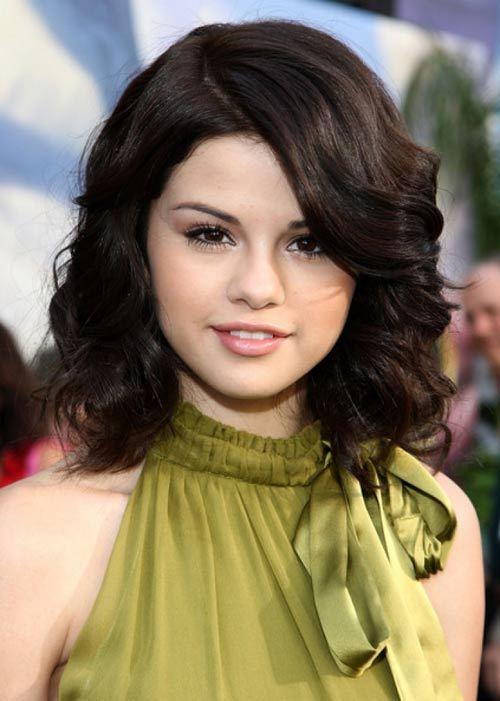 Here's a very cute hairstyle with waves which will look good on women of any age .This is a great option for a daily wear hairstyle.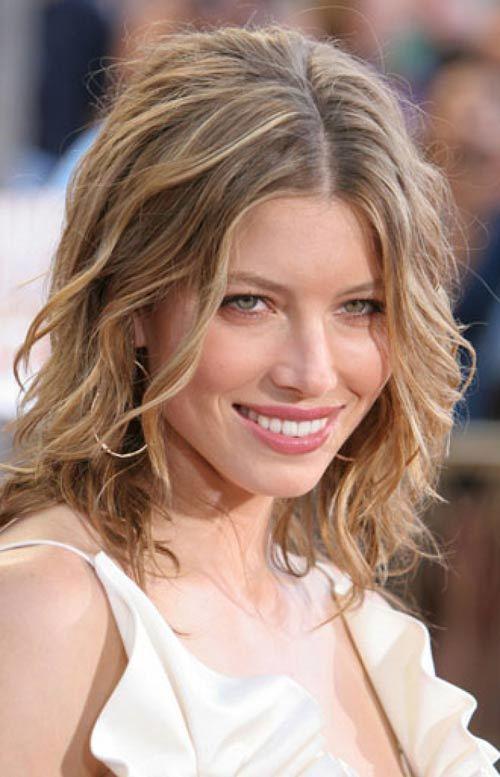 Here's a messy wavy hairstyle. This is also a great option for a casual occasion. Just middle part the hair and create loose waves on the sides. Keep the waves uneven and slightly tease the hair for that messy look.
[ Read: Modern Medium Wavy Hairstyles ]
14. Layered Medium Hairstyle:
Layered hairstyles look good on medium hair too. We have some just for you:
If you have a full face, this hairstyle will help make it look more sleek and slim. Great as a daily wear style too.
[ Read: Latest Medium layered Hairstyles ]
15. Medium Bun Hairstyles:
Here's a sweet romantic hairstyle with a small messy bun and bangs. This hairstyle is great for prom and dates too.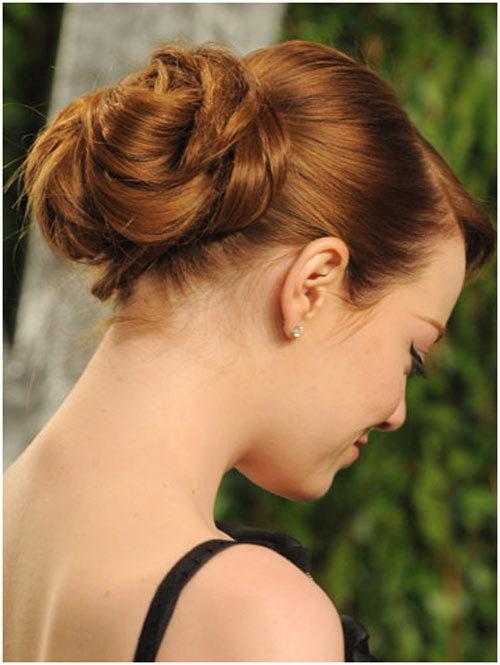 Here's another one we liked. This is a woven bun and looks great as an alternative to the high ballerina bun. It is woven so the bun looks fuller.
16. Medium Ponytail Hairstyle: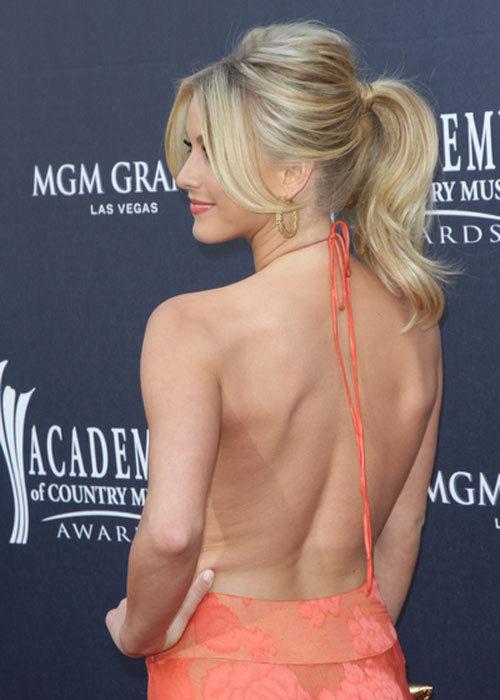 To achieve this hairstyle, take the top section of the hair and make it into a puff and then take the rest of the hair into a pony. This style looks great as an everyday style as well as a casual hairstyle.
[ Read: Ponytail hairstyles for girls ]
17. Twist Hairstyles for Medium Hair: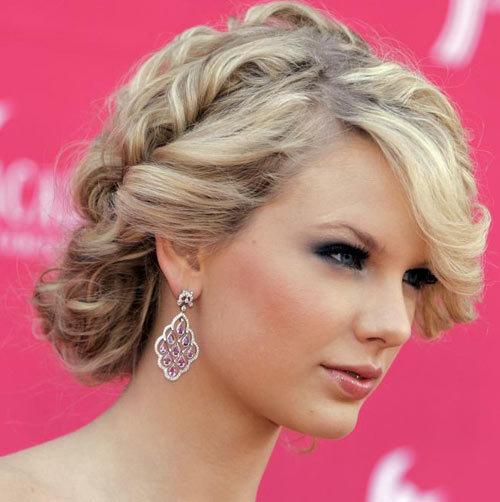 Here's a sweet hair style which would look good as a wedding hairstyle too. Also this hairstyle will suit on women of all ages. The hairstyle looks extremely good with the front twists and the messy look. Be sure to use a good hairspray to keep the hairstyle there for a long time.
18. Medium length Hairstyles with Bangs:
Medium length hairstyles look very good with bangs. Incorporated in many ways, the bangs can make the medium length hairstyles look fabulous.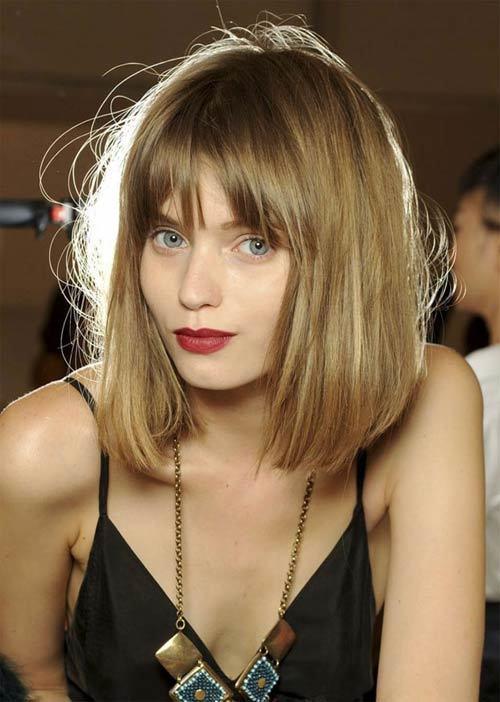 Here's a hairstyle with bangs. The front bangs give the hairstyle style a cute touch. The look is subtle and sweet and can be your everyday hairstyle easily.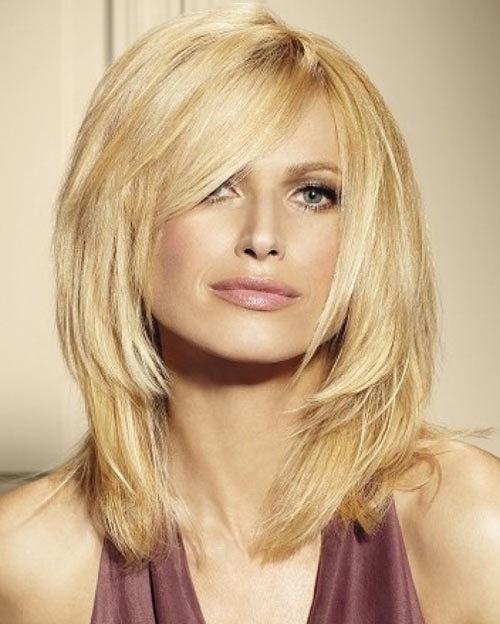 Here's another. The front swept bangs give this look a sexy feel. This can also be a great option as an everyday hairstyle.
Read: Bangs Medium Length Hairstyles ]
19. Emo Hairstyle For Medium Hair: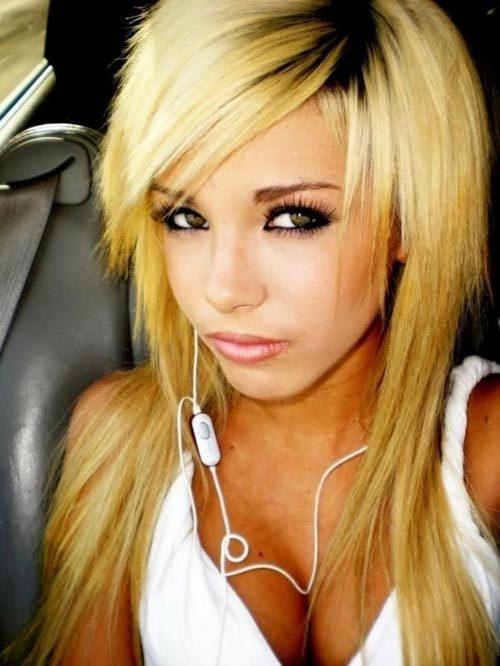 Here's a sweet emo hairstyle which is easy to style and easy to manage. This hairstyle will look great as it adds a lot of volume to the hair and with its highlights, it looks even more trendy.
[ Read: Emo Medium Length Hairstyles ]
20. Braided hairstyles:
Braids are in trend this season and you can add them easily to make your hairstyle look glamorous. Also these keep hair out of the way which makes it very convenient for the summers.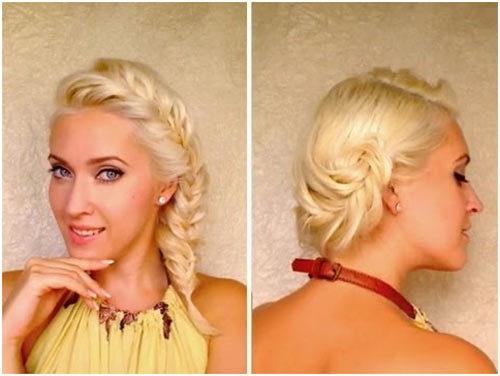 Here's a very pretty braided style with a one dutch braid starting from the top of the hair and another one at the ear and unified into a side ponytail. This look is elegant and also very easy to manage. One must master braiding before trying this style but once they have mastered it this style will be very easy to do.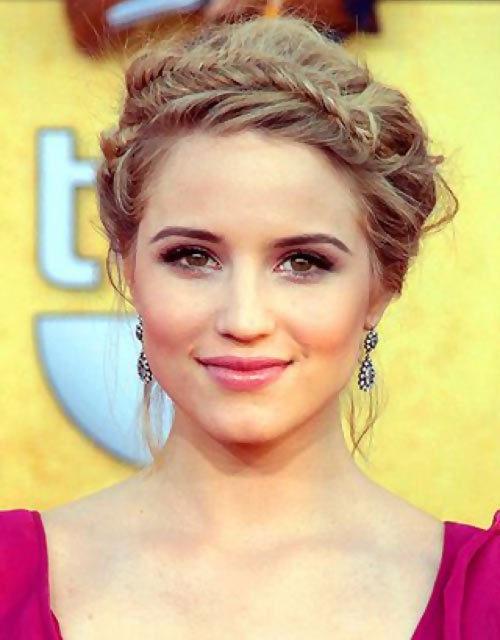 Here's another braided style. This is a very sweet hairstyle. The messy look goes well with the front dutch braid which is used as a head band.
21. Funky Medium Hairstyle: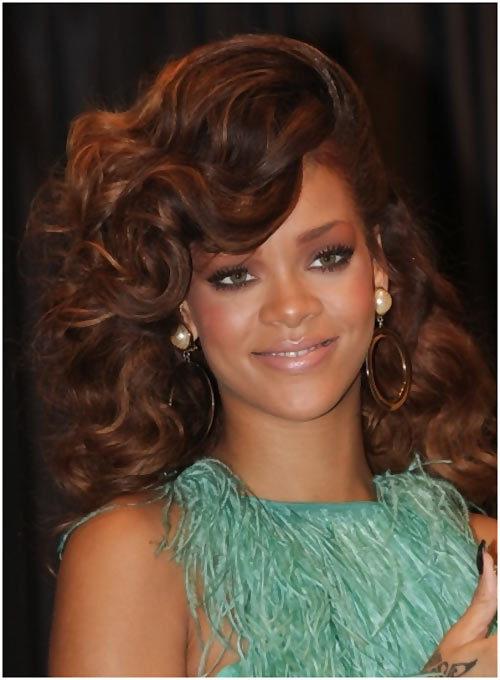 Rihanna's hairstyle is a mix of retro curls and the red hair makes it all the more sophisticated and classy. A great hairstyle if you want something funky.
[ Read: Funky Medium length Hairstyles ]
22. Updo Hairstyle For Medium Hair: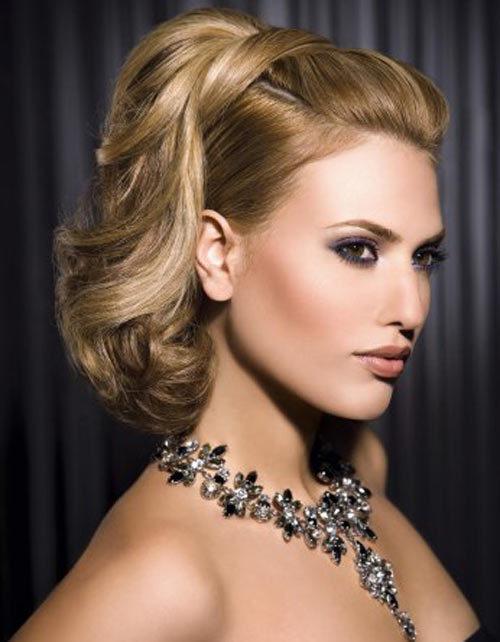 Here's an updo hairstyle for you to try. This looks great for weddings and all formal occasions.
[ Read : Medium Updo's Hairstyles ]
Short Hairstyles For Girls:
If you have short hair, then these  hairstyles are apt for you:
23. Curly Hairstyle For Short Hair: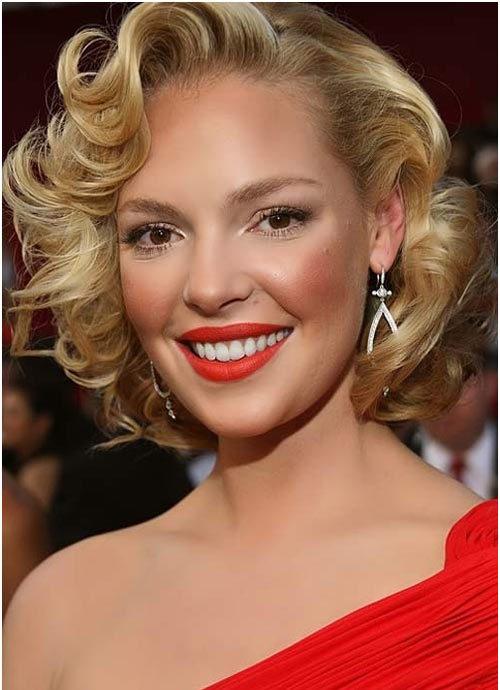 Retro curls make this hairstyle look great. Very retro and very glamorous.
[ Read: Short Curly Hairstyles ]
24. Wavy Hairstyle For Short Hair: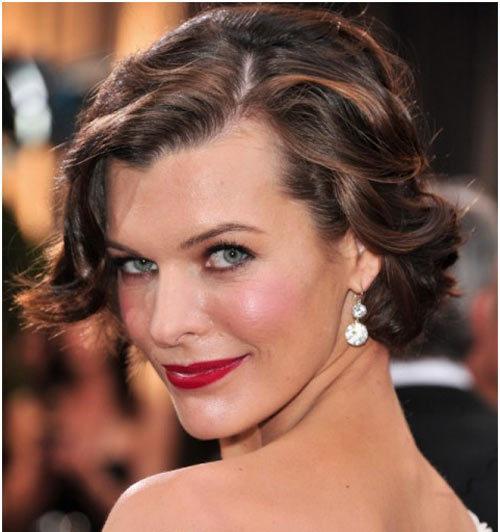 This Wavy Hairstyle is very fit for short hair. Hair is kept away from the face giving it more polished and neat look.
[ Read: Short Hairstyles for Wavy Hair ]
25. Layered Short Hairstyle: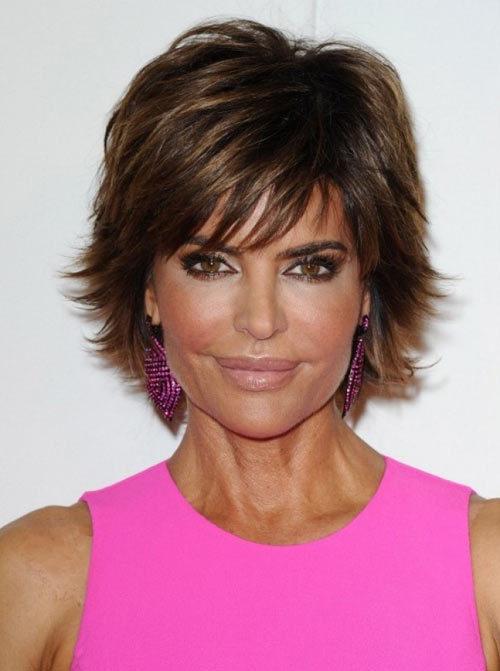 This layered hairstyle will suit women of all ages. Wear it to office or on a casual date, this will suite any occasion too.
26. Twist Hairstyle: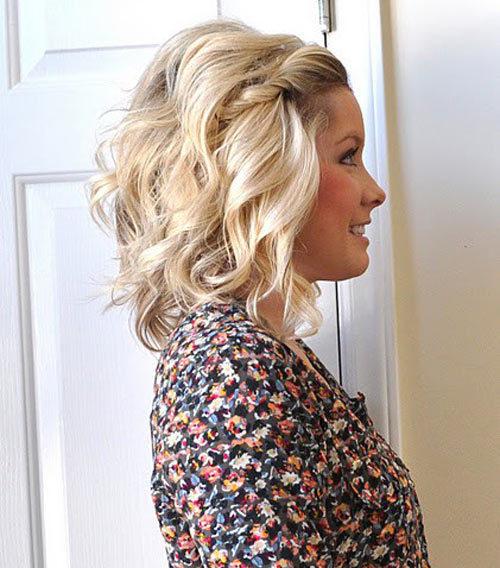 This hairstyle incorporates front twists and also soft curls. The front twist keeps the front hair secure and out of the face. It's great for a casual event and even to work/ school.
27. Bangs Short Hairstyle: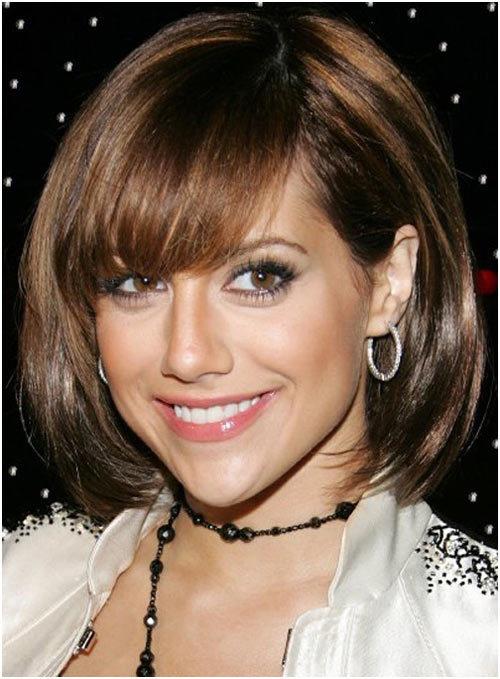 This hairstyle with front bangs will look superb for short hair. This hairstyle is great for an everyday style as well as for school or work.
28. Short Emo Hairstyle: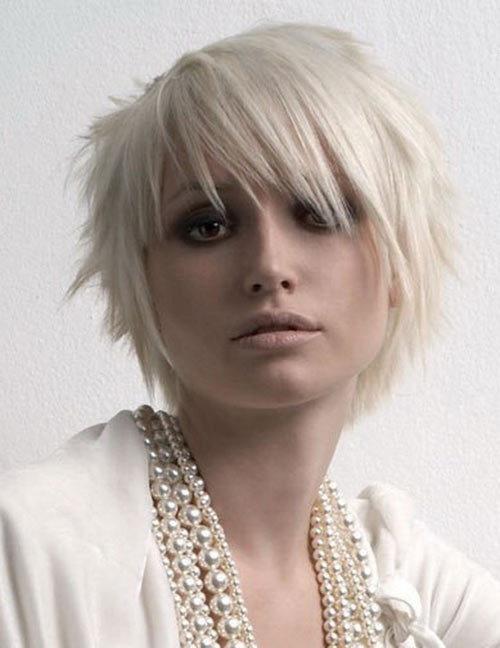 Here's an emo hairstyle for short hair. The layers make the hairstyle interesting and adds texture to it.
29. Funky Short hairstyle: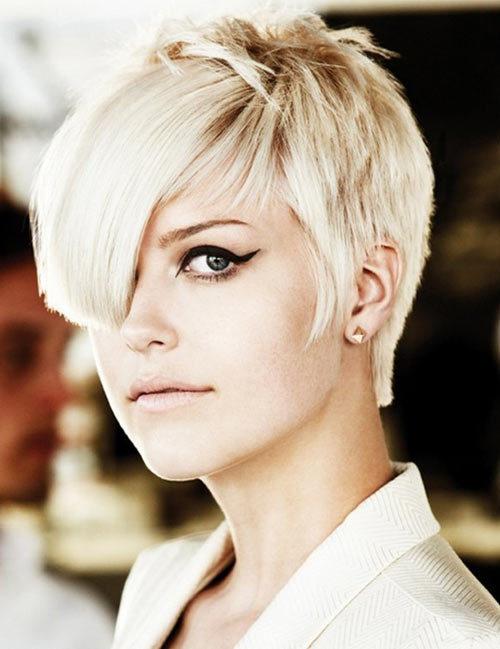 Here the hairstyle looks very funky because of the front bangs which are left from the front giving it an edgy feel. This hairstyle is a funky way to sport short hair.
[ Read: Funky Hairstyles for short hair ]
30. Short Updo's: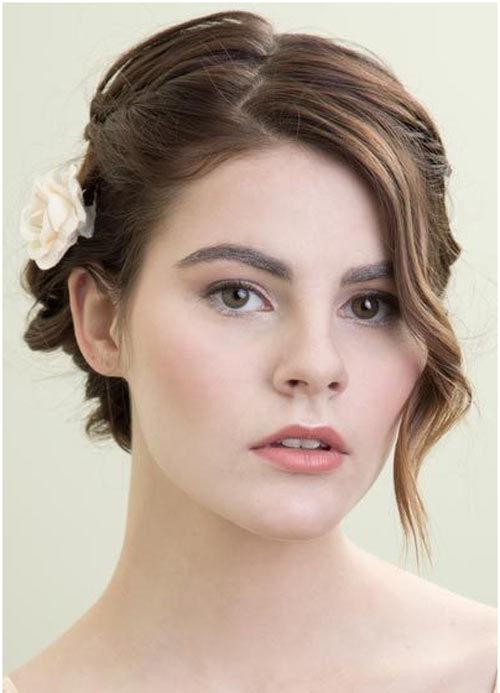 Here's a very sweet romantic hair updo  for weddings and this looks  beautiful on anyone. The Added flower helps to make the look more beautiful. This hairstyle will suit the bride as well as bridesmaids.
[ Read: Beautiful Short Updo's Hairstyles ]
Images: Pinterest
A Blogger, a writer, Makeup hoarder and makeup fanatic- I love writing and love love trying new products and sharing my makeup ideas with the world. .