Your hairstyle speaks a lot about you. Hence, it is of utmost importance that you choose the right hairstyle to suit your personality as well as to match your attire. But, how to add to your individuality without going boring with your hairstyles? Well, let us show you the right path.
Here are 50 Beautiful Hairstyles For Girls. Check them out:
1. Long Outward Curls with One Side Tucked Behind Ear:
If you are blessed with long jet black tresses, curl them up softly in the outward direction and leave them loose. A side part and one side tucked behind the ear will add a new dimension to the look.
2. Highlighted Messy Updo with Long Side-Swept Bang:
A messy updo looks extremely smart and gorgeous, especially on highlighted hair. Here, the light brown highlights on soft ash black hair has made the long side sweep look super cool.
3. Long Layered Bob with Fringes and Razored Ends:
A long bob is one of the beautiful haircuts for girls which suits both formal and casual looks easily. You can give this shoulder-length blonde layered bob a try and perk up the style with long wispy fringes as well as razor-sharp ends.
4. Smooth Semi-High Ponytail with Hair Wrap:
You can't help but love this sleek, smooth and simple light reddish blonde ponytail. Position it at the middle of the back of your head and surround its base with a certain section of hair.
5. Messy Low Side Bun with Soft Side-Swept Bang:
Nothing can make you look more graceful than a small messy bun resting at the nape of your neck. We suggest you to position it at one side of your head and beautify it with a subtle side-swept bang.
6. High Topknot with Slight Messy Finish:
You just need a bunch of long hair in order to come up with this sassy high topknot. Twist it up at the top of your head and add considerable height to your face.
7. Flowery Hairdo with Texture and Messy Finish:
This flowery hairdo is basically created by twisting and pinning the hair at the back in an elegant manner. A textured messy finish and the sizzling highlights have enhanced the look to a great extent.
[ Read: 8 Popular Ponytail Hairstyles For Girls ]
8. Long Spiral Curls with Single Side Braid:
Create an off-center part and let your naturally wavy hair flow down your shoulders. Those spiral curls at the ends and the front side braid secured at the back have made it a beautiful girl-next-door hairstyle.
9. Relaxed Center-Parted Brown Waves with Highlights:
This is a beautiful hairstyle for girls with medium length hair. Middle-part your long brown waves with golden blonde highlights and let them embrace your shoulders in a playful manner.
10. Straight Layered Blonde Hair with Side-Swept Bang:
If you are a fair-skinned beauty with light natural blonde hair, adopt this look and amp up your sex appeal. Just get a graduated side-swept bang and keep your straight layered locks loose.
11. Low Side Braided Hairdo with Messy Finish:
Give yourself a casually beautiful look with this low messy side hairdo. The side braid secured into the bun as well as the thin curly side bang swinging freely have added definition to it.
12. Medium-Length Layered Hair with Ultimate Waves:
Now, here is an ultimate wavy hairstyle for beautiful girls with long hair. Create small intense waves in your medium-length blonde layers with center part and you are good to go.
13. Sleek and Super Smooth Layers with Braided Top:
The secret to this 'oh-so-gorgeous' look is sleek, super straight hair with silky smooth texture. Make two side parts and braid up the hair present in between them for an added glam.
14. Red Hot Ponytail with Waves and Hair Wrap:
This picture will show you how to be a true redhead without compromising with your soft girly look. The hair-wrapped high ponytail with wavy ends and dazzling red color is looking simply fabulous.
15. Loose Curly Side Braid with Dramatic Side Sweeps:
Turn your delicate curly locks into a moderately loose side braid and jazz up the look with beautifully curved side sweeps. A glamorous hairstyle for a glamorous you!
[ Read: Winter Bridal Hairstyles For Indian Women ]
16. Messy Side Ponytail with Puff and Wavy Bangs:
This hairstyle is ideal for girls with thin medium-length hair. Volumize your crown and create a low side messy pony with rest of your hair. The wavy bangs should be placed on the forehead for a casual look.
17. Thick Twisted Side Braid with Braided Bang:
If you are game for innovative braided hairstyles, here is one for you. Create a thick side braid by twisting your side-parted hair. Then, braid up the front locks and secure it into the first one. So simple!
18. Textured Retro Waves with Flawless Side Sweep:
Go retro with this amazing wavy hairstyle. Make a deep side part and create large textured waves in your medium-length hair. The long side sweep should complement the neat tidy look flawlessly.
19. Small Wavy Ponytail with Inward Curls and Pouf:
Tease your top-front hair to create a small pouf and turn rest of the locks into a thick high ponytail. Then, curl up the ends of the pony in the inward direction and smoothen it up for a super stylish look.
[ Read: 50 Awesome Hairstyles For Girls With Long Hair ]
20. Braided Layered Hair Rolled Back to One Side:
If you love to experiment with your hair, this hairstyle will be a good choice for you. Firstly, roll the larger section of your layered hair back to one side by creating a deep side part. Then, braid up the smaller section and secure it into the previous one. Chic and unique!
21. Long Straight Layers with Rounded Fringes:
Let your long straight layers cascade your shoulders and give you a classy appearance. Subtle highlights and rounded front fringes have balanced off the style perfectly.
22. Long Fringed Curls with Highlights and Lowlights:
This is a modified version of the prior one, which features long hair with uniform fringes and random curls. The beautiful highlights and lowlights have given it a mysterious look.
23. Small Low Twisted Bun with Smooth Finish:
Show your love for buns by wearing this simple everyday bun hairstyle. Smoothen up your hair with a mousse and pull it back at the nape of your neck to create a small tight and twisted bun.
24. Elegant Bouffant with Small Side Bang:
Enhance your personality significantly with this sophisticated bouffant hairdo. A small side bang and slightly messy flair will work as just right add-ons for it.
25. Loose Wavy Side Braid with Bang and Fringes:
Braid up your naturally wavy hair loosely and place it over one of your shoulders. Add wispy front fringes and a thick curly bang to it for a beautiful romantic look.
26. Messy Tight Fishtail Braid with Razored Side Bang:
Fishtail braid is one of those timeless hairstyles, which never go out of fashion. Check out this super tight side fishtail braid with tangled finish and razored side-swept bangs. Absolutely stunning!
[ Read: 50 Most Popular College Girls Hairstyles ]
27. Smooth High Bun with Braided Wraparound:
Make a large high bun at your crown with your side-parted smooth hair and wrap it up nicely with a thick, precise braid. What else do you need for an utterly sexy look?
28. Short Cobalt Blue Bob with Slightly Rounded Ends:
If vibrant hair defines you the best, this is what you should try out the next time. Just get a short bob cut with slightly rounded ends and paint it cobalt blue. So, are you ready to rock it?
29. Side-Parted Waves with Front Braid:
Create side part and delicate waves in your smooth medium-length hair and let it flow down your shoulders stylishly. Now, braid up the front section and secure it behind your hair to complete the look.
30. Classy French Twist with Little Volume:
The French twist looks simply outstanding on sleek highlighted hair. Add a little volume to your crown and twist up rest of your locks in the French style. Here is the elegantly beautiful you!
31. Sleek Side Ponytail with Hair Wrap and Curly Ends:
Apply lots of mousse to give your hair a shiny and polished look. Now, make a side part and turn it into a side ponytail with curly ends and hair wrap. A simple hairstyle to stay stylish all through the year!
32. Small Low Bun with Vintage Curls:
From a prom party to a date night, this vintage curl is a win for all events. Add texture to your messy waves as well as dramatic side-swept curls and turn them into a small low bun at the nape of your neck.
33. Soft Textured Curls on Long Layered Hair:
When it comes to an intricate and exotic hairstyle, this long layered hair with lustrous curls should top the list. Adding texture to the delicate curls will take the hairdo to a whole new level.
34. Mysterious Beehive Hairdo with Side Bangs:
A beehive hairdo itself is sufficient to make you stand apart from others. Here, the style has been upgraded with multiple wraparounds of loose hair strands and short wispy side bangs.
[ Read: 50 Popular Funky Hairstyles For Girls ]
35. High Messy Ponytail with Large Pouf:
Wear this simple yet awesome hairstyle and give yourself an extremely sensational makeover. All you need to do is make a huge pouf at the top and turn rest of your hair into a messy high pony.
36. Gorgeous Pixie with Textured Waves:
Pixie is one of the trendiest hairstyles for girls that can be tried out for a smart, well-groomed look. As you can see in this specific hairstyle, the layered waves are textured intensely and given an urbane flair.
37. Layered Locks with Curly Side Sweep and Feathered Ends:
Here is a dazzling style that will give your hair an attractive fluffy look all the time. Get your layered hair feathered in an outward direction and curl up the long side sweep also in the same manner. Here you go!
38. Stacked and Inverted Smart Bob:
Here is another super smart hairstyle that will give a boost to your oomph factor considerably. This is a simple short inverted bob with stacked hair at the back. Isn't it edgy?
39. Huge Twisted High Updo with Deep Side Sweep:
If you have long shiny tresses, give this high updo a try at least once. Twist up the hair in small sections and secure them with bobby pins. The long side-swept bang will complement the height at your crown rightly.
40. Side Fishtail Braid with Hair Wrap and Braided Wraparound:
Let the world know your love for braids. Make a low thick and precise fishtail braid at the side of your head and wrap its base with a section of hair. Braid up the hair at the other side too and secure it into the previous one.
[ Read: 50 Hairstyles For Girls With Curly Hair ]
41. Center-Parted Hair with Braided Crown:
This sweet and adorable look can be achieved by making a center part and securing a braid from one side of the head to the other along the crown area. An absolutely different look – we must say!
42. Long Smooth Hair with Slicked Back Volumized Top:
A slicked back hairstyle is great for a neat and refined look. Here, a lot of volume is added to the top-front hair, which is then slicked back for a simple yet glamorous appearance.
43.  Huge Messy Updo with Texture and Headband:
If you are a blonde beauty, this messy high updo will make you look even more beautiful. Use hairspray generously to keep the huge bun intact and adorn it with a nice headband.
44. Dreamy Half-n-Half Hairdo with Braid and Curls:
This is an amazing dreamy half updo that you will definitely love to flaunt. Side braid, delicate hair bow, loose hair strands, random curly ends and flowery embellishments have made it utmost enchanting.
45. Tight Multi-Braided Bun with Slightly Puffy Top:
Divide your hair into three or more sections and braid them up individually, while adding a little puff to the frontal part of the middle one. Once you are done with it, take all of them together and turn into a low tight single bun at the nape of the neck.
[ Read: 50 Formal Hairstyles For Girls! ]
46. High Pony with Textured Top and Curly Flared Bottom:
Add texture to the top and brush the hair back to create a simple high ponytail right at your crown. Now, spice it up by curling its ends in the outward direction and giving it a flared structure.
47. Highlighted Straight Hair with Long Layers:
Show off the striking highlights on your long straight and layered hair by keeping it loose. Just create an off-center part and let your tresses cascade your shoulders charmingly.
48. Sleek Wavy Layers with Pinned Back Front:
This is one of the most favored hairstyles among girls with long hair. The best thing about this sleek wavy layered hairstyle is its simplicity. All you need to do is take the front section and pin it back at the crown and you are done.
49. Adorable Updo with Fringes and Braided Headband:
Go back to your teen days with this one of the most beautiful hairstyles for teenage girls. Just create small updo with a braided wraparound and jazz up the look with long even front fringes.
50. Kinky Coily Voluminous Hair with Front Braid:
Last but not the least; here is a highly voluminous bob for girls with kinky coily hair. Braid up the front hair to create a pretty headband and use a good hair wax to get excellent shine.
So, choose your favorite hairstyle from this list and give it a try. Do you know any other beautiful hairstyles for girls with long hair? Leave us a comment to share your experience with us.
Recommended Articles:
If You Enjoyed This Post, Sign Up For Newsletter
(And get your daily dose of Beauty & Wellness tips straight to your inbox)
The following two tabs change content below.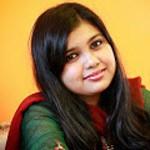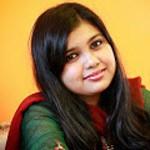 A Blogger, a writer, Makeup hoarder and makeup fanatic- I love writing and love love trying new products and sharing my makeup ideas with the world. .