52 Most Popular College Girls Hairstyles
Flaunt your tresses and be the diva of your campus with these fresh and versatile hairstyles.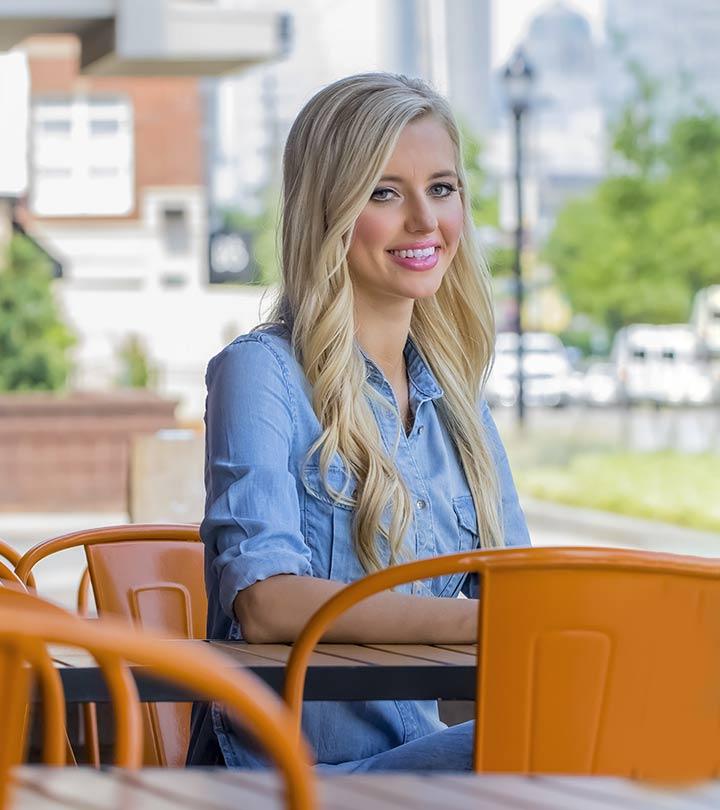 So, you are starting college soon and want to make the best impression. But with so many classes and activities, you can barely finalize your daily outfits, let alone pick the best hairstyles for college girls to flaunt. Fret not; we have you covered! Thanks to many college-based series on Netflix, Prime, Hulu, and other streaming services, the pressure to look beautiful and put together is very real for college girls. From Blair Waldorf's always-on-point hairstyles to Lara Jean's cute hairdos, we have the inside scoop for what's trending this college season. Scroll down!

Before You Get Started
Spending hours in college with uncomfortable hairstyles may damage hair quality. So avoid tight hairstyles, like sleek tight ponytails, as they snag your hair roots and might cause breakage and hair loss.
One of the easiest ways to change up your hairstyle without doing too much is to play around with your partitions. This will also prevent your hair from setting or laying flat in one particular part.
Adding your own touch to these haircuts is a great way to spice up these looks and make them your own.
52 College Girls Hairstyles
1. Wavy Lob
A wavy, glossy lob is one of the most versatile hairstyles that pairs well with almost all outfits and gives out a relaxed vibe. The side-swept front locks add an element of sophistication, while the bob looks casually chic.
2. Messy Bob
This messy bob is effortlessly playful. Tease the hair in the back for volume and part the front sections in the middle. Lightly twist the sides with a flat iron or a curler to add movement. Tuck one side behind your ear and you are all set for college!
3. Fringed Bob
This eccentric bob is the latest from Taylor swift. The hairdo is a fresh update on the blunt bob chic and stylish. You can sport this fun look at college easily.
4. Sleek Blunt
The bob is a sleeker variant of the blunt bob; the hairdo is again a chic 'do' to wear to college. You just need to iron out the curls.
5. Blonde Waves
The Medium blonde waves are characterized by layers at the top followed by the longer mane. The style is again easy to wear and requires low maintenance.
Curly hair expert and owner of Royal Locks Curl Care Casey Simmons adds, "Your Mom was right! As annoying as that might be, especially to a college girl, your Mom was onto something sleeping in those rollers. Heatless waves are trending now for good reason."
She continues, "Achieve voluminous waves or large round curls overnight or while you are studying, with these heatless options: sock buns, a tie from your favorite robe, or curlers. Heatless curlers have gotten an upgrade since your favorite '80s rom com, they come in silk versions now. Silk naturally reduces frizz and prevents breakage due to the protein/amino acid it possesses. Spray a section of hair with your favorite primer or pat with a small amount of curl cream, wrap the hair around the curler, secure with clip or bobby pin. Leave as long as you can. Take out the curlers (try not to touch with your fingers!) and shake hair upside down. Never sleep overnight in sopping wet hair. Doing so can actually grow mold on your scalp."
6. Fringed Top
The heavy fringes at the forehead and the straight long hair boast of a very fresh vibe and energy. The hairdo is perfect for young college going girls.
7. Fine Bangs Hairdo
The fine banged hairdo gets a new detail because of the inward bent bangs extending beyond the chin and contouring the face.
8. Black High Medium Ponytail
Here is a chic and easy girl hairstyle every miss can don. Style your medium length hair in a ponytail. The ponytail ties up the mess but still gives a 'slightly ruffled but overall neat' look to your personality. This is a very versatile hairdo right for the college and the party.
9. Side Part Blonde
The side part ponytail is blonde hued and very edgy. The style is short and neat, it's again a versatile hairdo. The short hair is calmed using a good hair product or serum which gives a new essence to the hairdo.
10. Ombre Medium
This sleek ombre medium length ponytail can be a good option for those with sleek long highlighted hair. The style is smart and effortless.
11. Highlighted French Braid
The burgundy-white blend is exciting and gives the hairdo a new twist. This college girl hairstyle is pretty and elegant and if you have colored hair then you should try this version.


Quick Tip
You can add flowers, bobby pins, hairbands, or embellished hair clips or hairpins to take your French braid to the next level.
12. Long Side Curls
Another popular hairstyle for girls, this alluring hairdo is sure to make heads turn. The long side curls are pretty again with a very edgy essence. The style is extremely posh and sassy.
A blogger shared her experience with a similar curly and wavy hairstyle, emphasizing its simplicity and beauty. She writes, "This hairstyle is so easy and I am sure you will love it if you just try it (i)!" She encouraged putting effort into mastering it, especially for occasions like school or dates. She concludes, "Your hair will look BEAUTIFUL after you get done, I promise."
13. Wavy Tail
The black ponytail is medium in length and tied on a higher side. The ponytail is pretty and chic with the edges curled delicately.
14. Side Ponytail
The ponytail can be made on the sides with a chic side part. The ponytail gives a very carefree and playful vibe. The style is right for a happy college day when you just want to look different.
15. Sleek Long Ponytail
Try this stunning girl's hairstyle that will make you look no less than a princess. The sleek long ponytail is smart and enhances the young pretty face of the wearer. Make sure the hairdo is neat and tight and tied on a higher base.
16. Short Blonde Mess
The messy side braid is smart and oozes elegance. The style is done with a mid part. A French braid is also done from the two sections and then merged into the messy braid. The style gives a confused but neat look to the hairdo.
17. Side Bangs
The ponytail gives an edgy appeal with the thick side bangs. The long bangs extend up to the chin on one side of the face and the style is very upscale. Right if you are the crowd puller!
18. Open Hair Braid
The braid is done with an open hair and is extremely chic and stylish. The hairdo is very pretty and is blonde hued.
19. Fringe Ponytail
A Taylor Swift staple the style is very smart and elegant. The hairdo is a good option for those who love fringes. The fringed ponytail makes you look adorable.
20. Puffed Ponytail
The edgy puffy ponytail has a messy essence to it with ombre hues. But the style is just right if you have the rock star attitude.
21. Mid Part Ombre
The long ponytail with a chic mid part is pretty and edgy. The style with thin loose front bangs is again a very perky update on this style
22. Blonde Edgy Thin Braid
The style is edgy and sassy  with the braid flaunted on the side, you can team the hairdo with denims or traditional wear.
23. Fish Braid with Side Part
The fishtail braid is chic and stylish with a very trendy and young vibe. The long braid looks interesting and pretty with a small side part.
24. Curly Ponytail
The curls give a very voluminous feel to the hairdo. The style is just right for if you have short curly tresses.
25. Simple Braid
The simple braid can also give a very neat and pretty style if you have long tresses. The hair is very edgy and chic complete with messy bangs.
26. Long Flair Braid
The side braid is long and very edgy. The long blonde hued braid gets the edgy detail with the long side thick bangs.
27. Blonde Tie Up
The blonde messy ponytail is edgy and wavy. The style has the subtly tousled feel to it and is very easy hairstyle for college girls.
28. White Bouffant Ponytail
The white ponytail is done with a side part. The edgy ponytail has a subtle bouffant has a very chic essence to it. The hairdo is stylish and edgy.
29. Messy Tail
The messy tail is stylish and edgy. The hairdo with a wavy feel and ombre highlights is pretty chic and looks very optimum. Gives a very unique look to the personality.
30. Sleek Purple Tinge
The purple sleek tinged sleek hairdo is stylish and perky. The hairdo is extremely sleek and high on fashion. Grab a straightening iron and some dark orchid or purple hair extensions and you are done!
31. Side Long Braid
The side braid is edgy and perky. The long side braid is done simply but with neat sophistication. The side braid is so edgy.
32. Blonde Twin Braid
The blonde twin braid with a chic mid part is stylish and super sexy. The edgy braid gives a very school girl look which you can carry right into college.
33. Braid with a Puff
The side braid done just behind the ear is sexy and stylish. The hairdo involves a puff which gives more volume to the hairdo. The hairdo is very edgy with the braid done behind the ear.  The style is edgy and chic.
34. Long Ponytail Braid
The long ponytail braid is chic and stylish. The style is a wonderful hairdo wear to college.
35. Wavy Brown Braid
The long wavy brown braid is chic and stylish. The messy essence and the thin unsecured braid give smart wild style.
36. The Small Braid Bun
The small bun is very eccentric and elegant. A bun is not a bad idea for college if you wear it with attitude.
37. Braided Open Hair
The braided tresses are wavy and very stylish. The hairdo is extremely elegant and edgy. Try this when you don't feel like tying up your hair.
38. Wavy Bent with Messy Side Braid
The side braid is stylish and elegant. The hairdo is again very chic and messy. The thick blonde bangs are extremely chic.
39. Long & Unsecured
The long and unsecured braid is elegant and sophisticated. The braid is long and looks lightly ruffled but the unsecured end gives a very informal yet free vibe to the hairdo.
40. Blonde Fringed Braid
The braid is chic and stylish. The braid is long and gets a different detail because of the long fringes. Wear the hairdo if you have a fringe and would like to try a new style.
41. Blonde Thin Braid
The thin blonde braid is smart and gives a very perky effect. The style is stylish. The hairdo is elegant and you can wear it even if you do not have thick hair.
42. Braid with Open Hair
The style is edgy and has a very punk essence to it with long straight ombre style. The hairdo gives a very vivacious feel.
43. Braided on Both Sides
Do a French braid on both the sides to get the chic and perky style. The hairdo gives a fresh fairy tale appeal to the style.
44. Chic Brunette Bun
The brunette bun is done with a short side part which gives the side bangs a thick edge and wavy flair. The style is sophisticated and could be worn for a party or in routine.
45. Blonde Messy Braid
The messy braid actually looks like ball of curly bob but with still has the essence of a braid. The style is okay for a lazy college day.
46. Platinum Bob
The bob hairdo is tied with mini plaits on both sides of the mid part.
47. Side Waves with French Braid
The side French braid done at the front is elegant and stylish. The hair style for college girls looks pretty with the side braid on one side.
48. Brown Shiny Curls
The brown shiny curls again have a very edgy braid done near the temple. The curls are big and give a very tender appeal to the personality.
49. Mohawk Braid
The Mohawk braid is a very perky version of a braid and is a simple hairstyle for college girls. Wear it and you would stand the pretty one out.
50. Twist
The twist on one side gives a very unique appeal to the hairdo. The otherwise simple sleek hairdo gets a tangy twist.
51. Intricate Weave
The ponytail braid is done with a fishy essence. The braid is very edgy and stylish. The ponytail braid gives a very unique look to the personality.
52. Edgy Bangs Pixie
The edgy bang in the pixie gives a very perky and edgy style to the hairdo. Wear the pixie cut if you like to keep the hair short.


Quick Tip
You can add an undercut or brush your pixie cut back with a hair mousse to give it a sleek and edgy look.
Infographic: Timeless College Girls Hairstyles
Some hairstyles are simply evergreen and the reasons are obvious – they are chic, versatile, and easy-to-create. With that thought in mind, we have curated a list of some timeless hairstyles perfect to wear to college. Scroll down to find them in the infographic below.


College is that time of your life when you have loads of fun and make a good first impression. Don't worry, with the right hairstyle for college girls and outfits, you can look your best. You can go for the stylish fringed bob, edgy side part ponytail, or elegant French braid. If you want something less edgy and cute, you can try a long flair braid, fringe ponytail, or side bangs. So if you are still wondering what is the best hairstyle for a girl, then simply read through the list and pick out your favorite hairstyle to look like a fashion diva.
Frequently Asked Questions
Which hairstyle is trending right now?
Shaggy cut, top knot, pixie cuts, and face-framing highlights are some trending hairstyles right now.
1. How do I choose a hairstyle?
Choose a hairstyle by keeping in mind your face shape and hair length. It also depends on how long you plan on keeping your hair tied up.
2. How do you style long hair for college?
You can style long hair for college by going for messy buns, braids, half-top ponytails, and headband braids.
3. How can you style your hair for a workout or sports practice, and what are some products or techniques you can use to keep your hair in place?
You can style your hair in a long ponytail braid, a sleek and tight bun, or a high ponytail for a workout or sports practice. You might need some hairspray or put on some headbands to tame the stray strands and flyaways.
4. What are some hairstyles that are suitable for different face shapes?
Some hairstyles that would work for you according to your face shape-
•Oval: shoulder-length cuts, blunt bobs, side-swept bangs
•Square: long layers, wispy side-swept bangs
•Round: textured bob, deep side part, pixie cut with volume at the top
•Heart: shoulder-length bob, layers till the collarbone
•Long: loose curls, long layers
•Diamond: sleek high ponytail, short textured lob
Check out this video for 4 quick and easy ponytail hairstyles perfect for college girls! Get ready to look stylish and chic in no time!

Personal Experience: Source
i. BEAUTIFUL, SIMPLE HAIR STYLES
https://hairtutorialblog.wordpress.com/2015/04/17/beautiful-simple-hair-styles/
The following two tabs change content below.