Dove Soap For Oily Skin: Ingredients And Benefits
Get smooth and hydrated skin with the goodness of gentle and mild formulas.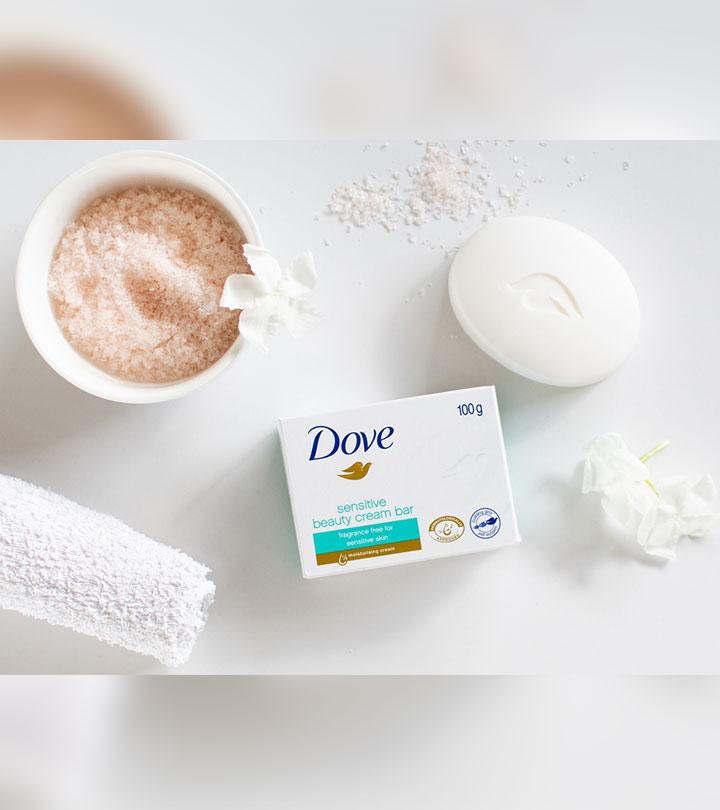 If you have oily skin and searching for the right soap, we have the solution – Dove soap for oily skin. Wondering why use Dove and not any other soap? We have the reasons.
Dove has a mild, effective, and gentle formula that thoroughly cleans the skin without causing moisture loss and dryness. In addition, it contains ingredients that clear excess oil and sebum from your skin and improve skin texture. This article explores the ingredients of Dove soap, how this soap may benefit oily skin, and its side effects. Keep reading to learn more.
Dove Soap Ingredients
Sodium Lauroyl Isethionate: It is a mild surfactant that cleanses skin effectively.
Stearic Acid: It is primarily used for hardening soaps – and it gives out a rich lather.
Sodium Palmitate: It is used to remove oil and dirt from the skin.
Lauric Acid: It gives the soap a hard texture and also exhibits a mild cleansing action.
Water/Aqua: It is mainly used as a solvent.
Sodium Isethionate: It generates dense lather and makes a soap suitable for both hard and soft water.
Sodium Stearate: It is a flavoring agent.
Cocamidopropyl Betaine: It boosts foam in soaps.
Sodium Palm Kernelate: It is an emulsifying agent and also a mild cleanser.
Glycerin: It is a moisturizing agent.
Perfume/Parfum: It is used to impart fragrance.
Sodium Chloride: It is used to minimize the solubility of soap in water.
Zinc Oxide: It imparts white color to the soap.
Tetrasodium EDTA: It is used to increase the shelf life of the soap.
Tetrasodium Etidronate: It is used to prevent scum.
Alpha-Isomethyl Ionone: It is used for fragrance.
Benzyl Alcohol: It is a mild antibacterial agent.
Butylphenyl Methylpropional: It is used for imparting floral fragrance.
Coumarin: It helps improve fragrance.
Hexyl Cinnamal: It is a fragrance additive.
Limonene and Linalool: They are used to improve the soap fragrance.
CI 77891: It gives the soap its white color.

Trivia
Celebrities like Jessica Biel, Adrianne Palicki, and Cardi B swear by Dove beauty bar in their beauty regime.
Following are the advantages of Dove soap for oily skin. Take a look.
Advantages Of Dove Soap For Oily Skin
1. Gently Cleanses Skin
Dove beauty cream bar gently cleanses skin despite its mild ingredient composition. It removes dirt and oil from the skin and enhances overall skin appearance. It is suitable for regular use. It also minimizes breakouts. The Dove beauty cream bar can be used in all seasons.
2. Hydrates Skin
The Dove beauty bar soap keeps the skin hydrated with regular use. It minimizes skin dryness. This soap also keeps the skin from getting irritated, and may even promote a healthy complexion.
It also works as a moisturizer for oily skin, which can otherwise become sensitive and develop blemishes. The Dove soap reduces skin roughness and makes it look soft and supple.
3. Nourishes Skin
Regular use of Dove soap ensures skin nourishment. Its ingredients are added in the right ratios and offer a nourished look without making the skin look oily.
4. Minimizes Skin Breakouts
This soap is specifically suitable for those with oily skin. This is essentially due to its hypoallergenic and non-comedogenic properties that keep oily skin from reacting and breaking out.
These are the few advantages of Dove soap. But like most other soaps, does this also cause any side effects?

Quick Tip
Many users claim that Dove's beauty bar improves skin elasticity. In addition, its mild formula is suitable for people of all ages.
Does Dove Soap Have Any Side Effects?
The Dove soap has no potential side effects. However, individuals using the soap for the first time may experience the following effects. These, most often, subside as the skin gets habituated to the soap.
The Dove beauty bar may initially cause the skin to go dry. The reason is unclear. Hence, for the first few days of using the soap, you may moisturize your skin after bathing to minimize skin dryness.
Some individuals may also experience skin sliminess. The Dove soap contains ¼ moisturizing cream that could be causing this experience. But with use, your skin will get accustomed to it.  However, ensure you do not over-wash your skin as it may strip the natural skin oils.
Some individuals may also experience minor itchiness/irritation after using the Dove soap. This may have to do with specific ingredients in the soap the individual could be allergic to.
These side effects are not common to all. They are determined by an individual's skin type. Hence, you may conduct a patch test before using the soap.
Infographic: Benefits Of Dove Soap For Oily Skin
If you have oily skin and are having trouble finding the perfect soap to cleanse your skin, Dove soap is the answer! This soap has gained popularity as a solution. Dove goes beyond simple cleansing like regular soap. Because of this, the brand is more appropriately referred to as a beauty bar rather than a soap bar.
For more information on the advantages of Dove soap for oily skin, see the infographic below.


Individuals struggling with oily skin may have a hard time finding the right soap for cleansing their skin. That is why Dove soap has become popular as a solution for combating oily skin. It contains ingredients such as Sodium Lauroyl Isethionate and glycerin that clean your skin and hydrate it. Other than this, some of the benefits of using Dove soap for oily skin include minimizing breakouts and nourishing the skin. Dove soap is safe for use. However, some individuals may experience side effects such as dryness and minor irritation after using it for the first time.
Frequently Asked Questions
Is Dove soap good for the face?
While bar soap isn't traditionally used to clean the face, Dove has a range of beauty bars that are made with natural, non-irritating components tailored to your skin type. However, it would be best if you did not wash your face more than twice a day.
Is Dove soap good for glowing skin?
Dove cream beauty bars may aid in the maintenance of your skin's natural moisture barrier and hydration. In addition, its nourishing and moisturizing composition leaves skin feeling gentle, soft, and glowing.
Is Dove suitable for sensitive skin?
There are about 18 different Dove Beauty Bar varieties available. They serve different skincare needs. All Dove bars are delicately scented for a fresh feeling, but the Sensitive Skin Beauty Bar is fragrance-free and suitable for extremely sensitive skin.
Can Dove soap remove pimples?
While Dove soap removes excessive oil, it is not specifically designed to treat pimples. Use dermatologist-recommended products for pimples.
Which soap is best for oily skin Pears or Dove?
Both Pears and Dove soaps are suitable for oily skin, but it depends on the skin's sensitivity and personal choice.
Is Dove oil free?
Most Dove products are oil-free. You can read the label of the product to confirm.
Is Dove soap chemical free?
Dove soaps don't use harmful chemicals. Dove soaps are formulated to be gentle on the skin.
Does Dove soap remove tan?
Dove soap may fade tan with time, but they are not particularly designed for tan removal. Consult a dermatologist and opt for a product specifically designed for tan removal.
Which type of Dove soap is best for the face?
The Dove beauty bar is best for the face, as it's gentle and moisturizing.
Is Dove soap good for skin whitening?
No, Dove soaps are not recommended for skin whitening. However, they cleanse the skin, which brightens it and provides a sleek glow.
Key Takeaways
Dove soap has a gentle and effective formula that does not cause dryness and moisture loss.
This soap has hypoallergenic properties that help minimize breakouts.
Though it is uncommon, some people may experience skin irritation or dryness on using this soap.
Dove soap is a great choice for acne-prone skin. Check out this video to learn how it can help reduce breakouts and keep your skin looking healthy.
The following two tabs change content below.