When it comes to nail art, the Chevron print has totally taken the nail art world by storm since last year. The Chevron print is made up of inverted V shapes. It was actually quite popular in the 70′s and has made quite the comeback! As a result, you get a funky pattern with a retro feel to it. Since the pattern could be a little difficult to try it on your nails as it is, here is a totally simple and easy DIY chevron nail art variation that anyone can try. I have made a glittery version which would really look gorgeous for an evening out. Let's begin!
Chevron nail art tutorial:
Materials Needed:
Gold nail polish
Gold glitter nail polish
Black nail polish
Gold sequins
Stepwise Tutorial:
Step 1:
Apply 1 coat of any gold polish. I have used Lakme Color Crush no. 10. Let dry. A metallic one will be better since it is going to be the base of the glitter polish.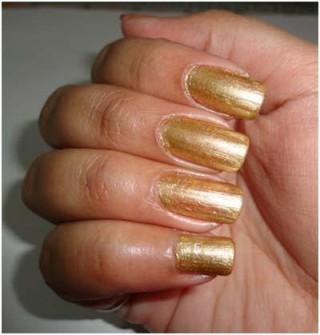 Step 2:
Apply 2 coats of a gold glitter polish. Mine is a non branded one. If you do not have a glitter polish, get some gold glitter powder which is easily available at craft stores and an old topcoat. Dip the topcoat brush into the glitter and apply as you would with a regular polish. Wipe the brush on a newspaper to clean it thoroughly.
[Read:Silver Nail Art Tutorial]
Step 3:
Now using your black polish (I am using Jordana Black), draw a black triangular french tip on your nails. If your hands are not steady enough, use sticking tape as a guideline or draw the lines with a striping polish and then fill in the color.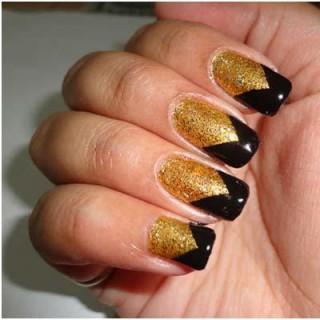 [Read:French Tip Nail Arts]
Step 4:
To bling it up even further, apply a gold sequin or rhinestone at the tip of each triangle. Done!!
You can also replace the gold with silver, depending on your liking or you can skip the glitter and keep the look with regular polishes. If you are not a fan of colour on your nails, apply a french manicure base color and draw the tip with white polish to get a wonderful variation on regular french manicures.
Try it out and lets us know how you like your chevron nail art!
Love Nail Art?
(Subscribe to get Beautiful Nail Art Ideas daily)
The following two tabs change content below.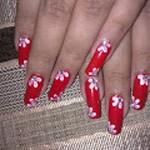 Latest posts by Neha Mane (see all)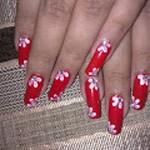 I am a degree college professor who loves hoarding makeup. Totally addicted to nail polishes and nail art :)