Green is the colour of the year! Yes, many fashion enthusiasts and trend setters have declared this colour and various hues of the same to be the "IN" thing this year. So do not be surprised when you see this colour invade your life in the different spheres of fashion. There will be very many clothes and not to mention accessories that will solely be designed just to bring out this colour even better.
Isn't it obvious that when green will dominate the rest of the segments it would eventually become the colour in the ever changing world of nail art. And many Nail polish companies have introduced new shades of green now that Emerald green was declared a color of year 2013 by pantone.
[ Read: Nail Art ]
Green colour looks awesome and refreshing in summers. With this colour, you don't have to match the shade with your outfit, you can simply just color contrast it. And even if you do match it, its still so cool! So let's get started and paint our nails with green colour nail arts for this very hot spring/summer.
Things you will need:
Light green shade (Sally hansen xtreme wear envy with green).
Green glitter nail paint (Nyx saloon formula enchanted forest)
Pearls
Flower water decals
Dotting tool
Topcoat and basecoat
Stepwise Tutorial:
Step 1:
Prep up your nails by removing any old nail polish and filing your nails.
Step 2:
Apply base coat and let it dry completely.
Step 3:
Now apply your light green polish on all your nails.
[ Read: Reverse Beaded Nail Art Tutorial ]
Step 4 – Now for your ring finger and thumb:
Add water decals to your ring finger and thumb. (Method: cut the decal as desired and dip it into the water using tweezers for 3-4 minutes, take out your decal and it will slide automatically and then apply it your nails) You can also use stickers instead of water decals or temporary tattoos cut to fit your nails.
Add few pink dots just above your decal as shown in the picture:
Now add few dark green dots too as shown in the picture:
Step 5 – Middle finger:
Apply glitter nail polish on your middle finger. For better coverage, I suggest adding at least 2 coats of polish.
Step 6 – Pointer and pinky:
Add pearls in three different sizes to your nails. You can add them using topcoat but don't apply the top coat over them as it will take away the shine of the pearls. If you don't have pearls, you can use bindis in three different sizes (they are easily available in the market) or you can also add three white dots in different sizes (if you don't like adding 3d stuff to your nails).
Step 7:
Add generous amount of topcoat to seal and protect your new nail design. Give it at least 30 minutes to dry completely before starting any heavy work involving hands.
Here is the final green nail art design:
[ Read: Abstract Nail Art Tutorial ]
[ Read: Peacock Nail Art Tutorial ]
Hope you liked this look. You can also try many more nail art designs in green colour. Here is an android app for daily nail art inspiration that offers you great designs and ideas. Do share your thoughts and ideas in the comments below.
The following two tabs change content below.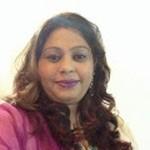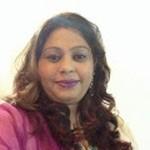 Latest posts by puja malhotra (see all)