16 Best L'Oreal Hair Color Products Available In India
Flaunt the perfect colors of your dreams this season and add shimmering tones to your hair.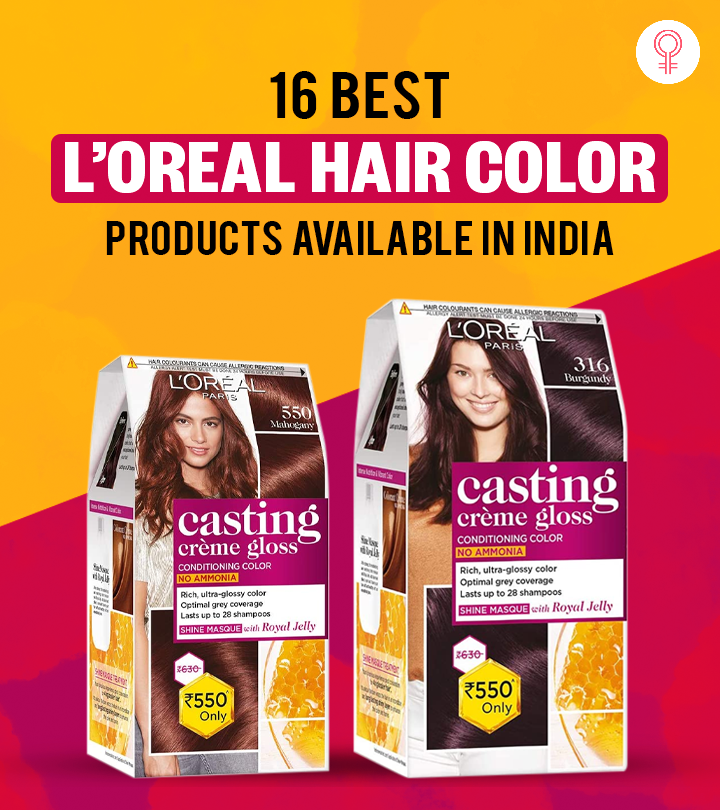 Bored with your hair? Want to try out an exciting new hair color? What better box of hair color to reach for than L'Oreal Paris! L'Oreal Paris was founded over a 100 years ago in 1909, so it comes as no surprise that it is a juggernaut when it comes to hair color products. However, this also means that there are literally hundreds of hair colors that you can choose from! If the thought of perusing them all and making a choice seems overwhelming to you, worry not. We have compiled a list of the top 16 L'Oreal hair color products that you can get your hands on right away. Scroll down to check them out!
Top 16 L'Oreal Hair Color Products
L'Oreal Paris Casting Creme Gloss
If you want to give your hair a luxurious treat with a tinge of shimmery gloss, try out the exclusive hair color shades of L'Oreal Paris Casting Creme Gloss. It offers you a short-term solution for hiding gray hair and adds shine to every strand. This non-ammonia hair color comes with an excellent conditioning effect that nourishes your hair and makes it satin soft and voluminous. Its non-drip creme formula allows easy and clean application even for beginners. It boosts your hair's natural shine that lasts up to 28 washes.
Pros
Ammonia-free
Makes the hair soft and shiny
Easy to apply
Hides gray hair
Value for money
Cons
Check out the top colors from the range of hair colors from L'Oreal Paris Casting Creme Gloss:
Add a red tinge to your locks with this Mahogany shade. This moisturizing hair color enriched with royal jelly adds exceptional shine to your hair strands.
If you want a sophisticated hair color, try out this rich Burgundy shade. It goes perfectly with every skin tone and makes heads turn.
The Praline Brown 530 is a classic brown shade with golden undertones that add immense gloss and shine to your dull hair.
If you want to make your hair look classy, try this Darkest Brown tinge shade. This hair color will also add tons of depth to your hair to make it look voluminous.
Add a playful pop to your hair with an amethyst sheen if you are looking for something out of the box. This subtle yet extremely vibrant shade adds charm to your tresses.
Try out the cooler version of brown, i.e., Iced Chocolate, to add a subtle effect to your strands.
There are endless options of brown, but there is something rich and classic about this shade. Color your hair with the Medium Brown shade and part it to the sides with soft waves.
Give your naturally looking black tresses a gorgeous shimmery tone with this glossy Ebony Black shade. It also helps conceal grays.
L'Oreal Paris Excellence Creme
L'oreal Paris Excellence Creme is a permanent hair color enriched with collagen, pro-keratin, and ceramide. Its triple protection formula protects your hair, strengthens it from the roots, and replenishes it. This unique range of colors offers 100% gray coverage and makes your hair 85% more resistant to brushing. The hair color pack comes with a protective serum, coloring creme, developer, and conditioner. It makes your locks silky, soft, shiny, and gorgeous and offers long-lasting color stay.
Pros
Ammonia-free
100% gray coverage
Easy to use
Smells good
Reduces hair fall
Cons
Check out the products from the L'oreal Paris Excellence crème line:
Do you want to get cover your gray hair? Try out this dramatic black shade to conceal the grays and give your hair a keratin boost.
Give your brunette hair a new lease of life with the Light Brown or Natural Brown shade. It creates a subtle ombre look with a slightly lighter tone at the lower length.
Add a tinge of vibrant and rich chocolate brown to your hair for a unique makeover just like this Bollywood diva.
This reddish-brown shade adds intense depth to your hair and complements any skin tone without looking too flashy.
If you want a luxurious and stunning red-carpet look, go for this amazing hair color. Add baby lights or highlights to add charm to your shiny locks.
Make your brunette hair shine with this Natural Brown shade from L'Oreal Paris Excellence Creme. Infuse your boring tresses with a flush of this color to for a stunning look.
L'Oreal Paris Magic Retouch Instant Root Concealer Spray
If you want a quick touch-up for your gray hair or patches before an event, try out this instant root concealer spray from L'Oreal Paris. Its lightweight formula blends well with the hair streaks and gives a natural look. It is crafted with a no-transfer formula that keeps your hair stained but not your clothes. Its Micro-Diffusion technology makes it easy to use and gives a flawless look just in 3 seconds. This spray comes with pin-point nozzles that target your gray hair and conceal it with just a few sprays.
Pros
Ammonia-free
Easy to use
No transfer
Lightweight
Dries quickly
Cons
Long, dark hair is an all-time classic and goes with any outfit and trend. Grab a bottle of this instant root concealer spray from L'Oreal Paris and get rid of those annoying gray strands.
Is your gray hair peeking out of your brunette locks? Spray a few spritzes of this root concealer spray and watch the magic unfold.
Whether you are looking for a permanent dye or a quick touch-up, L'Oreal Paris offers endless options in a bunch of vibrant shades. Pick a suitable shade from the above list as per your preference and channel your inner diva!