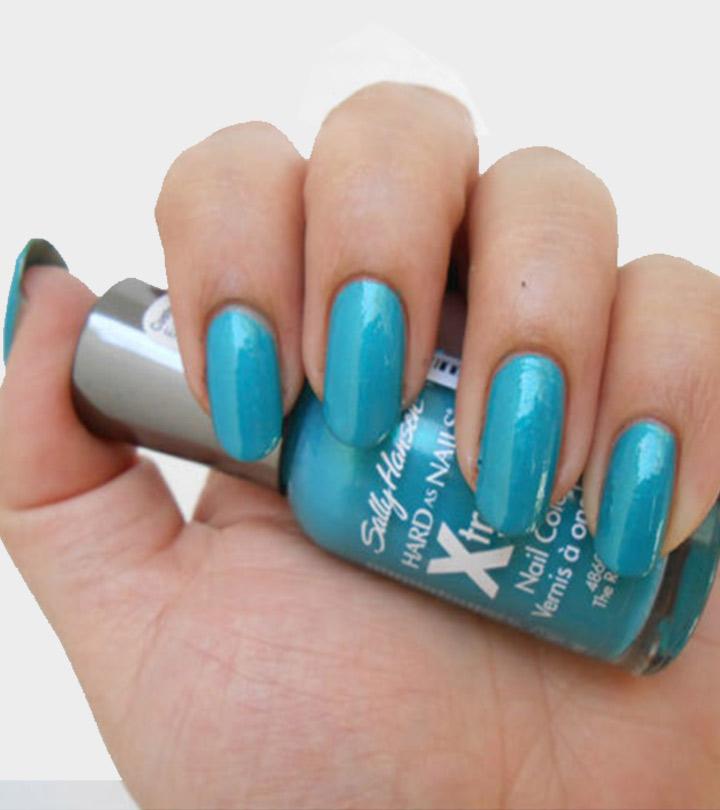 Studs are metallic embellishments which are very much in fashion this year be it on clothes, bags, shoes and even on nails. They come in many shapes, colors and sizes and can be stuck onto your nails using a top coat.
Though the availability is an issue as you can find them online easily available on ebay or Bornpretty store. They come in wheels having 10-12 different shapes, colors or shapes of studs or you can buy them separately in packs of 144 pcs or more pack. The wheel having mixed shapes cost around Rs 250.
Following is a basic tutorial on how to use studs for nail art, which will give you an idea as to how you can work with it and stick it on your nails:
Required Things:
Any nail polish (I am using Sally Hansen xtreme wear, The Real Teal)
Studs (I am using golden ring studs for this manicure)
Top coat
Basecoat
Orange stick
If you like you can stick these studs with nail glue too.
[ Read: 50 Easy Nail Designs For Beginners ]
Stud Nails Tutorial:
Step 1:
First prep your nails by applying basecoat and then apply your base color.
Step 2:
Now take out your studs and apply a little top coat on your rough palette or foil paper.
Step 3:
Dip the tip your orange stick in the topcoat and then pick the stud from its wheel as shown in the pictures below.
Step 4:
Now put this stud on your nail. If your nail polish is already dry, then you can add topcoat before adding the stud to your nail or if you wish to add this using nail glue, then apply it on the back of your stud and keep this on your nail.
Step 5:
For creating the same look as mine, you have to add one more stud to your nail or if your nail length is longer, add more studs accordingly.
Step 6:
Repeat the above steps on all nails and add top coat generously. Allow top coat to dry and you are good to go.
Final Manicure look:
Some More Stud Nail Designs
You can create this look by making orange and hot pink gradient and then adding a square stud by sticking them in diamond position:
This look is created by painting the nails grey and adding silver round studs.
These studs are great for creating punk style nails and the staying power of these studs nails (if added perfectly) is great.
Hope you all liked this tutorial. Do share your feedback.
Recommended Articles

The following two tabs change content below.

puja malhotra
I am a trained nail artist and mother of 5 year and half year old girls...... I own my own nail art studio and do nail art professionally and teach nail art. I am nail polish addict.:) My nail polish obsession started since my childhood. I wont mind painting my nails every day. I love keeping myself updated with new nail art trends and I hope you enjoy reading it as much as I enjoy working on it.

Latest posts by puja malhotra (see all)