Wedding day is a one time event in our lifetime and it is something we fantasize many a times. It's a that very special day where we want each and everything perfect, best and upto our mark. But this strive for perfection sometimes makes us feel stressed out and fearful about any mishaps that may happen on the d day. Don't worry, because here are some simple Indian wedding beauty and bridal make up tips that you can follow on your special day.
Tip 54: Moderation is the key
The main idea of perfect bridal makeup look is to accentuate the best features at the same time keep the overall look simple yet gorgeous. As it is, Indian Brides are loaded with jewelry and heavy dresses, hence it is best to keep the makeup neutral.
Tip 53: Explain your needs to the makeup artist
If you are hiring a makeup artist, make sure you explain what you need clearly! Explaining things in advance will help you get the look you want. Come on, a bride has the right to make all the demands! If the makeup artist is new then, it is always recommended to get a trial session before your wedding day.
[ Read: Actress Bridal Makeup ]
For Skin:
Tip 52: Get glowing skin
The most important of all Indian bridal make up tips is to make your skin look healthy and glowing on the wedding day. But just taking care of it a week before the D day will not help. Skin needs time to take in the nourishment and treatments. Over doing the treatments may lead to further damage. Make time for yourself and indulge in the treatments from two months or at least six weeks before the wedding day. Take regular pedicures and manicures. Also go in for facials and skin treatments from at least six weeks prior to give your skin time to work. Here is a detailed post on how to get glowing skin.
Tip 51: Exfoliate your skin
Exfoliate your skin to do away with dead skin but remember to exfoliate only twice or thrice a week. Over exfoliation may make your skin dry.
Tip 50: Protect your skin from sun
Do not go out without a sunscreen and reapply after 2 or 3 hours to keep the skin damage free. This is a definite must in the list of bridal makeup tips for Indians.
Tip 49: Ward of stress Hormones
Last but not the least you need to relax and shun off all the stress. I know it's difficult to practice but stress can spoil your skin making it look worse.
For Eyes: 
For best Indian Bridal Eye Makeup keep in mind the following tips:
Tip 48: Take care of puffy eyes
Have puffy eyes? Use chamomile tea bags over the eyes to make them appear less puffy. Using normal tea bags may stain you skin.
Tip 47: Get enough sleep
A good sleep is very important part of our life. The more you sleep, the more time your body gets to repair itself. Sleep for atleast 7 hours each day to keep those under eye circles out.
Tip 46: Wear Contact lenses before makeup
If you are a person who wears contacts, make sure to wear them before makeup application. Because there are favorable chances of your eyes watering. This can possibly ruin the effort you took to apply the right makeup.
[ Read: Bollywood Bridal Makeup ]
For Hair:
Tip 45: Deep condition your hair
Your hair is also an important part of the whole wedding look and to ensure your hair looks best throughout the wedding, go for a deep conditioning hair mask twice/ thrice the month before the wedding. If you have dry hair, apply some homemade hair packs to make it glossy and healthy.
Tip 44: Use good hair spray
Use good hair sprays so that your hair stays in place.
For Acne:
Tip 43: Hide your blemishes
Do invest in a good concealer for the d day as it will do a lot of things. It will hide blemishes and spots, will cover those under eye circles and more.
Tip 42: Avoid fried food
Avoid fried foods and too many spices for a month before the wedding to avoid getting pimples at the last moment.
Tip 41: Blot oily areas
Keep some oil blotting paper handy on the day. Blot any oily areas to get rid of shine. You don't want to have a shiny forehead in the wedding pictures.
Tip 40:  Take care of acne
If you have oily skin which tends to be attacked by acne and pimples look for a face cleanser with salicylic acid. It removes oil and keeps skin oil free for more hours.
Tip 39: Take care of last minute pimples
Spotted a pimple suddenly?? Tensed how to hide it? Take a bit of tea tree oil and apply it over the pimple as soon as possible. It will make it dry up faster and less prominent on the Wedding day.
Tip 38: Minimize chances of pimples during periods
Have a tendency of getting pimples and zit during periods; apply anti acne creams 10 days before it is scheduled to start. This will minimize the chances of getting one.
For Lips:
Tip 37: Make lips appear fuller
Are your lips thin? Here's a way to make them appear fuller. Take a skin colored lip liner and extend the natural lip line. But remember less is more so do not over do it.
To make your lips look fuller pat a little bit of shimmer at the centre of the lower lip. This creates the illusion of a fuller lip.
Tip 36: Take care of dry lips
Use a lip balm each times you feel your lips are dry. Do not lick or bite your lips. This will dry the lips and cause them to become chapped and flaky.
Tip 35: Apply your makeup the usual way
Apply the makeup using the right brushes or applicators. If you are comfortable with brushes, then use brushes, if you are comfortable with sponges, use them. Also if you are comfortable with fingers, use them to apply makeup. It is not a time to experiment, so stick to the usual technique.
Tip 34: Match the makeup with your attire
Take a look at your clothes and jewellery. Consult with your makeup artist beforehand about the looks which will go with the dress. Select the one which you want to do on the day. Do not go in for any last minute changes.
Tip 33: Choose the right foundation
Choosing the right foundation is very important as you don't want to look ghostly or darker than usual. Go shopping with a friend or a relative and try different shades on yourself. The goal will be to choose a shade which matches your skin tone. Choosing a tone lighter than yours for your bridal makeup Indian style will create a wheatish effect on your face.
Tip 32: Use a highlighter
Use a highlighter instead of shimmer or glitter. The main attempt should be to make the skin appear glowing and not shimmery.  Highlight the bridge of the nose, the chin, the forehead and around the perimeter of the face.
Tip 31: Practice 2 to 3 times before the wedding
Considering doing your own makeup? Practice doing it before hand. This way you will avoid creating a mess on the d day. It is better to practice 2 to 3 times with the looks and try out variations than doing them for the first time on the wedding day itself which can be stressful.
Tip 30: How to apply a blush?
Using a blush? Keep at least two fingers distance from the nose and apply blush.
Tip 29: Take care of excess makeup
Got too much eye makeup/ eye liner? Take a blotting paper and remove any excess oil, excess makeup or liner.
Tip 28: Mascara application
Use a good water proof mascara and make sure it is new/ less than three months old. Old mascara's which have been exposed to air, clot and become very flaky.
Tip 27: Buying makeup
Going to buy makeup for the wedding day? Take a friend with you and make a list before hand of what products you want to try and which items you need. Aimlessly buying products will result in nothing. So plan beforehand and keep the attire and wedding in mind
Tip 26: Check the weather
Have a wedding at summer/ spring? Choose sheer and light makeup as these will be most appropriate when the weather is hot and humid.
Tip 25: Day time wedding or night time wedding
This is a very important factor to keep in mind when it comes to Indian bridal makeup. If you have the ceremonies in the day time, then keep makeup minimal and opt for a more natural look. If you are going for night time wedding, keep the makeup heavy and add more colors.
If you have a morning wedding go for pastel shades for the eye makeup.
[Read:Bridal Makeup Artists In Delhi]
Tip 24: Choose the right lip liner
Choosing a good lip liner is important. You will be best off with a lip liner matching with the lipstick.
Tip 23: Is the makeup complete?
Take a look at the makeup after it is complete and assess whether it is suitable. Ask for honest opinions from friends and ask if it looks good.
Tip 22: Choose the right lipstick
Choose a long wearing lipstick for the d day. You don't want to be applying it every hour.
[ Read: Dulhan Makeup Tips ]
Tip 21: Applying foundation
Apply foundation on other exposed parts of the skin like hands, neck, back as well as ears. This way your Indian wedding makeup will look a lot more natural.
Tip 20: Use clean brushes
Whether you are doing the makeup yourself or a makeup artist is doing it, always use clean brushes and other applicators. You don't not want to get infected by bacteria.
Tip 19: Heavy makeup
Keep the makeup heavier than your usual parties but do keep in mind not to look like a made up doll
Tip 18: Plucking the eyebrows
Pluck your brows at least a day before the wedding. Prevent bumps caused due to plucking using a cotton ball dipped in astringent and wipe the area.
Tip 17: Choosing the right blush
Having trouble choosing the right blush shade? See your face in the mirror right after you exercise. This is the natural color of your cheeks. Look for the color resembling it.
Tip 16: Fake eye lashes
Want some fake lashes? Use only if you are comfortable using them. Also use dark colored lash glue so that it matches the skin tone.
Tip 15: Filling up the brows
Do not use black to fill in the brows. Use brown shade or taupe shade to fill up the brows. The best way to get a natural looking brow is to use powder instead of pencils.
Tip 14: Take care of your hands
Use a moisturizer with shimmers to make your hands and feet look naturally glowing.
Tip 13: Use gel liners
If you are not an ardent follower of liquid liners, use gel liners instead of liquid ones. You will get better precision and better staying power.
Tip 12: When to apply cream
Use a moisturizer on your face and body just after the bath as it is the best time to apply lotions and creams.
Tip 11: Touch up your makeup
Keep a compact and blotting paper handy as you can touch up your makeup.
Tip 10: Keep eye makeup in place
To keep your eye makeup in place, sweep a bit of translucent powder over it and under the eyes. This prevents the meltdown and raccoon eyes.
Tip 9: Don't let your lipstick stain
To keep your lipstick/ lip color from staining your lips, put a finger in your mouth and close your lips. Pull out the finger; this will take out all excess lip color.
Tip 8: Make lashes appear fuller
Need to make your lashes appear fuller? Apply a bit of powder on the lashes with your eyes closed and then apply mascara.
Tip 7: Applying eye liner
Apply the eye liner while looking down into the mirror. It will give you a better grip and you will be able to draw neat straight lines.
Tip 6: Use cream blushes
Use cream blushes if you want rosy natural cheeks and apply it straight on the cheeks.
Tip 5: Using dark makeup?
Keep your eye makeup in check. If you are going for a dark eye makeup then keep the lips light.
Tip 4: Limit the shimmer
Shimmer looks great but keep it limited to only one part of the face. Either do a shimmery eye or a shimmery lips.
Tip 3: Foundation for photograph
Choose a good foundation, a yellow toned foundation looks better in photographs while a pink based one may make you look washed out.
Tip 2: Make lipstick stay longer
Apply a lip liner and then a lipstick or apply layers of lipstick to make it stay longer.
Tip 1: Use green concealer
Use a green based concealer to cover up those red spots or pimples. It works better than the usual cover up products.
Handy Makeup Tips and Essentials:
Let us now know more on makeup tips and essentials to achieve the best results on your D-day. Here are the handy tips that can help you:
55. Cleansing the Face:
Indian brides love to use bold and bright colours for their marriage ceremonies. In order to have a long lasting look, you should start by cleansing your face well and then patting it dry so as to ensure that there are no traces of dirt or oil on the face.
56. Base Preparation Tips:
Moisturise your face for a smooth appearance and an even skin tone. Amidst working extensively on the face alone, do not forget to moisturise (you could use a tinted (moisturiser) using your fingertips, by rubbing well in a circular and gentle motion, you can give your fingers much need comfort.
[ Read: Bollywood Bridal Makeup Looks ]
57. Face Fix Up Tips:
a. Use a primer 2 minutes post moisturiser application and blend it well as this helps to keep your concealer and foundation in place and holds it for long hours. Sally Hansen or MAC are amongst the top brands for primers.
b. It is equally important to use a concealer (use the stick form) to cover spots or blemishes. You can brighten up your skin tone by using any of the colour concealers like yellow or green to cover reddish blemishes on the skin.
c. Apply a foundation without SPF and blend it well with a makeup brush especially on to the underside of your eyes, and for the rest of your face, blend using a makeup sponge. Mineral foundation would be a suggestible option as well. A foundation with SPF will make you look flashed in the photographs, it's better to avoid it. You won't be spending much time in the sun on your wedding anyway!
d. You can use an illuminator by Neutrogena, Revlon or MAC for the light reflecting shine on the face.
58. Bronzer Tips:
It is commonly used to heavily contour the face and make it look ravishing and sharp in the photographs.
[ Read: Self Makeup ]
Take a blush brush preferably angular and apply with strokes on to the sides of chin but not on the centre. Do the same on the sides of the forehead as well as on the two sides along the nose bone but not on the top. Suck your cheeks in and use some bronzer on to the top part of the contours near to the ear in light strokes. But make sure it's not along the entire length of the contour.
59. Blush Tips:
Take some blush on a blush brush and pat excess off, let your cheeks in and apply in strokes moving from down to top near the ears.
60. Eye Shadow Tips
Indian brides love peachy eye makeup shades, since they it goes well with their red, fuchsia or green lehengas, ghagras or heavy saris. So If you want to play it safe, this is the colour to go with!
Paint up your eyelids with a peachy pink shade, and use some charcoal shadow on the exterior lid contours to give a ravishing Smokey effect, and this is achievable by using a brown shade into the inner crease area. You can also use golden shadow instead of silver for the brow bones.
Use an eyebrow pencil or an angular brush dipped in brow powder for the eyebrows.
61. Eye Liner Tips:
Do not experiment with browns or blue liners on your wedding day. It's better to use plain and simple jet-black liner, preferably water proof. Draw a thick lining on top and a heavy lining with a strong kajal on the bottom making a sided wing lining for that extra oomph.
Don't forget to use a volume enhancing mascara. Mascara's with curled brushes work great for awesome curly lashes.
Grab some false lashes to accentuate and pop up your eyes making them look more opened up and bright. Remember to give some trials before the wedding date just to make sure it wouldn't consume more time on the wedding day.
62. Lipstick Tips:
If you have thin lip line then line your lips along the natural line with a colour almost as your normal skin colour. If you have plumpier lips, then line the natural lip line with a darker shade. Wear a lipstick matching your dress.
Go for maroon or dark reds for bigger and fuller lips and peachy pink or light pink colour for thin lips.
Thin-lipped people can apply a lip plumper instead of a lip-gloss, whereas big-lipped people can use a simple lip-gloss.
Keep it simple and keep it gorgeous! Hope this article on dulhan tips helps you all the way!!!
If you want to try Bengali bridal makeup click this.
If You Enjoyed This Post, Sign Up For Newsletter
(And get your daily dose of Beauty & Wellness tips straight to your inbox)
The following two tabs change content below.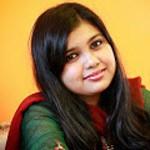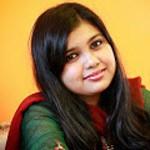 A Blogger, a writer, Makeup hoarder and makeup fanatic- I love writing and love love trying new products and sharing my makeup ideas with the world. .