Wrinkles, crow's feet, fine lines, laugh lines and dark spots are the biggest nightmare of every woman. Most of the women above the age of 30 thirty spend thousands of rupees on many clinical procedures and anti ageing creams to get youthful skin. But do you know that there are many home remedies to fight all signs of ageing without spending a fortune and without any side effects. Read further to know about the homemade anti-ageing tips for young and glowing skin!!
1. Egg pack:
Egg is a powerhouse of all the anti-ageing elements like omega3 fatty acid, proteins, zinc and the egg yolk contains a special anti-ageing compound called the "biotin". Biotin helps in the fat production in the body and repairs the damaged skin, thus keeping the wrinkles away. Egg is known to tighten the skin and is known to be a great anti aging tip.
Take 1 teaspoon of egg white in a bowl.
To this add half a teaspoon of malai.
Then finally add a teaspoon of lemon juice.
Mix well and apply this all over your face.
Leave it for 15 minutes and rinse with cold water.
Apply this face pack every alternate day.
[ Read: Egg Packs For Healthy Skin ]
2. Carrot and potato pack:
Carrots are a rich source of Vitamin A, which helps in booting the collagen production of skin. Collagen makes the skin tight and prevents wrinkles thus giving a very youthful glow to your face. Potato is also considered to be a great anti aging tip or ingredient that smooths the skin while reducing wrinkles.
Boil one small carrot and potato and chop into small pieces.
Mash them to form a smooth paste.
To this add a pinch of turmeric and baking soda.
Mix well to obtain a smooth paste.
Apply all over the face and keep for 20 minutes. Rinse with warm water.
3. Yogurt pack:
It is also rich in vitamin A which is anti-ageing element. It also releases wrinkle-preventing nutrients when consumed daily.
Take a teaspoon of honey and to this add 2 teaspoons of yogurt.
Add 1 teaspoon of fresh lemon juice.
Take a capsule of vitamin E. In this tutorial I have used "Evion 400" capsule. Cut from its tip and gently pour the liquid into the pack.
Add a pinch of turmeric into it.
Mix well and apply this pack all over the face.
Leave it for 10-15 minutes and rinse off with warm water.
[ Read: Homemade Face Packs with Honey ]
3 Simple Home Remedies To Get Rid Of Wrinkles
The following two tabs change content below.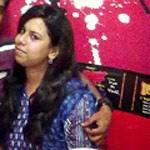 Latest posts by Ankita Biswas (see all)