17 Best Bathrobes For Women That Are Comfy And Fashionable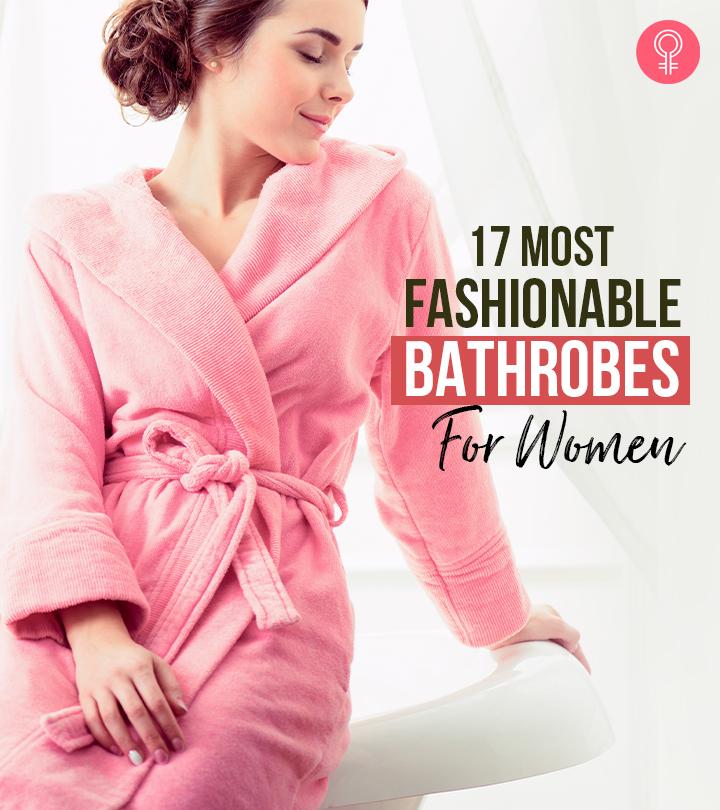 Weekend mornings are often slow, and even putting on pants seems like an ordeal. Thanks to the best bathrobes, you can relax without worrying about finding an appropriate dress every time the doorbell rings. These plush robes keep you warm and cozy after a long day at work and make your morning relaxed and breezy. But every 'bathrobe person' knows that this clothing item can get uncomfortable if they are scratchy or too short. This can ruin your leisurely hours and keep you from enjoying your 'me time'.
We agree that finding a good and luxury bathrobe from the endless options available on the market is tricky. That's why our list consists of fashionable and comfortable bath robes that are durable and gentle on the skin. Swipe up to explore.
What Are Things To Consider Before Buying A Bathrobe?
Material: Machine-washable robes are a safer option to opt for as these robes are often prone to stains and spills. Cotton robes are a great choice that can be tossed in a machine and may not need a dryer. Take a look at the instructions on the label for proper care.
Comfortable fit: You won't regret splurging on a purchase if it provides utmost comfort. A lightweight robe that is well-fitted helps you get through your daily chores easily.
Temperature-Compatible: Robe fabrics vary a lot, and hence, you need to decide what you are looking for. If you want something to stay warm, opt for plush flannel. On the other hand, lightweight knits made from linen are the best fit to comfort yourself in warmer temperatures. Also, terrycloth or waffle fabric work the best all year round.
Fits Your Style Needs: Hunting for a luxe robe depends on your priorities. Looking for simply a bathrobe or something that is chic, cozy, and gives a more premium feel? Figure out your style needs before buying one.
We have rounded up a list of the 17 most comfortable bathrobes for women to make your search easy. Check them out!
17 Best Bathrobes For Women
Wanna wrap yourself in a soft and fluffy fleece robe? Try out this plush flannel fleece bathrobe from NY Threads. Its ultra-comfortable plush fabric allows you to keep it on for a long time. This full-length robe comes with an adjustable waist belt and two front pockets that enhance the user experience. It is made from 100% polyester and offers great comfort. This shawl collar bathrobe offers a classy look and allows you to carry your essentials by keeping your hands free. This lightweight fleece robe is easy to wash and is a perfect gift for all the fashionable ladies out there.
Note: Machine-wash in warm water and tumble dry on low heat. Avoid ironing and refrain from bleaching and fabric softener to maintain its softness.
Pros
Machine-washable
100% polyester
Two front pockets
Adjustable waist belt
Cons
Pills after a few washes
Stitches are not strong
No inner string
Nestle in this super-soft coral fleece robe from Alexander Del Rossa to stay warm on cold winter nights. This full-length hooded robe is made from 330 GSM flannel fleece that lets you enjoy a relaxing morning as well as keeps you warm at night. It features two big front pockets that fit your phone easily, while additional inside and outside waist belts offer a perfect fit. This robe is machine-washable and does not bleed color or attract lint.
Note: Dry this fleece robe on low heat to maintain the fabric.
Pros
Hooded
Inside and outside waist belts
Does not bleed color
No lint
Large-sized front pockets
Cons
Creates fuzz balls
Sheds fleece
Give yourself an extra touch of comfort by slipping into this fine velour robe from Just Love. If you prefer to spend your evenings quite lavishly, this ultra-soft robe is great for you. The premium-quality fabric has a velvety texture that can withstand multiple washes and does not irritate your skin. This cozy robe comes with two front pockets and is available in vibrant color options. Moreover, this velour robe has a scalloped texture that renders a luxurious touch. This classic robe falls around your knees, giving you an alluring appearance. It is machine-washable and comes with a tie closure that provides a comfortable fit.
Pros
Machine-washable
Soft fabric
True to size
Value for money
Cons
Loose seams
Low absorbency
Make your casual moments more comfortable by slipping into this plush fleece bathrobe from Richie House. This full-length bathrobe is made from 100% polyester coral fleece that provides utmost comfort. It features two large pockets and a tie closure that cinches the waist to provide a perfect fit. The shawl collar of this robe gives it a classy look and makes your post-shower moments warm and cozy. Plus, this ultra-comfy bathrobe has superior stitching that can withstand several washes.
Pros
100% polyester
Classy design
Strong stitches
Roomy pockets
Cons
Sheds after a week
Pills fabric
Enjoy your indoor moments in comfort with the luxurious touch of this soft kimono robe from Hotouch. This 100% cotton robes fall around your knees and give a seductive feel to your body. The unique design with ¾ sleeves, a back-attached belt for a front tie, and side pockets make this soft, well-knitted robe ultra-comfortable. It keeps your body warm for a long time and is ideal for your relaxing spa session or vacation. Moreover, this robe come in multiple color options with beautiful prints.
Pros
Lightweight
Breathable fabric
Machine-washable
Great for gifting
Cons
Bleeds color
Feels itchy on the skin
Meet your style needs with this beautiful Kimono bathrobe from Vintatre. You can wear this lightweight V-necked robe with three-quarter sleeves while you deal with your daily chores. Its high-quality fabric renders comfort, and its unique design satiates the fashionista inside you. This robe lets you enjoy cozy moments while keeping your body warm, whether you are lounging, sleeping, or bathing. Its adjustable tie closure offers a perfect fit, and the two side pockets allow you to carry small things like your phone, keys, and other essentials.
Pros
Lightweight
Incredibly soft fabric
True to size
Machine-washable
Cons
Extremely thin
Fabric shrinks post-wash
Expensive
This V-neck women's cotton robe from U2SKIN allows you to enjoy your leisure time in comfort. Wrap yourself up in this loose kimono-style robe and experience relaxing moments after a shower or before bedtime. This lightweight cotton robe is skin-friendly, breathable, and hygroscopic, thereby providing you optimum comfort. It has a simple design and is crafted out of environment-friendly dyeing technology. The 3D stereo-cut design with an adjustable inner and outside belt provides optimum fit with a charming look. Moreover, it comes with two side pockets that allow you to store small items or simply warm up your hands instantly.
Pros
100%cotton
Breathable fabric
Hygroscopic
Two side pockets
Hanging loop
Cons
Shrinks after a few washes
Make your relaxing evening a bit more luxurious with this lightweight and ultra-comfy robe. This hooded bathrobe from Rongtails with 280 GSM premium polyester threading is comfortable to wear even in humid weather. It comes with inside and outside straps along with a large hood and two large front pockets. The belted closure ensures safe wrapping. This machine-washable robe is great for cold nights due to its plush fabric that provides soft touch and keeps you warm all the time.
Pros
Machine-washable
Premium polyester
Adjustable strap
Breathable
Lightweight
Cons
Fleece puff balls after a few washes
Stitches loosen post-wash
This women's cotton robe from HEARTNICE is ideal for lounging at home. This kimono-style bathrobe is made from skin-friendly premium cotton. It feels soft on the body and renders air permeability, making the robes extremely lightweight and comfortable during summers. This V-neck robe has three-quarter sleeves and a fashionable design that gives an elegant look. Its belt tie closure ensures security, and two large side pockets provide enough space to carry your personal effects.
Pros
Lightweight
Soft and comfortable
Skin-friendly fabric
100% premium cotton
Durable fabric
Cons
Cannot be tumble-dried
Uneven stitches
Wondering if a robe can make you feel like a princess? Then, slip into this luxurious soft robe from Turquaz and experience the warmth. This plush fleece bathrobe made from 100% polyester gets you dry post-shower and keeps you warm on cold winter nights. The fabric is lightweight, extremely soft, durable, and retains its plushness even after multiple washes. It comes with two large side pockets and a waist strap to ensure a perfect fit.
Note: Wash in cold water and tumble-dry on low heat to maintain its softness.
Pros
Lightweight
100% polyester
Soft and comfortable
Durable
Easy to maintain
Cons
Pills after a few washes
Non-breathable
Experience plush luxury with this terry cotton bathrobe from Pinzon. This 100% premium cotton robe is highly absorbent and quick-drying. It comes with a shawl collar and a cute design that adds to your elegance. Moreover, the robe has two front pockets and a removable belt that allow you to store small things and ensure a secure wrap.
Note: Machine-wash and tumble-dry on low heat to maintain its texture and softness.
Pros
Soft material
Breathable fabric
Highly absorbent
Lightweight
Durable
Cons
May feel heavy around the neck
If you are done with fleece robes and wan to try out something bold, this satin robe from SIORO would be a great choice. This silky kimono-style short loungewear gives you a fabulous look with a luxurious touch. It is available in multiple colors and designs and fits perfectly. It is also extremely lightweight due to its tear-resistant polyester satin fabric.
This V-neck robe falls around your knees, giving you an alluring appearance that is perfect for occasions like pre-wedding festivities and bridal showers. Its fine stitching ensures durability, while its inner sash design provides a secure wrap. Besides its ultra-soft and comfortable fabric, this robe does not shrink after multiple washes. Moreover, it comes with three-quarter sleeves and side seam pockets for convenient storage.
Note: Machine-wash in cold water and tumble-dry on low heat on a gentle cycle. Avoid applying bleach to maintain its quality.
Pros
Lightweight
Soft and comfortable
Durable
Finely stitched
Tear-resistant
Cons
None
This ultra-smooth robe from PajamaGram is super comfortable and remarkably soft. This double-brushed women's robe is made from premium-quality cotton that feels soft and smooth on your skin. This full-length robe falls around your the calves and provides full coverage.
Moreover, it has long sleeves, dual front pockets, and a waist belt that provides a perfect fit. This robe is available in a wide range of color options with lovely prints that make your daily routine way more stylish. Its wide shawl collar ensures extra warmth along with classic style. This wrap-style robe is the perfect combo of comfort and style that adds to your bedtime essentials for daily use.
Note: Machine-wash in cold water and tumble-dry on low heat.
Pros
Super soft
Comfortable
Elegant design
Stretchable fabric
Cons
This kimono-style robe from TowelSelection made from Turkish cotton is the perfect post-bath buddy. Its soft and absorbent fabric dries quickly and offers a cozy feeling. This terry cotton robe helps conserve body heat and keep you warm in cold weather. This machine-washable bathrobe comes in different sizes and multiple color options. Moreover, its two large front pockets and removable waist belt offer complete relaxation. It is made of breathable fabric and is double-stitched to enhances its durability.
Note: Machine-wash in warm water and tumble-dry on low heat. Avoid using bleach to maintain its softness. Mix ½ cup of white vinegar and water and rinse the robe to remove detergent build-up and lint.
Pros
100% Turkish cotton
Absorbent material
Lightweight
Durable
Soft and comfortable
Breathable
Cons
Loose strings after a few months
This plush soft robe from PAVILA provides superb comfort without risking your skin. This 280 GSM premium polyester bathrobe is perfect for everyday use. Its shawl collar neck and waist belt ensure perfect fit, keeping your body warm for a longer duration. The premium fleece material feels smooth against your skin and is extremely lightweight. This breathable robe keeps your body cool, and its anti-pill fabric prevents the appearance of thread balls after a few uses. Moreover, this multifunctional robe is easy to care for and works great as a gift item for family and friends.
Note: Machine-wash in cold water and tumble-dry on low heat.
Pros
Lightweight
Does not pill
Breathable fabric
Suitable for all purposes
Super soft and comfortable
Cons
None
This kimono-style V-neck bathrobe is perfect for your morning routine. The perfect blend of cotton and polyester makes this robe soft and soothing on your skin, providing utmost comfort. This lightweight robe is made of breathable and absorbent fabric that keeps you cool in humid weather. It comes with two front pockets and a self-tie waist that ensures a perfect fit.
Pros
Lightweight
Absorbent fabric
Machine-washable
Breathable cotton
Comfortable and soft
Cons
Wrap yourself in this microfiber bathrobe from Monarch that evokes the feeling of spa-like luxury. Besides its soft and plush texture, its closed bottom hem prevents it from turning inside-out. The tear- or pill-resistant microfiber shell material is industrial-strength and lasts long. This unisex robe comes with a big chest pocket, patch pockets, shoulder pads, rollover cuffs, a hanger loop, and an adjustable belt. The robe falls below the knee to provide full coverage and the perfect fit to any body type.
Pros
100% polyester
Durable
Tear-resistant
Stain-resistant
Elegant design
Cons
Not absorbent
Heavy
Robe lining sheds after a few washes
A good robe can make you feel like you are in heaven, even at home. All you need to do is get a splurge-worthy robe – made with a soft and stretchy fabric, high absorbency, and air permeability. Besides the Turkish cotton robes, the bathrobe from Turquaz is one of our top picks as it is classy yet elegant. Go through the above list of 17 most comfortable bathrobes for women and pick the right one for yourself.
Why Trust StyleCraze?
The author of this article, Baishali Bhattacharya, is a certified image consultant. She is passionate about the latest fashion and beauty trends and products as she seeks to find the best offerings on the market. For this article, she reviewed and shortlisted bathrobes for women, conducting extensive research keeping in mind the products' material, design, and affordability. The fashionable bathrobes she has narrowed down to are gentle on the skin, comfortable, durable, and can make you feel warm and cozy.
Recommended Articles