Can Your Hair Grow Faster? – 16 Simple Hair Growth Tips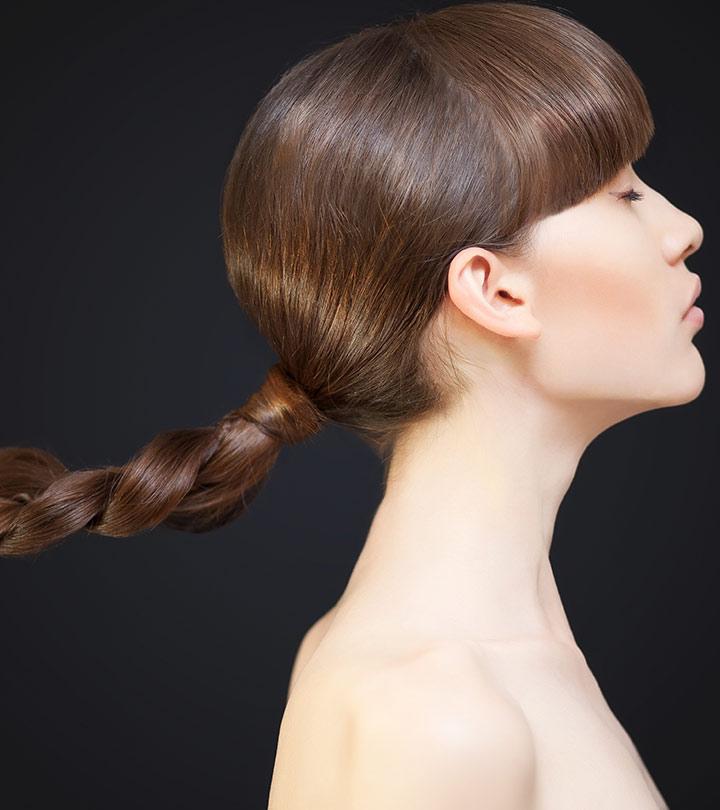 Have you ever met a woman who was satisfied with her hair? Me neither. Hair is often associated with beauty and attractiveness, which is why most women always want that little extra that will help transform their hair from good to great. In this article, we will look at 14 simple tricks that will let you know how to grow hair faster, thicker, and stronger.
Tips For Faster Growth Of Hair
The Science Behind Hair Growth
Before we get there, let's first try and understand how our hair grows. Hair growth has three stages – anagen, catagen, and telogen. Each hair strand has its stage of development. The anagen stage is the growth stage, and typically lasts between two to six years. The catagen phase comes after the anagen phase, and is a stage of transition or renewal for the hair follicles. The telogen phase is the rest phase where the hair stops growing. Human hair grows on an average of about six inches a year (1).
Now that you are aware of the different stages of hair growth, let's look at what we can do to stimulate your hair to grow.
How To Make Your Hair Grow Faster
1. Have A Healthy And Balanced Diet
You Will Need
A diet consisting of foods that help in hair growth. Leafy vegetables, beans, seeds, lean fish, and chicken are all excellent sources of nutrition (2).
What You Need to Do
The health of hair, like the rest of your body, is dependent on the nourishment you provide. While a good shampoo and conditioner are essential for hair care, it isn't the only requirement. Hair is mostly made up of protein, and thus requires protein to keep it shining. A well-balanced diet that is high in protein, vitamins, and minerals is essential  (3).
Why This Works
A healthy diet will ensure your hair gets all the sustenance it needs to grow long and strong and keep it shiny and silky smooth. People spend so much money on buying various hair care products while overlooking their diet. But the fact is that a healthy and balanced diet contains all the nutrients and essential oils required for promoting hair growth. Since hair is basically constructed of proteins, consumption of protein is important for nourishing and revitalizing the hair (2).
[ Read: Homemade Ayurvedic Hair Packs For Faster Hair Growth ]
2. Give Your Scalp A Massage
What You Need To Do
⦁Gently massage your scalp with your fingertips.
⦁ Heat a tablespoon of coconut oil.
⦁ Dip your fingertips in the oil and massage in a circular motion.
Why This Works
Not only does a scalp massage feel great, but it also helps stimulate blood circulation. It also mobilizes oils from the scalp that strengthen the roots and keep your hair moist (4). A scalp massage with a stimulant like coconut oil greatly enhances the chances of your hair growing long and strong. Coconut oil is packed with essential vitamins and nutrients and is a natural hair conditioner (5).
[ Read: How To Use Mamaearth Argan Hair Mask For Strong Hair? ]
3. Trim Your Hair Regularly
You Will Need
A good stylist who understands your hair
What You Need to Do
Visit the salon once every three months and have your hair trimmed and split ends removed.
Why This Works
While this may seem counter-intuitive to someone looking to grow their hair, it is rather important if you want balanced hair growth. Damaged hair, filled with split ends, inhibit the growth and health of hair by causing thinning, and breakage. Hence, getting your hair regularly trimmed to avoid unhealthy split ends is essential for enhanced hair length. If you've ever had split ends, you know what a nuisance they can be, especially for people with dry or damaged hair. Regularly trimming your hair ensures a reduction in the number of split ends and gives your hair every chance of growing (6). However, make sure you don't overdo the trimming, and either cut your hair too short or cut it too regularly.
4. Don't Wash Too Often
You Will Need
A mild shampoo
What You Need to Do
Resist washing your hair with shampoo every day.
Why This Works
Some women are convinced that the only way they can keep their hair beautiful and growing is by washing it with shampoo every single day. While keeping your hair clean is essential for hygiene and hair growth, if done incorrectly, it can cause more harm than good.
Using shampoo to wash your hair every day causes your hair to dry out and lose most of its natural essential oils. These oils travel from the scalp down the length of the strands, help to keep hair moist, and are essential for long hair. It's a good habit to maintain a schedule and wash your hair four to five times a week at the most.
Massaging the scalp gently and properly while shampooing improves blood circulation in the scalp and promotes hair growth. Use of chemical-free shampoos, which are enriched with hair-lengthening ingredients, help in the effective cleaning of hair while also keeping the tresses healthy and long. Shampooing every day can dehydrate hair and strip away essential oils required for hair growth. Since hair roots are the weakest when wet, hair should be combed gently and not brushed when wet to avoid breakage.
Washing your hair every day is not necessarily bad if you have valid reasons like excessive sweating and regular use of serums, gels, etc. But if you don't sweat, or use cosmetic hair products every day, you can avoid it (7).
5. Don't Brush Too Often
You Will Need
What You Need to Do
Brush your hair for not more than five to 10 minutes every day.
Why This Works
Again, most women are convinced that the secret to long and healthy hair is brushing it incessantly. There are others who are scared that brushing hair will lead to hair fall, and avoid combing their hair unless explicitly required. The truth is somewhere in between both these extremes. Brushing your hair stimulates the scalp, releases natural oils, and helps spread those oils down the length of the hair strands. But, to ensure that there is no breakage or hair loss, make sure to brush gently, or it may cause traction alopecia (8).
6. Lower Your Stress Levels
You Will Need
A comfy bed and pillow
Why This Works
Have you been taking special care of your hair, treating it delicately, and still not seeing the growth results you wanted? Well, how would you? Your high stress levels are causing you to lose all your hard-earned gains. High stress is a common cause of hair fall, and this means your hair strands are not growing to their full potential in the anagen stage (9). Stress, caused due to physiological or psychological factors, negatively affects the health and growth of hair. It makes hair lose its density and volume and makes it look dull and malnourished. One should avoid stress by practicing yoga, meditation and stress relieving exercises regularly. You should ensure you get at least eight hours of sleep every day, and do something that relaxes your mind, like reading a book or listening to your favorite music.
7. Switch Your Pillow Covers
You Will Need
Silk pillow covers
What You Need to Do
Replace your old cotton pillow covers with silk ones.
Why This Works
If you're determined to make the most of your hair growth, then you'll know that every little advantage you can gain will eventually add up to a big increase hair length. In that context, it's advisable to switch from regular cotton pillow covers to silk covers. Silk is smoother and causes less friction. This means that you'll wake up with fewer tangles.
[ Read: Home Remedies For Hair Growth That Work Wonders ]
8. Use Supplementation
You Will Need
A few artificial hair growth supplements like biotin.
What You Need to Do
Consult a specialist to find what supplements will work best for your hair.
Why This Works
Ensuring you get adequate natural nutrition is important. However, it can also be beneficial to supplement it with artificial enhancements that will help boost hair growth (10). There are a variety of supplements like biotin and multivitamin tablets that are best suited for women aspiring for long and strong hair. These will ensure you get all the right vitamins and minerals that your diet may otherwise be lacking, and give your hair the best chance of growth.
9. Try Natural Hair Packs
You Will Need
What You Need to Do
Find the natural hair pack best suited for your hair and apply it once a week.
Why This Works
If you've ever searched for anything about hair care, you would have definitely heard all about the benefits of natural hair packs. There is a variety of these to choose from that suit all types of hair. They can be easily thrown together with natural ingredients that can be found right in your house. From honey and lemon to avocado and olive oil, there are plenty of options that will moisturize your hair, make it silky smooth, and enable to grow to its full potential. Applying natural remedies and hair packs containing herbal ingredients like Gooseberries, Shikakai (Acacia Concinna), Heena, Onion juice, Coconut milk, etc. aid in nourishing and boosting hair growth, while maintaining the overall health of your tresses.
10. Protect Your Hair
You Will Need
A durable scarf or hat
What You Need to Do
Make sure your hair is covered when you leave the house, especially in harsh weather or dusty conditions.
Why This Works
This will seem somewhat obvious, but you'll be surprised at how many people neglect this simple hair care aspect. Every time you head out into the dust and heat, you're stripping your hair of moisture. Always ensure you cover your hair with a scarf or a hat.
[ Read: Herbs That Will Make Your Hair Grow Longer ]
11. Condition Regularly
You Will Need
A mild moisturizing conditioner
What You Need to Do
Apply a decent amount of conditioner to your hair after every shampoo wash.
Why This Works
Your hair is a reflection of yourself. That is why so many women spend hours trying to keep their hair perfectly shiny and smooth. While most women will wash their hair with shampoo, they fail to see the importance of a good conditioner. It helps replace lipids and proteins inside the hair shaft, and also seals the cuticle to help your hair grow longer. Deep conditioning and reconstructing treatments help hydrate hair strands, repair damaged hair by eliminating frizziness and dullness (11). These conditioning treatments help to create healthy hair while adding length, manageability, volume, and shine to it.
12. Drink Water
What You Need to Do
Ensure you drink at least eight glasses of water a day.
Why This Works
Drinking water is good for your entire body. It flushes out toxins and helps the body function properly (12). Since your hair relies on the rest of your body to keep it hydrated, it is essential to make sure you are always hydrated.
13. Forget The Towel Wrap
What You Need to Do
Avoid wrapping your hair in a towel.
Why This Works
The practice of wrapping your hair in a towel straight after you washed it seems like a logical step. However, when hair is wet, it is very fragile and is prone to break. Hence, it is advisable to pat your hair with a towel until it is dry. This will prevent hair damage.
14. Disinfect Your Hair
You Will Need
Antimicrobial products
Why This Works
Microbial infection in the scalp can weaken the hair follicles, damage the hair strands thereby create unhealthy and lifeless hair. It causes scalp diseases like seborrheic dermatitis, psoriasis, and eczema, etc. which inhibit hair growth. Cleansing the hair of such infections effectively by using antimicrobial products, clinical treatments, and proper medication helps in promoting healthy hair growth (13).
15. Give Yourself A Hot Oil Massage
You Will Need
An oil of your choice.
Why This Works
Massaging the hair gently with lukewarm oils like Jojoba, Coconut, Olive, Argan, etc. not only improves the blood circulation in the scalp but also nourishes, revitalizes, and soothes the scalp while also fortifying the hair follicles and creating strong, lengthy, and radiant locks (4).
16. Rinse Your Hair With Vinegar
You Will Need
Water and vinegar.
[ Video: How To Grow Hair Faster ]
Why This Works
Rinsing the hair with vinegar can boost hair growth while making it appear shiny, healthy and beautiful. A mixture containing two tablespoons of vinegar and one liter of water can act as a natural conditioner when used for rinsing hair and helps in creating Rapunzel-like lengthy tresses (14).
 17. Be Patient
Even the best of faster hair growth solutions require patience and consistency. As long as you do the right things and are determined to achieve long hair, you will get results. Don't feel disheartened after a week and cut your hair short out of frustration. Remember, on an average, your hair grows about half an inch a month.
Here's a simple tutorial to help you grow your hair fast naturally.
Avoid Doing These
1. Hair Colors
Most of the hair colors contain ammonia, which is an industrial bleaching agent. It can wreak havoc on your hair by making it dry and damaged. The excessive use of hair colors can lead to hair fall by damaging the hair follicles. Instead of chemicals, try natural options like henna (15). It colors as well as conditions your hair and gives you soft, smooth and healthy hair. You can also use coffee or cinnamon powder.
2. Hair Treatments
Every other day, we fancy different hairstyles, sometimes straight, perms, or wavy. But do you know that these hair treatments use a lot of harsh chemicals that lead to severe hair fall (16)? Regular hair straightening also leads to split ends, and once it starts splitting, you have to continuously chop them to let your hair grow. Try to avoid them as much as possible and start loving your natural tresses.
3. Brushing Wet Hair
This is one of the biggest mistakes people generally make – combing or brushing their hair while it's still wet. Never do this (17). Wait for your hair to dry naturally, gently detangle, and then comb softly.
[ Read: Yoga Poses For Faster Hair Growth ]
4. Using Hot Water
Do not use hot water while rinsing your hair. It makes your hair very dry and brittle. Always use cool water as it allows the cuticles to smooth out and lie flat, thus giving you soft and manageable hair.
5. Tight Hairstyles And Rubber Bands
When you tie your hair into a tight ponytail or braid, the hair gets pulled from the roots and gets stressed. This makes them loose from the roots, and thus, more prone to breakage. It makes the hair weak and causes permanent damage. Rubber bands also pull the hair out from the roots causing extensive damage to the mane (18). The hair becomes weak and hurts the scalp.
Everyone is looking for the secret to long, beautiful hair. The fact is that there isn't one big secret. There are a lot of factors that contribute to the faster growth of hair, so go ahead and experiment with these tips, and see what works best for you.
Now that you know how to make your hair grow faster, what are you waiting for? Share your feedback with us by commenting below.
References
Recommended Articles
The following two tabs change content below.

Latest posts by Pooja Karkala (see all)

Pooja Karkala
Pooja is a Mass Communications and Psychology graduate. Her education has helped her develop the perfect balance between what the reader wants to know and what the reader has to know. As a classical dancer, she has long, black hair, and she knows the struggle that goes into maintaining it. She believes in home remedies and grandma's secrets for achieving beautiful, luscious hair. When she is not writing, she learns Kuchipudi, practices yoga, and creates doodles.