Best Glitter Nail Polishes And Swatches – Our Top 10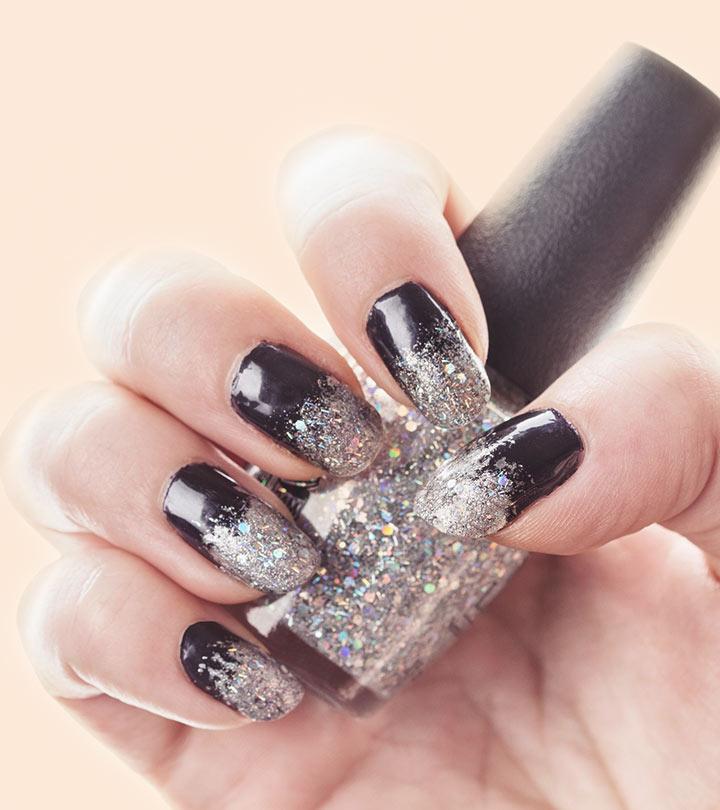 According to me, the best thing to happen to nail polishes is the addition of glitter. Ever since glitter packed polishes came out, nail polishes have undergone a world of change. There is no limit to what shades or what combination of colors or shapes they can come out with. Wearing glitters on your nails is a sure fire way to draw attention to your digits. Check out the dazzling list of glitter nail polish shades below and start preparing a list of which ones you need to urgently have :)
The Best Glitter Nail Polish Colours
Glitter polishes are my favorite but when you get all sorts of colors, shapes and sizes in one bottle, it has to be the best polish ever. Multi Glitter is a clear nail polish with different colored hexagon glitters in different sizes. This polish works best over pastel shades, but you can also wear it on its own. When pairing it with another shade, preferably stick to only a single coat to show it off perfectly.
2. Jordana Glitters: Cosmic
I normally steer clear of blue polishes but I simply cannot resist this glittery beauty. Cosmic is a slightly blue tinted sheer polish with fine blue glitter, loads of chunky blue and green hexagon glitters and a sprinkling of silver hexagon glitters. This polish reminds me of the deep blue sea. Wear this over a light or dark shade of blue.
[ Read: Best Neon Nail Polish ]
Solar Flare is a beautiful clear polish packed with chunky gold glitters. Such a versatile polish this one is. Just add a coat to any boring polish and watch it transform magically. Or if you are daring enough, wear it on its own as shown in the picture below. You might not need any lights in the room!
I always thought pastel shades were boring until I came across this beauty. Strobe Light is a pretty clear polish filled with light pink fine glitter and fine and medium holographic silver glitter. No picture can ever do justice to this polish as the look is amazing in person. Wear multiple coats of it on its own or layer it over a nude polish. You won't be able to take your eyes off your nails.
[ Read: Nail polish shades ]
Finally we have a pink glitter. And not just any pink glitter, but HOT pink glitter. Confetti is a clear polish brimming with chunky hot pink hexagon glitters. Wear it over pinks like in the picture but I firmly advise you to try it over black. The effect can be described as only amazing.
6. OPI The Man With The Golden Gun:
This one surely must be on every glitter lovers' lust list. It is on mine, atleast. The Man With The Golden Gun is from OPI's Bond collection. It is a clear polish filled with 18 karat (yes, real) gold flakies. Given the metal used and its whopping price, this is one golden glitter nail polish that belongs to the locker.
This one belongs to China Glaze's Specialty Collection glitters. Nova is a clear polish with medium and chunky silver hexagon glitters. It is amazingly sparkly, especially in sunlight. Layer it on for complete opacity. You might need to take out your sunglasses with this one.
[ Read: 2 Colourful Nail Art Design Tutorials For Kids ]
Red has always been a classy color for polishes and with glitter, it gets even better. Love Marilyn comes form their Eye Candy Collection. A clear polish filled with fine red and medium silver glitters. I love how the silver looks in contrast with the red. Best worn over a red polish.
[ Read: Black Nail Polish Designs ]
We normally see glitters in round or hexagon shapes, but bar shaped glitter is rare. Brave is a pretty clear polish packed with holographic pink bar or string glitter. Multiple coats of this one will look gorgeous over pinks or black.
Let us finish this list with another beauty from my favorite polish brand. Dreamy Glitter is slightly pink tinted polish with fine gold and chunky holographic pink glitter. The icing on the cake: those pretty little pink stars. Dreamy and girly. Pair it with a light pink or black polish.
*Subject to Availability
So which one of these glitter nail polishes stole your heart? You can do the best glitter nail arts with them. They are irresistable, right? Here is a free nail art app for glitter nail polishes and many more nail polish ideas. You can also share your nail art designs in the community feature.