Top 10 VLCC Beauty Products Available in India 2021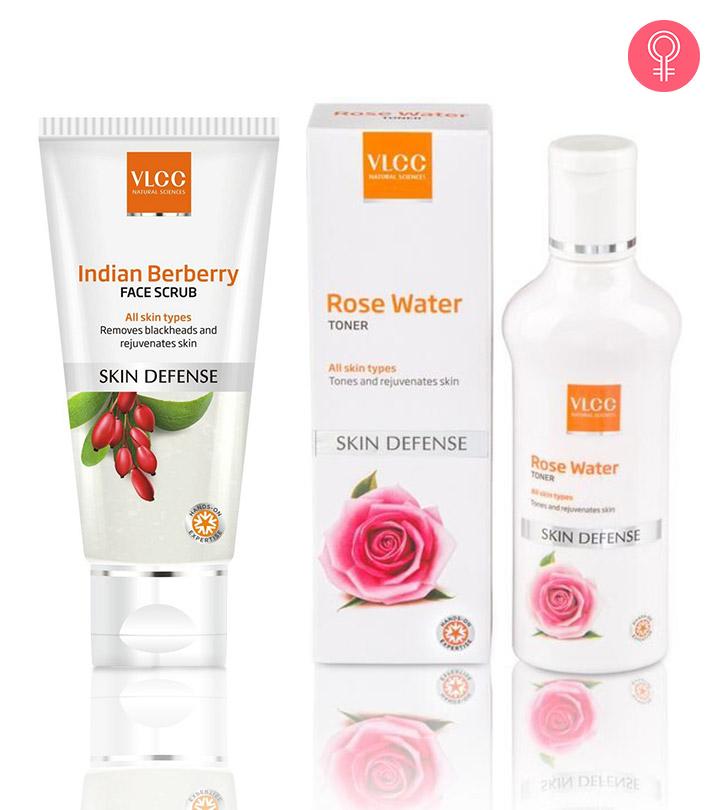 I know you take your skin care routine pretty seriously. And so does VLCC. This is one brand that has got your back ALWAYS! Here's a round-up of the top 10 VLCC beauty products that can be your skin's ultimate savior. Take a look.
Top 10 VLCC Beauty Products In India
Product Claims
This face scrub is very gentle. It claims to exfoliate and rejuvenate your skin and clear whiteheads and blackheads. It contains minute granules that are not at all harsh on your skin. It contains Indian berberry, neem, and papaya extracts and is a completely natural product.
Pros
Gently exfoliates your skin
Alcohol-free
Made of natural ingredients
Suits all skin types
Delivers what it claims
Cons
None
Product Claims
Worried about the dark circles and the fine lines around your eyes? Bid adieu to them with this almond under eye cream in VLCC beauty products kit. This is an extremely lightweight formula that reduces dark circles and keeps your eye area refreshed. And what's more? This product doesn't sting or irritate your skin and can be worn under makeup.
Pros
Lightweight
Suitable for all skin types
Non-greasy
Doesn't irritate your skin
100% vegetarian product
Cruelty-free
Recyclable package
Cons
None
Product Claims
This has a non-foaming formula that is enriched with Indian berberry, sandalwood, and almond extracts. It cleanses your skin thoroughly and doesn't contain any harmful chemicals. It is suitable for all skin types and does not cause breakouts.
Pros
Non-greasy
Contains natural extracts
Affordable
Pleasant aroma
Sturdy packaging
Removes makeup
Cons
None
[ Read: 10 Best VLCC Face Washes to Try ]
Product Claims
If you need something to calm and soothe your skin, this one among VLCC beauty products is what you need. The Skin Defense Rose Water Toner nourishes your skin, tones it, and keeps it refreshed for long. It claims to give you an instant hydrating effect. This toner contains rose petals distillate and aloe vera and date extracts.
Pros
Delivers what it claims
Suitable for all skin types
Hydrating effect
Doesn't dry out your skin
Cons
None
Product Claims
This is a broad spectrum sunscreen gel cream (SPF 60) that protects your skin from UVA and UVB rays. The tinted gel cream provides sheer coverage and spreads evenly on your skin. It has a non-greasy and non-sticky formula that will not make your skin look oily. The best part is, it doesn't cause excessive sweating (which is an issue with most of the sunscreen lotions).
Pros
Non-greasy
Paraben-free
Lightweight
Suitable for all skin types (but a boon to oily skin type)
Doesn't cause breakouts
Is absorbed quickly
Cons
None
Product Claims
This facial kit takes care of all your skin care needs – right from cleansing to exfoliating. There are times when you feel like pampering your skin, and this facial kit is exactly what you need then. This kit comes with a gold scrub, a peel-off mask, gold gel, and gold cream. Each product contains aloe vera, raisin, sandalwood, and turmeric extracts, along with gold oxide, polysaccharides, and vitamin B complex. This claims to renew cell growth and rejuvenate your skin.
Pros
Gives instant glow
Very handy
Delivers what it claims
Cons
None
[ Read: Top 16 Facial Kits For Glowing Skin ]
Product Claims
If you are someone with a tan that refuses to go no matter what you do, this product can be your ultimate savior. This fruit face pack contains a unique formula that has pineapple, cucumber, and mulberry extracts. It also has other Ayurvedic extracts that can clear deep-seated skin impurities, brighten up skin by reducing tan, and make your skin radiant.
Pros
No parabens
Natural extracts
Removes tan effectively
Affordable
Makes skin soft and supple
Cons
None
Product Claims
This product claims to work at a cellular level – nourishing and hydrating your skin cells to give you blemish-free and youthful skin. It contains pistachio and nutmeg extracts and moisturizes your skin thoroughly without making it oily or greasy. This cream is specially formulated for normal to dry skin types.
Pros
Moisturizes skin well
No breakouts
Non-oily
Contains herbal extracts
No parabens
Cons
None
Product Claims
This hydrating body lotion contains cocoa butter and has a non-greasy formula that is easy to apply. It has an SPF of 15 and contains olive oil and wheat germ and aloe vera extracts.
Pros
Contains SPF
Non-greasy
Hydrating
Mild fragrance
Cons
None
Product Claims
The product claims to clean and brighten your skin thoroughly and make it firm. It has a mousse-like creamy texture and contains a unique formula that has mint oil and turmeric extracts. It spreads easily and makes your skin feel soft and supple. The best part is, unlike other mud packs, this product will not dry out your skin.
Pros
Dries quickly
Makes your skin soft
Suitable for all skin types
Brightening effect
Cons
Overpowering fragrance
VLCC has come a long way from being only a beauty service providing brand. It has developed products that are specially formulated keeping your skin care needs in mind. So, if you are someone who is looking for some expert care, pick any of the VLCC beauty products and give it a try. And of course, do not forget to share your feedback. Also, if you have used any of these products or think that I missed listing any product, let me know in the comments section below.
Recommended Articles: