Stamping is a nail art technique where certain tools are used to stamp pre-designed designs on your nails. Though it is quite an easy technique, it takes lots of patience and practice to master. If you work patiently and with determination to nail it, you can master it with in an hour too.
There are many stamping kits available in the market but I recommend to start practicing using konad stamping nail art kit trial pack.
It is a new imprinting kit that lets you put designs by stamping predesigned designs/images on your nails in a few minutes.
Konad Stamping Nail Art Set Include:
This kit includes:
a. Stamper:
It is used to transfer the designs from image plate to your nail.
b. Mini scraper:
It is used to scrape off the excess polish from the image plate.
c. Mini image plate:
This is a metallic plate on which the designs are engraved.
d. Mini special polish:
This polish is specially made for stamping. It is not a must have but for starting nail stamping, you should use this polish as it stamps well resulting in beautiful manicure.
The above mentioned things are there in a kit but you need a few more things to get started and these are:
Nail polish (for base color you can choose any color), nail wipes ( to clean the image plate in between every or 1-2 stamps) , special top coat( stamping needs special top coat meant for stamped nails, this you have to buy separately ) and Q-tips( to remove any errors).
Stepwise Tutorial:
Step 1:
Wash your hands before starting and dry them properly.
Step 2:
Remove your old nail polish, if any.
Step 3:
If needed file your nails, uniform nails always look good.
Step 4:
Now apply base coat and your base color.
Step 5:
Let it dry completely before starting stamping.
Step 6:
Apply a single coat of your regular fast dry top coat. This step is necessary to rub the errors if any with q-tip. Dip in remover without disturbing the base color.
[ Read: Nail Art Games For Girls ]
Step 7:
Now take your image plate and cover your desired design with special nail polish as shown in the picture below:
Step 8:
Now take your scraper and put it in 45 degrees to the design and scrape off the excess polish. You have to be very fast as this polish dries very fast.
Step 9:
Put the stamper/stamp on your design and it will transfer on your stamper's green part. As shown in the picture and don't forget to be very fast.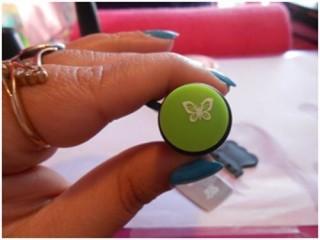 If the whole design does not transfer to stamp, then wipe off that design using nail wipes and repeat this step again to get full nail design as shown in the second picture.
[ Read: Animal Themed Nail Arts ]
Step 10:
Now put the stamper on the side of your nail and transfer your design in one roll over motion.
Step 11:
Apply your special stamping top coat.
Here is the final result:
If you have nails like my length, you can stamp more than one butterfly as I did or go with a single design as shown on my pinky finger. As you master this technique, you can buy more image plates which are available with so many beautiful designs ranging from French tip designs to full nail designs. Also you can experiment with different polishes to check whether they stamp properly or not or else you can buy special stamping nail polishes from Konad.
Hope you find this tutorial konad stamping nail art helpful.
The following two tabs change content below.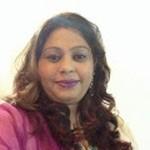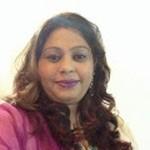 Latest posts by puja malhotra (see all)