12 Best Eye Creams For Dry Skin You Can Try In 2022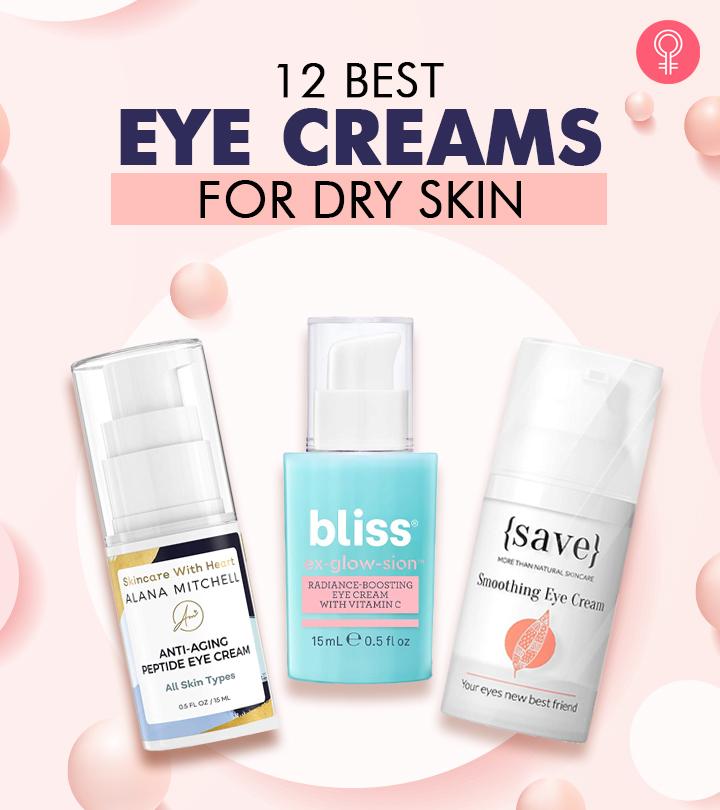 Do you get worried about your dry under-eye skin as winter approaches? Factors like age, stress, inadequate sleep, and pollutants can damage the delicate skin around the eyes and make it look dull, puffed, and uneven. Well, there is no need to worry when you are armed with the right product. To help revive your delicate under-eye skin, we have shortlisted the 12 best eye creams for dry skin. Scroll down to check them out!
12 Best Eye Creams For Dry Skin
This gentle under-eye cream from ALANA MITCHELL is suitable for all skin types and equipped with anti-aging benefits. It reduces puffiness, wrinkles, fine lines, dry skin, crow's feet, and under-eye bags.
The quick-absorbing formula supplies hydration to the skin to moisturize and revive it. This eye cream contains passionflower extracts that soothe, refresh, and protect the skin. The peptides with anti-aging fatty and amino acids boost collagen and prevent wrinkles. The tocopherol has antioxidant properties that combat free radicals, heal the skin, and reduce aging signs.
Pros
Works as makeup remover
Lightweight
Paraben-free
Artificial fragrance-free
Money-back guarantee
Cons
The FIRST AID BEAUTY 5 in 1 Eye Cream improves elasticity, fades the signs of aging, reduces dark circles, and firms the skin. This multi-action cream protects the delicate skin around the eyes while smoothening, brightening, and hydrating it. It contains homeostatine and advanced peptides that diminish the appearance of wrinkles and fine lines. Alpha-arbutin and niacinamide brighten, hydrate, and moisturize the skin, while bisabolol and dimethicone soften and protect the skin.
Pros
Non-irritating
Vegan
Hypoallergenic
Gluten-free
Nano-free
Alcohol-free
Oil-free
Paraben-free
Sulfate-free
Talc-free
Cons
The belif Moisturizing Eye Bomb is a refreshing, lightweight eye cream for dry skin that offers a burst of long-lasting moisturization. It improves skin elasticity and increases resilience to smoothen fine lines and fade wrinkles. Its cooling texture blends easily into the skin to offer a flawless finish. This eye cream contains comfrey leaf that moisturizes and hydrates the skin. Calendula extract soothes skin with its antioxidant properties, whereas oat kernel extract moisturizes dry, flaky, and sensitive skin. Check out this video on YouTube for a detailed understanding of the product.
Pros
Works as makeup base
Pleasant fragrance
Lightweight
Cons
The bliss ex-glow-sion Radiance-Boosting Eye Cream is a natural moisturizing cream for dry skin that reduces dark circles and brightens the skin. It contains antioxidant-rich additives like vitamin C and niacinamide to protect and hydrate the skin. This eye cream combats dryness and flakes due to the presence of cucumber, squalane, and pear extracts. Other ingredients like green tea leaf extracts, lavender, and rosemary nourish the skin and maintain skin health.
Pros
Can be used under concealer
Travel-friendly
Cruelty-free
Paraben-free
Fragrance-free
Cons
May not suit sensitive skin.
The SHIKAI BORAGE THERAPY Eye Cream has a non-irritating formula to smoothen the skin. This clinically proven treatment firms and tightens the under-eye skin to improve its texture and appearance. It works at the cellular level to nourish the skin and enhance its health.
Pros
Suitable for sensitive skin
Non-greasy
Non-irritating
Cons
The air repair Super Hydrating Eye Cream is a multipurpose eye treatment that removes puffiness, dark circles, and fine lines. The soothing formula fights free radicals while soothing and relieving dry and fragile skin. It keeps the delicate eye area protected and offers lasting moisturization.
The quick-absorbing formula blends well into the skin to leave it refreshed and moisturized. It contains skin reviving ingredients like aloe gel to soothe the skin and eyeliss and haloxyl to reduce puffiness, fine lines, and dark circles. Allantoin activates cell regeneration to heal the skin. Green tea and cloudberry seed oil protect the skin from oxidative damage, while tocopherol heals, rejuvenates, and soothes the skin.
Pros
Paraben-free
Mineral oil-free
Petroleum-free
Non-irritating
Cons
Doesn't help with discoloration.
This eye cream for dry skin reduces the appearance of wrinkles, fine lines, and puffiness around the delicate eye area. Its super-hydrating formula contains organic aloe juice, coconut oil, vitamin E, and rosehip oil to moisturize dry skin. The enriching Dead Sea salt minerals and plant extracts like organic blueberry, cranberry, and rosemary leaf increase hydration. This quick-absorbing moisturizer leaves the skin soft and smooth.
Pros
Gentle
Suitable for daily use
Vegan
Cruelty-free
Cons
The SUXXESS Revitalizing Eye Cream is specially crafted for the delicate under-eye skin. This moisture-rich cream uses advanced peptide technology, powerful moisturizers, and antioxidants to reduce the appearance of puffiness, dark circles, wrinkles, and fine lines. It is made of organic ingredients that soothe and replenish the skin. This eye cream has pH-balancing properties that activate cell regeneration and improve elasticity.
Pros
Gentle
Absorbed quickly
Fragrance-free
Cons
The save Smoothing Eye Cream removes signs of aging, dullness, eye bags, crow's feet, and dark circles. It soothes, nourishes, and hydrates the delicate skin around the eyes to leave it healthy. The mild and fragrance-free formula is enriched with bakuchiol that diminishes the appearance of fine lines. The Duo Biotic Complex increases the skin's resilience, while the bamboo ferment and algae strengthen the skin and leave it radiant.
Pros
SLS-free
Paraben-free
Phthalate-free
Mineral oil-free
Silicone-free
Fragrance-free
Vegan
Suitable for daily use
Dermatologically tested
Cons
The ENS JIN JUNG SUNG Sincerity Face & Eye Cream fades fine lines, redness, dark spots, and acne while moisturizing the delicate skin around the eyes. The plant-based ingredients and seven types of hyaluronic acids offer intense moisturization and hydration to dry skin. The deeply nourishing and healing formula also boosts collagen production to protect and renew your skin.
Pros
Absorbed quickly
Hypoallergenic
Lightweight
Fragrance-free
Alcohol-free
Paraben-free
Vegan
Cons
None
The Balea Urea Audencreme contains skin-nourishing ingredients that hydrate the skin to keep dryness away. The renewing formula protects the skin from oxidative damage while improving its elasticity. This eye cream for dry skin contains avocado oil that softens the skin and promotes cell activity. Jojoba oil protects and strengthens the skin to retain moisture. Tocopherol protects the skin from free radicals that cause premature aging, while pentavitin locks in moisture and enhance cell regeneration.
Pros
Cruelty-free
Anti-aging
Fragrance-free
Absorbed quickly
Vegan
Cons
The LilyAna Eye Cream has anti-aging properties that reduce the appearance of dark circles, wrinkles, fine lines, and puffiness. The multi-tasking formula firms the skin and locks moisture to keep it looking young. The lightweight, advanced botanical ingredients protect the delicate under-eye skin and supply nutrients like vitamins E, C, pro-vitamin A, B5, and antioxidants to the skin. Rosemary extracts, hibiscus extracts, and rosehip seed oil fade the appearance of fine lines, dark circles, wrinkles, and puffiness. This eye cream boosts tired skin while refreshing, lifting, and plumping it.
Pros
Non-greasy
Lightweight
Absorbed quickly
Paraben-free
Sulfate-free
Colorant-free
Fragrance-free
Petroleum-free
Cons
Knowing how to apply eye cream properly is essential to reap maximum benefits. Read the next sections for the directions to use.
How To Apply Eye Cream
Step 1: Using your ring finger, pick a pea-sized amount of the eye cream.
Step 2: Gently dab the cream around the eyes, starting from inside to outside. Avoid applying cream too close to the eyes.
Step 3: Blend the product onto your skin with gentle movements and avoid rubbing.
Step 4: Wait for some time for the cream to seep into the skin thoroughly.
Before you buy any suitable eye cream, it is important to take some factors into account. Keep in mind the key aspects given below.
How To Choose The Best Eye Cream For Dry Skin
Invest in an eye cream with moisturizing ingredients like hyaluronic acid, botanical oils, glycerin, and ceramides. Creams rich in antioxidants and vitamin C are ideal for anti-aging benefits. Look for an eye cream with ingredients like retinol, vitamin A, cucumber, aloe, green tea, coconut etc. Retinol reduces fine lines and wrinkles from the delicate area around the eyes, while vitamins, minerals, and antioxidants reduce swelling and puffiness.
An under-eye cream that is absorbed quickly into the skin is recommended. Any product that takes time to absorb increases the chances of accumulation of dirt and impurities into the skin.
Always ensure to choose a product that is meant for your skin type. Products meant for oily skin will not be able to work optimally on dry skin due to the selection of ingredients.
Why Trust StyleCraze?
The author of this article, Shiboli Chakraborti, is a certified skin care coach. She understands skin needs completely and comes up with a recommended list of products after thorough research. The list of best eye creams for dry skin is compiled by her after thorough research and reading many customer reviews on trusted online platforms. A good eye cream can keep signs of aging, dark circles, and sagging at bay. The products included in the list are non-irritating and non-greasy.
Recommended Articles