13 Best Printed Leggings To Add To Your Workout Wardrobe – 2022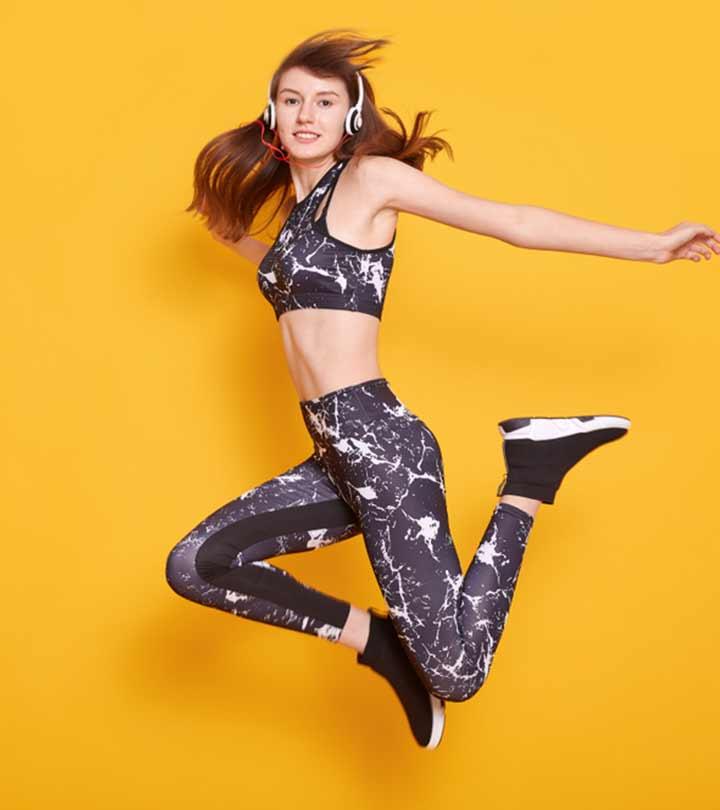 We bet your wardrobe is now stacked with black or monochrome leggings. But why stay limited when the market is full of some of the best-printed leggings? It is time you step out into the world of prints and move past your matching monochrome sets. Prints are fun, and you can experiment with them too! Combine the best of comfort and style with these leggings.
We understand that it may be a tad bit intimidating at first, but we urge you to move past all things holding you back this year and try them. These printed leggings are versatile and can be worn at home, parties, small gatherings, or even for errand runs! So, do step beyond your comfort zone and try these bold prints to amp up your wardrobe overnight. Check out our favorite printed leggings of the season below.
13 Best Printed Leggings For A Fun And Fresh Look
Leggings Depot brings to you a pair of printed yoga leggings with a wide elastic waistband that tucks in your tummy for a seamless look. The fabric stretches all the way, giving you freedom of movement, so you can engage in sports or lounge around. As smooth as butter, these cute printed leggings are medium weight and not see-through, so you can squat away with no worries. A whopping 45 fun prints are available, which can be used to dress up or down on any occasion!
Pros
Soft fabric
All-way stretch
Wide waistband
Available in 45 prints
Not see-through
Offers tummy control
Cons
Might be too long for petite runners
Ndoobiy's fun print leggings are composed of 88% polyester and 12% spandex, making them soft, lightweight, and stretchable. Using 3D print for unique patterns, the print workout leggings won't shrink or fade upon washing. The elastic supportive waistband stays put securely without sliding down or riding up, so you can confidently wear these cool printed leggings to your next workout session worry-free.
Pros
Soft and lightweight
Secure elastic waistband
Anti-fade 3D print
Retains shape
Won't slide down or ride up
Available in 42 prints
Cons
COOLOMG's printed athletic leggings fit snugly to give your body a flattering look. They are composed of 85% polyester and 15% spandex, which feels smooth against the skin. To allow you to achieve all your yoga postures, the gusseted crotch and interlocking seams in these funky gym leggings reduce friction and chafing. The material offers a four-way stretch and with its moisture-wicking ability, you won't have to deal with sweat. Keep these black printed leggings firmly secured with an elastic waistband that has a drawstring for a better fit. At the backside, the waistband features a small zippered pocket, so you can stash your valuables like cards, cash, or keys.
Pros
Gusseted crotch
Minimized chafing
4-way stretch
Moisture-wicking
Elastic waistband with drawstring
Hidden zippered pocket
Cons
Might not offer tummy control
A mid-rise stretchable waistband in Alaroo's cool print leggings offers you a snug fit. 88% polyester and 12% spandex is used to keep the fabric soft on your skin while offering tummy control. As the material of these running leggings is breathable, you can stay cool while going about your day or indulging in your favorite activity. The reflective surface has a sheen that can elevate basic outfits to fancier ones. Who said you can only be a mermaid for Halloween? With Alaroo's printed leggings for women, you can stay comfortable and stylish every day!
Pros
Non-itch
Available in 12 colors
Soft and breathable fabric
Offers tummy control
Can be dressed up or down
Mid-rise waistband
Cons
The color might fade after a couple washes
TNNZEET's cheetah print workout leggings are high-waisted and ankle-length for all-season support. Made of 92% polyester and 8% spandex, they provide tummy control with a flat waistband that stays in place through even intense exercises. Soft and body-hugging, these tights fit the body's contours and are comfortable for casual wear. As the prints are bold and bright, you could use these yoga printed leggings with solid shirts or tunics for a fashion statement.
Pros
High-waisted leggings
Offer tummy control
Soft fabric
Figure-hugging
Available in 15 colors
Cons
Sissycos' workout printed leggings have 80s-inspired colorful designs. They offer comfort as they are made with 95% polyester and 5% elastane that keeps them 4-way stretchable, giving you a wide range of motion. Fitting your body's contours precisely, Sissycos' pairs flatter your body shape and allow you to feel confident. These ankle-length leggings have a high waistband that doesn't dig into the skin. As the fabric is opaque, you can lunge away with no issues and the 3D design print doesn't fade to keep you looking stylish.
Pros
Available in 29 prints
4-way stretch
Wide elastic waistband
Opaque fabric
Fits body's contours
Anti-fade 3D print
Cons
The print might stretch out when worn
Choose from 22 diverse patterns that can add some funk to your wardrobe with The Leggings Gallery's abstract print leggings. Their fabric is a combination of 92% polyester and 8% brushed spandex. Ultra soft to the touch, these are the best print leggings for when you're a little bored of your black pairs. A reinforced high waist with the tapered ends allows you freedom of movement while the lightweight and breathable material provides ease of use.
Pros
Available in 22 prints
Soft fabric
Lightweight
Breathable
High waisted
Opaque
Cons
Some may find the waistband to dig into skin
Danskin's printed activewear leggings feature a pull-on elastic closure and a hidden pocket in the inside of the waistband. The fabric which consists of 86% polyester and 14% spandex wicks away moisture to keep you dry and is easy to clean as well. With a high-rise power mesh, the reinforced waistband shapes your abdomen to allow you to move about with ease. A built-in crotch gusset safeguards you from the irritation that might be caused due to chafing or excessive friction.
Pros
Available in 8 patterns and colors
Moisture-wicking
Anti-chafing
Power mesh and reinforced waistband
Hidden waistband pocket
Offers tummy control
Cons
These women's printed workout leggings feature a 3D metallic foil surface that is eye-catching. Composed of 75% polyester and 25% spandex, the 4-way stretch fabric is a good accompaniment to your dance or Zumba classes. Not only are the printed sports leggings breathable to keep you cool, they are also moisture-wicking to keep you dry and sweat-free. 3 hidden pockets on the waistband can be used to carry your valuables while the gusseted crotch provides durability and prevents chafing.
Pros
Breathable
Moisture-wicking
3 hidden pockets
4-way stretch
Available in 11 patterns
Offer abdomen compression
Cons
The color may bleed when washed
With these printed gym leggings, you can enhance performance and stay extremely comfortable, even if you happen to be staying in. A blend of 92% polyester and 8% spandex is used to keep them super smooth with an elastic waistband. 27 bright patterns are available that can be used to create different styles. With a good stretch, these leggings offer flexibility during exercise and stay tapered.
Pros
Available in 27 patterns
Soft and stretchable
Flexible
High rise
Comfortable
Cons
The color might not be anti-fade
Under Armour's HeatGear material gives you optimum coverage without being too heavy. It is a fabric made of 87% polyester and 13% elastane, which is highly breathable and keeps you cool during hot and sunny days. Wicking away sweat and drying off quickly, you can also rely on these cute printed workout leggings to prevent odor-causing bacteria owing to the anti-odor technology. Flatlock seams keep irritation and chafing eliminated while the 4-way stretch fabric keeps your movement free.
Pros
Breathable and lightweight
Moisture-wicking
Quick-dry
Odor control
Eliminates chafing
Available in 4 prints
Cons
Lighter-colored portions of the fabric might be see-through
Esteez brings to you a women's printed athletic leggings in various geometric shapes that are a versatile addition to your closet. They help you optimize comfort while keeping you active and quick on your feet to run errands. Made with 90% polyester and 10% spandex, the fabric is soft on the skin and features a 4-way stretch. The high-waisted elastic band stays secure while the moisture-wicking fabric makes cleaning super easy.
Pros
Available in 27 prints
Moisture-wicking
Breathable
4-way stretch
High-waisted elastic band
Opaque
Cons
Might lack tummy compression
Adidas' floral print leggings are made of 93% cotton with 7% elastane. Owing to this, the fabric keeps your skin cool, even during the hot months or sweaty weightlifting sessions. The mid-rise cotton printed leggings stay secure with the non-slip elastic waistband while the soft and stretchable material expands your range of motion. Combining comfort with enhanced performance, these Adidas printed leggings are a must-try!
Pros
Soft fabric
Breathable
Non-slip elastic waistband
Stretchable material
Mid-rise
Cons
Now that we've looked at some of the best printed leggings out there, it's time to learn how you can choose the best kinds for yourself.
How To Choose Printed Leggings
Printed leggings can be made with different types of materials and some even contain blends of 2 or more. Cotton printed leggings are sturdy and breathable but they might not be the best when it comes to stretchability. Polyester is a commonly-used fabric for leggings as it repels water and absorbs sweat. As leggings are generally used for active pursuits, this is a must-have feature.
However, this material can trap odors which is why you should choose leggings that also have antimicrobial properties. Nylon is a great choice because it is lightweight yet sturdy, can be cared for easily, and doesn't crease too quickly. Sometimes, it can be vulnerable to shrinking which can cause the leggings to lose their shape. Spandex which is also known as Lycra or elastane is present in varying amounts in almost all pairs of leggings, printed or not. This material is what lends your pants the stretchability and flexibility to move around with freedom. For the colder weather, fleece-lined leggings are designed to keep you warm.
These days, there are a plethora of prints that can be worn in different ways. However, let's go over some of the most popular ones you can choose. Floral prints lend a chic and feminine look. They can be availed in a variety of colors and look the best during summers. Tribal prints are quite trendy and can jazz up fall and winter outfits. Within this category, there are many kinds of patterns and designs you can try. Animal print leggings like leopard, snake, and tiger patterns can give you a bold look. They add a fashionable statement to your overall ensemble.
Prints can be flashy or subtle, but the kind you opt for must depend on your body size as well. A lot of the time we pick out patterns we like but when worn, it may fall flat owing to the stretch in leggings. Keep in mind to choose smaller and denser prints for a slimming effect and vice versa.
If you're wearing printed leggings as nightwear or to lounge around at home, you must choose a pair that is soft and comfortable. However, if you are regularly active, an opaque pair of printed leggings that are both moisture-wicking and breathable are ideal. Additionally, flatlock seams and a gusseted crotch help reduce the chafing that comes with high-friction activities. Runners and hikers would also benefit from pockets, so that they can move about hands-free. Some leggings include hidden pockets in the waistband to hold valuables like cash or keys.
After you've bagged your favorite pair of printed leggings, it's time to wear them in such a way that all eyes are on you.
How To Wear Printed Leggings
If you're a beginner to this fashionable piece of clothing or aren't big on patterns, it's good to start small. You can stick with the basics and go for subtle prints like polka dots and stripes. Flower print leggings can also be a great starting point.
If you're wearing an over-the-top funky print, ensure to balance it out with a solid top that is plain and preferably dark. For example, if you're wearing a leopard print, choose a loose black tunic over it for a luxurious look.
Printed leggings make for a great clothing choice at home or for casual occasions. However, they might not be ideal for formal or work-related events. It is advised to not wear them under dresses or as pants because they can make the whole ensemble look tacky.
As leggings in themselves are quite versatile, you can pair them with ankle-length or Chelsea boots and tops for a chic look. But pairing them with something like knee-high boots or a trench coat might not be the most suitable.
Leggings can accentuate your curves and this is why they look best when paired with oversized shirts or flowy tops. If short tops are all you wear, thicker leggings will look better.
Always remember to wear leggings that are right above your ankle as something mid-calf can give the illusion of shorter legs. Overall, it might also be unflattering so go with something that can showcase your footwear.
Quirky and colorful prints can be exciting but keep in mind that they may not suit all body types. Curvier bodies will look better with smaller and neutral prints while larger patterns can create the illusion of a fuller body.
Why Trust StyleCraze?
Author Chaitra Krishnan keeps up with the latest trends and styles, making her the go-to source for fashion. While prints may seem intimidating, she notes that they can be a great way to jazz up your wardrobe. She assembled a comprehensive and detailed list of the best products after conducting an intensive review of every product review on the market. Pick bold or subtle prints and mix and match them effortlessly to create a stylish look.
Frequently Asked Questions
Do printed leggings make you look fat?
Not really, as long as you wear something that is true to your size. However, larger patterns can make your legs look heavier while smaller prints can have a slimming effect.
Are patterned leggings flattering?
Yes, when worn correctly, printed leggings have the ability to flatter your figure. They should hug the body's contours without being too tight.
What kind of shoes look good with printed leggings?
All kinds of shoes can suit patterned leggings except flats or ankle strap heels. However, this would also depend on your outerwear and preference.
Recommended Articles: