Top 7 Medimix Soaps And Washes Available in India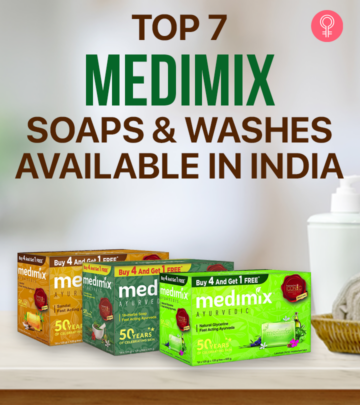 Bid adieu to the harsh chemical-laden soaps and say 'hello' to Medimix soaps and washes. They are enriched with nutrient-rich herbs that take care of common skin problems. Inspired by the Cholayil tradition of the 17th century, this brand offers a wide spectrum of products that range from soaps, hand washes to body washes and more. They are mild, suitable for all skin types, and highly effective in getting rid of pimples, acne, and other skin woes. Regular use of Medimix soaps and washes will make dull skin a thing of the past. They are free of harmful chemicals and have a soothing herbal scent. To make your hunt easy, here's a list of the top 7 Medimix soaps and washes in India that will give you clear, youthful, and refreshed skin.
This herbal Medimix soap is enriched with the skin-healing properties of 18 herbs. It contains fast-acting and potent herbs that work their magic on your skin from the very first wash. The combination of herbs and natural oils protects the skin against germs and environmental factors. This soap is rich in botanical ingredients like chitraka, dharuharidra, guggulu, devadaru, and nimbatwak that cure skin infections, rashes, prickly heat, boils, and pimples. Other ingredients likevacha, jeeraka, krishnajeeraka, chopchini, and sariba effectively drive away body odor. Usheera and dhanyaka cool the skin and prevent prickly heat boils, while jyothishmathi, vanardraka, bakuchi, and yashtimadhu hydrate the skin and make it soft.
Key Ingredients: Chitraka, DharuHaridra, Guggulu
Pros
100% vegan
Prevents body odor
Hydrates the skin
Lightens marks
Dermatologically tested
Hypoallergenic
Cruelty-free
Cons
Price at the time of publication: ₹21.33
Medimix Ayurvedic Natural Glycerin Soap is enriched with the hydrating properties of glycerin. It locks in moisture and gives your skin a dewy glow. The Lakshadi oil is known for its therapeutic and curative properties. It also restores your natural glow and preserves skin cells. Other ingredients like shellac detoxify and protect against skin diseases, while the antibacterial turmeric lightens the skin tone and kills germs. This soap gives you moisturized, blemish-free, and soft skin throughout the year.
Key Ingredients: Glycerin, Lakshadi oil, Shellac, Turmeric
Pros
Dermatologically tested
Moisturizes the skin
Improves skin tone
Detoxifies the skin
Maintains the skin's pH level
Cons
The Medimix Sandal Soap contains sandalwood with pure eladi oil that moisturizes and retains the natural glow of your skin. It revitalizes your skin to make it soft and vibrant. Sandalwood, known for its anti-tanning properties, removes scars and blemishes. Eladi oil takes care of common skin ailments like scabies, allergic dermatitis, eczema, and more. The soap also contains beauty berry, casuarina, and cobras saffron that reduce inflammation, soothe prickly heat, and heal wounds and sores effectively. Cinnamon, cardamom, and Alexandrian laurel protect against skin infections and allergies. This bathing soap improves your complexion and skin texture while making it firm and toned.
Key Ingredients: Sandalwood, Eladi oil, Natural glycerin
Pros
Improves the complexion
Clears pimples
Reduces blemishes
Prevents allergic reactions
Highly moisturizing formula
Dermatologically tested
Cons
Not suitable for very sensitive skin
Price at the time of publication: ₹14.62
This Medimix soap is infused with turmeric and argan oil and is an effective remedy for dry and damaged skin. Its key ingredient, turmeric, has antibacterial and skin-lightening properties that remove dead skin cells and infection-causing germs. The Moroccan argan oil in the formula has antioxidants, vitamin E, and essential fatty acids that nourish the skin, boosts elasticity, and restores the skin's natural moisture.  This soap gives a natural glow to your skin while fighting future breakouts and pimples.
Key Ingredients: Turmeric, Moroccan argan oil
Pros
Restores moisture
Improves skin tone
Nourishes the skin
Reduces acne
Clears pores
Tightens the skin
Improves skin radiance
Naturally hydrating formula
Cons
None
Price at the time of publication: ₹19.99
This Medimix aloe vera soap is specially designed for people with extremely dry and sensitive skin. This soap has intense hydrating properties since it is made with aloe vera leaf extracts and Lakshadi oil. Aloe vera not only has cooling properties, but also soothes the skin against rashes, irritation, and inflammation. Lakshadi oil is one of the purest moisturizing ingredients that preserve the youthfulness of the skin and help with the regeneration of skin cells. The glycerin in this formula softens the skin and traps natural moisture in the skin pores. Your skin feels hydrated, nourished, and fresh for longer with every wash.
Key Ingredients: Lakshadi oil, Aloe vera, Glycerin
Pros
Hydrates deeply
Improves skin texture
Soothes rough skin
Balances the skin pH
Gentle formula
Dermatologically safe
Cons
This Medimix face wash is meant for fighting pimples, acne, and blemishes. The formula contains a blend of neem, aloe vera, turmeric, amaya, lodhra, and manjishtha that combat environmental damage and gently clean the face without stripping away the natural oils of the skin. Neem and turmeric are rich in antibacterial benefits that reduce the pimple-causing germs and microbes, while aloe vera hydrates the skin and soothes inflammation to give you clear skin. Manjishtha and lodhra have powerful healing properties that even out the skin tone and give you a radiant complexion. Amaya forms a protective barrier against germs and environmental pollutants.
Key Ingredients: Neem, Aloe vera, Manjishtha, Turmeric, Lodhra, Amaya
Pros
Mild formula
Reduces pimples
Improves skin tone
Dermatologically safe
Paraben-free
Sulfate-free
Cons
Not suitable for sensitive skin
Price at the time of publication: ₹5.99
This soap balances the excess sebum and pH level of the skin to fight pimples, acne, and other skin breakouts. The formula contains clear glycerin to combat skin infections and regulate the loss of water to keep your skin feeling fresh and hydrated. It also contains eucalyptus oil which has antimicrobial, antioxidant, and anti-inflammatory properties to promote healing, ease inflammation and pain, moisturize the skin, and protect against breakouts. Mint is a natural mild astringent that clears and refreshes the skin.
Key Ingredients: Glycerin, Eucalyptus oil, Mint
Pros
Controls excess oil
Gentle formula
Balances the skin's pH level
Reduces breakouts
Nourishes the skin
Mild fragrance
Cons
None
Medimix soaps and washes are infused with a blend of essential Ayurvedic herbal ingredients. They are known not only for being the deep cleansing but also for their nourishing formulas. The unique formulations soothe irritation, rashes, and inflammation to make your skin healthy. Order from our list of Medimix soaps and washes to get beautiful and healthy skin.

Recommended Articles