11 Best Soaps For Acne And Breakouts Available In India Tacklingacne with soaps? Well, it is no surprise since acne-fighting soaps are gaining popularity, and beauty gurus can't stop raving about them. These soaps, specially formulated to combat acne and pimples, are different from regular soaps.
They absorb and regulate excess sebum production, leaving your skin looking balanced and toned. They also contain acne-fighting ingredients and are incredibly gentle on the skin. This article lists the best soaps for acne-prone skin in India. Scroll down to check them out!
11 Best Soaps For Acne And Breakouts In India
The Cetaphil Cleansing AndMoisturising Syndet Baris trusted by aestheticians and dermatologists alike and crafted to suit all skin types. Unlike regular soaps loaded with harsh surfactants, this soap-free bar does not irritate your skin. Its shea blend formulation moisturizes your skin and keeps it soft and smooth. With a pH balance of 5.5, it protects your body from bacteria that cause damage. Its hypoallergenic formula does not deplete your body with natural oils.
Key Ingredients: Shea blend
Pros
Dermatologist-tested
Allergy tested
For all skin types
pH-balanced
Hypoallergenic
Non-comedogenic
Soap-free
Non-irritating
Cons
Contains SLS
Melts easily
The SebaMedClear Face Cleansing Bar has a mild pore cleansing formula infused with amino acids, lecithin, and vitamins. These moisturizing ingredients hydrate the skin and prevent dryness. This soap controls oil production, unclogs blackheads and whiteheads, and prevents acne from popping up. It inhibits the proliferation of acne-causing bacteria by maintaining the pH balance of the skin. The soap also contains vitamin E that protects the skin from free radical damage and squalane that maintains the skin's moisture balance.
Key Ingredients: Lecithin, Amino acids, and Vitamin E
Pros
pH-balanced
Dermatologist-tested
Preservative-free
Oil-free
Colorant-free
Paraben-free
Paraffin-free
Phthalate-free
Cons
The Dermadew Acne Soap has a gentle formula to resolve skin problems like dullness, dryness, and uneven skin tone. It creates a rich foam that effectively cleanses away all the dirt and impurities without leaving your skin dry. This soap prevents the occurrence of new pimples and dries the existing ones.
It is fortified with a blend of oils and butter that moisturizes and nourishes acne-prone skin, leaving it soft, smooth, and fresh. The glycerin and aloe vera extract in the formula moisturize the skin, while olive leaf extract soothes the skin and calms irritation. The soap also contains kokum butter that nourishes and moisturizes the skin. This soap for acne is recommended for all age groups.
Key Ingredients: Palm and coconut oil soap noodles, Glycerin, Aloe vera extract, Olive leaf extract, and Kokum butter
Pros
Non-drying
Nice fragrance
Suitable for all age groups
Lathers well
Cons
None
The Ipsa Labs Eraser Anti-Acne And Pimple Soap help regulate excess sebum production while protecting your skin barrier. It is formulated with Ayurvedic ingredients like khair, neem, ghandak, masoor, and lodhra that keep your skin refreshed, hydrated, and balanced. The five-action formula contains skin-protecting and purifying ingredients to tackle acne and breakouts.
This soap contains glycine, sarcosine, and cinnamomum extracts that regulate sebum production and reduce blackheads to restore balance to the skin. It also reduces inflammation and protects the skin from free radical damage. The oil-free formula inhibits the proliferation of acne-causing bacteria to make your skin look clear, less oily, and healthy.
Key Ingredients: Glycine, Sarcosine, and Cinnamomum
Pros
Oil-free
Ayurvedic ingredients
Lathers well
Cons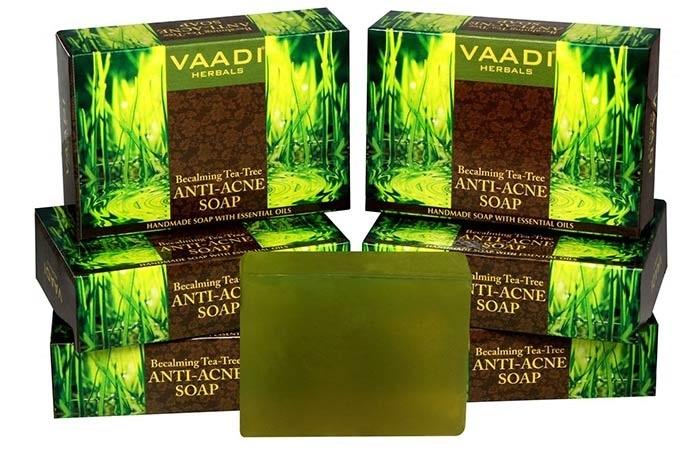 This anti-acne soap from Vaadi Herbals is fortified with a tea-tree oil – a highly effective anti-acne agent – that keeps your skin healthy and fresh by reducing acne and excess sebum. It also contains turmeric that lightens blemishes and pigmentation and citrus extracts that control excess sebum production, rejuvenate the skin, and impart a natural glow to it. The clove oil in the formula kills the acne-causing bacteria and gets rid of dead skin cells and excess oil to make the skin clear and healthy.
Key Ingredients: Tea tree oil, Turmeric, Citrus extracts, and Clove oil
Pros
Certified organic ingredients
Gentle
Non-drying
Lathers well
Cons
This mild and gentle anti-acne soap from Richfeel is formulated with potent ingredients that help detoxify and cleanse your skin. The calming calendula in the soap gently cleanses and soothes your skin and evens out the skin tone. The flavonoids in calendula get rid of impurities, preventing further damage to the skin cells. This deep cleansing formula imparts a refreshing fragrance to your skin.
Key Ingredients: Calendula
Pros
Gentle
Pleasant fragrance
Cruelty-free
Vegan
No synthetic ingredients
Cons
The Mankind AcneStar Benzoyl Peroxide Soap has an antiseptic formula that protects your skin from rashes and blemishes. It is infused with 2.5% benzoyl peroxide to neutralize the acne-causing bacteria and give you clear skin. The gentle formula prevents the occurrence of pimples and fades scars. It also contains calendula, a natural emollient, whose moisturizing benefits keep your skin soft and glowing.
Key Ingredients: Benzoyl peroxide
Pros
Pleasant scent
Works well for back acne
Paraben-free
Sulfate-free
Alcohol-free
Cons
Who said acne treatment should be harsh on your skin? The Acnelak Pimple Care Soap minimizes bacterial proliferation without being harsh on the skin. It is infused with triclosan that has antibacterial and anti-inflammatory properties that eliminate the acne-causing bacteria, leaving you with clean and spot-free skin. The tea oil and zinc oxide in the formula have antimicrobial and bacteriostatic properties, while aloe vera hydrates your skin.
Key Ingredients: Triclosan, Tea tree oil, Zinc oxide, and Aloe vera
Pros
Oil-free
Gentle
Non-drying
Suitable for daily use
Cons
Salicylic acid and sulfur are the two most popular exfoliants that unclog your pores and push out the germs and impurities from the face. The GetridAnti-Acne Cleansing Bar combines these two potent exfoliants to clean clogged pores and shrink acne. It is enriched with jojoba oil, glycerin, and aloe vera to keep your skin soft and hydrated. The multipurpose formula is effective in treating dandruff, acne, oily skin, and even athlete's foot.
Key Ingredients: Salicylic acid, Sulfur, Jojoba oil, Glycerin, and Aloe vera
Pros
Gentle
Non-irritating
Lathers well
Cons
This soap from Mirah Belle cleanses and nourishes tired and distressed skin, leaving it supple and soft. It is formulated with organic goat milk that clears the skin and stimulates cell growth, while patchouli clears the pores and moisturizes rough and chapped skin. This premium handmade soap is safe for all skin types.
Key Ingredients: Goat milk and Patchouli
Pros
Non-drying
100% natural
Vegan
Sulfate-free
Paraben-free
Silicone-free
Cruelty-free
Cons
This soap from TNW – Natural Wash is fortified with charcoal, a natural cleansing agent, to pull out all impurities and make your skin look clear and healthy. The formula controls excess oil production and eliminates blackheads and whiteheads. The presence of natural disinfectants like neem and cinnamon keeps acne and pimples at bay and gives you clear-looking skin. The soothing formula purifies your skin and is effective and safe for all skin types.
Key Ingredients: Charcoal, Neem, and Cinnamon
Pros
Natural ingredients
Subtle fragrance
Paraben-free
Sulfate-free
No added color
Silicone-free
Cons
If you are wondering how to use acne soaps, scroll down for the answer.
How To Use Acne Soaps
Clean your hands thoroughly before applying acne soap.
You can rub the soap directly on the targeted area or generate lather by rubbing it between your hands and then massaging the lather with your fingers onto your face.
Let the soap rest for around 30seconds.
Rinse your face gently with room temperature water.
Pat it dry with a clean towel.
Here are some of the factors to consider when buying any of the mentioned soaps to treat acne.
Buying Guide: Things To Consider Before Buying The Best Soap For Acne
As acne-prone skin requires gentle care, the ingredients used in the soap should be effective yet mild. Opt for soaps with natural ingredients like green tea, tea tree oil, and neem to help treat acne and balance oil levels. Also, scan the ingredients list before buying an acne-treating soap to ensure that you are not allergic to any of them.
It is essential to understand your acne type before picking a soap. For inflammatory acne, you might need a soap with benzoyl peroxide. If you have mild comedonal acne triggered by clogged pores, pick a soap with salicylic acid.
The cost of any product typically indicates the quality of the ingredients used. A good acne-clearing soap should contain effective and high-quality ingredients. Therefore, you can expect it to be slightly more expensive than regular soaps. However, there are many reputed brands on the market that produce great soaps to treat acne at affordable prices. Check the reviews before buying any soap.
Acne is the most common skin condition that may hinder your confidence levels. Treating acne with soap is not a popular practice, but with these anti-acne soaps, you can expect wonderful results. These soaps are formulated to treat acne breakouts and balance the face's oil levels. In addition, they contain antiseptic properties that fight against acne-causing bacteria and provide you with acne-free skin. These soaps are hypoallergenic, oil-free, and cruelty-free. However, some products may irritate certain skin types. Hence, choose the soaps carefully with the help of our buying guide.
Recommended Articles
The following two tabs change content below.