Do you secretly wish for soft, smooth and glowing skin? Do you envy the celebs because of their picture perfect skin? Well the answer lies in healthy and proper skin routine.
CTM (cleansing, toning and moisturizing) routine is the most efficient and effortless skin care routine which can help you to achieve the flawless and healthy skin. Along with this, facials should be done at least once in 4 weeks. It plays an important role to rejuvenate your skin and restore the natural glow.
Now you do not have to spend long hours at parlours and spend thousands for getting that perfect facial. You can easily do the facial at home by following some simple tips. This saves a lot of time and money. The best thing is that you are aware of the ingredients you use for making the facial.
Facials have been loved and used by women since ages. There are many types of facials available nowadays such as fruit facial, gold facial, diamond facial, pearl facial, chocolate and many more. You can simply make your own facial pack at home. But before indulging in any of these facials, you should be aware of your skin type and then select the facial suitable for your skin type. Following are a few tips on how to do a facial at home along with the most popular facials suitable for Indian skin.
A. Fruit Facial:
Fruit facial is suitable for all skin types especially for sensitive skin. It contains natural fruit acids and extracts, which is natural and has no side effects. The fruit facial hydrates and moisturizes the skin naturally. It removes the dead cells and gives you an instant glow naturally.
Fruits such as plums, oranges and peaches contain high amounts of vitamin C, which provide a instant glow to your face. They also contain anti oxidants which helps fight the signs of ageing.
Papaya and banana helps remove the tan.
Strawberries help get rid of the blemishes and dark spots.
Thus, the fruit facial hydrates, polishes and shines your skin giving you a youthful glow.
For doing skin facial at home, you could either buy the fruit facial kit from the market or prepare your own kit at home by using fresh fruits.
How To Do Facial At Home:
Step 1: Cleansing:
Firstly you have to clean up your face to remove the excess oil, grease and dirt. For this you can use a cream based fruit facewash such as Everyuth cream facewash which contains peach, aloe and wild cherry or Lakme fruit facewash (melon, strawberry etc).
After cleansing your face with cool water, pat dry your face using a soft towel.
Step 2: Exfoliation
A good exfoliation helps to get rid of dead cells, sebum and residual dirt on the face. Depending on your skin type, you can choose the fruit suitable for your skin. Banana and avocado scrub for dry skin, orange or lemon scrub for oily skin, peach and strawberry for sensitive skin.
In 3 teaspoon of fresh orange juice, add 2 teaspoon of oats and form a paste. Scrub gently on your face with circular motions. Wash off after 5 minutes. This is suitable for oily and combination skin.
Mix 1 teaspoon of lemon juice, honey and sugar to form a paste. Scrub gently and keep for 5 minutes. This scrub is suitable for all seasons and also reduces blemishes and dark spots.
In 2 teaspoon of mashes papaya pulp, add a teaspoon of sugar granules, oats and honey. Make a paste and scrub gently using circular motions. Keep for 5 minutes and wash off with water.
Mix ¼ cup of fresh watermelon juice with 3 teaspoon of gram flour to form a smooth paste. Scrub and keep for 3 minutes before rinsing with cool water. This scrub is ideal for all skin types as it is hydrating and rejuvenates the skin instantly.
The following two tabs change content below.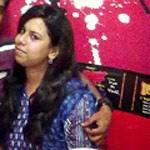 Latest posts by Ankita Biswas (see all)