15 Cute School Hairstyles for Medium-Length Hair
Turn heads with a new hairstyle every day and be the center of attention at school.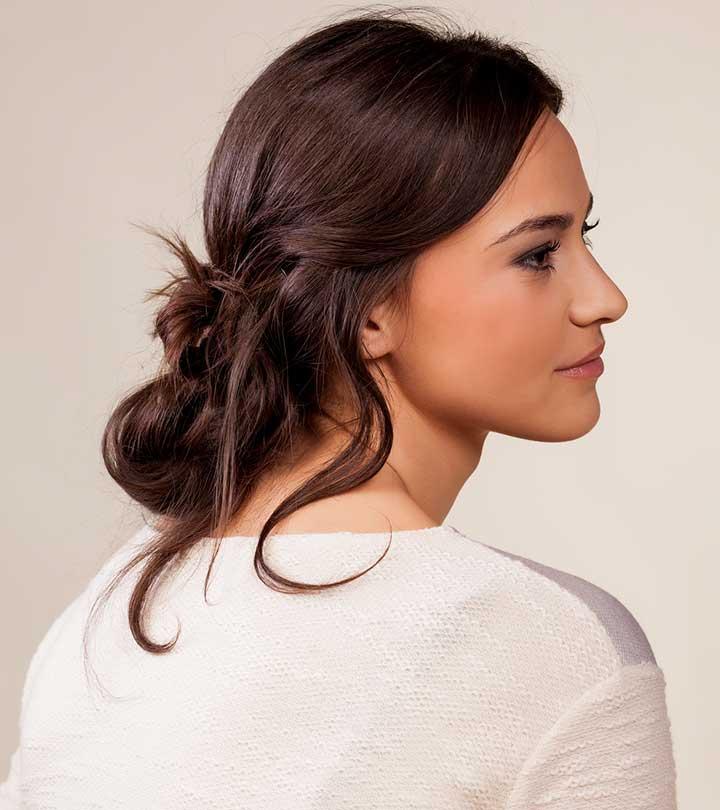 If you have medium-length hair and want to try out some back-to-school hairstyles, you are in for a treat! This article will show you some cool school hairstyles for medium-length hair that you will want to sport right away.
The best thing about these hairstyles is that they are easy to maintain and open many styling options. So, what are you waiting for? Scroll down and check them all out now!

Before You Get Started
Go for a braided ponytail that not just looks chic but is hassle-free too when it comes to enjoying your sports activities.
Individuals with wavy or straight hair can opt for a sleek and elegant high ponytail.
You can add accessories like patterned ribbons, headbands, or flowers to add an element of fun and color to your hairstyle.
1. Simple Loose Braid
This hairstyle not only keeps your hair in place for activities but also makes you appear pretty while you are sitting in the study hall.
2. Ballerina Bun
Even on the busiest school morning, anyone can manage to pull off this hairstyle with ease with some elastic ties and bobby pins.
3. Side Swept Ponytail
Even on the busiest school morning, anyone can manage to pull off this haircut with ease.
4. Top Knot
Top knot is one of the simplest hairstyles you can recreate in a matter of minutes before going to school. It is an ideal updo hairstyle for late or lazy mornings.
5. Waterfall Braid
This elegant waterfall braid is simple to do and gives those locks a whimsical, charming look.
6. A Braided Cute Hairstyle
If you are clever with braids, then this can be just the style for you. Fix some hairpins, and you are ready to go. This one rules the charts when it comes to cute hairstyles for medium hair length.
7. Cute Ponytail And Braids
To achieve this look, you need to be a genius with braids or take help from your friend. Front bangs will give that much envied "wow" feel to it.
8. Loose-Lying Side Braid
A little difficult look to achieve, but looks gorgeous with loose-lying hair. Side braids make you look like a cute diva from your school days, with just a little bit of hair gel to make the process easy.
9. Messy Curly Bun
Buns can look very cool. a crunchy curly messy bun is a favorite of the 'Back to school' hairstyle category, with just a little spritz of hair spray to set it in place.

Quick Tip
Spray dry shampoo on your scalp before creating the messy curly bun to make your mane look voluminous.
10. Flaunty Colors:
Add some colors to your boring hairstyle.
11. That Old Cute Look
Some things can never go out of fashion. The same can be said about this easy to do and easy to sport look. This is definitely one of the oldest and most popular school hairstyles.
12. Loose Side Braid With Curly Bangs
This is an easy-to-achieve hairstyle, but needs a little curling at the bangs to give it a finishing touch. This is another cool hairstyle for girls with medium hair for school.
Curly hair expert and owner of Royal Locks Curl Care, Casey Simmons says, "Finger coiling side pieces make a big impact, with little effort. Gently separate thin pieces around your face, apply a small amount of curl cream or gel in your hands (ensuring plenty is on your fingers), twist or wrap the pieces of hair around your finger, scrunch upwards, and let them fall."
13. The Curly Girly Prom Look
This can be a hot, high school prom look for any girl, and at any age.

Trivia
You can also draw inspiration from celebrity prom looks to create a curly girly prom hairstyle. For instance, Dinah Jane's blonde curls and Ariel Winter's middle-parted beach waves are something to die for.
14. The Simple Side Crown Braid
This is a very easy hairstyle to sport for medium hair with medium to long bangs. You don't have to be an expert to make braids for this one. Just the basics and you are sorted.
15. The Cute Low Twin Ponies
Add a bit of a mess to this look. An easy and sweet-looking messy style from your high school that is rocking the current party scene.
Check out this cool video tutorial to know more about hairstyles for school girls.
Infographic: Top 5 Cute School Hairstyles for Medium-Length Hair
Little girls adore cute pigtails and ponytails. Do not let the morning rush hour stop you from styling your daughter's hair. We have listed some of the simplest, cutest, and most adorable hairstyles in the infographic below. Take a look!

You might not be able to experiment with your uniform, but you can totally play around with medium-length hairstyles in school. Changing up your hairstyle every day gives people a little insight into your character and personality. It also gives you something to look forward to every school day. From a cute semi-braided look to an intricate side fishtail braid, these hairstyles give you the inspiration to experiment. Once you have perfected the school hairstyles for medium-length hair listed above, you can try your own hand at creating new hairstyles. Hair grooming is an essential part of the routine, along with using hair oil and hair serum to provide proper nutrition to your hair and maintain its beauty while you style it. Let that creative streak show!
Frequently Asked Questions
How do you make a bun for school?
For a school hairstyle, a low bun is always a better option than a high one. It is less time-consuming and lasts longer. Comb your hair all the way back. If you have bangs, dry and style them before the rest of the hair. Make a low ponytail at the nape of your neck. Divide the ponytail into two sections at the base, and twist them around each other. Wrap the twisted hair around the base and secure it with hair ties. Use clips to keep the bun and flyaways in place.
Which haircut is best for school girls?
Medium-length hair with bangs or layers and long bobs are some of the haircuts school girls can experiment with. Consult a professional to understand the best haircut for you.