Best Anti-Snoring Devices – 2020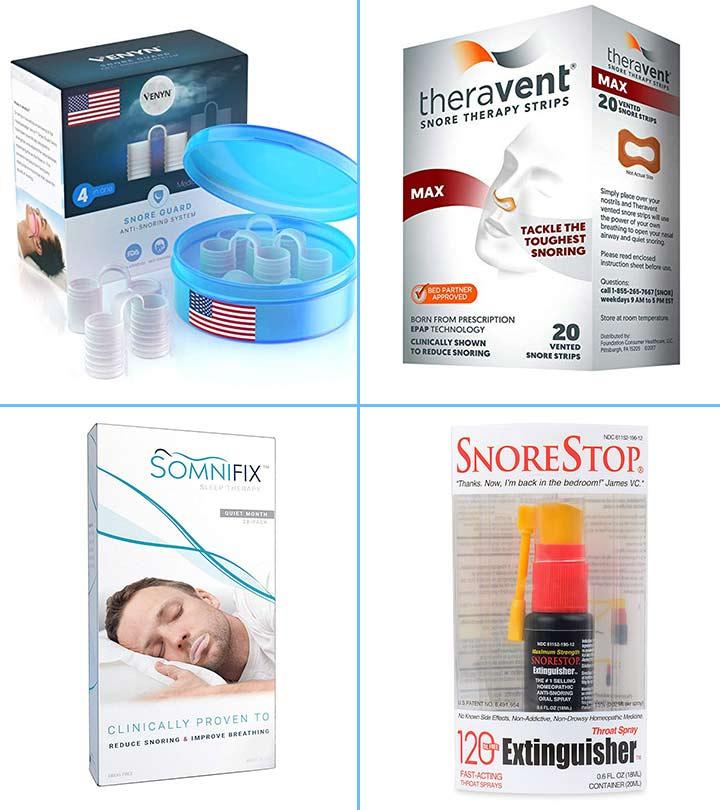 Snoring is a common condition that nearly affects 90 million American adults, as per a study conducted by the National Sleep Foundation (1). Snoring can affect anyone, but specific physical attributes make it more likely. Snoring can be indicative of an underlying health condition like sleep apnea or potential heart problems. Make sure you fix it before it starts hampering your sleep quality or daytime functionality.
The market is abounding with a variety of anti-snoring devices, and selecting the right one is not an easy task. But don't worry, we have got you covered. This article will help you explore the 10 best anti-snoring mouth appliance available on the market and provides a comprehensive buying guide to help you select the right device depending on your needs.
What Causes Snoring?
Almost everyone snores occasionally, and it is not something to worry about. This is a common condition that mostly affects men and people who are overweight. This condition gets aggravated with age. Occasional snoring is not worrisome, although it might disrupt the sleep of your partner. But if you are a habitual snorer, you not only disrupt the sleep patterns of those close to you but also impair your sleep quality in the long run. Snoring may also lead to serious health issues like Obstructive Sleep Apnea (2).
Snoring occurs when the airflow through the mouth and nose is physically obstructed.  The loud and harsh sound comes when the air passes through the relaxed tissues in your throat, causing the muscles to vibrate as you breathe.  Snoring can inhibit your daily activity as well, leaving you weary and unable to fully function. This is where anti-snoring devices can help. In the next section, we have listed the top 10 anti-snoring devices to help you.
10 Best Anti-Snoring Devices
Venyn anti-snoring nose vents are made of medical-grade silicone. They not only provide superior comfort but are also tested for biocompatibility and are appropriate to be used for medical applications.
The advanced ergonomic design prevents the device from slipping out during the night. These nose vents are enclosed in a travel-friendly case, and each package includes four pairs of anti-snoring nasal vents, each of a different size, providing you options for the best fit. These nasal vents are reusable and come in an antibacterial case, making the product capable of withstanding wear and tear.
Pros
Size variants available
Biocompatibility tested
Long-lasting
Reusable
No side effects
Safe and effective
Cons 
Sleep strips are a perfect solution for people who snore with their mouths. These strips are comfortable and easy to wear. They are made of a specially engineered adhesive that allows you to easily apply and remove the strips without leaving any residue behind. The sleep strips are hypoallergenic and 100% safe to use. The materials have been extensively tested to ensure that you will not experience any skin irritation.
This is an eco-friendly product as the contents of the package as well as the packaging are recyclable. Somnifix sleep strips gently hold the mouth closed to direct the airflow through the nose to aid in reducing snoring, improving sleep, and improving compliance with CPAP and oral devices.
Pros
Hypoallergenic
Eco-friendly
Comfortable and easy to wear
Cons
This chin strap is a practical solution that allows more oxygen into the lungs and helps reduce snoring while letting users keep their natural sleeping position. It prevents the airflow from leaking from your mouth by holding your chin in a stable position and thus encourages breathing through your nose. This is the best snoring mouth guard.
This premium quality chin strap is made of best neoprene non-itchy material and is thoroughly sanitized and ready to use. This chin strap is comfortable to wear and comes in a universal size. The tensile strength can be easily managed by either tightening or loosening the strap. This strap works great with the CPAP mask.
Pros 
Made of high-quality neoprene material
Adjustable
One size fits all
Works well with CPAP mask
Cons
Theravent Nasal strips are clinically shown to help people stop snoring. These are small adhesive strips that cover the nostrils. When you breathe in, the patented microvalve technology opens, allowing the user to breathe normally. As you breathe out, the microvalves close, creating a gentle pressure that keeps the airways open and relieves snoring.
This product uses your breathing in conjunction with the microvalve technology to target the real source of snoring. Theravent is the first and only FDA-cleared device to use EPAP technology ( Expiratory Positive Airway Pressure). This product is comfortable and easy to use and ideal for travel.
Pros
Clinically shown to reduce snoring
EPAP technology
Comfortable and easy to use
Ideal for travel
Cons
SnoreStop Extinguisher Snoring Spray uses homeopathic medicine, which is safe and follows the FDA guidelines of the HPUS ( Homeopathic Pharmacopeia of the United States). All the ingredients of this spray are approved by the FDA and are manufactured in an FDA-approved facility in the USA. This spray uses a clinically tested formula that is prescribed by doctors and is 100% natural with no side effects.
This snoring spray contains natural ingredients from plants, minerals, and protein sources. Each ingredient has been so highly diluted that only a harmless microscopic amount is left in each table. Doctors develop this patented and medically proven formula, and a published medical study shows up to 79.5% positive result with no drug interaction. This product is non-addictive as it is made of natural ingredients and does not contain chemicals and stimulants of any kind.
Pros 
Ingredients approved by FDA
100% natural
No side effects
Do not contain any chemicals or stimulants
Cons
It doesn't work for everybody.
The Rhinomed nasal dilator is a soft, pliable polymer stent that dilates your nose. This device increases the volume of air traveling through your nose during sleep. Mute is a new technology developed by a group of specialists to alleviate the severity and incidence of snoring and improve your quality of sleep. This device fits snugly into your nose while gently and comfortably dilating your nostrils as you sleep to help stop snoring.
This device features retention fins to ensure that the device stays comfortably in place throughout the night. This nasal dilator is latex-free and 100% recyclable. Mute is the only nasal stent to use the patented dilation technology to further personalize the fit by adjusting the pedals from side to side. This product is made from flexible biocompatible polymers that conform to the strictest medical-grade standards, offering supreme wearability and comfort. Mute is a registered medical device with the US FDA.
Pros
Latex-free
100% recyclable
Made from biocompatible polymers
A registered device with the US FDA 
Cons
This anti-snoring transparent silicone device gently keeps the tongue out of the airways with no jaw pain or other side effects. This device does not need to move the jaw and hence is an ideal pick for everyone, even those with dentures, partials, or new implants.
This tongue tube is made of silicone and is safe to use. You need to place the tube in front of the teeth behind your lips. It is comfortable to wear and does not cause gagging. This product is easy to use and comes in one size that fits all.
Pros
Safe to use
It doesn't cause jaw pain or any other side effects.
Works well with dentures, partials and new implants
Easy to use
One size fits all
Cons
Uncomfortable for new users. 
The ZQuiet 2-size starter kit includes two different sized mouthpieces and a storage case accessory. This anti-snoring mouthpiece provides adjustment options. Its living hinge design holds the mouthpiece in place, hence it is the best snoring mouthpiece available in the market.
Unlike other mouthpieces, the ZQuiet mouthpiece does not require boiling, molding, and fitting. The unrestrictive open front design allows for free movement of the jaw and easy breathing.
Pros
Provides adjustment options
No need for boiling, molding, and fitting
Unrestrictive open front design
FDA approved
BPA-free
Latex-free
Cons
InteVision bed wedge pillow is made of a 2-inch memory foam layer on top with a highly resilient base foam. This enables the wedge pillow to have the desired cushion and provides gentle support to elevate the upper body or legs or to use as a trunk-stabilizer for side-lying position.
This pillow comes with a white machine washable cover. The built-in channels enhance air circulation, and the base is made of highly resilient polyurethane foam.
Pros
Washable lining
Premium grade polyurethane foam
Built-in airflow channels
Cons 
This no snore solution is a 100% natural and 100% non-invasive solution. This product helps to not only reduce or eliminate snoring but also combat insomnia, congestion, and allergies.
The formulation is derived from an ancient German remedy and is made from a unique blend of pure essential oils. This solution is safe for children. However, this product is not recommended for pregnant ladies. All you need to do is open the jar and keep it at your bedside, and enjoy a good night's rest. When you wake up, close the jar and use it whenever you need it. A single jar of this product lasts up to 6 months or more.
Pros
100% natural
Non-invasive solution
Safe for children
A single jar lasts up to 6 months or more 
Cons
Habitual snoring not only disrupts the sleep of your loved ones but also impairs your sleep quality over time. It is recommended to seek medical assistance for habitual snorers to ensure good quality sleep for them and their loved ones. If you are looking for an effective anti-snoring solution to put a stop to your snoring misery, do consider the above list of the 10 best anti-snoring products available on the market. We have prepared this exhaustive list after thorough research and analysis of all the products available. Each of the devices listed above is slightly different from the other with its own set of pros and cons. Make sure you choose one, keeping in mind your needs and depending upon the severity of your snoring.
Here's a list of the five most common causes of snoring:
Overweight: Overweight and obese individuals are more likely to develop snoring issues. Obesity and extra pounds lead to poor muscle tone and increase the tissue around the neck and throat, which are the two main factors of nighttime noise. Weight reduction should be achieved in every overweight individual who snores (3). Also, children with large tonsils and adenoids often snore.
Alcohol: The depressant and sedative effects of alcohol relax your jaw and throat muscles. These muscles relax and collapse onto your airways, restricting airflow and causing snoring. This blockage of the airways can also lead to sleep apnea. Nocturnal alcohol intake affects individuals with a reported history of snoring more as compared to non-snorers (5)
Allergies, Congestion, Or Nasal Structure: Nasal congestion or a deviated nasal septum may also lead to snoring. The deviated nasal septum is one of the most common causes of nasal obstruction, which, in turn, can lead to mouth breathing, snoring, and external nasal deformity. Studies have been going on to study the effect of septoplasty on snoring (6).
Obstructive Sleep Apnea: Snoring can be one of the clinical manifestations of sleep apnea. Obstructive Sleep Apnea is a sleeping disorder in which an individual's breathing repeatedly stops and starts (7).
Diabetes Mellitus: Habitual snoring can also be indicative of diabetes mellitus. Many studies have assessed the association between habitual snoring and diabetes mellitus (8).
Symptoms 
Snoring is often associated with sleep apnea, a sleep disorder in which breathing repeatedly stops and starts. This doesn't mean that all snorers have OSA, but if any of the following symptoms accompany your snoring, it's a good time for you to consult a doctor and get checked for Obstructive Sleep Apnea.
If you are experiencing any of the above symptoms, don't delay your appointment with the doctor. Get yourself a check for obstructive sleep apnea. Here's what your snoring can tell pattern can tell you.
Your Snoring Pattern Says A Lot About Why You Snore 
Type Of Snoring 
What Is It?
Remedies
Mouth-based Snoring
Mouth-based snoring happens when you don't get enough air through your nose overnight or if the palatal tissue is weak.

Nasal dilator
Mouthguards
Mouthstrips

Tongue-based Snoring
This happens when you sleep in a supine position. The tongue muscles relax and fall backward and constrict or block the airway there.

Mandibular advancement  devices
Anti-snoring backpacks, pillows, or belts.

Nose-based Snoring 
This happens when nostrils are blocked or congested or because of a deviated nasal septum.
There are plenty of ways and devices available on the market to help ease snoring and thereby promote better sleep for you and your partner. Let's find out how effective these devices are.
Anti-Snoring Devices: Do They Help?
Chinstraps: Chinstraps are one of the easiest and cheapest ways to deal with your snoring woes. This strap encircles the head and sits right below your chin to prevent snoring. This is a simple yet effective device to control snoring as it keeps your mouth closed, and hence no noise can escape.
Pros
Economical
Easy to use
Comfortable
Cons
Slips, especially if you move around a lot in your sleep.
Might feel uneasy during the period of initial use.
Anti-Snoring Mouthpiece: An anti-snoring mouthpiece is an oral device that helps to control the position of the mouth while sleeping. Orthodontists or dental technicians design this device. This device is also known as a Mandibular Advancement Device (MAD). It keeps the tongue from sliding to the back of the mouth and the jaw from fully relaxing at night. This device stops snoring by ensuring that your soft palate and tongue do not block your airways.
Pros 
Easy to use
Simpler than a CPAP machine
Strengthen your tongue and surrounding mouth muscles
Travel-friendly
No need to worry about sleep position 
Cons
For new users, it may cause jaw muscle ache.
For new users, the adjustment period can be discomforting.
Sore teeth
If not cleaned thoroughly after use may cause tooth decay over time.
Nasal Dilators: Nasal dilators help dilate the nostrils to help get more airflow through your nose to promote nose breathing. This device is ideal for people who snore or have nasal congestion. If your nose is constricted, the airflow will be inhibited, and your body will compensate through mouth breathing. This results in snoring because when you breathe through your mouth, your tongue falls back and blocks the airways. When the air passes through the narrowed space, it causes vibrations, which are known as snoring.
There are two types of nasal dilators : 
(i) External Nasal Strips: These strips are applied on the outside of your nose with the help of adhesive, like a band-aid, and they stretch open your nasal passage. These strips are not a good choice when having a stuffy or runny nose caused by a cold or allergies.
Pros 
Cons 
Not reusable
May cause skin irritation
Can unstick during the night
(ii) Internal Nasal Dilators: Internal nasal dilators, also known as nasal vents, are inserted inside your nostrils to keep them dilated while you are asleep. These nasal vents come in different shapes, sizes, and materials. Generally, these dilators are made of medical-grade silicone and come in different sizes. However, there is no evidence to prove that nasal vents help dilate your nostrils with congestion with cold and allergies.
Pros 
Reusable
Easy to use
Economical
Cons
Invasive
Trial and error phase as you need to try different brands to get the right fit for
Takes some time to get used to it
Anti-Snoring Spray: Most people snore because of vibrating tissues. The anti-snoring spray is applied to the tissues so that they vibrate less. The spray counters the loud noise of snoring by making it less likely for the tissues to vibrate. Anti-snoring sprays are of three types – lubricating, anti-inflammatory, and tightening sprays.
Pros
No device to wear
Not painful
Many natural options are available on the market 
Cons
Not effective for heavy snorers
May cause allergic reactions
Not 100% effective
Anti-Snoring Pillows: Anti-snoring pillows are designed to eliminate or reduce snoring during sleep. These pillows are an excellent alternative to invasive anti-snoring devices. Snoring is caused due to improper sleeping posture (though there are other factors as well that cause snoring). The anti-snoring pillows help you provide a proper sleeping posture and thereby eliminate or reduce snoring. 
Pros
Effective in providing a proper sleeping posture
Non-invasive 
Cons
May cause neck pain or back pain in some people.
Treatment
To diagnose your condition, the doctor will review your symptoms and take your history. They may also perform a physical examination to determine if you require an appointment with a sleep specialist. Your diagnosis may include a sleep test to decide whether or not you have sleep apnea and how it affects your sleep quality.
Depending on the results of your diagnosis, your doctor will give you a series of options to treat snoring. These will generally include:
A. Lifestyle Changes: Your doctor may ask you to make certain lifestyle modifications to counter snoring. The modifications may include:
Losing weight
Avoiding alcohol close to bedtime
Sleep position training
Treatment of allergies and congestion
B. Upper Airway Surgery: There are many procedures with the help of which the upper airways can open that help to prevent the narrowing of the passage during sleep. The doctor can suggest any of the following procedures: 
Uvulopalatopharyngoplasty (UPPP): In this procedure, the surgeon tightens and trims the excess tissues around your throat.
Maxillomandibular Advancement (MMA): This surgery involves moving the upper and lower jaw forward, which helps to open the airways.
Hypoglossal Nerve Stimulation: This is a relatively new technology that employs a stimulus applied to the nerve that controls the forward movement of the tongue so that the tongue doesn't block the air passages when you breathe.
Oral Or Nasal Devices: Your doctor may also recommend you to use an oral appliance like a form-fitting dental mouthpiece. These mouthpieces help to advance the position of your jaw, tongue, and soft palate to ensure that your air passages are not blocked. They may also suggest you use nasal devices like nasal dilators that help dilate your nostrils to help get more airflow through your nose. 
Continuous Positive Airway Pressure: Your doctor may recommend that you use a CPAP mask over your mouth and nose while you sleep to deliver constant and steady air pressure.
The market is flooded with anti-snoring devices, but how do you know which one is suited for you? What things do you need to look for when buying an anti-snoring device? Here's a list of few factors that you need to consider when buying an anti-snoring device.
Factors To Consider When Choosing An Anti-Snoring Device
Severity: Before buying an anti-snoring device, make sure you consult your doctor and understand the extent of your problem. Snoring can sometimes be indicative of some severe underlying health issues. Some of the products that are available on the market do not consider serious cases of snoring.
Comfort: After assessing the severity of your problem and deciding what type of device to choose, the next thing you need to consider is a comfort. The variable is an important one since the device you choose will define your quality of sleep. For example, if you are choosing an anti-snoring mouthpiece, get it custom-made to avoid discomfort to your gums and teeth.
Cost Of The Device: As consumers, we are often tempted to buy products that are priced low. But since here you are investing in one for sound sleep, make sure to buy something that is pocket-friendly and reliable. Quality never comes cheap, so choose a product that will deliver what you expect from your anti-snoring device. This doesn't mean that you need to buy the most expensive devices on the market. The market has got a good variety of products that are affordable and reliable.
Approved By A Drug Administration Body: Ensure that the government drug administration body has approved the anti-snoring device you choose to buy. This factor is crucial to ensure your safety and efficacy of the device. All the product companies are mandated to conduct rigorous tests to ensure that the products are up to the standard before they are brought to the market for sale. 
Reputation Of The Company: Always choose to buy products of a reputable company. Do extensive research and make a list of the companies that are well-recognized for their products and their commitment to adherence to the guidelines of the drug administration body?
Which of the anti-snoring device on this list did you find most suitable for you? Try out and let us know your thoughts and experiences in the comments section below. 
Expert's Answers for Readers Questions
What is the best treatment for snoring?
There is, as such, not one best treatment for snoring. To know what device will work best for you, you need to consult your sleep specialist. They will suggest the remedy best suited for your snoring issue.
What are the side-effects of oral anti-snoring devices?
If you are going for oral anti-snoring devices, the possible side effects may be excessive salivation, dry mouth, jaw pain, facial discomfort, etc.
Do anti-snoring devices work for people with sleep apnea?
Anti-snoring mouthpieces are inexpensive and hassle-free alternatives for CPAP and Bi-PAP machines.
Recommended Articles
19 sources
Stylecraze has strict sourcing guidelines and relies on peer-reviewed studies, academic research institutions, and medical associations. We avoid using tertiary references. You can learn more about how we ensure our content is accurate and current by reading our
editorial policy
.
Snoring and Sleep, National Sleep Foundation.
https://www.sleepfoundation.org/articles/snoring-and-sleep
Snoring: An Annoyance or a Serious Health Problem (Obstructive Sleep Apnea)? Indian Journal of Community Medicine, US National Library of Medicine, National Institutes of Health. https://www.ncbi.nlm.nih.gov/pmc/articles/PMC4389504/
Diagnosis and treatment of snoring in adults-S2k Guideline of the German Society of Otorhinolaryngology, Head and Neck Surgery. Sleep & Breathing, US National Library of Medicine, National Institutes of Health.
https://www.ncbi.nlm.nih.gov/pubmed/24729153
Sleep and aging: 1. Sleep disorders commonly found in older people. CMAJ, US National Library of Medicine, National Institutes of Health.
https://www.ncbi.nlm.nih.gov/pmc/articles/PMC1852874/
Diagnosis and treatment of snoring in adults-S2k Guideline of the German Society of Otorhinolaryngology, Head and Neck Surgery. Sleep & Breathing, US National Library of Medicine, National Institutes of Health.
https://www.ncbi.nlm.nih.gov/pubmed/24729153
Sleep and aging: 1. Sleep disorders commonly found in older people. CMAJ, US National Library of Medicine, National Institutes of Health.
The influence of nocturnal alcohol ingestion on snoring. European Archives of oto- rhino-laryngology, US National Library of Medicine, National Institutes of Health.
https://www.ncbi.nlm.nih.gov/pubmed/19949955
Can snoring relief after nasal septal surgery be predicted? Clinical Otolaryngology and Allied Sciences,  US National Library of Medicine, National Institutes of Health.
https://www.ncbi.nlm.nih.gov/pubmed/8026093
Clinical manifestations of sleep apnea. Journal of Thoracic Diseases, US National Library of Medicine, National Institutes of Health.
https://www.ncbi.nlm.nih.gov/pmc/articles/PMC4598518/
Association between Self-Reported Habitual Snoring and Diabetes Mellitus: A Systemic Review and Meta-Analysis. Journal of Diabetes Research, US National Library of Medicine, National Institutes of Health.
https://www.ncbi.nlm.nih.gov/pmc/articles/PMC4745979/
Snoring and excessive daytime somnolence among Polish middle-aged adults. European Respiratory Journal, US National Library of Medicine, National Institutes of Health.
https://www.ncbi.nlm.nih.gov/pubmed/10573247
Headache, snoring, and sleep apnoea, Journal of Neurology, US National Library of Medicine, National Institutes of Health.
https://www.ncbi.nlm.nih.gov/pubmed/8892061
Among middle-aged adults, snoring predicted hypertension independently of sleep apnoea, Journal of International Medical Research, US National Library of Medicine, National Institutes of Health.
https://www.ncbi.nlm.nih.gov/pmc/articles/PMC5972254/
Obstructive sleep apnea and hypertension: mechanisms, evaluation, and management. Current Hypertension Reports, US National Library of Medicine, National Institutes of Health.
https://www.ncbi.nlm.nih.gov/pubmed/18367017
Cognitive symptoms in persons with snoring and sleep apnea. An epidemiologic study of 1.504 women and men aged 30-60 years. The Dan-MONICA II study. The US National Library of Medicine, National Institutes of Health.
https://www.ncbi.nlm.nih.gov/pubmed/7491717
Obstructive Sleep Apnea Diagnosis and Management. Missouri Medicine, US National Library of Medicine, National Institutes of Health.
https://www.ncbi.nlm.nih.gov/pmc/articles/PMC6140019/
Obstructive Sleep Apnea. NCBI.
https://www.ncbi.nlm.nih.gov/books/NBK459252/
The following two tabs change content below.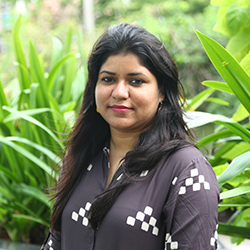 Latest posts by Neha Raghuvanshi (see all)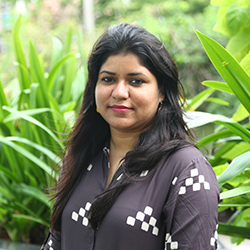 Neha Raghuvanshi
Neha has 5 years of experience in teaching. She has written research papers that have been published in national and international journals. Over the years, she has assumed many roles in the education sector. As her passion lay in writing, she decided to switch careers and start writing for digital media. In her free time, Neha loves to dance, attend talk shows or seminars, and paint. She is a bibliophile, feminist, environmentalist, and animal liberation activist.