13 Best Compression Socks For Swelling To Provide Lasting Relief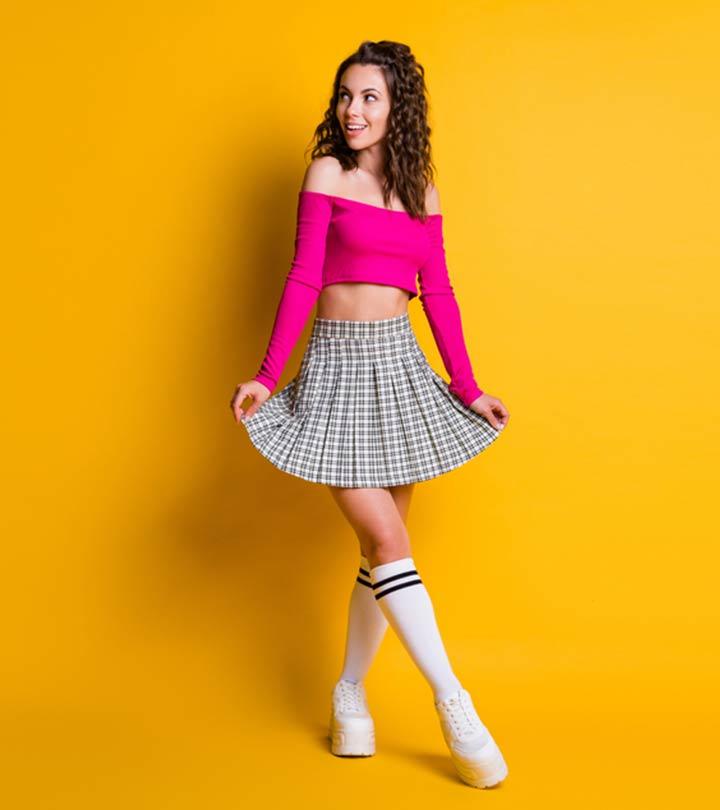 If you are dealing with swelling, fatigue due to heavy workouts, prolonged sitting, or even muscle cramps, then you need to get yourself the best compression socks for swelling. These pain-relieving socks offer magical remedies, becoming the most favorite thing among users. It is time to ditch your pain-relief sprays or burning balms, as these socks are the most recommended by doctors and physiotherapists. Great for gym enthusiasts, athletes, diabetic patients, pregnant women, these socks provide lasting relief.
Compression socks are available in two types – uniform and graduated. While uniform compression socks provide consistent pressure throughout the length of the socks, graduated compression socks provide gradient pressure, more pressure on the ankle, and less on the calf to give an anti-gravity circulation boost. If you have never used these, try one of our 13 best compression socks and trust us, your feet will be thanking you
How Do Compression Socks Aid In Reducing Swelling?
Graduated compression socks push blood flow against gravity to improve circulation and prevent blood clots or inflammation, which can further cause swelling. They also aid in transporting more oxygen-rich blood to the muscles to reduce muscle fatigue, soreness, or accumulation of fluids, which is common after working out, running, or staying in one position for too long.
So, if you are dealing with any of the symptoms mentioned above, it's time to consult your doctor or get yourself the best compression therapy for relief. Check out our list of the 13 best compression socks for swelling below.
Top 13 Best Compression Socks For Swelling That Are A Must-Try For Relief
For active legs, the Physix compression socks is the only pair you will ever need. Made of nylon and spandex, these durable socks provide comfort without compromising on quality. Ideal for nurses, athletes, travelers, sports enthusiasts, and more, the exceptional design ensures no discomfort in the toe, calves, heels, and foot areas. With 20-30 mmHg graduated compression, it improves blood circulation, alleviates foot aches, shin splints, fatigue, plantar fasciitis, and quickens leg stamina and recovery efficiently. While giving your leg ideal support, it adds a touch of style with high-quality Lycra.
Pros:
No-slip cuffs
Comfortable
Moisture-wicking
Shock-absorbing
Easy to wear and take off
Suitable for marathons and long races
Cons:
May constantly slip down for those with thin legs.
Are you bored of monochromes? Here's one of the best compression socks for women looking for colorful and trendy options. Ideal for dancers, athletes, receptionists, maternity, and more, these fancy-looking socks are lightweight and breathable. Contouring the calves and feet areas effortlessly, the 15-20 mmHg compression will improve blood circulation, oxygen flow, prevent lactic acid accumulation, and reduce soreness like a pro. Made of nylon, they sustain the optimal temperature and have light padding to protect your legs from injuries too.
Pros:
Breathable
Flexible
Anti-odor
Anti-static
No-slip cuff
Moisture-wicking
Cons:
Only available in 2 sizes
Infused with copper, these compression socks for swelling feet provide support, relieve pain, and power up your muscle for quick recovery. For those unaware, copper is a great conductor of electricity, and these socks use copper with nylon and polyester to improve blood circulation. The 15-20 mmHg moderate compression also stimulates blood flow to awaken every cell in your muscles to reduce stress, soreness, and fluid retention. Besides this, the graduated pressure guarantees relief from arthritis, fatigue, cramping, discomfort, and aches too. The construction comes with an arch support and a reinforced heel and toe to prevent blisters and reduce plantar fasciitis.
Pros:
Pack of 3
Anti-odor
High-quality
Breathable
No-slip cuff
Moisture-wicking
Maintains optimal temperature
Cons:
It may be slightly uncomfortable for those with large calves.
Brace your ankles before it's too late with these premium-quality compression socks made of spandex and nylon. With 15-20 mmHg gradient compression and 3D circular progressive pressure design, the brand ensures 360° protection while walking, jogging, running, or other foot activities. And the best thing about these compression socks for ankle swelling is that they have targeted compression zones to provide optimal support and protection. From improving blood circulation to stimulating oxygen flow, these ergonomic-designed socks aid in muscle recovery by reducing fatigue, soreness, swelling, cramping, and more.
Pros:
Flexible
Lightweight
Achilles protection
Seamless toe closure
Recommended by doctors
Cons:
May not be moisture-wicking
Not a fan of bulky socks or dealing with edema, heel spurs, or plantar fasciitis? Here's an ultra-breathable and lightweight option that'll keep your feet comfortable and protected even during the most intense workouts. These compression socks for edema are made of thin and stretchable nylon-spandex material for comfortable wear. With 20-30 mmHg pressure compression, its ultra-snug fit enhances blood circulation and reduces inflammation. And if you are into extreme sports, these socks will prevent muscle injuries by preventing sprains and twists.
Pros:
No-slip cuffs
Breathable
Arch support
Ergonomic fit
Strong protection
Moisture-wicking
Aids in muscle recovery
Cons:
May not be practical as everyday-wear socks
With no compromise on mobility, these 15-20 mmHg compression socks are high on comfort, protection, and flexibility. A must-try for those into heavy-duty training, extreme sports, recovering from a leg injury, or having to stay on foot for long hours, these socks ensure 360° support with graduated compression. The construction has a reinforced heel and toe to prevent blisters and shock and arch support for stimulating blood circulation and reducing plantar fasciitis. Made of high-quality and soft nylon material for maximum comfort, get ready to fuel your leg stamina with BIQU compression socks.
Pros:
Breathable
No cramping
No-slip cuffs
Moisture-wicking
Quick muscle recovery
Prevents muscle injuries
Cons:
May be slightly time-consuming to wear and take off
Zipper compression socks are great if you are looking for a snug fit and an adjustable pair. With durable construction and zipper design, these graduated therapeutic compression socks are ideal for medical purposes too. If you are dealing with varicose veins, edema, swelling, superficial thrombophlebitis, lymphedema, etc., these socks will deliver 15-20 mmHg therapeutic pressure to reduce fatigue, aches, and swelling like a pro. And that's not all; the secure fit prevents unzipping and stimulates blood circulation if you are standing or sitting for long hours.
Pros:
Moisture-wicking
Quick muscle recovery
Easy to wear and take off
Prevents muscle injuries
Relief from moderate to severe aches
Cons:
The zipper may cause discomfort for those with highly-sensitive skin.
Are you into extreme sports or adventures? If yes, these 20-30 mmHg compression socks will power up your legs! A fantastic choice if you are dealing with varicose veins, edema, shin splints, diabetes, spider veins etc., these socks aid in recovery and healing with their therapeutic graduated pressure. The sock construction has a no-slip cuff, and the soft and breathable cotton provides optimal comfort and protection. It is so light that you don't have to worry about cuff marks on your skin. Suitable to wear all day and night, the brand also ensures no compromise on quality even after several washes! Moreover, the pair delivers a therapeutic experience during pregnancy too.
Pros:
High-quality
Heals blisters
Stimulates energy
Reduces fatigue
Alleviates swelling
Improves blood circulation
Cons:
Only available in 2 sizes
Made of premium cotton and stretchable to fit all leg types, Wanderlust Travel Compression Socks guarantees instant pain relief. With graduated compression zones on foot, ankle, calves, and under the knee areas, the snug fit tackles pain with different pressure levels (20-30, 15-20, 10-15 mmHg). A must-try for travelers, diabetics, or if you are dealing with swelling, sciatica, or neuropathy, these ankle compression socks for swelling have a unique circular and anti-embolic design. Moreover, it has light underfoot padding for shock absorption, Achilles' heel and arch support to reduce plantar fasciitis, and a seamless toe box to prevent corns or blisters.
Pros:
Breathable
Therapeutic
No-slip cuffs
Maximum comfort
Easy slip-on and take off
Improves blood circulation
Cons:
May be too long for shorter women
These 15-20 mmHg ankle compression socks look stylish and can alleviate moderate to severe pain, aches, and swelling effectively. With targeted compression zones to provide superior support and relief, these socks aid in improving blood circulation and relieving muscle strains. Are you dealing with plantar fasciitis, feet ache, or heel spurs? If yes, you must try these socks as they help reduce fatigue, swelling, and lactic acid accumulation with every use. Besides this, they have a unique weaving texture for shock absorption too.
Pros:
Anti-odor
Anti-bacterial
Moisture-wicking
Non-binding cuff
360° stretch
No-blister cushion support
Cons:
Some may find the midfoot area slightly tight
Prolonged standing hours giving your feet a hard time? If yes, try these toeless ankle sleeves ASAP for instant relief. Suitable for medical conditions such as varicose veins, edema, heel spurs, and more, these ankle compression socks will make you a fan of its pain-relieving benefits from thievery first use. Made of premium-quality nylon and spandex material, these medical socks for swollen feet provide 20-30 mmHg graduated compression to improve blood circulation and oxygen flow during prolonged sitting and standing hours. It prevents blood clots, fluid accumulation, plantar fasciitis, sprains, and swelling too. And the best part is, you can wear it inside your daily socks for quick relief.
Pros:
Lightweight
Moisture-wicking
Machine-washable
Arch and heel support
7 target compression zones
Cons:
No products found.
With 20-30 mmHg compression zones at the arch, ankle, and calf, these graduated compression socks will make you forget leg and foot pain feels like forever. A must-try if you are suffering swelling, inflammation, plantar fasciitis, fallen arches, varicose veins, etc., these will improve blood circulation and provide quick relief. And are you wondering how comfortable they are? These socks are designed with underfoot padding and seamless toes to keep your legs supported, protected, and safe all the time.
Pros:
Lightweight
Latex-free
Moisture-wicking
Machine-washable
Suitable for day and night
Cons:
May not be the best choice for summer
Great for summers, these open-toe compression socks will comfort and heal your muscles with their premium nylon-spandex design. So, if you dislike the cramped toe feeling, you must try this 20 – 30 mmHg graduated compression socks. They aid in alleviating edema, leg cramps, shin splints, aching calves, varicose veins, and other painful feet conditions effectively. The socks have an interwoven lock pattern construction for superior compression, and they improve blood circulation and oxygen flow. Just the snug fit you need for maximum comfort and support, they are great to wear during pregnancy and long flights too.
Pros:
Durable
Breathable
Moisture-wicking
Reduces soreness
Quick muscle recovery
Cons:
Don't let the painful swelling ruin your day or night anymore! There you go, those were the 13 best compression socks for swelling and quick relief. However, if you need assistance while shopping for the right pair of socks or want to know more about its benefits, we have some tips and tricks for you in the buying guide below.
How To Select The Right Pair Of Compression Socks
Look out for the following features before buying the socks:
Size
Choosing the right size is imperative to enjoy maximum comfort, support, and relief. Besides the foot size, take your calf measurement on the day when there is no swelling. This will help you pick the right size from the brand's size chart. Also, check the reviews before buying to figure out if the given measurements by the brand are true to size, or else you'll end up with the wrong ones.
Fabric
Whether you want to wear them for long hours or not, choosing a skin-friendly material is essential to prevent itchiness and rashes. Compression socks are available in cotton, nylon, and spandex materials. Cotton compression socks are lightweight and breathable, but they may not provide superior compression. Nylon and spandex socks are durable, light, and provide desired pressure but can be slightly heavy compared to cotton. So, choose accordingly.
Types
There are multiple types of compression socks on the market to meet your comfort and relief needs. Closed-toe compression socks are available in knee-high, under-knee, and ankle lengths. They are ideal if you are looking for superior compression from knee to toe as they have a seamless toe, arch support, and reinforced heel construction for maximum support and relief. Open-toe compression socks are high on comfort and allow free movement of toes. They are suitable to wear during summer and provide selective compressions around the ankle, calf, and foot areas to reduce plantar fasciitis. Sleeve or footless compression socks are great to alleviate pain from ankle and calf areas only.
Pressure
It is crucial to check the compression level of the socks before buying them. Here's how you can determine which one is suitable for you. 8-15 mmHg is mild compression and ideal to wear at work or to prevent spider veins or bulges. 15-20 mmHg is moderate compression, which is great for long flights, travelers, nurses, runners, etc. 20-30 mmHg is firm compression and is advised to pregnant women or to deal with medical conditions such as varicose veins, swelling, and more. Lastly, 30-40 mmHg is extra-strong compression, which needs a doctor's prescription as it is suitable for severe medical conditions such as venous ulcers, post-thrombotic syndrome, deep vein thrombosis (DVT), and more.
How To Wear Compression Socks?
Firstly, you must choose the right size, level of compression, type, and material. Never wear these socks in a rush. Take your time and relax your legs. Start by turning the socks inside out partially, which means your hand should still be inside the socks in a way to look like a puppet snake. Next, you can grab your toes with it and transfer the fabric on your toes with ease. Then slowly, start rolling out the sock towards your knee. Also, make sure there are no gaps to prevent uneven compression. Once done, you are ready to put on your shoes and hit the road for a painless journey!
What Are The Benefits Of Compression Socks?
Compression socks have umpteen benefits, and some of them are:
Quick muscle recovery and stamina
Relief from swelling during pregnancy
Prevents muscle sprains and twists during workouts
Ideal for long flights and prolonged standing or sitting hours
Improves blood circulation and oxygen flow through veins
Alleviates aches, swelling, soreness, cramps, and fluid accumulation
Provides relief from plantar fasciitis, varicose veins, shin splints, heel spurs, edema, spider veins, and more
Why Trust StyleCraze?
The author, Shreya Vishwananthan, is a health and fitness enthusiast. She understands that after a long day being on your feet or a strenuous workout session, your feet might get swollen and feel fatigued. She recommends using compression socks to soothe the swelling and any pain you feel. All the products listed above have been thoroughly screened and researched. The author selected them based on parameters like shock absorption, comfort, cushioning, and anti-slip benefits.
Frequently Asked Questions
How long do you have to wear compression socks for swelling?
You can wear them as long as you want or all day if the need be. Most doctors suggest wearing compression socks first thing in the morning and all day for the best results. However, if you have a medical condition, you must consult your doctor before wearing them.
How long does it take for compression socks to reduce swelling?
It may take up to 6 weeks or more for you to see a dramatic reduction. According to doctors and experts, compression socks should be worn regularly and all day to witness a noticeable difference.
Can compression socks help with swollen feet?
Absolutely! Compression socks are medically recommended for swollen feet. They improve blood circulation and oxygen flow in the veins and reduce fluid retention, which would inadvertently prevent swelling.
Can I wear compression socks to sleep?
Yes, you can wear compression socks to sleep. However, before buying, you must check if the socks are suitable to wear at night or for long hours. For example, Powerlix Compression Socks guarantee relief and comfort for long hours and are ideal for wearing at night.
Will compression socks help neuropathy?
Yes, absolutely, and if you are looking for compression socks to deal with neuropathy, Wanderlust Travel Compression Socks is a great choice to try. But to be safe, consult your doctor before wearing compression socks.
What causes swelling in the feet?
Several reasons may be causing swelling in your feet. Prolonged standing hours, diabetes, ill-fitted shoes, pregnancy, heart/kidney/liver problems, varicose veins, extreme sports activities, and more. Compression socks are a suitable choice and favored by doctors and trainers to reduce swelling and speed up muscle recovery.
Recommended Articles
Best Compression Socks For Nurses To Buy
Best Compression Socks For Running
Best Compression Socks For Travel That You Need To Try
Best Compression Socks For Shin Splints And Leg Pain
Best Athletic Socks For Women For The Perfect Workout