The 15 Best Compression Socks For Travel You Need To Try In 2022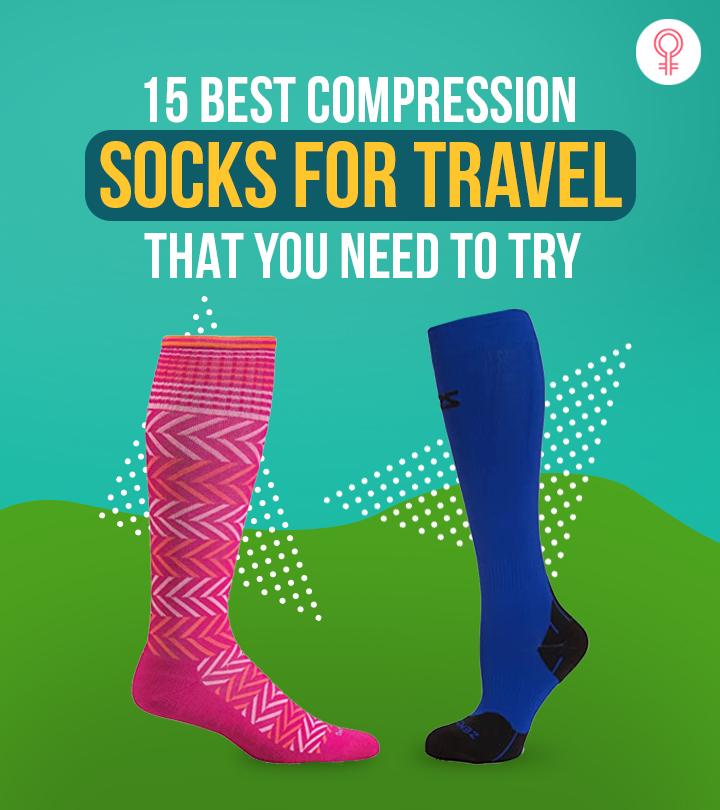 Some of us frequently travel for work while others for the love of traveling! But in any case, it is necessary that your feet and legs stay cozy and comfortable during the long journeys. Enter the best compression socks for travel. They are available in various designs, colors, and sizes to choose from. But are you having a hard time finding a suitable pair? Fret not! Sit back and explore our list of the 15 compression socks with top reviews from customers. Scroll down!
What Are Compression Socks?
Compression socks are stockings or long socks that apply pressure on your lower legs and ankles, helping improve blood flow. This, in turn, reduces the chances of your feet swelling up. These socks are the best for people with poor blood circulation or the ones who stand or sit for a long time.
Let's now take a look at the best compression socks suitable for traveling.
Best Compression Socks For Travel
Boost your blood circulation with the Comrad Compression Socks. It is specially designed to support muscle fatigue and blood flow. In addition, these socks prevent swelling, recover from varicose veins and shin splints. They are ideal for legs, feet, and knees. You can wear these multipurpose compression socks while traveling, in pregnancy, in sports, and more.
These socks are made with graduated compression technology that provides 15-25mmHg and increases your stamina by boosting blood circulation. In addition, they assist in muscle recovery in the feet, legs, calf, ankle, and feet. They are available in different sizes and colors.
Pros
Soft
Comfortable
Thick and warm
Cons
This value-added set includes three pairs of compression socks that are made with 85% nylon and 10% polyester for premium comfort and durability, and 5% copper fiber that naturally enhances blood circulation. As copper is a natural conductor of heat, the socks keep your foot warm and cozy in cool weather. They provide 15-20 mmHg compression, which is ideal for relieving discomfort and pain caused by varicose veins or excess fluid retention. These socks also eliminate odors and keep your skin dry even in extremely hot temperatures.
Pros
Durable
Insulating
Lightweight
Sweat-wicking
Value for money
Cons
These compression socks by Sockwell are specifically designed for women. They come in a wide range of colors – from dreamy blues to sassy pinks. The superior quality, thermoregulating material is made with 32% merino wool, 31% rayon, 32% nylon, and 5% spandex and is moisture-wicking and odor-controlling.
They are supported with graduated compression (15-20 mmHg), which helps minimize swelling in the feet and reduces fatigue. The socks can relieve moderate to minor varicose veins. They fit over the calves and are supported with Accu-fit Technology for snug wear. They also have ultra-light cushion soles and seamless toe closures for premium comfort.
Pros
Comfortable fit
Sweat-wicking
Prevents odor
Available in multiple colors
Cons
These premium quality compression socks by Wanderlust are perfect for everyday use and provide effective pain relief. They provide graduated compression of 10-15 mmHg under your knees, 15-20 mmHg at your legs and calves, and 25-40 mmHg at your ankles and feet. This helps increase blood circulation and prevents fatigue.
The heel and arch support helps relieve muscular pain and plantar fasciitis. The seamless toe box prevents blisters and reduces friction, while the super-soft foot padding ensures ventilation. The socks are made of 80% cotton, 9% nylon, 6% polyester, and 5% lycra.
Pros
Comfortable fit
Suitable for machine wash
Easy to wear and remove
Cons
These compression socks by Physix Gear are designed to last and provide comfort. They are double stitched, easy to wear, and supported with graduated compression to increase blood circulation.
These socks are sturdy and do not slip down your legs. They are made of 70% nylon and 30% spandex and are breathable and moisture-wicking. The socks provide 20 to 30 mmHg compression and fit seamlessly on your legs. They help reduce inflammation, relieve sore muscles, minimize varicose veins, and promote faster recovery.
Pros
Quick-drying
Double-stitched seams
Very comfortable
Stylish design
Lightweight
Good fit
Cons
If you are someone who travels regularly, this eight-pair compression socks set by Laite Hebe is the perfect choice for you. These socks use graduated compression of 15-20 mmHg, which enables blood circulation and reduces swelling and pain in your feet. They are designed with a unique micro nylon blend that is durable, breathable, and comfortable and provides thermoregulation. The material is moisture-wicking and does not cause any irritation or bad odor. It is stretchable for utmost comfort and pain relief.
Pros
Soft
Keep feet dry
Comfortable
Lightweight
Prevent bad odor
Cons
The CTHH Compression Socks is designed with graduated compression technology that provides 15-20mmHg compression. It comes with great flexibility and fits closely from toe to leg. Additionally, the breathable fabric maintains an optimal temperature, boosts blood circulation, and reduces lactic acid buildup.
These compression socks are ideal for runners, joggers, and athletes. The socks come with a reinforced heel and reinforced toe, offering padded cushioning. As a result, they are perfect for preventing busters and enhancing blood circulation. In addition, they prevent swelling and keep you comfortable all day.
Pros
Ergonomic design
Non-slip-cuff
Comfortable fabric
Ample toe space
Durable
Cons
May experience size issues
Reduce swelling, cramps, and fatigue with the CEP Running Compression Socks. These socks are designed with graduate compression technology that provides 20-30mmHg compression. They invigorate the blood circulation adding fuel to your muscles. The socks are ideal for running, cycling, playing basketball, and minimizing shin splints.
The high-tech compression fibers provide a perfect fit, improve airflow, provide seamless toe-closure and padded cushioning. In addition, the socks provide good protection against blisters and hotspots.
Pros
Comfortable
Good support
Easy to use
Breathable
Cons
None
These unique compression socks by Swiftwick are made with a unique fiber called Olefin. It is lightweight, repels moisture, and dries quickly, keeping your feet blister-free and comfortable. The thin natick mesh provides superior ventilation to keep your feet cool. These socks provide a snug fit to support your calves and muscles for a longer period. The heel has a Y shape stitch that prevents any slipping or bunching, while the seamless toe design eliminates friction.
Pros
Lightweight
Moisture-wicking
Breathable design
Firm support
Value for money
Cons
The Tech+ Compression Socks by Zensah Store are made of 18% elastin and 82% polyamide. They are moisture-wicking, lightweight, and thermoregulating. The socks are made with graduated compression technology that helps improve blood circulation and relieve muscular pain. They also help reduce leg swelling during long travels. The seamless toe design prevents any blisters, and the anatomical design ensures a snug and perfect fit.
Pros
Lightweight
Warming effect
Moisture-wicking
Comfortable
Cons
These thigh-high compression socks by Cambivo are made with durable fabric, which is a blend of 58% nylon, 18% spandex, and 24% elastic. The moisture-wicking and breathable material controls bad odor and provides maximum comfort. The socks are supported with graduated compression technology (20-30mmHg) that boosts blood circulation and decreases swelling of the feet and legs. These socks also help reduce lactic acid buildup and soreness, minimize cramps and fatigue, and fasten muscle recovery. This value-added combo includes a set of three pairs.
Pros
Anti-slip cuff
Extra thick
Broad toe design
Breathable fabric
Cons
Whether you are on a lengthy flight or heading on a long road trip, these compression socks by Wasser Gear provide maximum comfort without compromising on the style. They feature a double-stitched design for durability and have cushioned reinforcements in certain areas for added convenience. These socks provide 20-30 mmHg compression, enhancing your blood flow, alleviating deep vein thrombosis, and preventing blood clots. The material is odor-free and keeps your feet dry. These socks are fit for nurses who spend long hours on their feet, pregnant women, athletes, and skiers.
Pros
Double-stitched design
Breathable fabric
Anti-odor technology
Value for money
Very comfortable
Cons
Slightly slippery material
These air travel support socks by Votprof have a state-of-the-art design that provides mild compression to stimulate blood flow and help reduce injuries. These fit perfectly and seamlessly on your feet with just the right amount of compression. The design is enhanced with a reinforced heel and toe for persistent cushioning and added comfort. The superior quality breathable material is moisture-wicking. The socks also prevent leg swelling, blisters, cramps, and blood clots and ease the pressure on your feet during lengthy flights.
Pros
Non-slip cuff
Reinforced heel
Arched support
Moisture-wicking
Ankle support
Cons
These professional-grade socks by Crucial Compression provide instant results and premium comfort. They use graduated compression of 20-30 mmHg and provide the right amount of pressure. Unlike regular compression stockings, the socks are not itchy or too tight and provide a snug fit.
The lightweight, breathable, and moisture-wicking material uses a double stitching design for enhanced durability. The heel and toe cushions keep your feet pain-free even when you are stuck on a long flight. These socks are perfect for daily wear and help relieve fatigue, swelling, and pain. They prevent blood clots and are ideal for people with diabetes.
Pros
Soft
Breathable
Comfortable
Durable
Perfect fit
Value for money
Cons
None
These premium quality compression socks by BLITZU have a 360° stretchable elastic design to ensure comfort and flexibility. The 3D Kinesiology Design of these socks provides a snug fit and supports your calves, ankles, arches, heels, and feet. The socks use graduated compression technology and provide an ideal compression of 20-30 mmHg to boost blood circulation. This also helps minimize micro-tears, muscle oscillation, cramps, varicose veins, and pain. Upon wearing them, you will experience an immediate shock-absorbing effect, which reduces swelling and fatigue in your feet.
Pros
Moisture-wicking
Premium comfort
Fit perfectly
Available in a variety of colors
Cons
Not sure whether you should get a pair or not? Read on to find out why you need compression socks for travel or otherwise.
Why Do I Need Compression Socks For Travel?
With the perfect pair of compression socks, you do not have to worry about swelling in your feet or limping around when you get off the plane. These socks help increase blood flow, making your travel more comfortable and reducing the chances of any pain or discomfort.
Compression socks have multiple uses. Find out about their benefits in the next section.
The Benefits Of Compression Socks
Minimize leg swelling.
Prevent blood from pooling into your veins.
Support your veins.
Boost blood circulation.
Reduce orthostatic hypotension (a problem that causes unsteadiness or light-headedness when standing).
Keep venous ulcers at bay.
Lessen the pain caused by varicose veins.
Improve lymphatic drainage.
Prevent deep vein thrombosis in the legs.
Have these benefits convinced you to get a pair of compression socks for yourself? Read on to find out the factors to keep in mind before choosing a pair.
How To Choose Compression Socks For Travel
The level of compression determines the amount of pressure on your legs and how tight the socks will fit. There are four compression levels, which range from mild (8-15 mmHg) to extra firm (30-40 mmHg). Choose a compression level based on your medical issues, like varicose veins, or the length of your travel. If you have problems with blood circulation, you need a higher level of compression, but if you are looking for compression socks just for traveling, choose the ones with lesser compression.
Most compression socks have consistent compression throughout, but some offer graduated compression. The socks with graduated compression apply maximum pressure on your ankles and lesser pressure on the places above your ankles. This helps push blood back up your legs, preventing your feet from swelling up.
Choosing the right fit and size of these socks not only makes you comfortable but also maximizes their effectiveness. Before investing in a pair of compression socks, make sure to check the size guide. Each manufacturer follows a different sizing chart, and many times, these charts will give you the measurement of the shoe sizes and the size of your calves. Make sure to get socks that fit snuggly but are not too tight.
Compression socks are made with high-quality materials and can hold their shape even after multiple washes. They are mostly made with blended materials to make sure they are effective, stretchy, and moisture-wicking. The best materials to invest in are spandex, nylon, lycra, and polyester. As compression socks can be thicker than normal socks, make sure you buy a pair that is breathable and does not get overheated.
Most compression socks are unisex, but few are specifically designed for men or women. Choose a pair based on your preferences for color, design and size.
Why Trust StyleCraze?
Shiboli Chakraborti, the author of this article, is a certified skin care coach and loves helping her readers find the right skin care solutions among the endless options flooding the market. She curated this list of the best compression socks after going through numerous user testimonials across trusted online forums for her readers. The shortlisted socks will help keep your feet comfortable and sweat-free during travel.
Frequently Asked Questions
Which is better for travel – compression socks vs. sleeves?
Compression socks cover both your calves and feet, but sleeves cover only a part of your calves. However, both sleeves and socks help improve blood circulation and provide good compression. Choose one based on your needs.
What mmHg compression socks are best for flying?
It differs from person to person. For healthy people, compression socks under 15 mmHg are ideal. For individuals with DVT, socks with 15-20 mmHg are the best. If you are dealing with edema, varicose veins, or post-surgery clotting, choose socks with compression over 20 mmHg.
Who needs compression socks for flying?
People with a risk of feet and ankle swelling or deep vein thrombosis need compression socks for flying. Individuals who are traveling for a long time can also wear them.
How long can you wear compression socks when traveling?
You can wear compression socks all day, as long as you are walking, in a long flight, or standing. However, wearing these socks while resting is not recommended.
Recommended Articles: