16 Best Drugstore Peel-Off Masks That Actually Work
Eliminate unwanted dirt and debris from your skin to reveal fresh and flawless skin.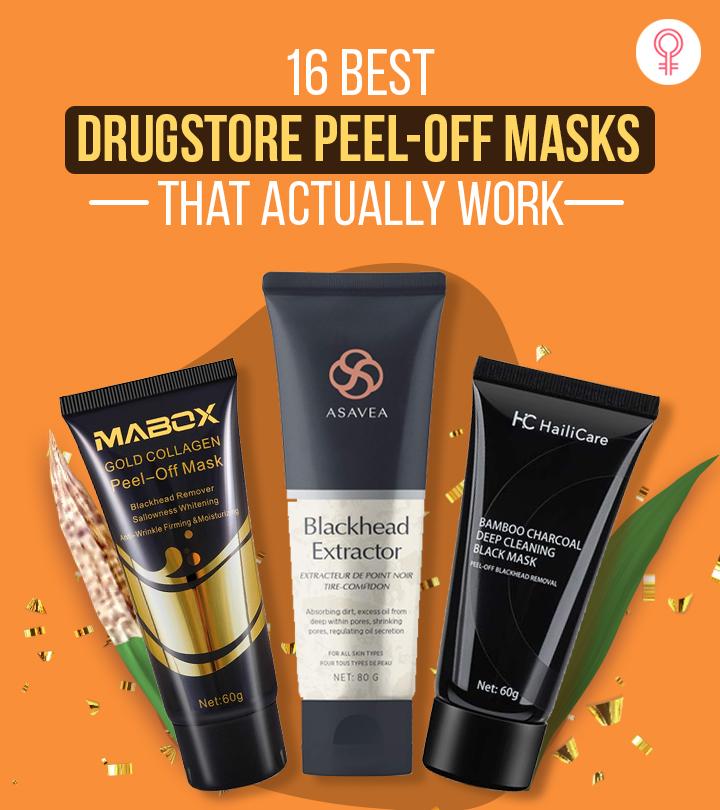 Which drugstore peel-off mask is the best? Which one would your skin love the most? Do not be concerned! We're here to assist you! There's no doubt that a peel-off mask may help you give your skin some TLC and expose its inner shine. This mask is available in gel or liquid form, and as it dries, it changes into a stretchy texture that allows you to pull it off entirely in one go. In addition, the mask collects all of the dirt, debris, blackheads, and whiteheads on the skin's surface as you peel it off, revealing fresh, flawless skin.
Scroll down to see the 16 best drugstore peel-off masks available online. Select one that is appropriate for your skin type.
16 Best Drugstore Peel-Off Masks That Actually Work
Exfoliate your skin with the Essential Skin solutions Perfect Peel-Off Mask. This peel-off mask is infused with activated bamboo charcoal that removes blackheads, acne, and dirt. It minimizes the pores on the chin and cheeks. The formula contains calendula extracts that lift, tighten, and hydrate your skin. It effectively reduces acne and excess oil.
Key Ingredients: Calendula, Vitamin B5, Zinc
Pros
 Suitable for all skin types
 Unisex
 Easy to use
 Relax your skin
Cons
 Removing of black heads may be bit slow
This peel-off mask from I DEW CARE has a powder-based formula that offers bright and clear skin. This holographic mask is infused with real ruby powder to combat dullness and brighten the skin. The combination of hyaluronic acid and rose water hydrates the skin, improves skin elasticity, and calms irritation.
Key Ingredients: Hyaluronic acid, Ruby powder, and Rosewater
Pros
Smells good
Cruelty-free
Paraben-free
Gluten-free
Sulfate-free
Coal tar-free
Cons
The Freeman Renewing Cucumber Peel-Off Gel Mask is infused with clean ingredients that nourish your skin. This clarifying peel-off mask comes packed with the benefits of cucumber and chamomile extracts to give you smooth and soft skin. It works by gently removing impurities, oil, and dirt from the face to leave it feeling hydrated and fresh. This video is an honest review of the product from a renowned YouTuber.
Key Ingredients: Cucumber extract
Pros
Refreshing scent
Easy to peel off
Dries quickly
No harsh chemicals
Cons
Messy application
Contains parabens
The Truu Me 24K Gold Peel Off Mask provides an easy and effective solution to remove blackheads, grease, and dirt from the skin while shrinking the pores. It contains 24k gold, collagen, and oatmeal extract, anti-aging ingredients that fade wrinkles and fine lines and deeply moisturize the skin to keep it radiant and hydrated. The water and oil-balancing formula locks in the skin's moisture to keep it moist and tender.
Key Ingredients: 24K gold extract, Collagen, and Oatmeal extract
Pros
Refreshing scent
Suits acne-prone skin
Easy to apply and peel off
Dries quickly
Cons
Clean all hidden impurities from your skin with the So Fresh So Clean Powerful Peel-off Black Mask. This gel-based mask penetrates the pores and eliminates the impurities, keeping the skin clean and refreshing. The mask is infused with charcoal that pulls off dirt, cucumber and chamomile that condition the skin, and green tea and witch that hazel purify the skin. In addition, salicylic acid and tea tree control oil, while aloe vera and vitamin E moisturize your skin.
Pros
 pH-balanced
 Hypoallergenic
 Paraben-free
 Non-comedogenic
 SLS-free
 No synthetic preservatives
Cons
The AZURE Lux Rose Gold Metallic Peel Off Mask is formulated with 24K gold and rosehip oil. These ingredients moisturize the skin and minimize wrinkles, fine lines, and enlarged pores to reveal clean and soft skin. The mask also contains collagen, hyaluronic acid, and witch hazel water that hydrate, tighten, tone, and rejuvenate the skin. It is suitable for dry, normal, combination, and mature skin types.
Key Ingredients: Rose hip oil, Gold, Collagen, Sodium hyaluronate, and Witch hazel extracts
Pros
Non-comedogenic
Quick and easy application
Vegan
Cruelty-free
Hypoallergenic
Paraben-free
Dye-free
GMO-free
Filler-free
Phthalate-free
Cons
May irritate the skin.
Overpowering fragrance
The Grace & Stella Face Mask is infused with activated charcoal to remove impurities, dead skin cells, and gunk gently from the pores. It also contains aloe vera extracts that tone down inflammation while soothing and calming the skin. The witch hazel extracts fight acne and inflammation. The mask is perfect for oily and acne-prone skin types.
Key Ingredients: Bamboo Charcoal, Aloe vera extract, and Witch hazel extract
Pros
Unscented
Non-irritating
Vegan
Quick-drying
Non-sticky
Easy to peel
Cruelty-free
Sulfate-free
Paraben-free
Cost-effective
Cons
Messy application
Contains fragrance
The Avery Rose Jelly Mask kit is crafted keeping oily, dry, normal, and combination skin in mind. It contains skin-nourishing ingredients like collagen, transparent Charcoal, rose, and antioxidants that leave your skin clean and bright. This mask creates a protective layer over the skin to lock in moisture. This kit includes 10 powder peels that need to be mixed with water until the mixture turns jelly-like. The gooey mix is then applied over the entire face, including the lips and eye sockets, and left to dry.
Key Ingredients: Fruit extracts, Hyaluronic acid, Chamomile extracts, Antioxidants, and Collagen
Pros
Paraben-free
Cruelty-free
Mineral oil-free
Easy to apply
Refreshing scent
Cons
May cause redness and irritation
The Black Peel-Off Mask from Garnier is infused with the goodness of Charcoal. It works by visibly eliminating dirt and impurities from the pores and reduces the pore size to leave you with fresh, bright, and healthy skin. It also helps in regulating sebum production and prevents clogging of pores.
Key Ingredients: Charcoal powder
Pros
Quick-drying
Easy to apply
Dermatologist-tested
Paraben-free
Silicone-free
Cons
Contains fragrance
Does not come off easily
This facial mask moisturizes, heals, and nourishes the skin. Its deep action formula removes dirt, impurities, excess oil, and blackheads to give you smoother and softer skin. The mask contains natural beeswax, glycerin, and ginseng that nourish and protect the skin while thoroughly cleansing the pores. The product suits all skin types, including dry, oily, and combination.
Key Ingredients: Aqua, Glycerin, Beeswax, and Ginseng
Pros
Contains natural ingredients
Easy to apply
Easy to peel
Cons
Can trigger irritation and redness.
Takes time to dry
The Royal Active Peel-off Mask rejuvenates and moisturizes the skin while removing dead skin, dirt, whiteheads, and blackheads. It boosts collagen production and combats free radical damage that leads to premature aging. The mask is suitable for all skin types and makes your skin soft, smooth, and younger-looking.
Key Ingredients: Rose extracts, Witch hazel, and Gold particles
Pros
Easy to apply
Easy to peel
Cons
Overpowering fragrance
Causes burning sensation
Can trigger irritation
The Cremo Detoxifying Peel-Off Mask has a powerful formula for deep skin cleansing. It contains activated Charcoal that pulls out dirt, impurities, excess oil, blackheads, and toxins by cleansing the pores and detoxifying the skin to leave it soft, smooth, and moisturized.
Key Ingredients: Apple extracts, Witch hazel, Charcoal, and Benzoic acid
Pros
Easy to use
Dries quickly
Value for money
Cons
The Neutrogena Deep Clean Purify Peel-Off Mask gives you soft, healthy, and bright skin from the first use. This purifying peel-off mask penetrates deep into the skin to remove dead skin cells, impurities, and makeup to reveal clean and soft skin. Its unique formula transforms the liquid peel-off mask into a soft clear solid upon drying. You can easily peel it off and unravel beautiful glowing skin.
Key Ingredients: Lactic acid, Glycolic acid, and Moringa seed extract
Pros
Oil-free
Non-comedogenic
Easy to peel
Cons
None
The cryotherapy-inspired formula of bosciaCryosea Mermaid Fire and Ice Peel-off Mask lifts dirt and impurities from the skin to make it bright and even-toned. It contains a blend of soothing ingredients like red algae, seawater, sea kelp, menthol, and sodium hyaluronate. These ingredients improve blood circulation and soothe the skin. The sea kelp brightens and firms the skin. The argireline (peptide) stimulates cell renewal and fades wrinkles and fines lines, while hyaluronic acid moisturizes the skin and makes it supple. Go through this YouTube video to learn more about the benefits of this product.
Key Ingredients: Irish weed extract, Sea kelp extract, Seawater, Hyaluronic acid, Jojoba leaf extract, and Fireweed extracts
Pros
Vegan
Cruelty-free
Easy application
Cons
Tingling sensation on application
Difficult to peel
The Mabox Gold Collagen Peel-Off Mask deeply cleanses your skin and imparts radiance. It pulls out dirt, impurities, excess oil, blackheads, acne, and pollutants from the pores, while the essential vitamins and hyaluronic acid hydrate the skin. They work together to increase collagen synthesis, improve skin elasticity, supply moisture, and smoothen wrinkles and fine lines. For further information on the benefits of this product, check out this honest review.
Key Ingredients: Hyaluronic acid
Pros
Easy to peel
Easy to apply
Cost-effective
Cons
The Oriental Botanics Aloe Vera, Green Tea & Cucumber Peel Off Mask gently deep cleanses your skin. It pulls out impurities, whiteheads, and blackheads from clogged pores to give you a clean and fresh look. The natural skin brightening formula eliminates grease and dead skin cells to provide brightness while fading marks and blemishes. The pH-balancing and hydrating ingredients like aloe vera and cucumber improve skin texture. Green tea and papaya extracts protect the skin from environmental pollution and retain its elasticity. Vitamin C and papain eliminate dead skin cells to rejuvenate and revive the skin.
Key Ingredients: Bentonite clay, Aloe vera leaf juice, Provitamin B5, Vitamin E, Papaya extract, Green tea, and Cucumber
Pros
Pleasant fragrance
Non-irritating
Gentle formula
Easy to apply
Easy to remove
Silicone-free
Paraben-free
Mineral oil-free
Cons
None
How To Apply A Peel-Off Face Mask The Right Way
Prepare Your Skin: Cleanse your skin thoroughly to open clogged pores so that the mask can gently pull the blackheads and impurities without much tugging and pulling. After cleansing, rinse your face with warm water for better results.
Apply The Face Mask Evenly: Apply the peel-off mask thoroughly all over the face leaving your eyes, nose, and mouth.
Relax And Wait: Wait for the mask to dry completely. These masks usually take 15-20 minutes to dry out completely.
Peel Off The Mask: The best way to peel off the mask is to start from the bottom of the face and gradually move upwards. Do not peel it off upside down.
Wipe Your Face: After peeling, rinse your face with water to remove the product residue and dry it using a clean towel.
Tone And Moisturize: Peel-off masks can strip natural skin oils. Therefore, it is essential to tone and moisturize the skin post a peel-off treatment. Toning helps shrink the pores, while moisturizer provides hydration.
Frequently Asked Questions
Which is better, a face mask or a peel-off mask?
A peel-off mask offers a deep exfoliation. It helps eliminate excess sebum, dead skin cells, and deep-seated dirt from the face. On the contrary, a regular face mask does not offer intense exfoliation benefits. Instead, it gives hydrating and moisturizing benefits.
How often should I use a peel-off mask?
Use a peel-off mask one or two times a week. However, if you have sensitive skin, limit applying the mask to only once a week.
Do I need to wash my face after using a peel-off mask?
No. You can proceed with the next steps of the skin care routine after removing the peel-off mask. However, rinse your face with cold water if you sense some itchiness.
Can I use ice after removing the peel-off mask?
Yes. Ice cubes soothe and calm your post-peel-off mask face. In addition, they improve blood circulation and enhance the skin's texture.
When should you use a peel-off mask, morning or night?
Using a peel-off mask in the morning and exposing the skin to the sun later is harmful. Instead, use it at night to deeply exfoliate the face and follow up with a night cream to lock in the skin-benefitting ingredients.
Is peeling the same as exfoliating?
No. Exfoliating is the process of mechanically scrubbing off the dead skin cells from the face using exfoliants. On the other hand, the peel-off mask features chemicals that automatically break the bonds between the skin and the dead skin cells, causing the cells to come out during the peeling process.
Can a peel-off mask be used after bleaching?
No. Bleaching makes your skin extremely sensitive. Applying a peel-off mask immediately after bleaching is detrimental as the skin will further deteriorate and burn.
Can a teenager use a peel-off mask?
Yes. Peel-off masks are effective for everyone, irrespective of their age. Opt for a peel-off mask suitable for your skin type and use it following the instructions.
Recommended Articles